Strawberry Avocado Couscous Salad with Lime Vinaigrette
With a refreshing lime vinaigrette and fresh, summer produce, this Israeli couscous makes for a perfect summer salad!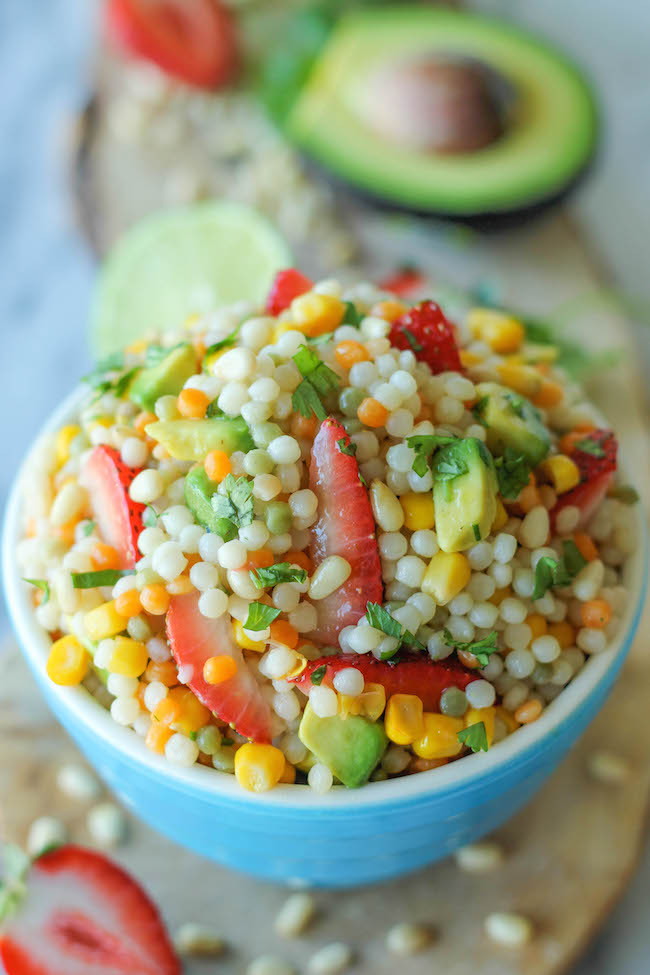 I've been somewhat obsessed with the whole strawberry-avocado combo lately so with the ingredients I had on hand, I decided to make a summer salad with a refreshing lime vinaigrette, except I used an ingredient I've never cooked with before: Israeli couscous.
I honestly never even heard about couscous until I watched Friends, season 4, episode 19, where Ross and Rachel Take a Break. (Can you tell I'm a bit of a Friends fan?) So in this episode, Rachel is stuck at work but Ross, being the insecure man that he is, brings a picnic over to Bloomingdales so that they can celebrate their anniversary. Rachel is completely flustered but Ross unpacks his little picnic basket and says, "Yeah, but I got couscous!"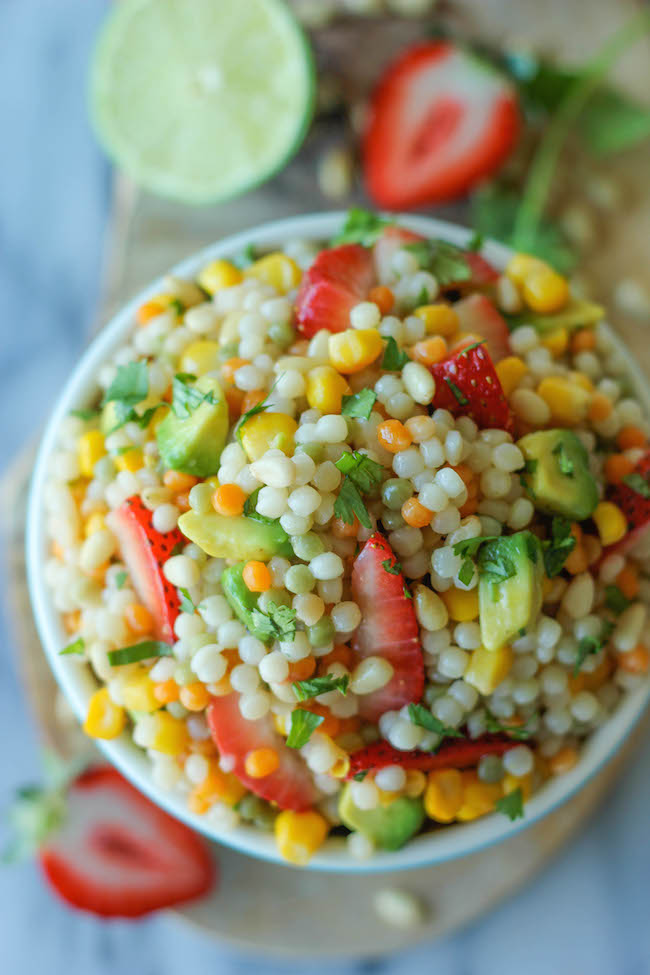 Since I watched this episode, I've always had the wonders of couscous in the back of my mind, and I'm so glad I have finally been able to try it after all these years. I love the nuttiness of the couscous, and the grain-pasta-like-hybrid texture. And with fresh, summer produce like strawberries, avocado and sweet corn kernels tossed in a sweet and tangy lime vinaigrette, you'll have summer in a bowl!
Strawberry Avocado Couscous Salad with Lime Vinaigrette
With a refreshing vinaigrette and fresh produce, this makes for a perfect salad!
10 minutes
15 minutes
Ingredients:
1 cup couscous
1 avocado, halved, seeded, peeled and diced
1/2 cup corn kernels
1/2 cup strawberries, quartered
2 tablespoons chopped fresh cilantro leaves
2 tablespoons pine nuts
For the lime vinaigrette
1/4 cup olive oil
1/4 cup apple cider vinegar
Zest of 1 lime
2 tablespoons freshly squeezed lime juice
2 teaspoons sugar, or more to taste
Directions:
To make the vinaigrette, whisk together olive oil, apple cider vinegar, lime zest and juice, and sugar in a small bowl; set aside.
In a medium saucepan, cook couscous according to package instructions.
In a large bowl, combine couscous, avocado, corn, strawberries, cilantro and pine nuts. Stir in lime vinaigrette.
Serve immediately.
Did you Make This Recipe?
Tag @damn_delicious on Instagram and hashtag it #damndelicious.