Texas Corn Dogs
These hot dogs are loaded with a quick and easy homemade corn chili and Fritos Corn Chips for that added crunch!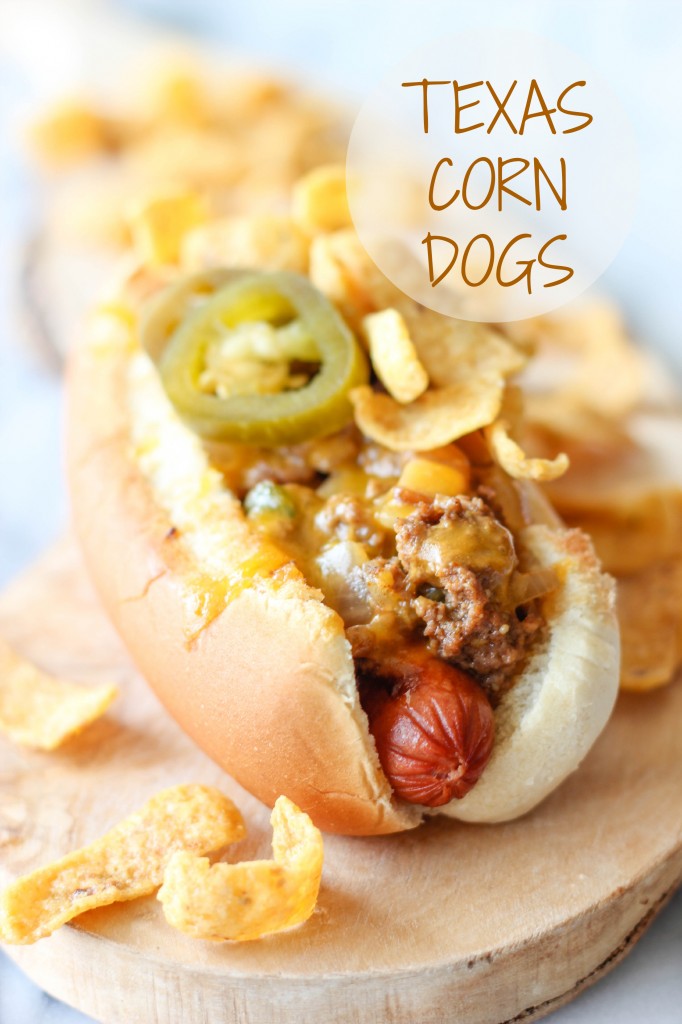 If you've been following Damn Delicious for a while, I'm sure you've noticed that I'm somewhat of a hot dog fiend. I've tried a countless number of bizarre toppings, like Sriracha guacamole, teriyaki sauce, chipotle cream sauce and now this: a thick and hearty cornmeal chili!
So what's in this chili? Well, we start off with some applewood smoked bacon and let it get nice and crisp in our handy Dutch oven here.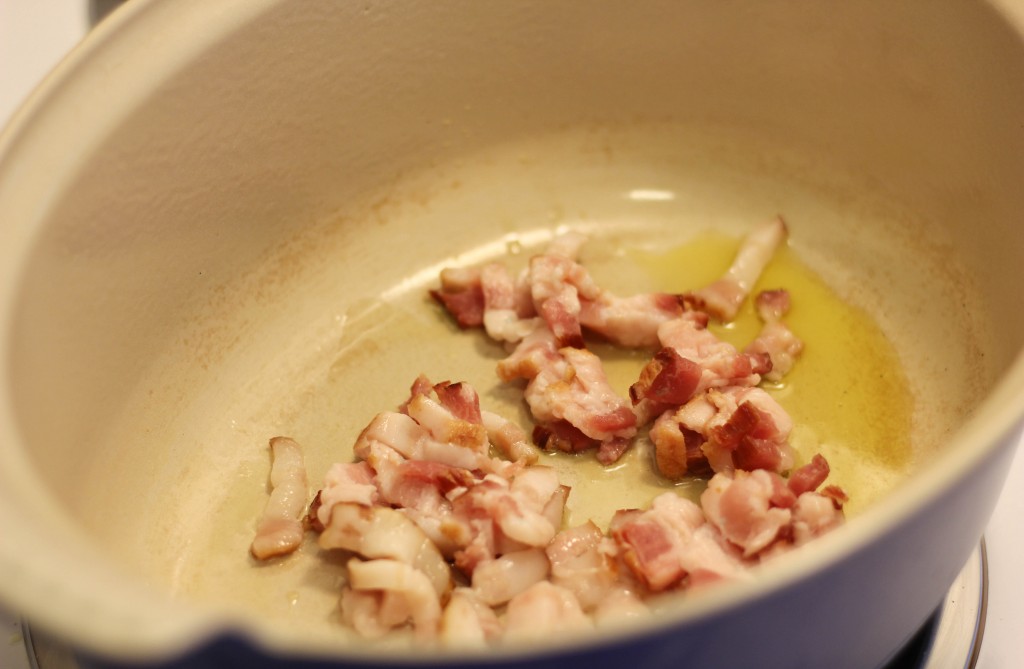 Then we add in a pound of ground beef, letting it get nicely browned and crumbling it as it cooks. A potato masher works great for this.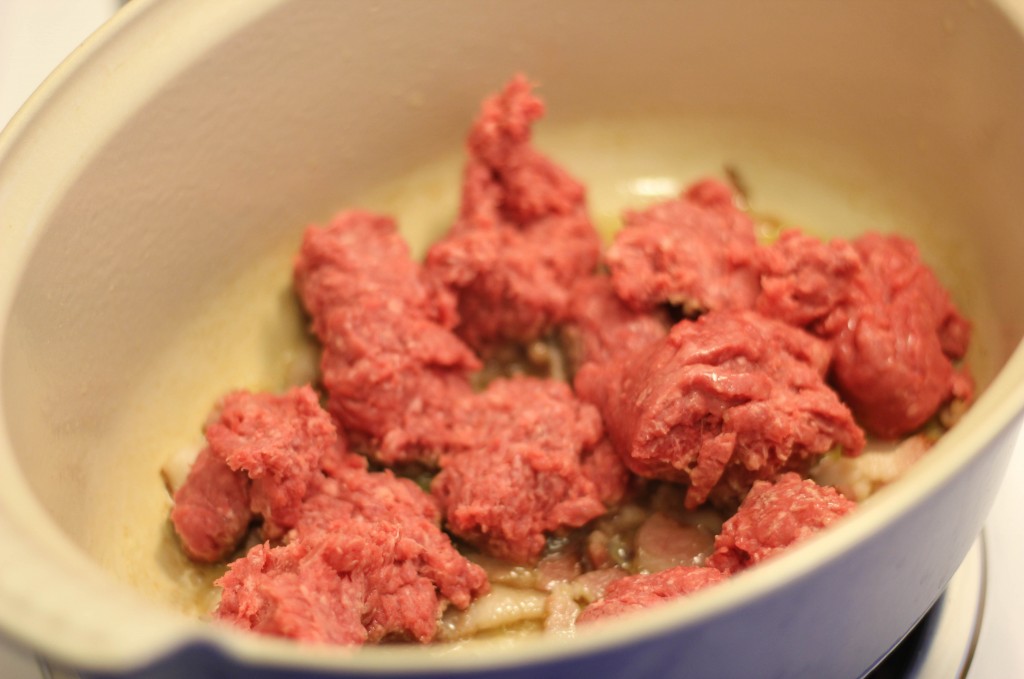 Next, we'll add in our spices – chili powder and espresso powder. As weird as it may sound, the espresso powder is the secret ingredient for that deep flavor.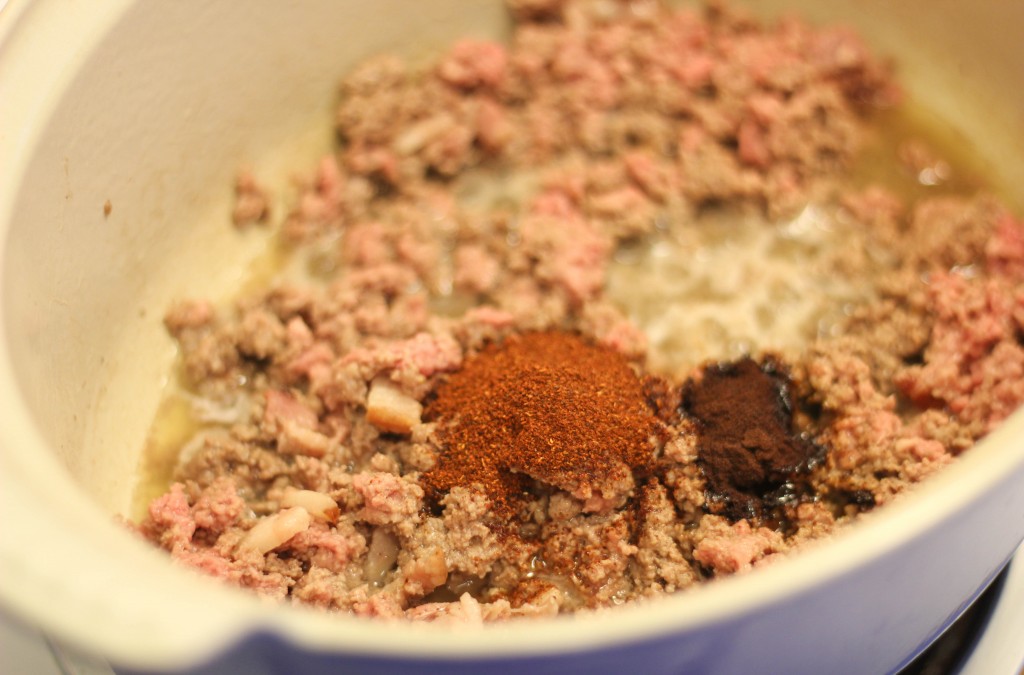 Then comes in the garlic, onions and jalapeños. If you want a bit of a mild chili, feel free to omit the peppers.
Then we'll throw in just a little bit of tomato paste to thicken it up a bit.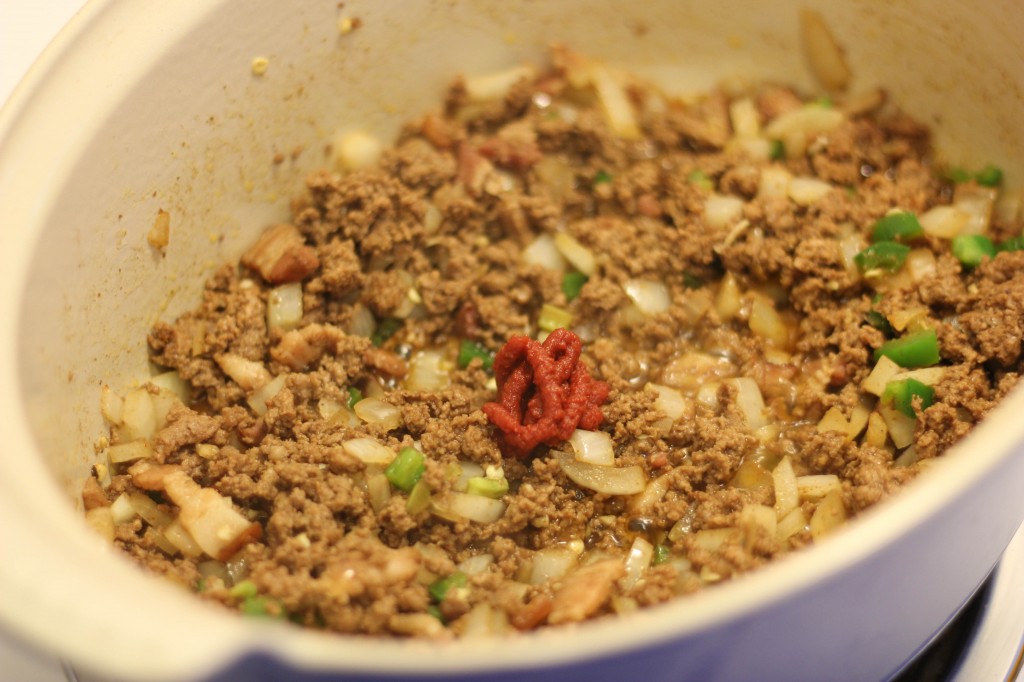 And we can't forget the cornmeal, the most important ingredient of all!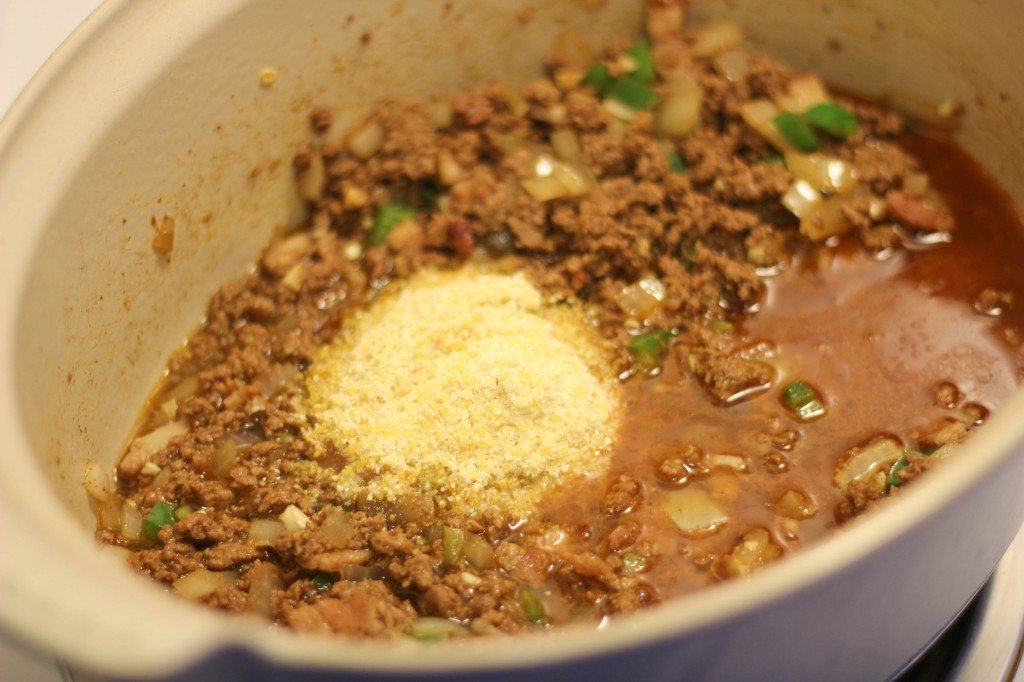 And last but not least, we'll stir in some kidney beans.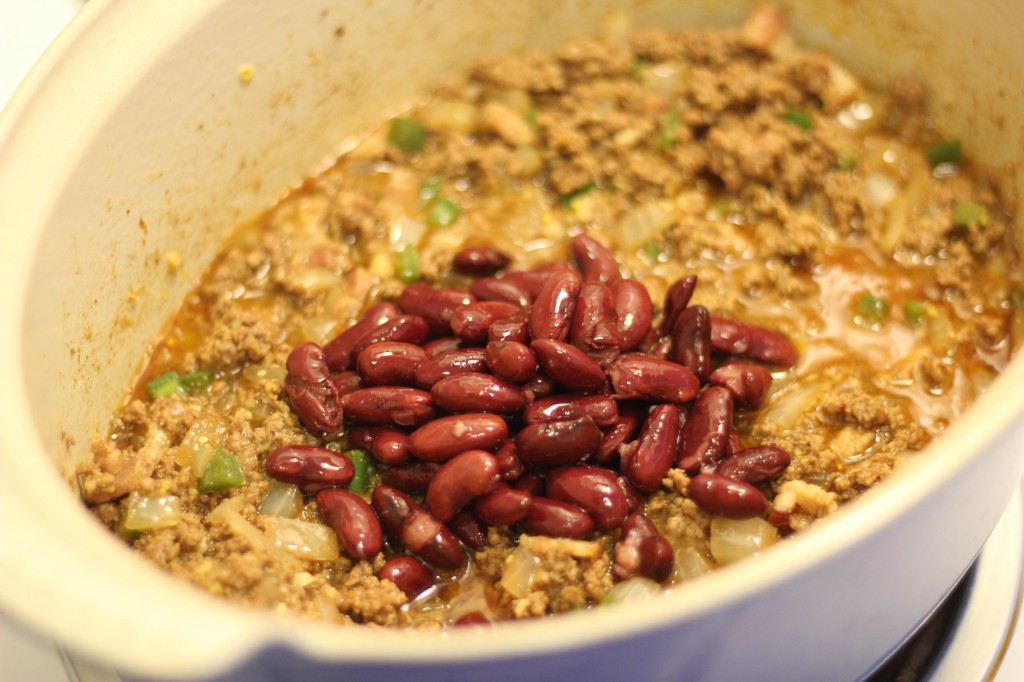 With a blend of all of these ingredients, we have some amazing things happening here: a combination of applewood smoked bacon AND ground beef, some fragrant spices like chili powder and espresso powder, and of course, a healthy dose of cornmeal. And when you spoon this on some grilled hot dogs and add a generous sprinkling of Fritos Corn Chips, you'll have one of the most comforting, most crunchy hot dogs ever. It's comfort food in hot dog form, and just in time for the Labor Day holiday!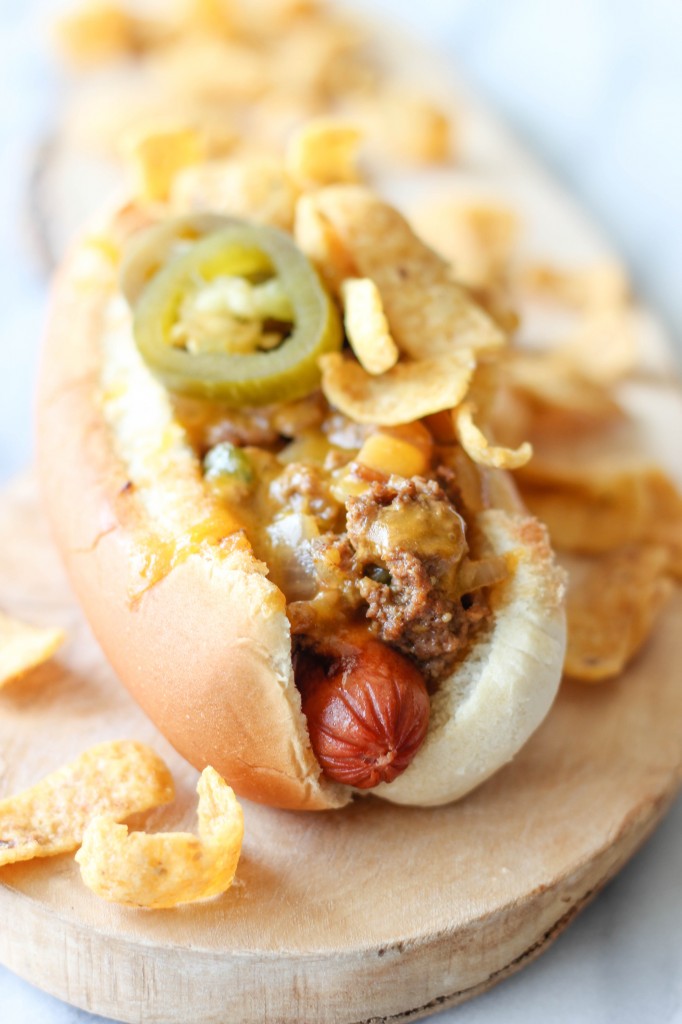 And to sweeten the pot even more, I've teamed up with Le Creuset  and Shopcade for an awesome giveaway for you all! Shopcade is a personalized shopping app that helps you shop smarter with the brands you love and discover new treasures based on your personal tastes. You can collect and share all the things you want, saving all your finds to your most wanted lists, whether it's for Christmas or for your mother-in-law's birthday. I've already created a list of kitchen-must-haves!


With that said, we're giving the chance for one lucky Damn Delicious reader to win this amazing 3.5 Qt. Round Red Le Creuset Classic Wide French Oven (ARV $230). I'm using the same one here for this chili, and with its enameled cast iron construction, this French oven is perfect for slow cooking or high-temp searing, evenly distributing heat and locking in the optimal amount of moisture. It's become one of the essential pots in our kitchen!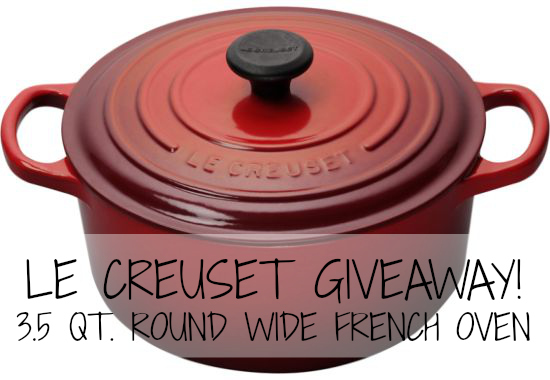 Just be sure to enter through the rafflecopter below to win. You can also enter here on the Shopcade website for a second chance to win! Good luck! a Rafflecopter giveaway
Giveaway ends on Sunday, September 1, 2013 at 9:00 p.m. Pacific time. The winner will be selected by random.org and contacted by email. If there is no response after 48 hours, another winner will be selected. Open to US residents only.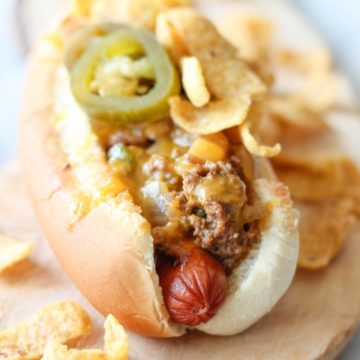 Texas Corn Dogs
These hot dogs are loaded with a quick and easy homemade corn chili and Fritos Corn Chips for that added crunch!
10 minutes
30 minutes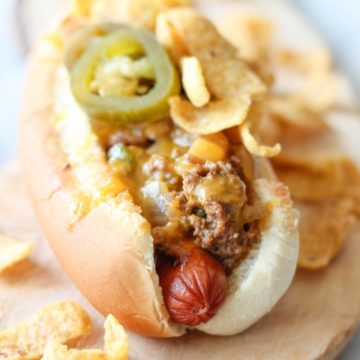 Ingredients:
2 slices bacon, diced
1 pound ground beef
1 1/2 tablespoons chili powder
1 teaspoon espresso powder
Kosher salt and freshly ground black pepper, to taste
2 cloves garlic, minced
1 onion, diced
1 jalapeño, seeded and minced
2 tablespoons tomato paste
1 cup beef stock
2 tablespoons cornmeal
1/2 cup red kidney beans
6 hot dogs
6 hot dog buns
1 cup shredded cheddar cheese
1 cup Fritos Corn Chips
Directions:
Heat a large skillet over medium high heat. Add bacon and cook until brown and crispy, about 6-8 minutes.
Add ground beef and cook until browned, about 3-5 minutes, making sure to crumble the beef as it cooks. Stir in chili powder and espresso powder; season with salt and pepper, to taste. Add garlic, onion and jalapeño, and cook until tender, about 4-5 minutes. Stir in tomato paste, beef stock and cornmeal.
Reduce heat to low; simmer, stirring occasionally, until thickened, about 10 minutes. Stir in kidney beans until heated through, about 1-2 minutes.
Preheat grill to medium high heat. Add hot dogs to the grill and cook until golden brown, about 3-4 minutes.
To assemble the hot dogs, add hot dogs into each hot dog bun, top with chili, cheese and Fritos Corn Chips.
Did you Make This Recipe?
Tag @damn_delicious on Instagram and hashtag it #damndelicious.
Disclosure: This giveaway is sponsored by Shopcade and Le Creuset. All opinions expressed are my own.