Butternut Squash Bisque
This cozy, comforting roasted butternut squash bisque is a perfect well-rounded soup during the fall season!
I know that we've officially entered the fall season but sometimes I feel like we're still right in the middle of the summer. It gets as high as 81 degrees during the afternoon here in the Bay Area and since we're on the second floor, the house hovers around the 90 degree zone during the day time. I've been having major heat tantrums but I'm hoping this will all subside in the next week or so. If not, I'll have to spend a couple hundred bucks on an air conditioner because heat and I do not go well together.
But even if I'm sweating puddles during the day, that still won't stop me from making this epic butternut squash bisque from Jackie at The Beeroness. I'm incredibly grateful to call her a dear friend of mine, and I am so honored to review her new book, The Craft Beer Cookbook. I've been making Jackie's recipes for years now, and they have NEVER been a disappointment.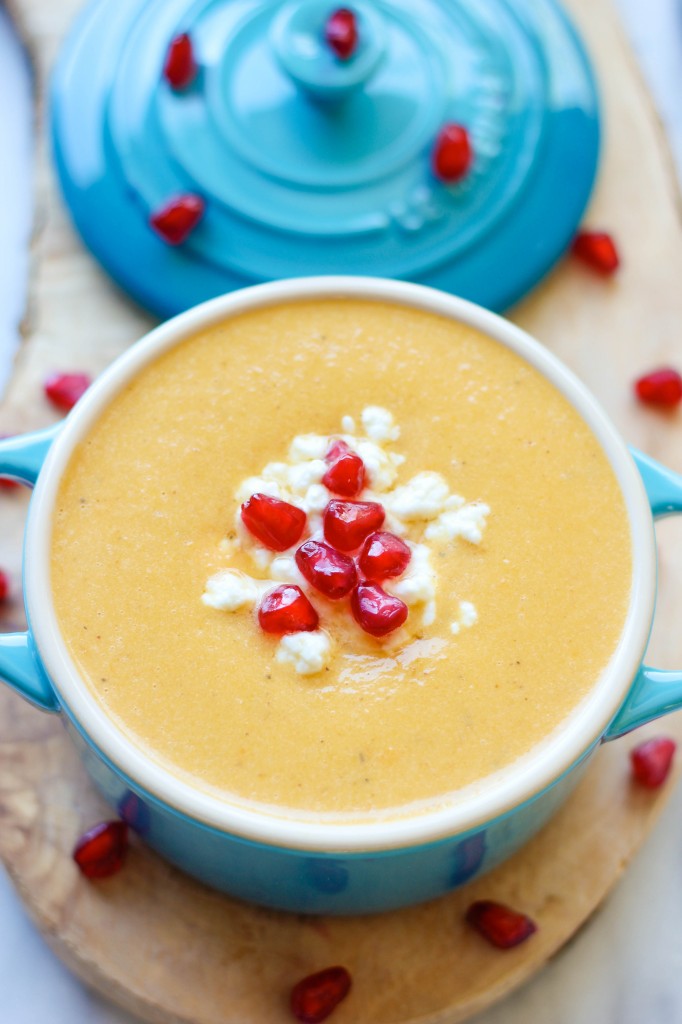 The Craft Beer Cookbook consists of 9 amazing chapters, from breakfast foods to breads to desserts – something for everyone in your family. And along with her own gorgeous photography, all of her recipes include easy directions for the everyday home cook. But my absolute favorite part about her book is how she includes tips on which kind of brew would work best for every single recipe! This is perfect for a beer-newbie like me, and I can finally choose the right brew without messing up the recipe!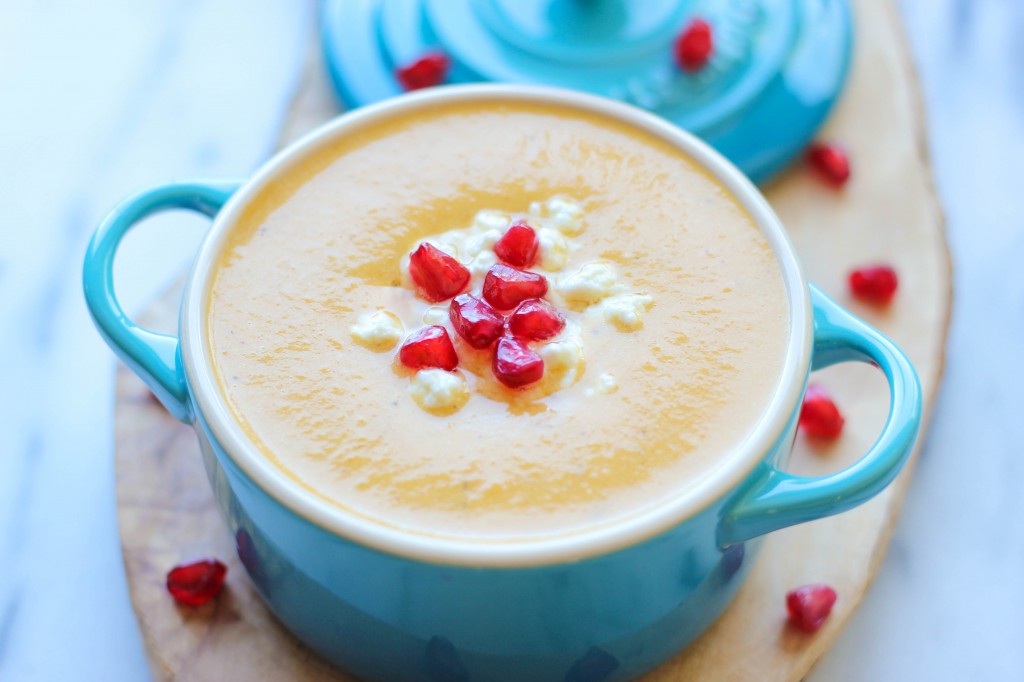 Now with Jackie's helpful tips, I used an amber ale for this bisque, which brought out such amazing flavor, beautifully complementing the creamy notes of the goat cheese and crunchy, refreshing bites of the pomegranate seeds. It's an incredibly hearty, filling soup with so much flavor, perfect for a cold fall night, or a 90 degree summer day that I've been having!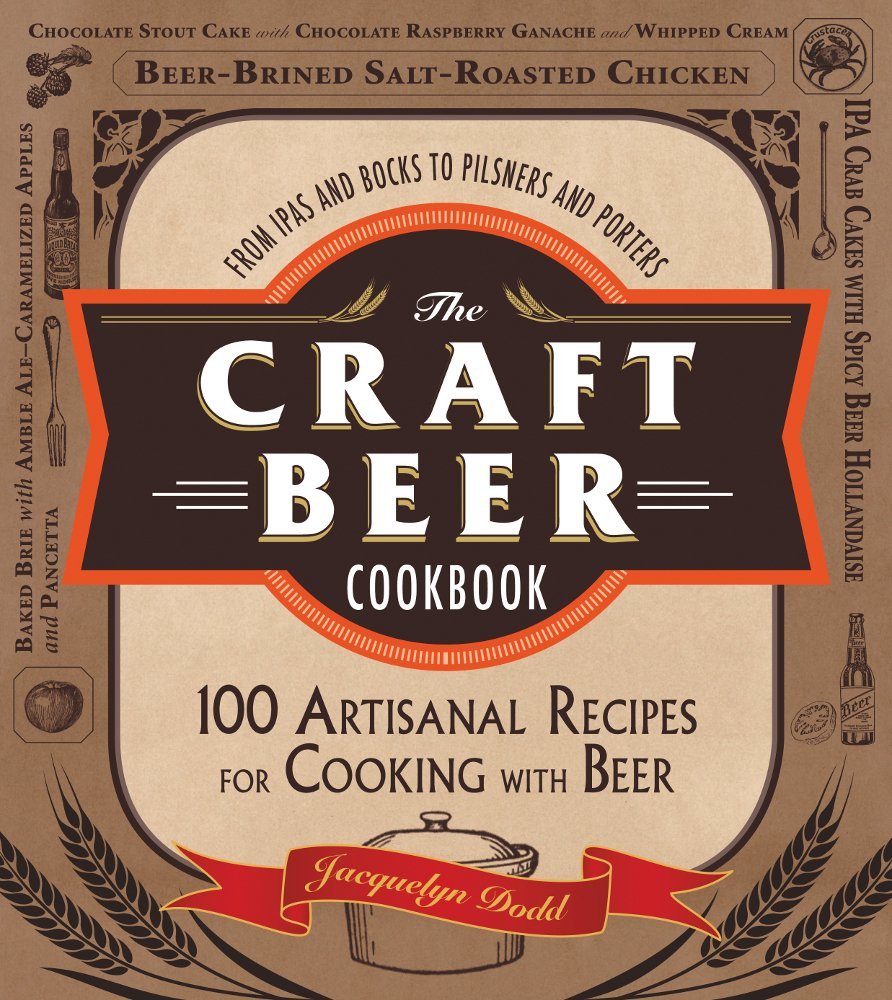 And now you all have a chance to win Jackie's book to make all of her fail-proof beer recipes! But even if you don't win, I highly suggest purchasing your own copy – this book is a must on your cookbook shelf!
For a chance to win, be sure to enter through the rafflecopter below. Good luck!
Giveaway ends on Sunday, October 13, 2013 at 9:00 p.m. Pacific time. The winner will be selected by random.org and contacted by email. If there is no response after 48 hours, another winner will be selected. Open to US residents only.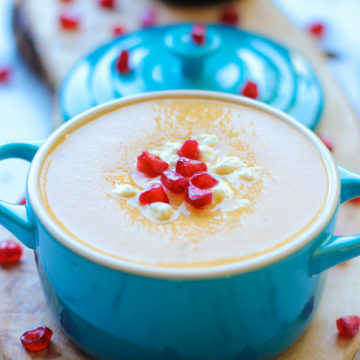 Butternut Squash Bisque
This cozy bisque is a perfect well-rounded soup during the fall season!
10 minutes
1 hour, 15 minutes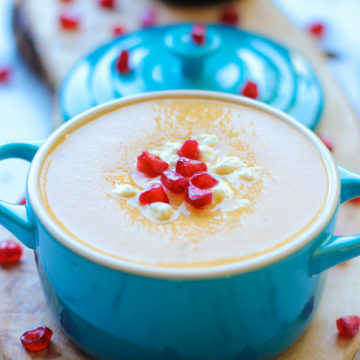 Ingredients:
1 medium butternut squash, peeled, seeded and chopped
6 tablespoons olive oil, divided
2 cloves garlic, pressed
2 shallots, thinly sliced
2 cups vegetable broth, or more to taste
1 cup red ale
1 teaspoon salt
1 teaspoon pepper
1/4 teaspoon cayenne pepper
1/2 cup heavy cream
1/4 cup crumbled goat cheese, for serving
1/2 cup pomegranate seeds, for serving
Directions:
Preheat oven to 400 degrees F. Line a baking sheet with parchment paper.
Place butternut squash onto prepared baking sheet. Add 2 tablespoons olive oil and gently toss to combine. Place into oven and roast until softened and cooked through, about 40 minutes.
Heat remaining 1 tablespoon olive oil in a large stockpot or Dutch oven over medium heat. Add garlic and shallots, and cook, stirring occasionally, until caramelized, about 15-20 minutes. Stir in vegetable broth and red ale and bring to a boil; reduce heat and simmer for 5 minutes.
Remove from heat and stir in butternut squash, salt, pepper, cayenne pepper and heavy cream. Puree with an immersion blender; season with salt and pepper to taste.
Return to heat and bring to a simmer until slightly thickened, about 10 minutes. Add more vegetable broth until desired consistency is reached.
Serve immediately, garnished with goat cheese and pomegranate seeds.
Did you Make This Recipe?
Tag @damn_delicious on Instagram and hashtag it #damndelicious.
Disclosure: This giveaway is sponsored by F+W Media. All opinions expressed are my own.