Tofu Soba Noodles
This quick and easy vegetarian noodle dish comes together in just 20 minutes – perfect for those busy weeknights!
I wish I was one of those people who scheduled blog posts before traveling. But being who I am and procrastinating until the very last minute, I'm actually writing this post on my iPhone on a bus in Iowa on my way to a corn farm.
I really have my priorities in order, right?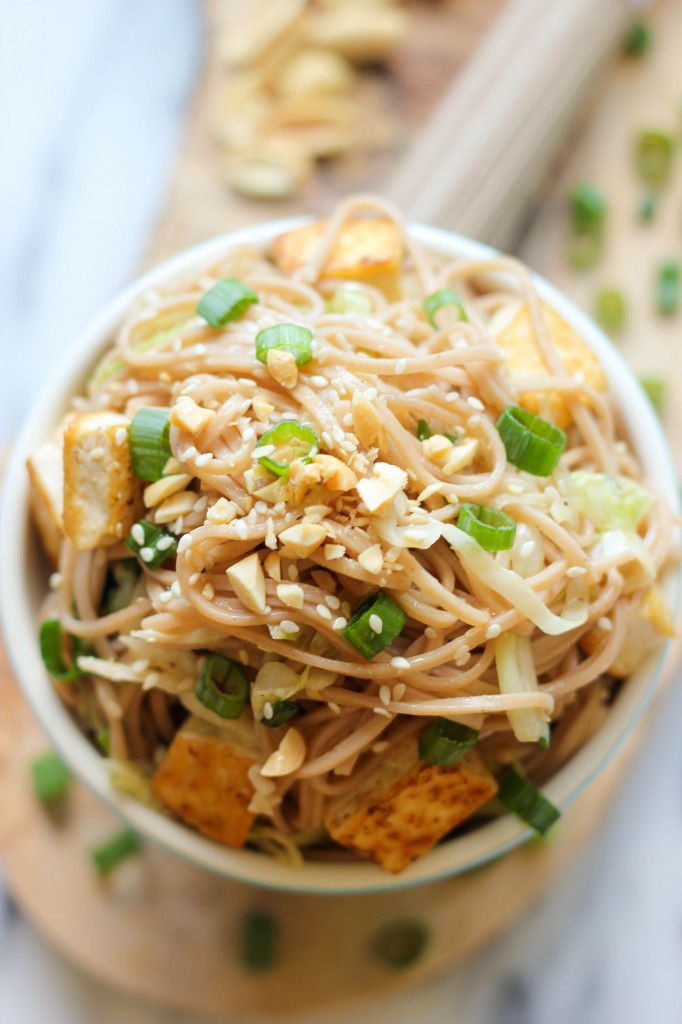 No, but really, I'm having a huge blast in Iowa right now and I absolutely cannot wait to share all of my photos with you once I'm back. From wine glasses over a cozy fire to beer tastings, there's a part of me that wants to stay in Iowa forever! Although I think I'm in need of some boots first because apparently I'm the only LA girl in flip flops here.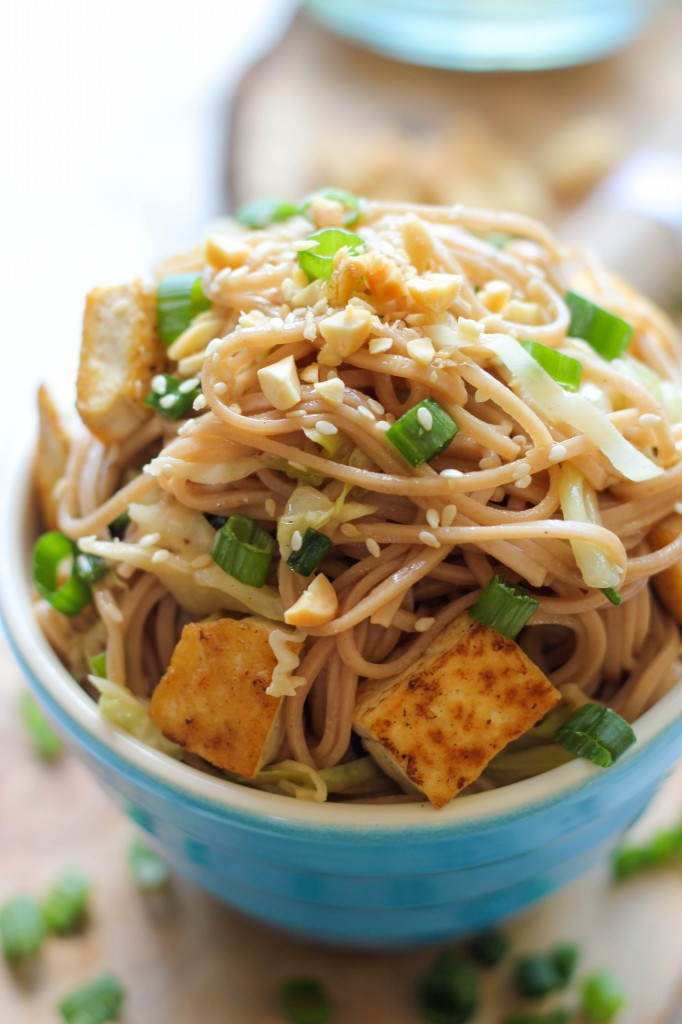 But before I run around the corn fields taking pictures like a mad man, I really need to share one of my favorite weeknight meals. It's a super easy and simple soba noodle dish that comes together in just 20 minutes! And with a tangy, refreshing dressing, crisp tofu cubes and crushed peanuts for that added crunch, you won't be missing the meat in this protein-packed dish at all!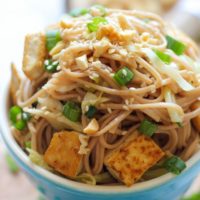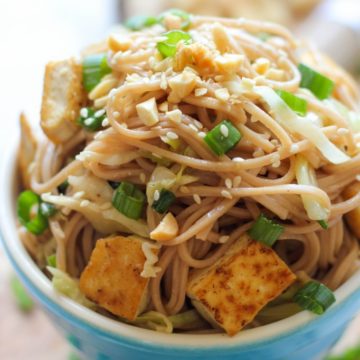 Tofu Soba Noodles
This quick and easy vegetarian noodle dish comes together in just 20 minutes!
Ingredients
1

pound

soba

¼

cup

rice vinegar

2

tablespoons

soy sauce

1

tablespoon

sesame oil

2

teaspoons

brown sugar

1

teaspoon

sesame seeds

1

tablespoon

vegetable oil

1

14-ounce package firm tofu, cubed

2

cups

shredded cabbage

1

clove

garlic

,

pressed

1

teaspoon

freshly grated ginger

2

green onions

,

thinly sliced

Crushed peanuts

,

for serving

Sriracha

,

for serving
Instructions
In a large pot of boiling water, cook noodles according to package instructions. Rinse under cold water and drain; set aside.

In a small bowl, whisk together rice vinegar, soy sauce, sesame oil, brown sugar and sesame seeds; set aside.

Heat vegetable oil in a large skillet over medium high heat. Add tofu and cook until golden brown, about 3-4 minutes; set aside. Add cabbage, garlic and ginger to the skillet and cook, stirring frequently, until tender, about 1-2 minutes.

In a large bowl, combine noodles, rice wine vinegar mixture, tofu, cabbage and green onions.

Serve immediately, garnished with peanuts and Sriracha, if desired.