Roasted Red Pepper Alfredo
An incredibly creamy, rich alfredo sauce made with roasted red peppers and crumbled goat cheese, and it takes just 20 min to make from start to finish!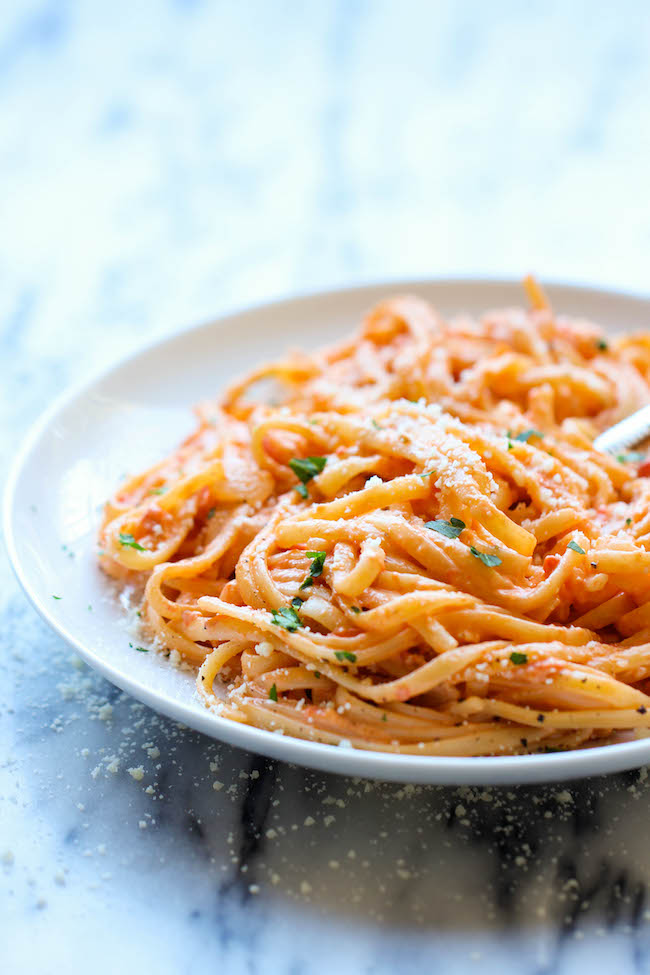 When I first saw this recipe on Lauren's Latest, I knew I had to make it immediately. But of course life happens and deadlines happen and you completely forget about that amazing alfredo sauce you just had to make right then and there. Well, I am happy to report back that after 1 year and 9 months, I finally made it and it was quite an epic dish in our household.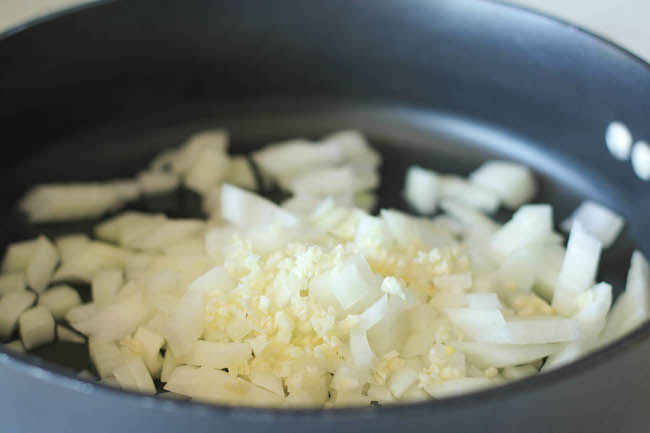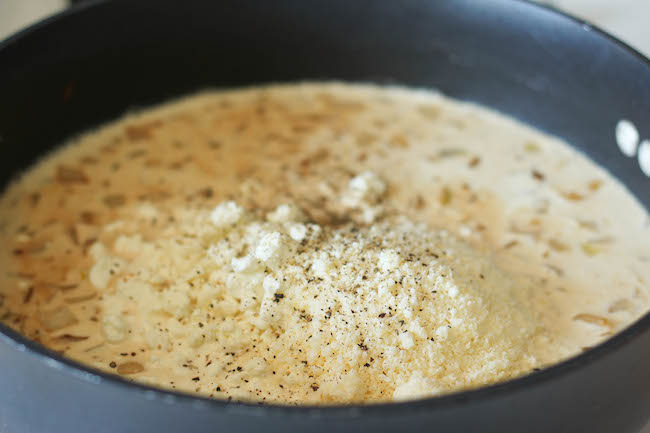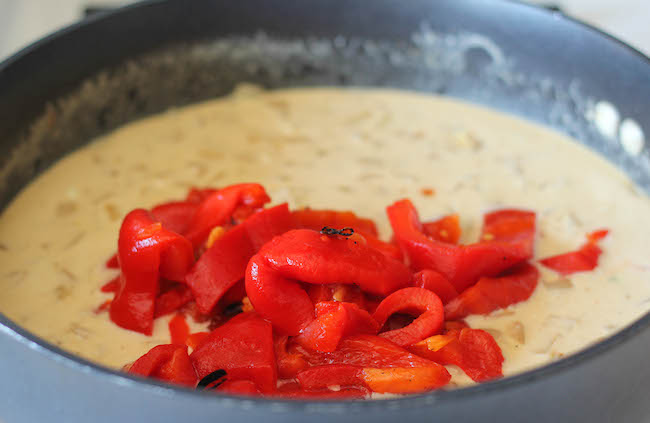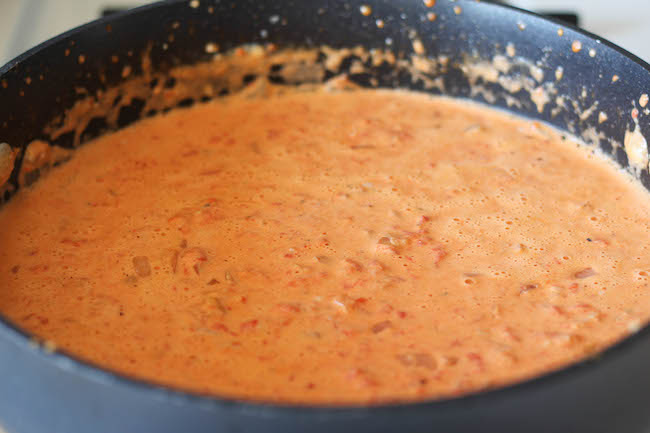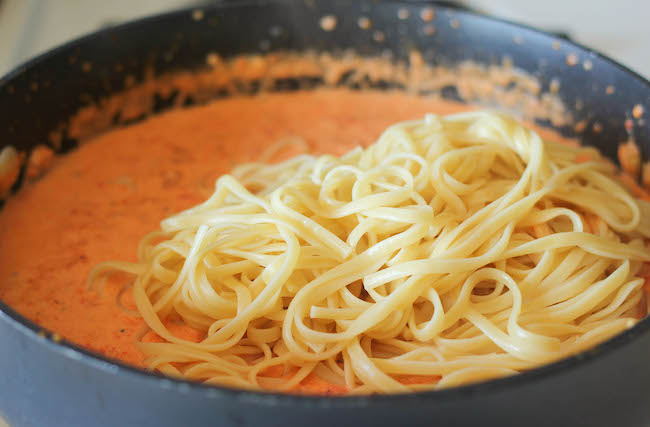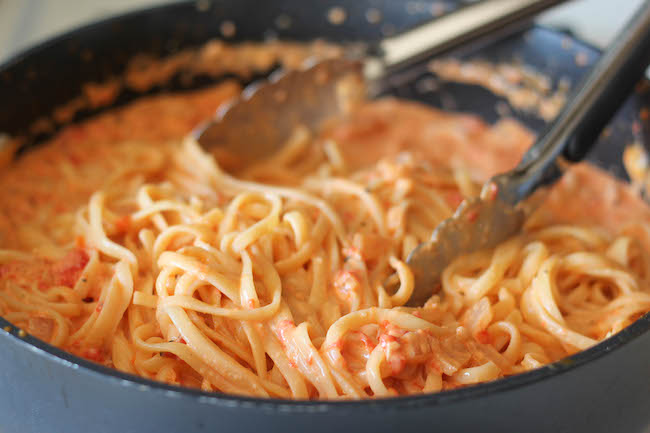 I mean, really, with pasta smothered in a cheesy, creamy red pepper sauce with a generous sprinkling of freshly grated Parmesan, how can you go wrong? And the best part about it is that it comes together in 20 minutes or less from start to finish! I did use jarred roasted red peppers but if you have the time, feel free to roast the peppers. I actually prefer the jarred ones since they're such a time saver and I always have them stocked in my pantry.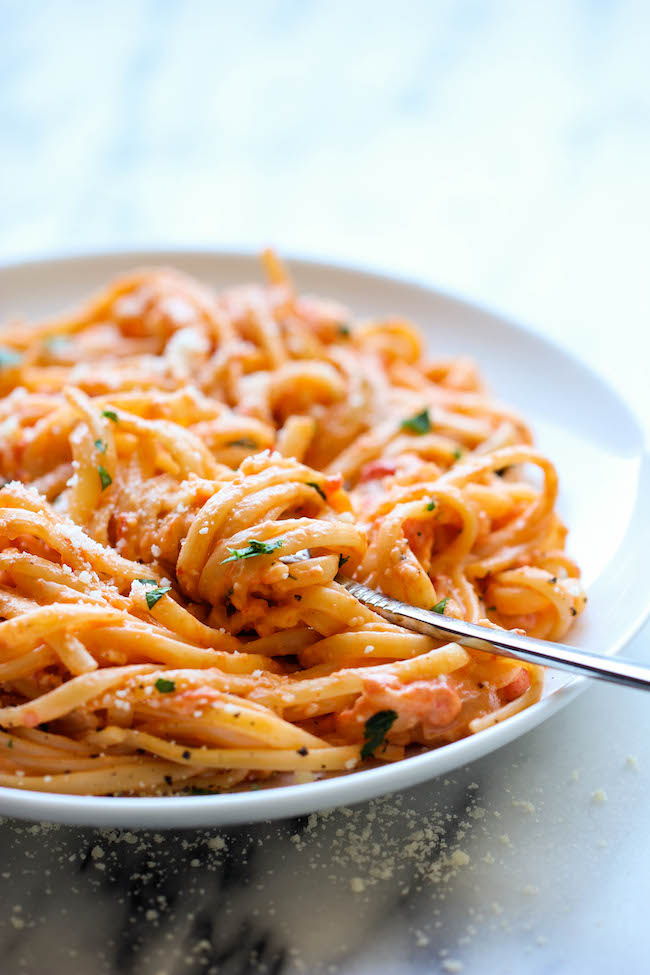 So there you have it – quick, easy, creamy and cheesy. What more could you ask for?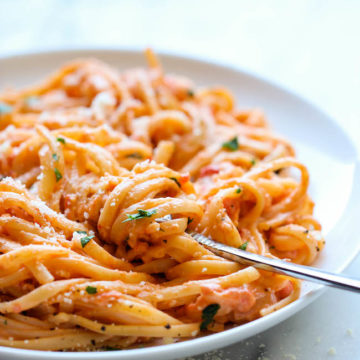 Roasted Red Pepper Alfredo
An incredibly creamy, rich alfredo sauce that takes less than 20 min to make from start to finish!
10 minutes
10 minutes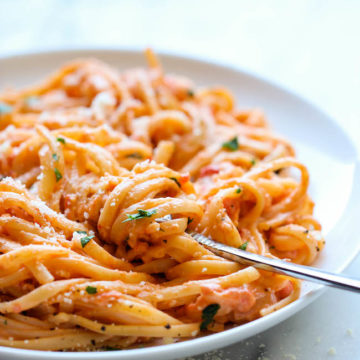 Ingredients:
12 ounces linguine
2 tablespoons olive oil
2 cloves garlic, minced
1 onion, diced
1/2 cup milk
1/2 cup heavy cream
4 ounces crumbled goat cheese
1/2 cup grated Parmesan, plus more for garnish
1 (12-ounce) jar roasted red peppers, drained and chopped
Kosher salt and freshly ground black pepper, to taste
Directions:
In a large pot of boiling salted water, cook pasta according to package instructions; drain well.
Heat olive oil in a saucepan over medium heat. Add garlic and onion, and cook, stirring frequently, until onions have become translucent, about 2-3 minutes. Stir in milk, heavy cream, goat cheese and Parmesan until cheeses has melted, about 1-2 minutes.
Add red peppers and puree with an immersion blender. Stir in pasta and gently toss to combine; season with salt and pepper, to taste.
Serve immediately, garnished with Parmesan, if desired.
Did you Make This Recipe?
Tag @damn_delicious on Instagram and hashtag it #damndelicious.