Starbucks Pumpkin Scones Copycat Recipe
No need to overpay for Starbucks scones anymore – these copycat scones are so easy to make and they're a million times tastier too!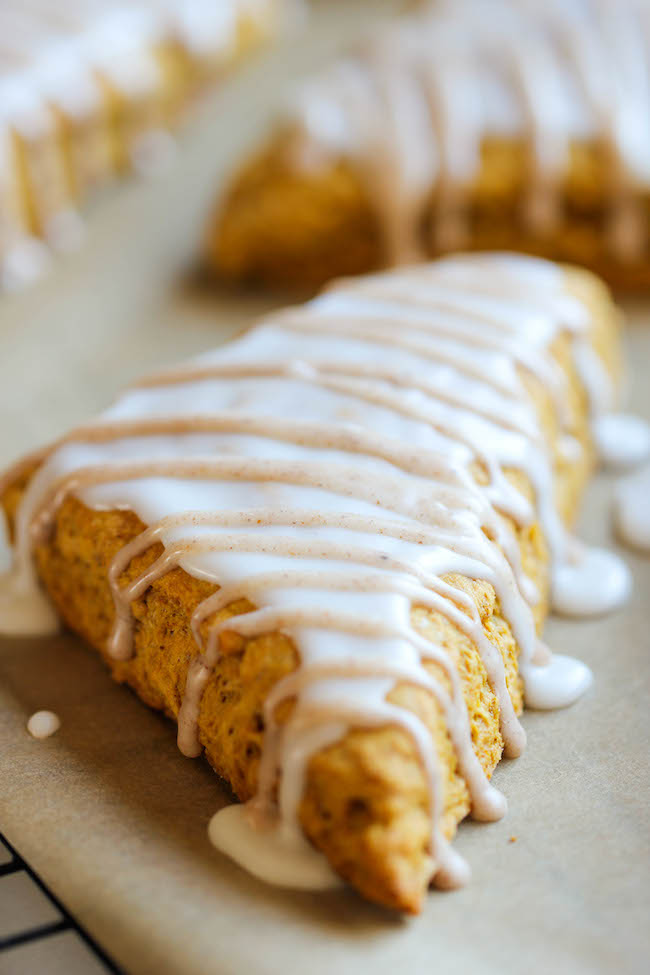 I'm so excited to be a part of Pampered Chef's Holiday Baking Bonanza campaign because I've been dying to make these copycat scones for months now! I actually make these pumpkin scones once a year around the holidays mainly because, well, if I make them all the time, I'm sure I'd eat the entire batch by myself which wouldn't be the best thing to happen to me when it comes to skinny jeans. No, but really, these scones really put me in the holiday spirit and they taste a million times better than the Starbucks version!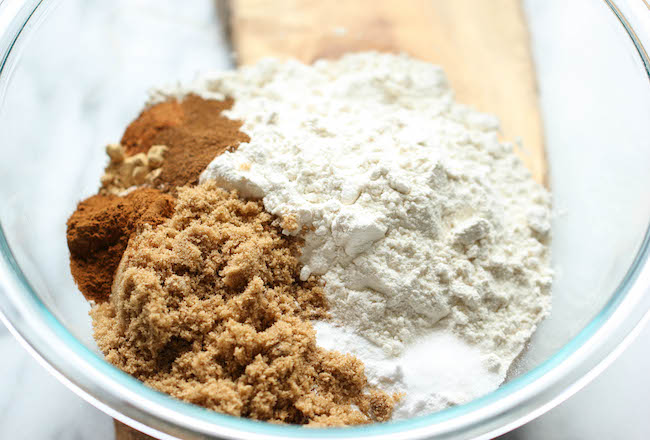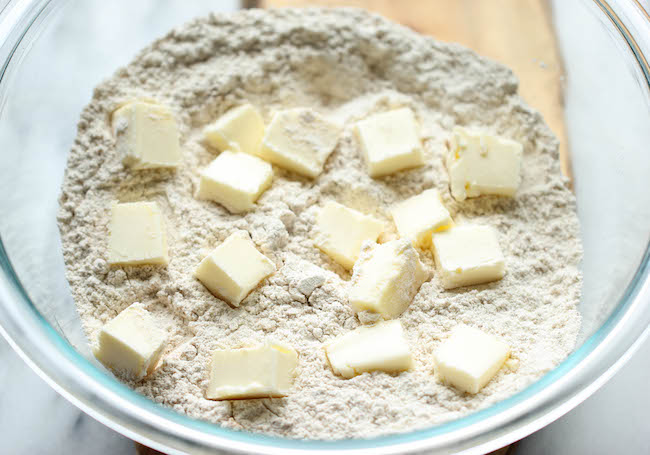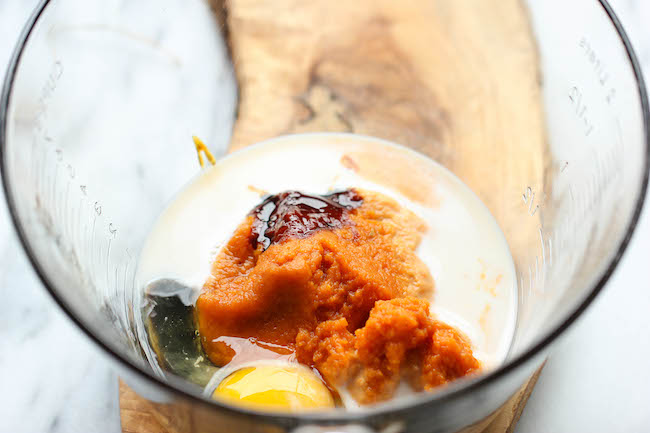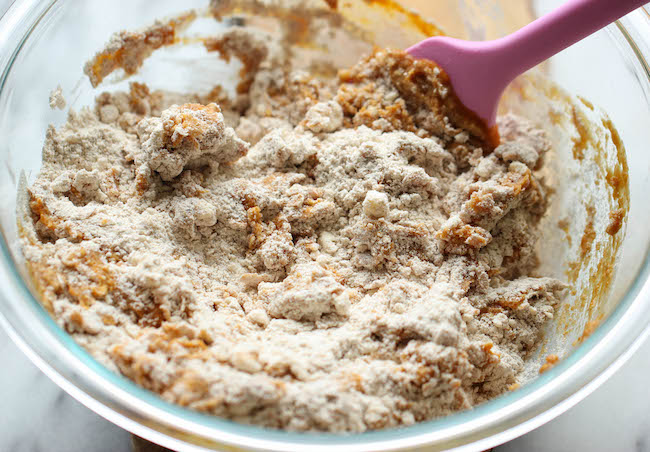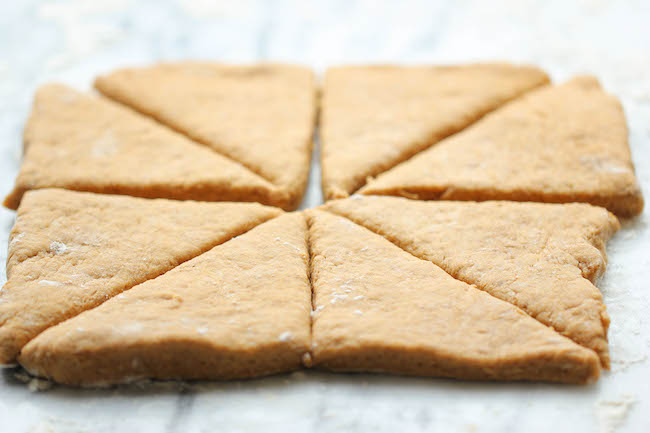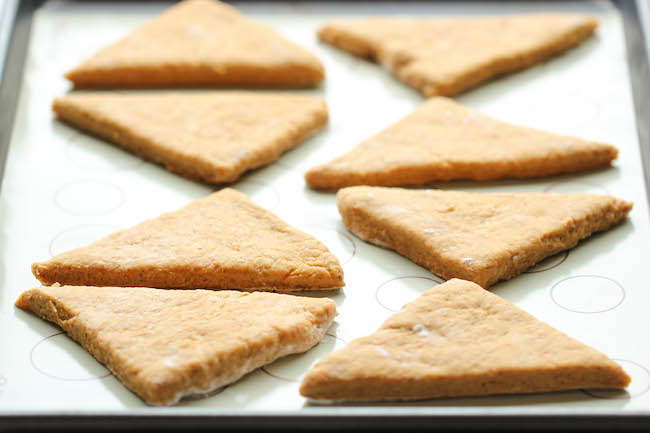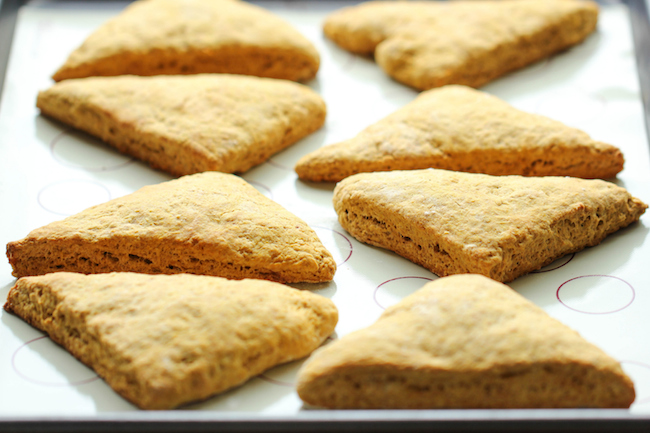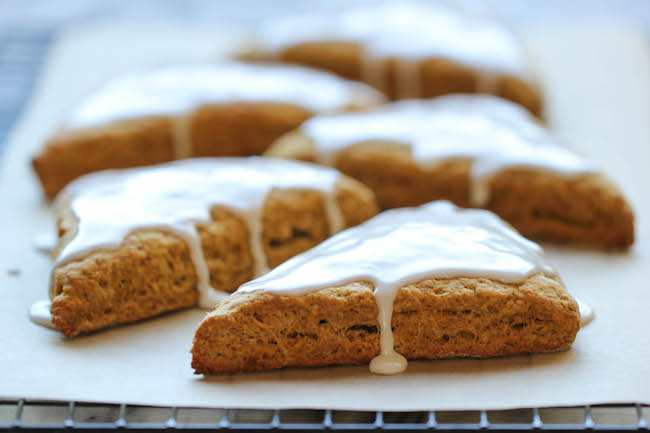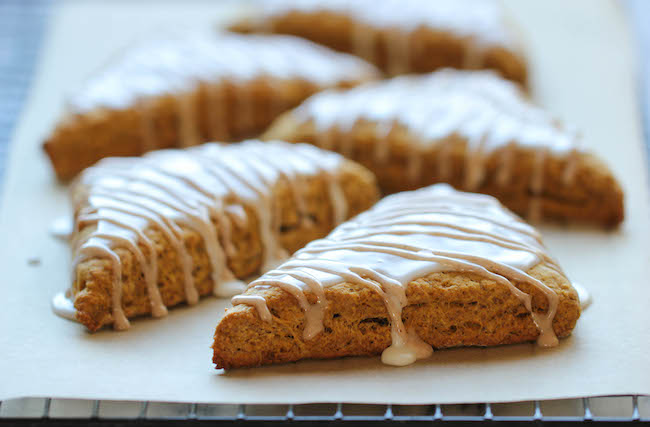 With a crumbly, yet fluffy scone base and two kinds of glazes, these scones are completely irresistible. And as you can see from the step-by-step photos, they're so easy to make too! Simply mix up your batter, which requires no kind of mixer at all, knead the dough out into a rectangle, cut into triangles and bake! See how easy that was? Then you spoon on that first glaze, drizzle on the second and eat! Now who wants to still buy those scones at Starbucks?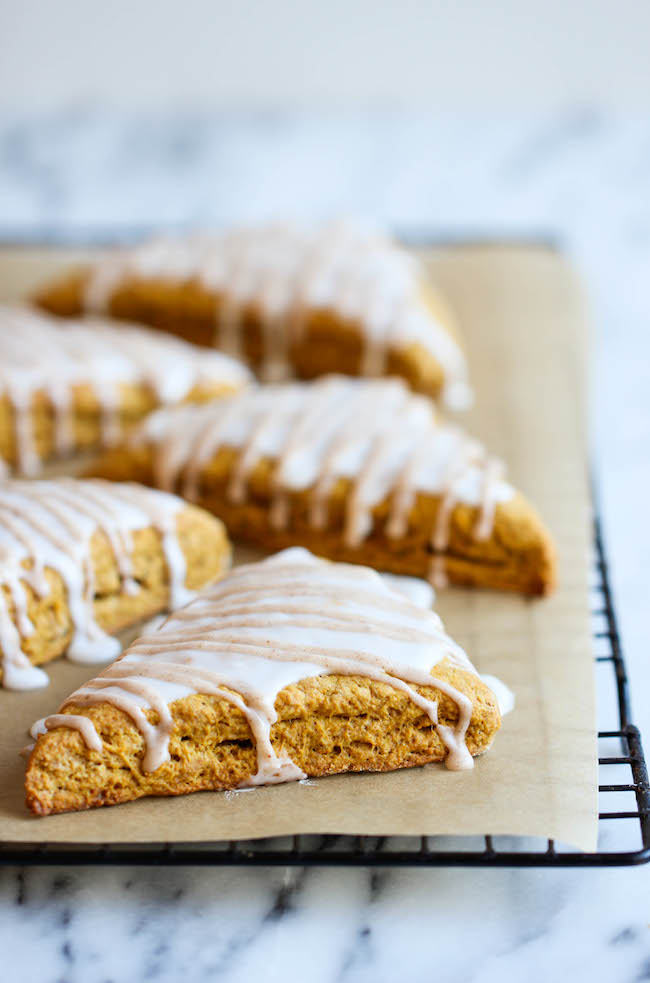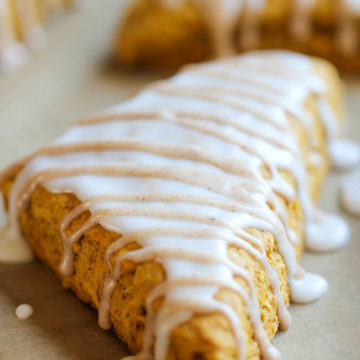 Starbucks Pumpkin Scones Copycat Recipe
These copycat scones are so easy to make and they're a million times tastier too!
25 minutes15 minutes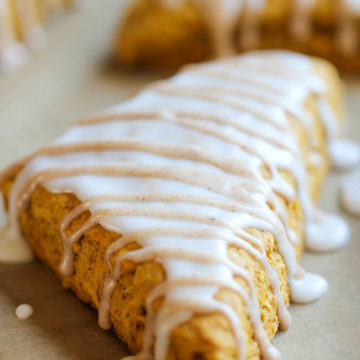 Ingredients:
2 cups all-purpose flour
1/3 cup brown sugar, packed
1 teaspoon cinnamon
1 teaspoon baking powder
3/4 teaspoon ground cloves
1/2 teaspoon ground ginger
1/2 teaspoon ground nutmeg
1/2 teaspoon baking soda
1/4 teaspoon salt
1/2 cup (1 stick) unsalted butter, cut into cubes
1/2 cup pumpkin puree
3 tablespoons milk
1 large egg
2 teaspoons vanilla extract
For the glaze
1 cup confectioners' sugar
2 tablespoons milk
For the spiced glaze
1 cup confectioners' sugar
1/4 teaspoon cinnamon
1/4 teaspoon ground cloves
1/4 teaspoon ground ginger
Pinch of nutmeg
2 tablespoons milk
Directions:
Preheat oven to 400 degrees F. Line a baking sheet with parchment paper or a silicone baking mat; set aside.
In a large bowl, combine flour, sugar, cinnamon, baking powder, cloves, ginger, nutmeg, baking soda and salt. Add cold butter, using your fingers to work the butter into the dry ingredients until it resembles coarse crumbs.
In a large glass measuring cup or another bowl, whisk together pumpkin puree, milk, egg and vanilla. Pour mixture over dry ingredients and stir using a rubber spatula until a soft dough forms.
Working on a lightly floured surface, knead the dough 3-4 times until it comes together. Using a rolling pill, roll the dough into a 10- by 7-inch rectangle, about 1-inch thick. Using a large knife or a pizza cutter, cut the rectangle in half lengthwise, then cut into 2 even pieces crosswise, making four rectangles. Then cut each each rectangle into two triangles, making 8 triangles.
Place scones onto prepared baking sheet. Place into oven and bake for 10-12 minutes, or until a tester inserted in the center comes out clean.
To make the glaze, combine confectioners' sugar and milk. Whisk until smooth. If the glaze is too thick, add more milk as needed; set aside. To make the spiced glaze, combine confectioners' sugar, cinnamon, cloves, ginger, nutmeg and milk. Whisk until smooth; set aside.
When the scones are done, cool for 10 minutes and spoon the glaze on each scone before drizzling with spiced glaze.
Allow glazes to set before serving.
Did you Make This Recipe?
Tag @damn_delicious on Instagram and hashtag it #damndelicious.
Nutrition Facts
Serving Size
Servings Per Container 8
---
Amount Per Serving
Calories 392.7
Calories from Fat 117.9
% Daily Value*
Total Carbohydrate 64.2g
21%
---
*Percent Daily Values are based on a 2,000 calorie diet. Your daily values may be higher or lower depending on your calorie needs.
Disclosure: This post is sponsored by The Pampered Chef. All opinions expressed are my own.