Baked Honey Sriracha Wings
These wings are perfect game day food with an amazing combination of sweetness and spiciness in every bite, and they're baked to absolute crisp perfection!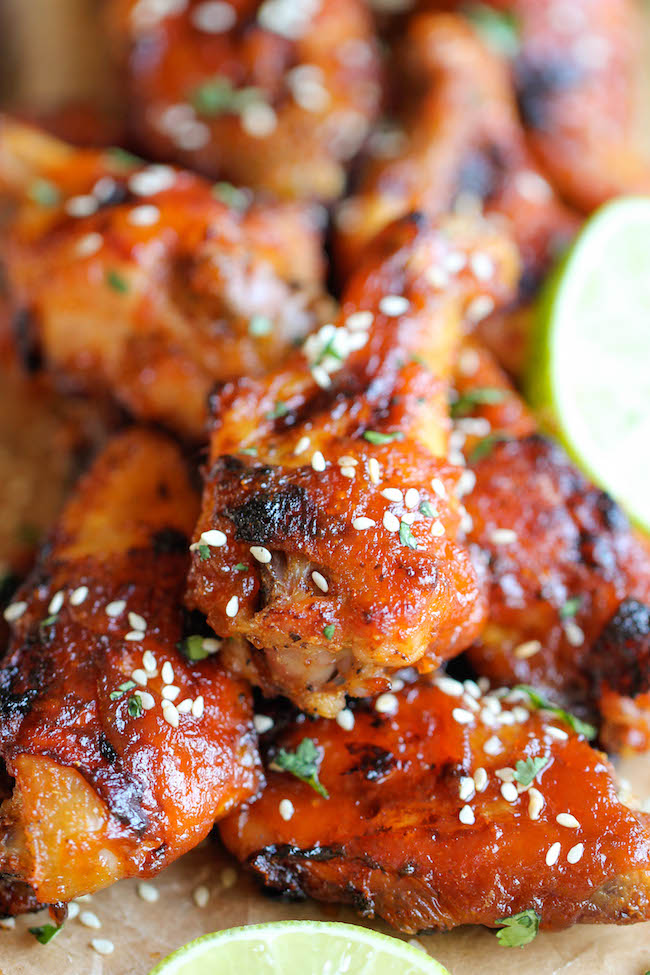 I figured I'd take a break from all this holiday madness and focus on what's really important right now, which is none other than football food.
Now if you've been following Damn Delicious for awhile now, you may know that I'm a bit obsessed with finding the perfect wing recipe. I'm actually not personally all the crazy about wings but Jason is a HUGE fan, which may actually be borderline obsession. But now that we're right in the middle of football season, it's the perfect excuse to whip up a batch of wings with my all-time favorite ingredient, Sriracha.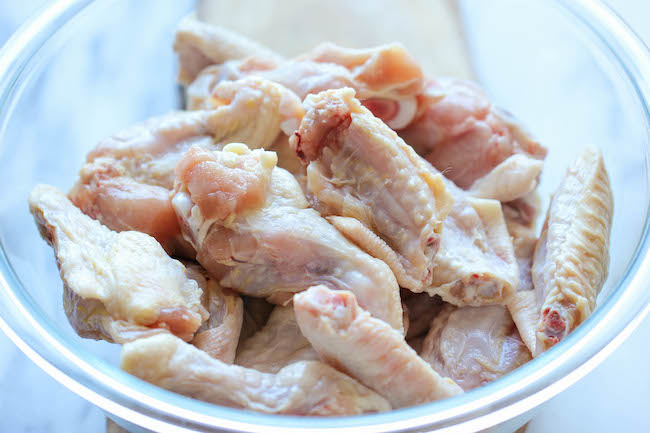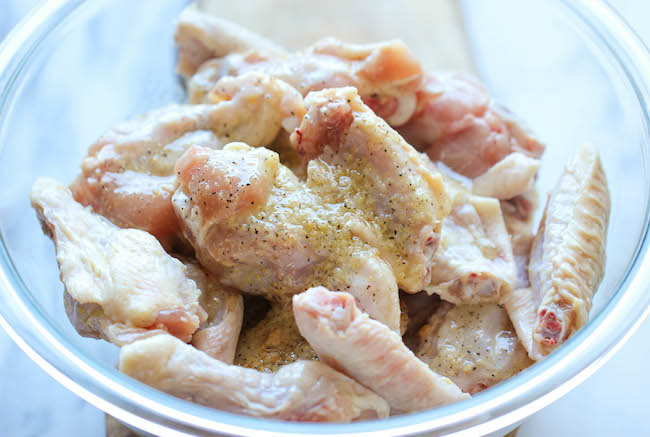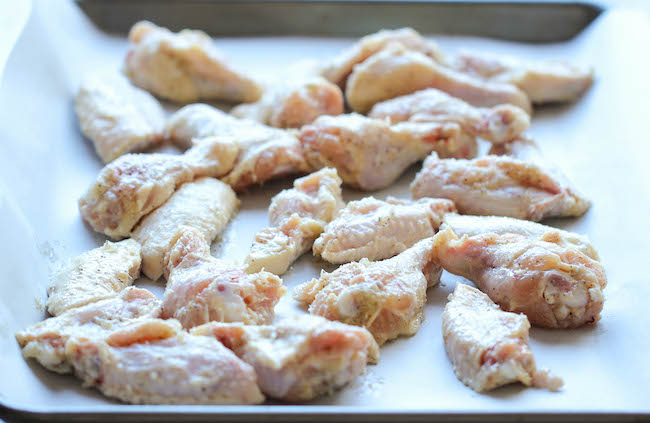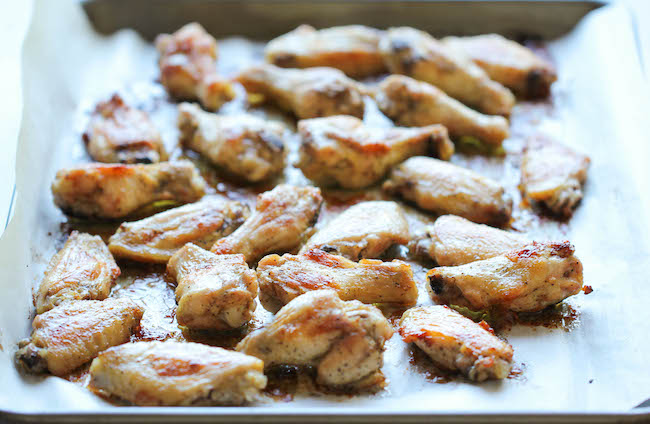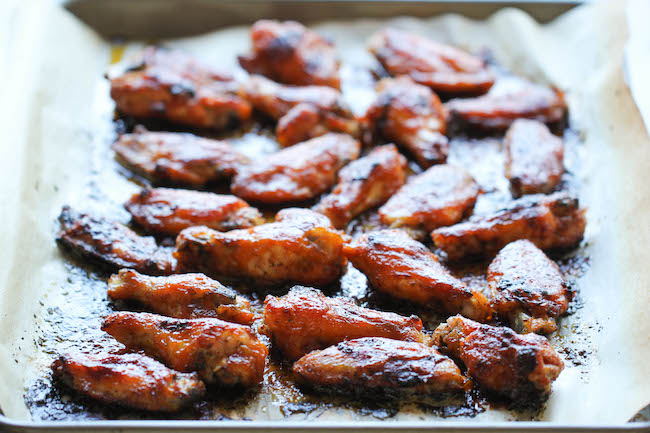 I"ve fried and baked my fair share of wings in the last couple of years. Fried is great and all but it can get really greasy and messy in the kitchen, which is not my favorite combination in the kitchen, or throughout the house. With the baked option, you never get that fried crispness but I may just have discovered a way around that with this recipe.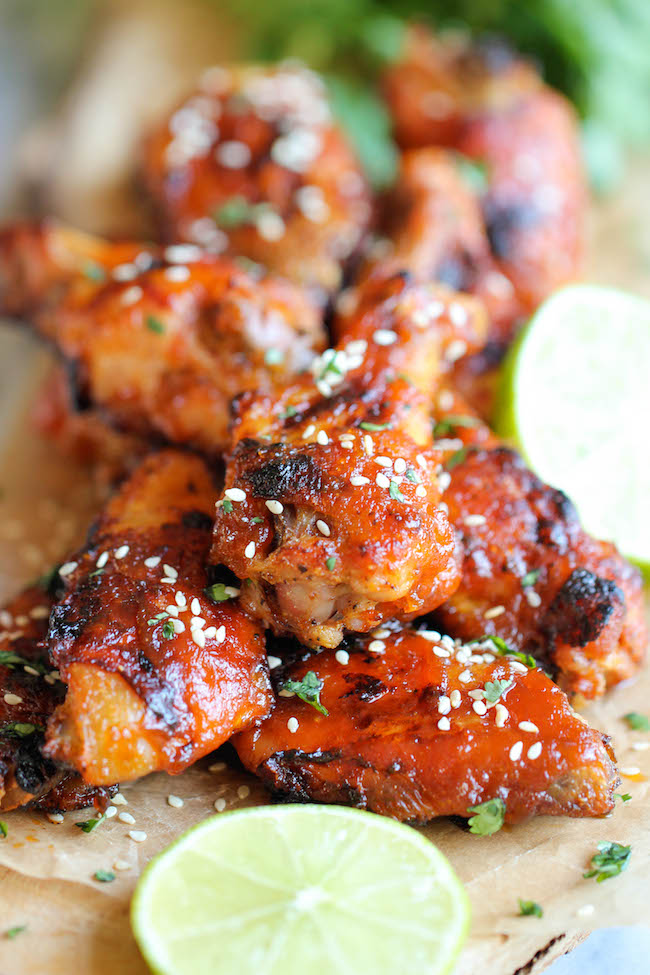 Now these wings initially get tossed in a simple buttery spice mixture before they go in the oven. Once they're almost cooked through, they're slathered with a sweet, spicy Sriracha glaze, broiled to that crisp, "fried" texture without actually having to deep-fry. That charred, smokiness is such a wonderful addition to the wings, and the glaze is amazingly sweet with just the right amount of heat packed right in!
These babies are the perfect kind of finger foods for your next football gathering, although I'm sure I could have this all year long!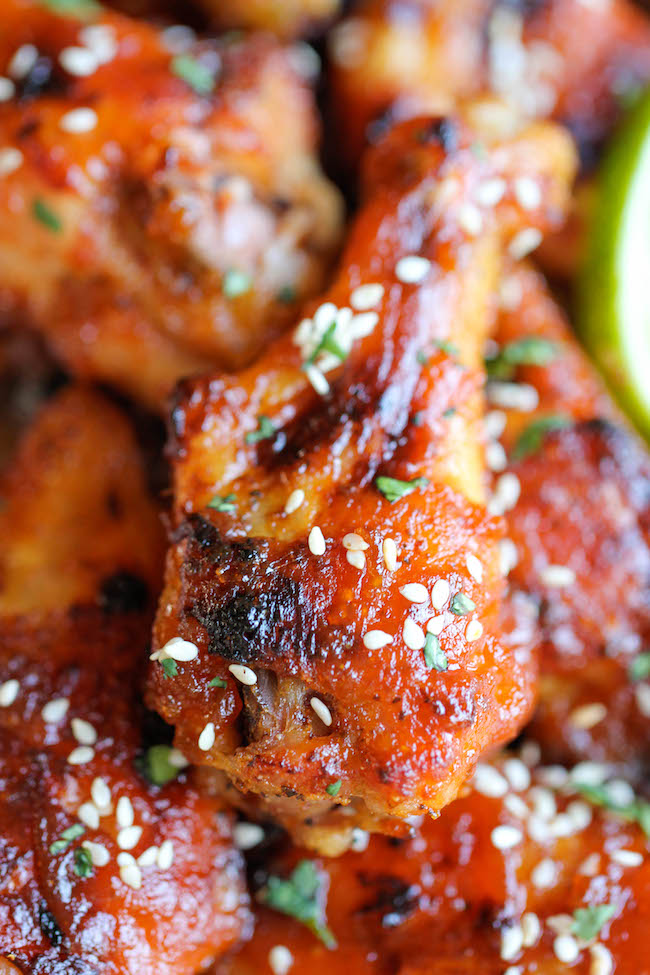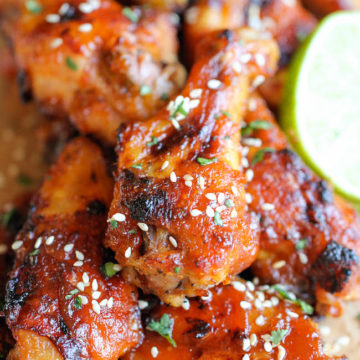 Baked Honey Sriracha Wings
An amazing combination of sweetness and spiciness in every bite, and they're baked to crisp perfection!
15 minutes35 minutes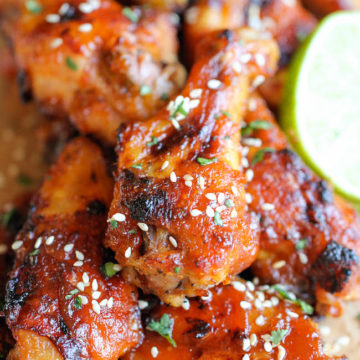 Ingredients:
2 pounds chicken wings
2 tablespoons unsalted butter, melted
1 tablespoon vegetable oil
1 teaspoon garlic powder
Kosher salt and freshly ground black pepper, to taste
1 tablespoon chopped fresh cilantro leaves
Sesame seeds, for garnish
For the honey Sriracha glaze
5 tablespoons unsalted butter
1 tablespoon all-purpose flour
1/4 cup honey
1/4 cup Sriracha*
1 tablespoon soy sauce
Juice of 1 lime
Directions:
Preheat oven to 400 degrees F. Line a baking sheet with parchment paper.
To make the glaze, melt butter in a small saucepan over medium heat. Whisk in flour until lightly browned, about 1 minute. Stir in honey, Sriracha, soy sauce and lime juice. Bring to a boil; simmer until slightly thickened, about 1-2 minutes.
In a large bowl, combine wings, butter, vegetable oil, garlic powder, salt and pepper, to taste.
Place wings onto the prepared baking sheet and bake for 25-30 minutes, using metal tongs to turn at halftime. Brush wings with Sriracha glaze and broil for 3-4 minutes, or until crisp and crusted.
Serve immediately, garnished with cilantro and sesame seeds, if desired.
Notes:
*Sriracha is an Asian-style hot chili sauce and can be found in the Asian section of your local grocery store.
Did you Make This Recipe?
Tag @damn_delicious on Instagram and hashtag it #damndelicious.
Nutrition Facts
Serving Size
Servings Per Container 6
---
Amount Per Serving
Calories 485.9
Calories from Fat 657
% Daily Value*
Total Carbohydrate 15.6g
5%
---
*Percent Daily Values are based on a 2,000 calorie diet. Your daily values may be higher or lower depending on your calorie needs.