Red Lobster Cheddar Bay Biscuits
These copycat biscuits are unbelievably easy to make in just 20 minutes, and they taste a million times better than the original!

I have the fondest memories of Red Lobster. It was always our go-to place for big familial celebrations, particularly for our birthdays. And since we never went out for dinner and generally consumed a Korean meal 7 days a week, it was always a huge deal to order lobster. It was as if we had won the lottery! But other than the lobster, there was something else on the menu that was just as lottery-worthy. It was, of course, the cheddar bay biscuits.
Now I don't know about you guys but I absolutely 
love
discovering copycat recipes from
Pinterest
. From this
Olive Garden Zuppa Toscana
to
PF Chang's Mongolian Beef
, I am having a blast recreating some of my restaurant favorites. And these cheddar bay biscuits are no exception. The best part about it is that it literally 
only takes 20 min to make
! There's no kneading or rolling of any kind. Simply stir everything together, drop them onto a baking sheet and that's it. From there, you'll have the flakiest, most fluffy biscuit you could possibly dream of, with a hit of spiciness from the cayenne pepper. And with that melted butter brushed right on, it is absolute perfection. Just be sure to practice some self control before you devour all 10 of these like I did!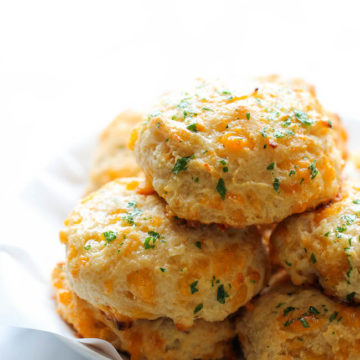 Red Lobster Cheddar Bay Biscuits
These copycat biscuits are so easy to make in just 20 min, and they taste a million times better!
10 minutes
10 minutes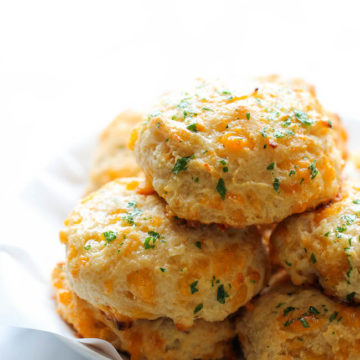 Ingredients:
2 cups all-purpose flour
1 tablespoon sugar
1 tablespoon baking powder
2 teaspoons garlic powder
1/2 teaspoon kosher salt
1/4 teaspoon cayenne pepper, optional
1 cup buttermilk
1/2 cup unsalted butter, melted
1 1/2 cups shredded sharp cheddar cheese
For the topping
3 tablespoons unsalted butter, melted
1 tablespoon chopped fresh parsley leaves
1/2 teaspoon garlic powder
Directions:
Preheat oven to 450 degrees F. Line a baking sheet with parchment paper or a silicone baking mat; set aside.
In a large bowl, combine flour, sugar, baking powder, garlic powder, salt and cayenne pepper, if using.
In a large glass measuring cup or another bowl, whisk together buttermilk and butter. Pour mixture over dry ingredients and stir using a rubber spatula just until moist. Gently fold in cheese.
Using a 1/4-cup measuring cup, scoop the batter evenly onto the prepared baking sheet. Place into oven and bake for 10-12 minutes, or until golden brown.
For the topping, whisk together butter, parsley and garlic powder in a small bowl. Working one at a time, brush the tops of the biscuits with the butter mixture.
Serve immediately.
Did you Make This Recipe?
Tag @damn_delicious on Instagram and hashtag it #damndelicious.
Nutrition Facts
Serving Size
Servings Per Container 10
---
Amount Per Serving
Calories 300.7
Calories from Fat 175.5
% Daily Value*
Total Carbohydrate 22.9g
8%
---
*Percent Daily Values are based on a 2,000 calorie diet. Your daily values may be higher or lower depending on your calorie needs.