Cauliflower Chowder
A creamy, low carb, hearty and wonderfully cozy soup for those chilly nights!

Since we've relocated out to the Bay Area, I've been making a lot of cozy soups to get us through these chilly nights. But instead of making my usual carb-loaded chowders that I love so much, I tried something a little bit lighter and more hearty. After all, spring is officially here, sweater season is slowly coming to an end, and bikini season will be here before you know it.
Now I'll be honest – being the carboholic that I am, I was very skeptical about using cauliflower in place of potatoes, but boy, was I in for a treat.
The cauliflower was an amazing low-carb substitute, and it's really such a perfect way to sneak in some good ol' veggies for those picky eaters. And to balance out all that veggie goodness, I just had to add some crisp bacon bits because at the end of the day, bacon just makes everything 10000x times better. Either way, this is one cozy, hearty soup that the whole family will gobble up!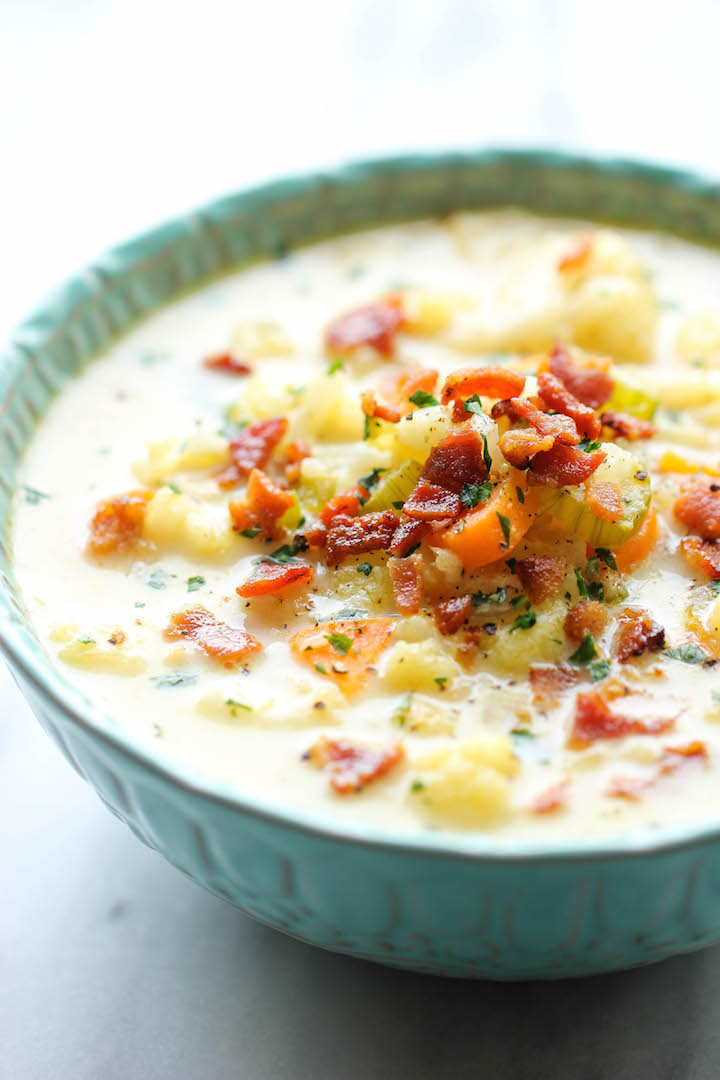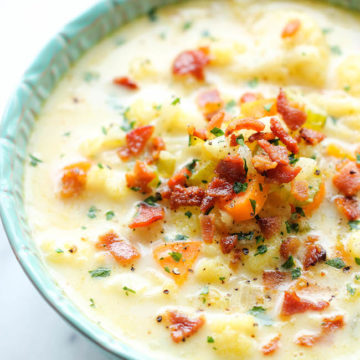 Cauliflower Chowder
A creamy, low carb, hearty and wonderfully cozy soup for those chilly nights!
15 minutes
30 minutes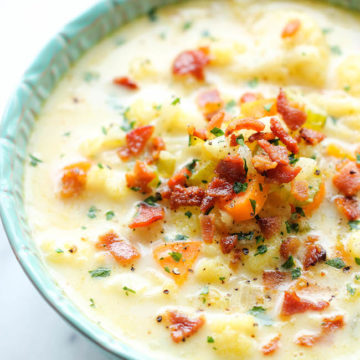 Ingredients:
4 slices bacon, diced
2 tablespoons unsalted butter
2 cloves garlic, minced
1 onion, diced
2 carrots, peeled and diced
2 stalks celery, diced
1/4 cup all-purpose flour
4 cups chicken broth
1 cup 2% milk
1 head cauliflower, roughly chopped
1 bay leaf
Kosher salt and freshly ground black pepper, to taste
2 tablespoons chopped fresh parsley leaves
Directions:
Heat a large stockpot or Dutch oven over medium heat. Add bacon and cook until brown and crispy, about 6-8 minutes. Transfer to a paper towel-lined plate; set aside.
Melt butter in the stockpot. Add garlic, onion, carrots and celery. Cook, stirring occasionally, until tender, about 3-4 minutes. Stir in cauliflower and bay leaf. Cook, stirring occasionally, until barely crisp-tender, about 3-4 minutes.
Whisk in flour until lightly browned, about 1 minute. Gradually whisk in chicken broth and milk, and cook, whisking constantly, until slightly thickened, about 3-4 minutes.
Bring to a boil; reduce heat and simmer until cauliflower are tender, about 12-15 minutes; season with salt and pepper, to taste. If the chowder is too thick, add more milk as needed until desired consistency is reached.
Serve immediately, garnished with bacon and parsley, if desired.
Did you Make This Recipe?
Tag @damn_delicious on Instagram and hashtag it #damndelicious.
Nutrition Facts
Serving Size
Servings Per Container 6
---
Amount Per Serving
Calories 193.1
Calories from Fat 102.6
% Daily Value*
Total Carbohydrate 17.4g
6%
---
*Percent Daily Values are based on a 2,000 calorie diet. Your daily values may be higher or lower depending on your calorie needs.