Garlic Parmesan Fries
Amazingly crisp, oven-baked fries coated with freshly grated Parmesan and a generous dose of garlic goodness!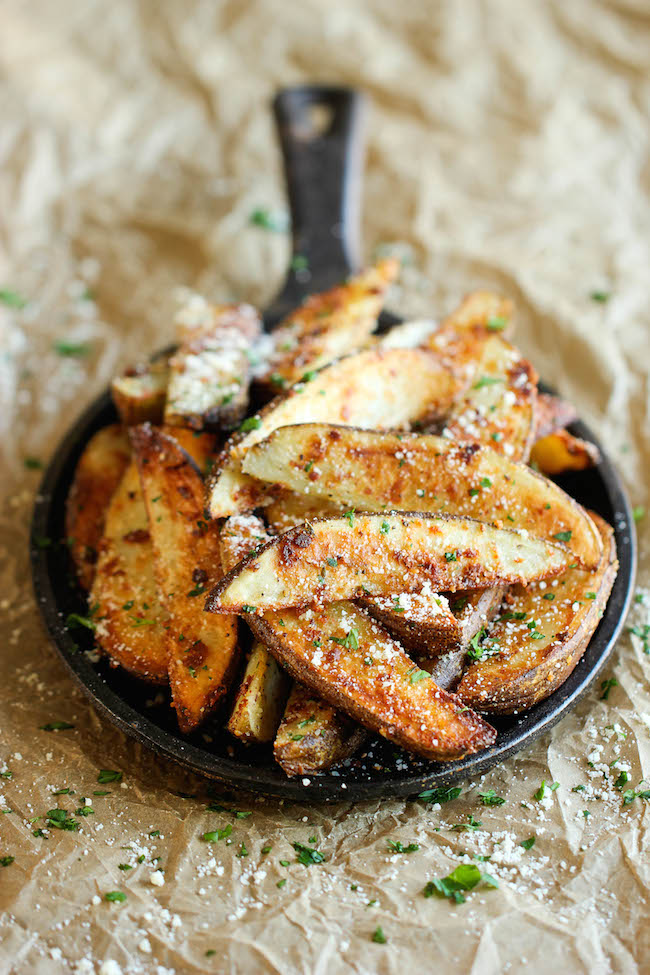 I first want to start off by thanking you all for the get well wishes for Butters. His fever has gone down completely and his temperature has normalized. The doc still couldn't figure out what was wrong with him but we're all so relieved that he's fully recuperated and that he's back to being the adorable pup that chews, bites, and nips everything in sight. Still, we love him to death.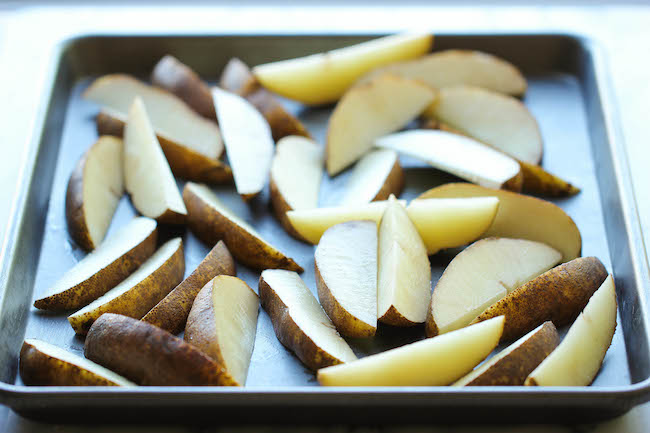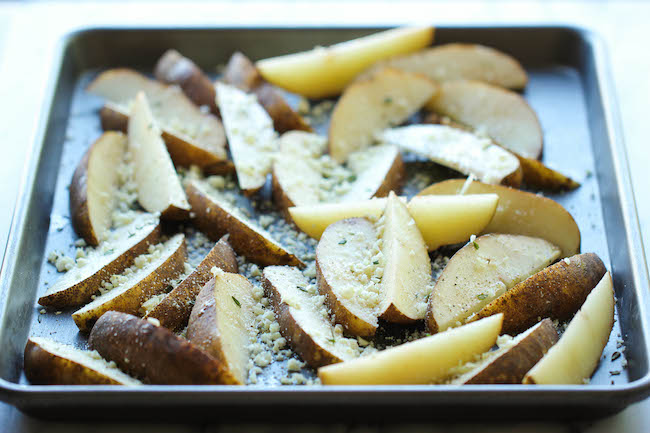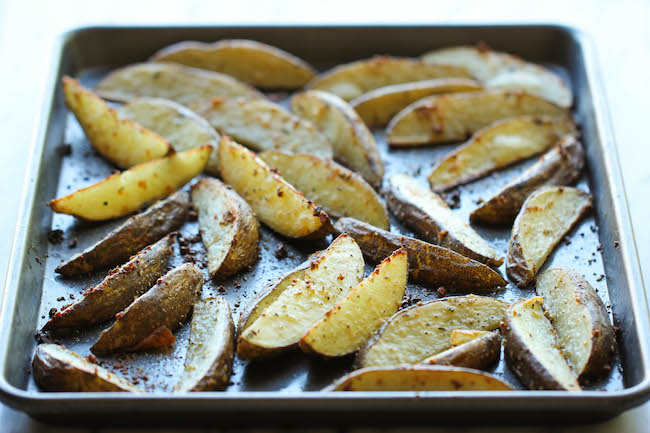 Now I actually made these while Butters was in the hospital. I was in tears and worried sick for him, but I had to keep myself busy before I came up with every kind of scenario of what could possibly go wrong. That's how these fries come into the picture.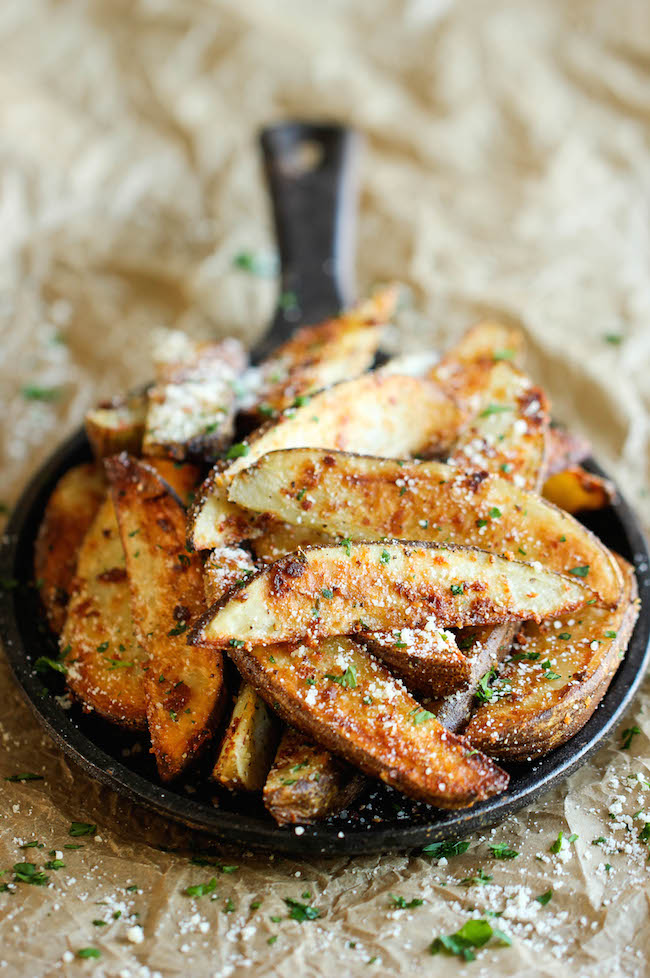 I found myself with a bag of russet potatoes in my pantry, just waiting to be used up. And since potatoes are my all-time favorite kind of comfort food, I knew that I just needed a plate of fries to calm my nerves. But I didn't want just any kind of fries – I needed thick, meaty potato wedges doused in Parmesan and garlic. Lots and lots of garlic. And Parmesan.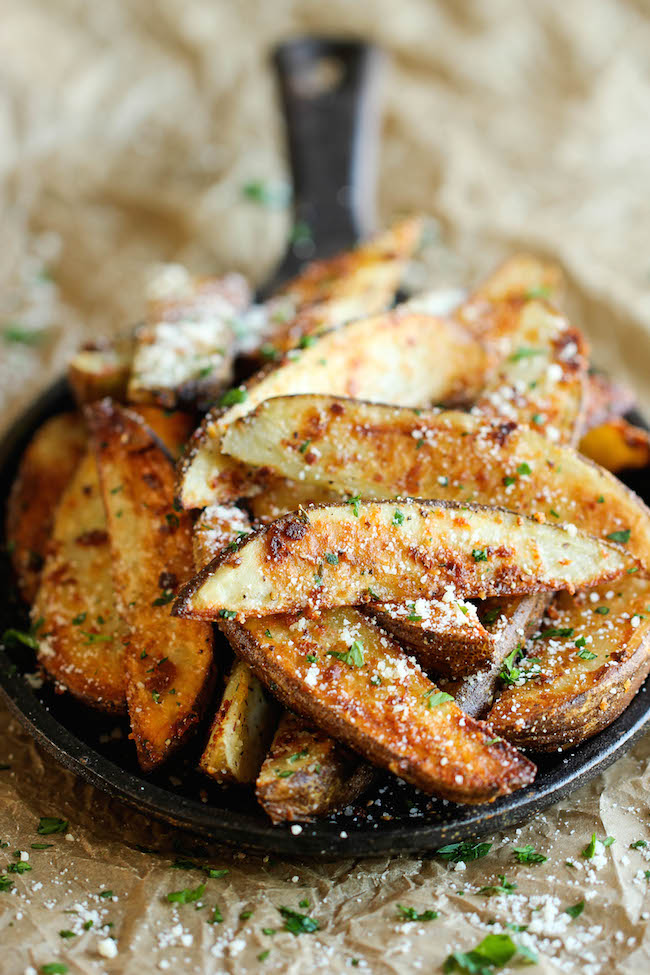 I was also in no mood for any kind of deep-frying to take place so I tossed these babies in olive oil before popping them into the oven to get them nice and crisp. After 20-25 minutes, these potato wedges are wonderfully golden brown – crisp on the outside and melt-in-your-mouth tender on the inside. Now believe me when I tell you that you'll want to finish the entire plate of fries. And no, I won't judge you if you do because I had absolutely no shame eating every last one of these.
Garlic Parmesan Fries
Amazingly crisp, oven-baked fries coated with freshly grated Parmesan and a generous dose of garlic goodness!
10 minutes30 minutes
Ingredients:
3 russet potatoes, cut into
8 long wedges
2 tablespoons olive oil
5 cloves garlic, minced
1 1/2 teaspoons dried thyme
1/2 cup grated Parmesan
Kosher salt and freshly ground black pepper, to taste
2 tablespoons chopped parsley leaves, for garnish
Directions:
Preheat oven to 375 degrees F. Lightly oil a baking sheet or coat with nonstick spray.
Place potatoes in a single layer onto the prepared baking sheet. Add olive oil, garlic, thyme and Parmesan; season with salt and pepper, to taste. Gently toss to combine.
Place into oven and bake for 25-30 minutes, or until golden brown and crisp, tossing occasionally.
Serve immediately, garnished with parsley, if desired.
Did you Make This Recipe?
Tag @damn_delicious on Instagram and hashtag it #damndelicious.
Nutrition Facts
Serving Size
Servings Per Container 4
---
Amount Per Serving
Calories 245.5
Calories from Fat 95.4
% Daily Value*
Total Carbohydrate 29.3g
10%
---
*Percent Daily Values are based on a 2,000 calorie diet. Your daily values may be higher or lower depending on your calorie needs.