Baked Blueberry Lemon French Toast
Amazingly sweet and scrumptious make-ahead french toast using a secret ingredient – sweet and fluffy Hawaiian bread!

Mother's Day is right around the corner, and for those of you in need of an easy brunch recipe that you can make the night before, well, look no further because I have the perfect make-ahead brunch item that mom is just going to love!
Now what makes this dish so special? Well, it takes the classic french toast and transforms it into a completely baked version, which lets you prep everything the night before! Easy peasy, right?
But the real secret to this baked french toast is the special touch of sweetness using King's Hawaiian sweet and fluffy slider buns.Yes, we're completely swapping out that boring old plain bread and using King's Hawaiian instead.
I know, I'm a genius, but I can't take the credit for inventing this one. I was completely inspired by a very good friend of mine over at Averie Cooks, where she created the most epic Hawaiian Bread and Maple Banana Baked French Toast. Amazing, right?
So after seeing Averie's version, I just had to make my very own french toast, chockfull of plump blueberries and fresh lemon zest for that sweet, refreshing touch. And once you sprinkle on that powdered sugar on top of that sweet crumb topping, it is absolute perfection as each bite just melts in your mouth.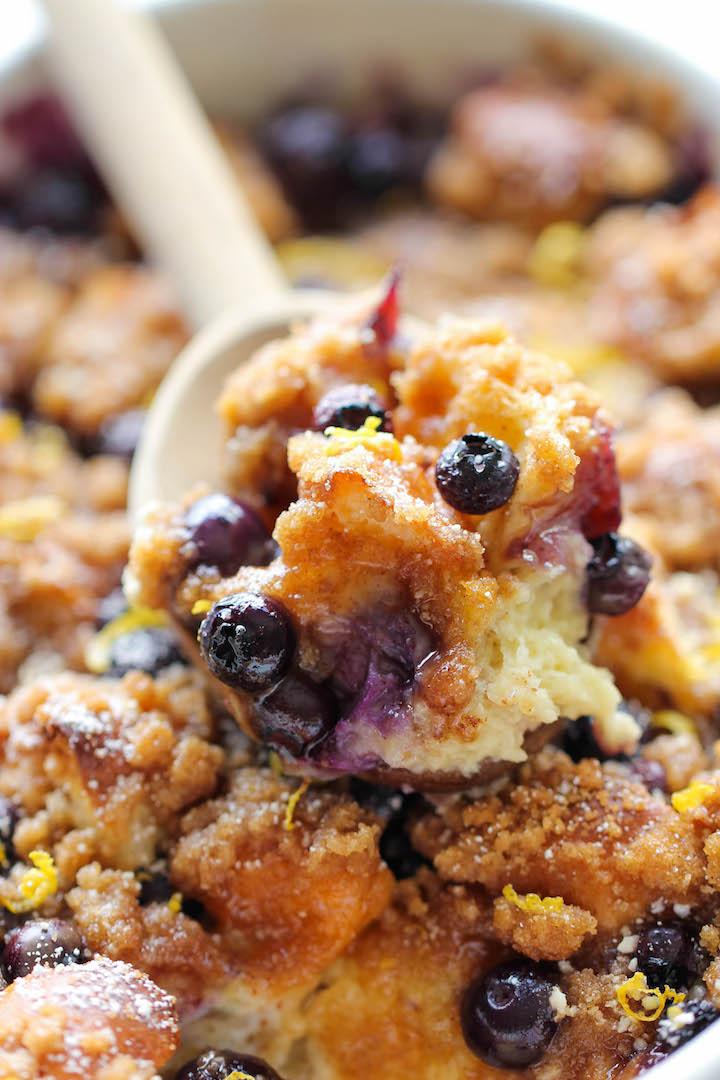 It has the perfect amount of sweetness, and you can simply eat this right out of the baking dish. I promise – I won't judge you if you do and neither will mom!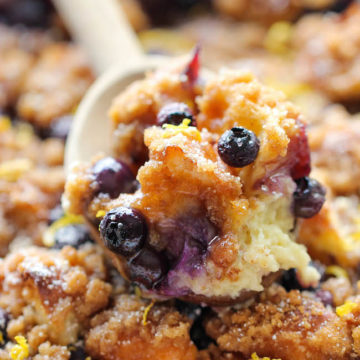 Baked Blueberry Lemon French Toast
Amazingly sweet and scrumptious make-ahead french toast using King's Hawaiian bread!
2 hours 15 minutes
45 minutes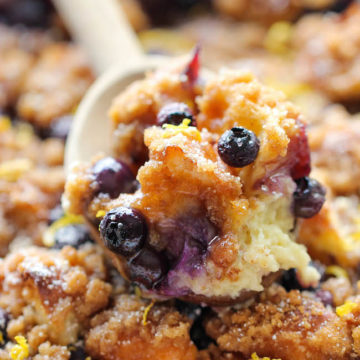 Ingredients:
1 (12-count) package KING'S HAWAIIAN Original Hawaiian Sweet Dinner Rolls, cubed
1 cup blueberries
1 1/2 cups milk
3 large eggs
2 tablespoons maple syrup, or more, to taste
Zest of 1 lemon
1 1/2 teaspoons vanilla extract
1 teaspoon ground cinnamon
1/4 teaspoon ground nutmeg
For the crumb topping
1/4 cup all-purpose flour
1/4 cup brown sugar, packed
1/2 teaspoon ground cinnamon
1/4 cup unsalted butter, cut into cubes
2 tablespoons confectioners' sugar
Directions:
Lightly coat a 9×13 baking dish with nonstick spray. Place a layer of bread cubes evenly into the baking dish. Top with blueberries in an even layer, repeating 2 more times and ending with a layer of bread.
In a large glass measuring cup or another bowl, whisk together milk, eggs, maple syrup, lemon zest, vanilla, cinnamon and nutmeg. Pour mixture evenly over the bread cubes. Cover and place in the refrigerator for at least 2 hours or overnight.
Preheat oven to 350 degrees F.
To make the crumb topping, combine flour, sugar and cinnamon in a small bowl. Add cold butter and toss to coat, using your fingers to work the butter into the dry ingredients until it resembles coarse crumbs. Sprinkle the crumb topping evenly over the bread cubes.
Place into oven and bake for 35-45 minutes, or until golden brown.
Serve immediately, sprinkled with confectioners' sugar, if desired.
Did you Make This Recipe?
Tag @damn_delicious on Instagram and hashtag it #damndelicious.
Disclosure: This post is sponsored by King's Hawaiian. All opinions expressed are my own.