CPK's Kung Pao Spaghetti
A copycat recipe that you can make right at home in less than 20 minutes. And it tastes even better than the restaurant version!
Have you ever had California Pizza Kitchen's Kung Pao Spaghetti? I've had it on many occasions but as good as it is, I'm just not comfortable spending $15 on a lunch dish for myself, especially when it's during my lunch break. But now, I never have to order this because I can make it right at home in just 20 minutes!
Now if you've never had the CPK version, this is really a Chinese take-out favorite tossed in spaghetti noodles. It's wonderfully flavorful and savory with that extra spicy kick to it, and there's plenty of chicken to go around for everyone, unlike CPK who adds in a couple of pieces of chicken and then charges an additional $3 for it.
And f you want it completely vegetarian, you could even add some fried tofu cubes. That actually sounds better than the chicken. I'll definitely be trying that next time!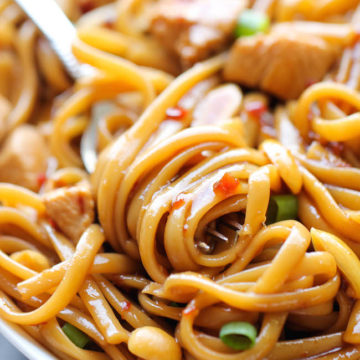 CPK's Kung Pao Spaghetti
A copycat recipe that you can make at home in less than 20 min. And the homemade version tastes 10000x better!
10 minutes
20 minutes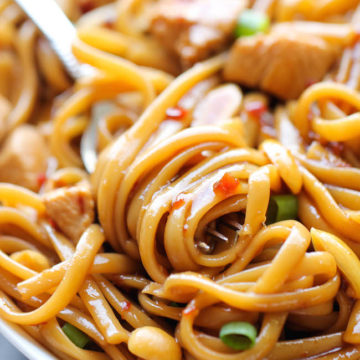 Ingredients:
1 pound spaghetti
2 tablespoons vegetable oil
3 boneless, skinless thin-sliced chicken breasts
Kosher salt and freshly ground black pepper, to taste
4 cloves garlic, minced
1/2 cup dry roasted peanuts
2 green onions, thinly sliced
For the sauce
1/2 cup reduced sodium soy sauce
1/2 cup chicken broth
1/2 cup dry sherry
2 tablespoons red chili paste with garlic, or more, to taste
1/4 cup sugar
2 tablespoons red wine vinegar
2 tablespoons cornstarch
1 tablespoon sesame oil
Directions:
In a small bowl, whisk together soy sauce, chicken broth, dry sherry, red chili paste, sugar, red wine vinegar, cornstarch and sesame oil; set aside.
In a large pot of boiling salted water, cook pasta according to package instructions; drain well.
Heat vegetable oil in a large skillet over medium high heat. Season chicken breasts with salt and pepper, to taste. Add to skillet and cook, flipping once, until cooked through, about 3-4 minutes per side. Let cool before dicing into bite-size pieces; set aside.
Add garlic to the skillet and cook, stirring constantly, until fragrant, about 1 minute. Stir in soy sauce mixture and bring to a boil; reduce heat and simmer until thickened, about 1-2 minutes. Stir in pasta, chicken, peanuts and green onions.
Serve immediately.
Did you Make This Recipe?
Tag @damn_delicious on Instagram and hashtag it #damndelicious.