One Pot Lemon Orzo Shrimp
A super easy one pot meal that the whole family will love – even the orzo gets cooked right in the pot!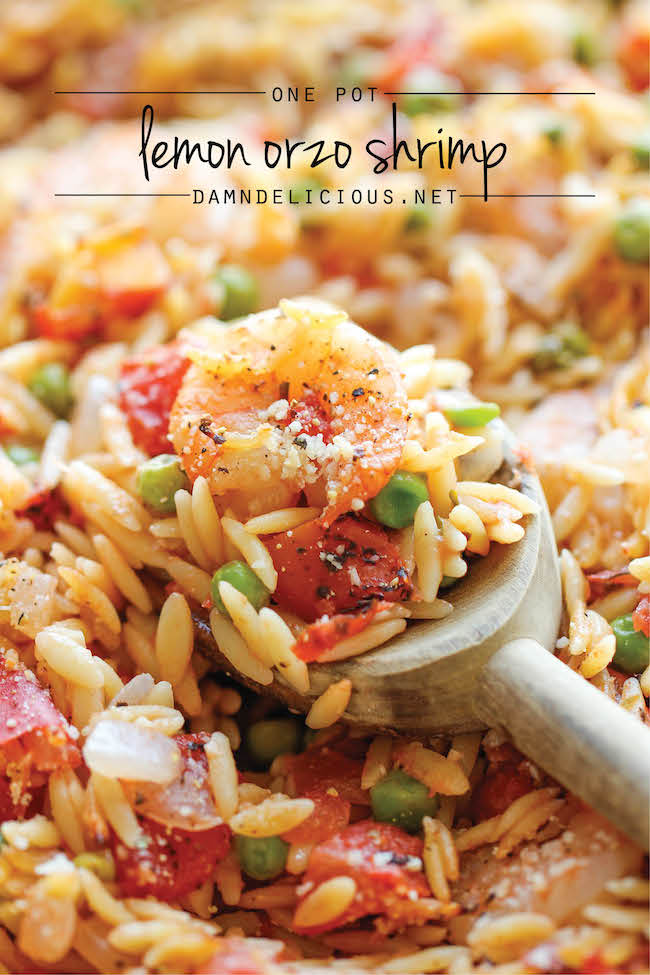 Can we talk about how amazing one pot meals are? Years ago, I would never go near a one pot meal with a ten foot pole – I just had this suspicion that a one pot meal had major taste deficiencies. It was just too easy and too good to be true. But now – well, let's just say that I'm only living off of one pot meals for the rest of my life.
After all, why would you ever want to live in a world where you have dirty up all these dishes when you only need one pot? And this orzo shrimp. Yes, it really comes together in a single pot. Even the uncooked orzo gets cooked right in there!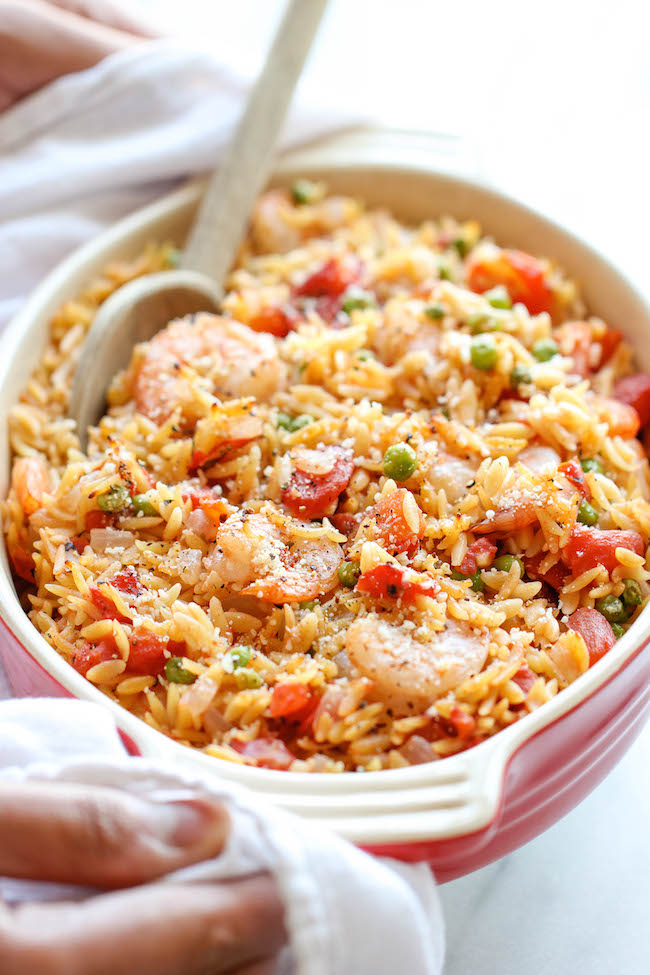 Plus, you have everything you could possibly need in a hearty meal right in this dish – carbs, veggies, shrimp and tons of flavor. Best of all, it's completely customizable to add in your favorite veggies. It's the perfect clean-out-the-fridge meal!
I'm just dying to make this again with andouille sausage, corn, zucchini and a little bit of red pepper flakes for some added spice. The possibilities are endless.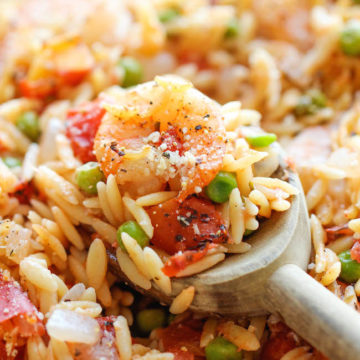 One Pot Lemon Orzo Shrimp
A super easy one pot meal that the whole family will love – even the orzo gets cooked right in the pot!
10 minutes
30 minutes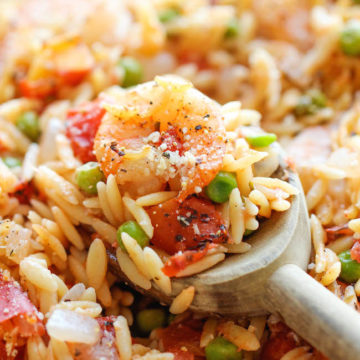 Ingredients:
1 pound medium shrimp, peeled and deveined
Kosher salt and freshly ground black pepper, to taste
1 tablespoon olive oil
3 cloves garlic, minced
1 onion, diced
1/2 teaspoon dried oregano
8 ounces orzo pasta
2 cups chicken broth
1 (14.5-ounce) can diced tomatoes, drained
1/2 cup frozen peas
Juice of 1 lemon
1/4 cup grated Parmesan cheese
Directions:
Preheat oven to 400 degrees F.
Season shrimp with salt and pepper, to taste; set aside.
Heat olive oil in a large oven-proof skillet over medium high heat. Add garlic, onion and oregano, and cook, stirring often, until onions have become translucent, about 3-4 minutes. Stir in orzo until lightly browned, about 1-2 minutes.
Stir in chicken broth and 1/2 cup water. Bring to a boil; cover, reduce heat and simmer until pasta is cooked through, about 10-12 minutes. Stir in tomatoes, peas, lemon juice and shrimp. Sprinkle with Parmesan.
Place into oven and bake until shrimp are cooked through, about 12-14 minutes.
Serve immediately.
Did you Make This Recipe?
Tag @damn_delicious on Instagram and hashtag it #damndelicious.
Nutrition Facts
Serving Size
Servings Per Container 4
---
Amount Per Serving
Calories 453.4
Calories from Fat 74.7
% Daily Value*
Total Carbohydrate 56.0g
19%
---
*Percent Daily Values are based on a 2,000 calorie diet. Your daily values may be higher or lower depending on your calorie needs.