Baked Cream Cheese Wontons
No one would ever believe that these crisp, creamy wontons are actually baked, not fried! Plus, they're unbelievably easy and simple – perfect for a large crowd!

Now that football season is here, that also means that the ever-popular tailgating season is here too! But whether you're firing up the grill in the stadium parking lot or hosting a small get-together with your friends right at home, these baked cream cheese wontons are an absolute must.
Now these may look a bit intimidating to make, but believe me – these are the easiest things ever! All you need to do is whip up your creamy shrimp filling, pack it in these wonton wrappers, and pinch up the sides to make an X. Yes, it's just that easy. Really.
Plus, they're so pretty to look at with those fancy "X"-shaped tops. Just don't tell your guests how easy these really are. They'll be thinking you slaved away for hours in the kitchen making these. And who knows – maybe they'll even offer to do the dishes!
Best of all, these bad boys are BAKED, not fried, and they're just as a bit as crisp and crunchy, except without that dangerous hot pot of oil on the stovetop.
Be sure to check out Eat Shrimp on Pinterest for more shrimp-inspired recipes this football season!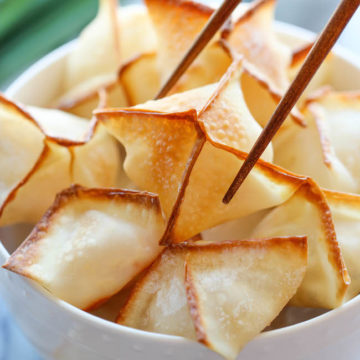 Baked Cream Cheese Wontons
No one would ever believe that these crisp, creamy wontons are actually baked, not fried! And they're so easy to make!
20 minutes10 minutes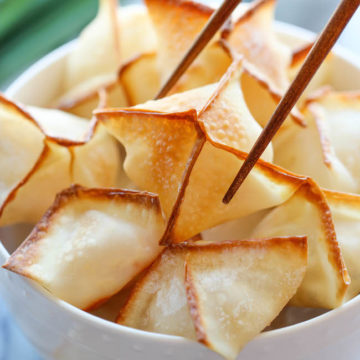 Ingredients:
8 ounces medium shrimp, peeled, deveined and roughly chopped
4 ounces cream cheese, at room temperature
2 cloves garlic, minced
2 green onions, thinly sliced
1 tablespoon freshly grated ginger
1 teaspoon sesame oil
1 teaspoon Sriracha, optional
Kosher salt and freshly ground black pepper, to taste
16 2-inch won ton wrappers
1 large egg, beaten
Directions:
Preheat oven to 400 degrees F. Lightly oil a baking sheet or coat with nonstick spray.
In a large bowl, combine shrimp, cream cheese, garlic, green onions, ginger, sesame oil and Sriracha, if using; season with salt and pepper, to taste.
To assemble the wontons, place wrappers on a work surface. Spoon 1 1/2 teaspoons of the mixture into the center of each wrapper. Using your finger, rub the edges of the wrappers with egg. Fold all sides over the filling to create an "X", pinching the edges to seal.
Place wontons in a single layer onto the prepared baking sheet; coat with nonstick spray. Place into oven and bake for 10-12 minutes, or until golden brown and crisp.
Serve immediately.
Did you Make This Recipe?
Tag @damn_delicious on Instagram and hashtag it #damndelicious.
Nutrition Facts
Serving Size
Servings Per Container 4
---
Amount Per Serving
Calories 262.0
Calories from Fat 112.5
% Daily Value*
Total Carbohydrate 17.8g
6%
---
*Percent Daily Values are based on a 2,000 calorie diet. Your daily values may be higher or lower depending on your calorie needs.
8 Thirty-One Gifts Products and $100 Visa Gift Card Giveaway!
No, wait, the best part of all is this fabulous giveaway hosted by Thirty-One Gifts to provide you with the best (and cutest) tailgate necessities! Because once you've made all that delicious food, you have to get it to the party somehow!
From the Perfect Party Set with compartments to fit up to two 9″ x 13″ pans,  to the Picnic Thermal Tote to keep your beverages cold and the Deluxe Utility Tote for the perfect on-the-go organizing solution, Thirty-One Gifts has you covered this season!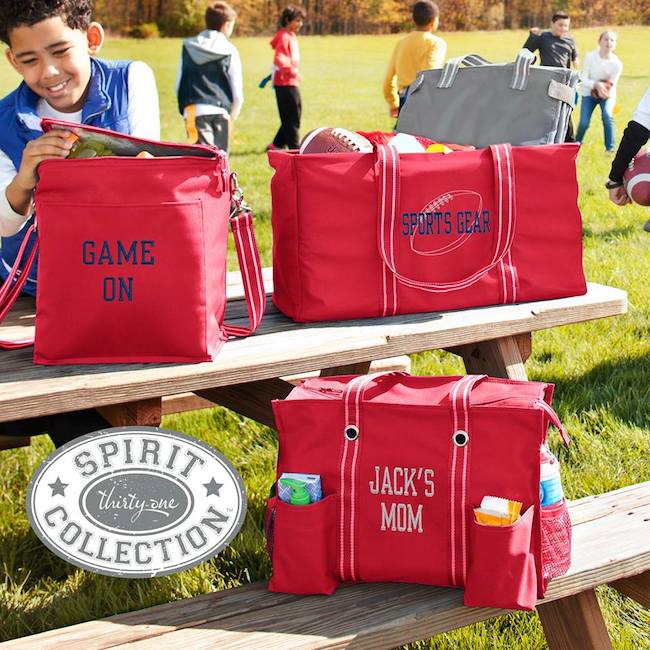 That being said, one lucky reader will be winning eight Thirty-One Gifts products and a $100 Visa gift card! Just be sure to enter through the rafflecopter below. Happy tailgating and good luck!
Disclosure: This post is sponsored by the National Fisheries Institute Shrimp Council. All opinions expressed are my own.