Creamy Mushroom Fettuccine
The creamiest mushroom alfredo sauce you will ever have – a sauce so good, you'll want to slurp it with a spoon!

Did you know that parmesan cheese is known as the "King of Italian Cheese"? It is really a fine type of cheese, helping to transform any homemade dish to something truly gourmet, especially with the help of Stella® Cheese.
Now Stella Cheese® has been around since 1923, creating lasagnas, casseroles, and baked potatoes so much more richer and gooier, elevating every day meals to something so fancy and sophisticated. And even with this easy fettuccine dish, it becomes restaurant quality with all that creamy parmesan goodness, sitting in a pool of that heavenly mushroom alfredo sauce.
Except no one will ever know just how easy and simple this dish really is, made in just 30 minutes. Best of all, you can add in more veggies as needed or swap out the spinach for kale, swiss chard or even arugula. It's up to you, and the possibilities are endless!
For more cheesy goodness, you can find Stella Cheese® on Facebook, Pinterest and Instagram!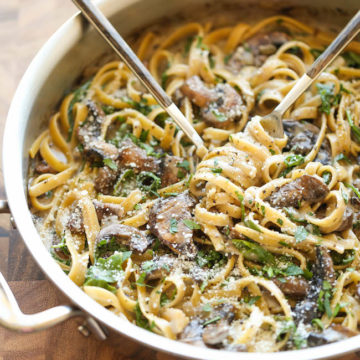 Creamy Mushroom Fettuccine
The creamiest mushroom alfredo sauce you will ever have – a sauce so good, you'll want to slurp it with a spoon!
10 minutes20 minutes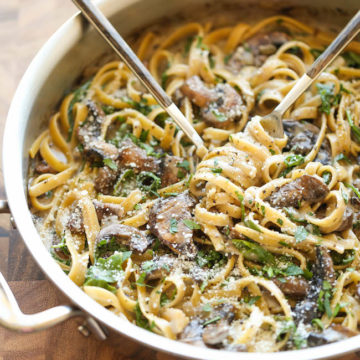 Ingredients:
8 ounces fettuccine
2 tablespoons unsalted butter
2 cloves garlic, minced
1 pound cremini mushrooms, thinly sliced
1 onion, diced
1/2 teaspoon dried thyme
1/4 teaspoon dried dill
Kosher salt and freshly ground black pepper, to taste
2 tablespoons all-purpose flour
3/4 cup vegetable broth
1 cup half and half, or more, as needed*
2 cups baby spinach
1/4 cup freshly grated Parmesan
2 tablespoons chopped fresh parsley leaves
Directions:
In a large pot of boiling salted water, cook pasta according to package instructions; drain well.
Melt butter in a large skillet over medium heat. Add garlic, mushrooms and onion. Cook, stirring occasionally, until tender, about 3-4 minutes. Stir in thyme and dill until fragrant, about 1 minute; season with salt and pepper, to taste.
Whisk in flour until lightly browned, about 1 minute. Gradually whisk in vegetable broth, and cook, whisking constantly, until incorporated, about 1-2 minutes. Stir in half and half until slightly thickened, about 1-2 minutes.
Stir in baby spinach and Parmesan until the spinach has wilted, about 2 minutes. If the mixture is too thick, add more half and half as needed.
Stir in pasta and gently toss to combine.
Serve immediately, garnished with parsley, if desired.
Notes:
*Half and half is equal parts of whole milk and cream. For 1 cup half and half, you can substitute 3/4 cup whole milk + 1/4 cup heavy cream or 2/3 cup skim or low-fat milk + 1/3 cup heavy cream.
Did you Make This Recipe?
Tag @damn_delicious on Instagram and hashtag it #damndelicious.
Nutrition Facts
Serving Size
Servings Per Container 4
---
Amount Per Serving
Calories 426.7
Calories from Fat 135
% Daily Value*
Total Carbohydrate 58.2g
19%
---
*Percent Daily Values are based on a 2,000 calorie diet. Your daily values may be higher or lower depending on your calorie needs.
Disclosure: This post is sponsored by Stella® Cheese. All opinions expressed are my own.