Zucchini Tots
Loaded with zucchini and carrots, these tots do not even taste healthy! It's the perfect way to sneak in veggies, and it's just so good!

I love tater tots just as much as the next person. I'll make them from scratch or I'll wrap it in bacon, coated in brown sugar. Yes, that's a heart attack waiting to happen. I know.
So these zucchini carrot tots come in real handy when you need to load up on your veggies, or when you need to balance out all 20 bacon wrapped tater tots you had the night before. No judgment, please.
Now these tots are loaded with freshly grated zucchini, carrots, cheddar cheese and Parmesan, although you can easily swap out the cheddar for your favorite kind of cheese, like jalapeno Monterey Jack for a kick of heat.
Just be sure to wring out as much water as you can from the shredded  zucchini – that's the secret to getting these babies nice and crisp.
When ready to serve, all you need is a dollop of a ketchup. The pickiest of eaters don't even have to know that these are loaded with veggies.
I promise – they'll devour all of them before you know it.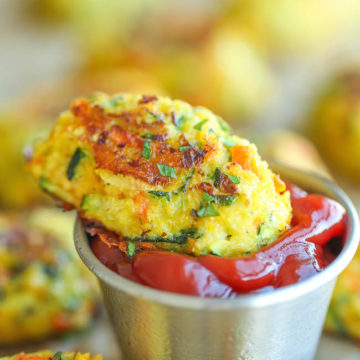 Zucchini Tots
Loaded with zucchini and carrots, these tots do not even taste healthy! It's the perfect way to sneak in veggies, and it's just so good!
25 minutes15 minutes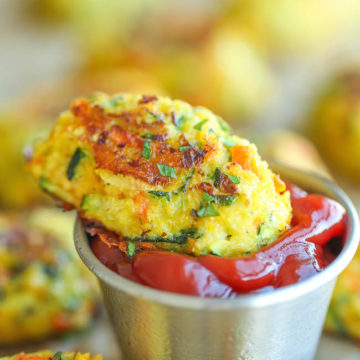 Ingredients:
2 zucchini, shredded
1 teaspoon salt
2 carrots, peeled and shredded
1/2 cup Panko*
2 large eggs
1/4 cup shredded cheddar cheese
2 tablespoons freshly grated Parmesan
1/2 teaspoon dried basil
1/2 teaspoon dried oregano
1/4 teaspoon garlic powder
1/4 teaspoon onion powder
Pinch of cajun seasoning
Kosher salt and freshly ground black pepper, to taste
2 tablespoons chopped fresh parsley leaves
Directions:
Preheat oven to 400 degrees F. Lightly oil a baking sheet or coat with nonstick spray.
Place grated zucchini in a colander over the sink. Add salt and gently toss to combine; let sit for 10 minutes. Using a clean dish towel or cheese cloth, drain zucchini completely, removing as much water as possible.
Transfer zucchini to a large bowl. Stir in carrots, Panko, eggs, cheeses, basil, oregano, garlic powder, onion powder and cajun seasoning; season with salt and pepper, to taste.
Form zucchini into tots and place onto the prepared baking sheet.
Place into oven and bake until golden brown and crisp, about 16-18 minutes, flipping during the last 10 minutes of cooking time.
Serve immediately, garnished with parsley, if desired.*
Notes:
*Panko is a Japanese-style breadcrumb and can be found in the Asian section of your local grocery store.
*TO FREEZE: Transfer cooled tater tots to an airtight container. Freeze up to 1 month. To bake, preheat oven to 400 degrees F and bake until heated through, about 15-17 minutes.
Did you Make This Recipe?
Tag @damn_delicious on Instagram and hashtag it #damndelicious.
Nutrition Facts
Serving Size
Servings Per Container 6
---
Amount Per Serving
Calories 88.6
Calories from Fat 44.1
% Daily Value*
Total Carbohydrate 8.3g
3%
---
*Percent Daily Values are based on a 2,000 calorie diet. Your daily values may be higher or lower depending on your calorie needs.