Shrimp Carbonara
Restaurant-quality pasta made right at home in 25 minutes. Not to mention the creamy sauce with crisp bacon and tender-juicy shrimp!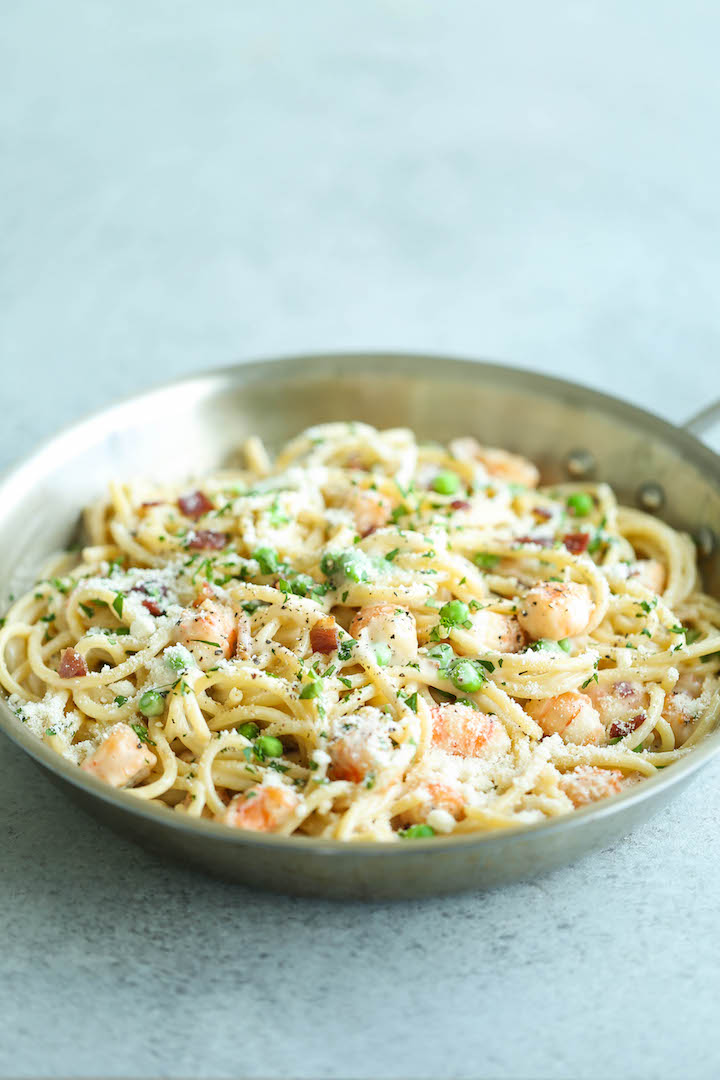 Crisp bacon bits. Cream sauce. Shrimp and pasta.
It looks super fancy and all but trust me – it doesn't get easier than this.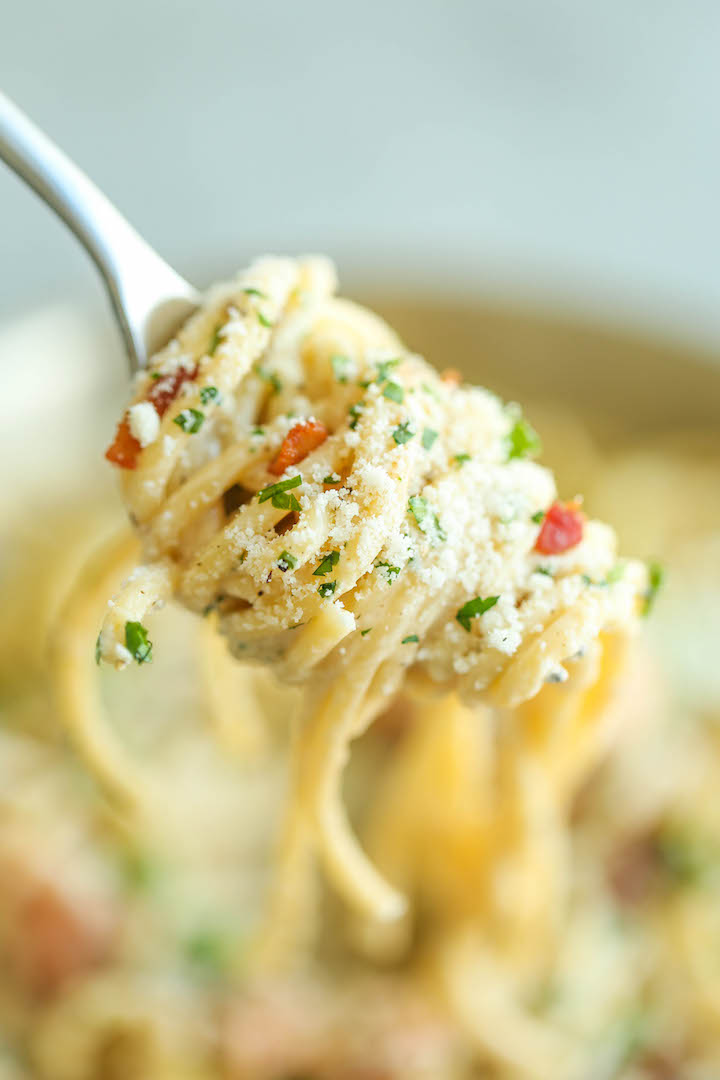 The secret here is the cream cheese.
It works as a really convenient shortcut in this cream sauce, coupled with the salty bacon bits along with the juicy shrimp chunks nestled throughout. And the peas add just enough pop of color to make this dish really stand out.
Not to mention Barilla Collezione Bucatini – my absolute favorite pasta to use here. It's a thicker spaghetti to soak up all that creamy goodness without any waste.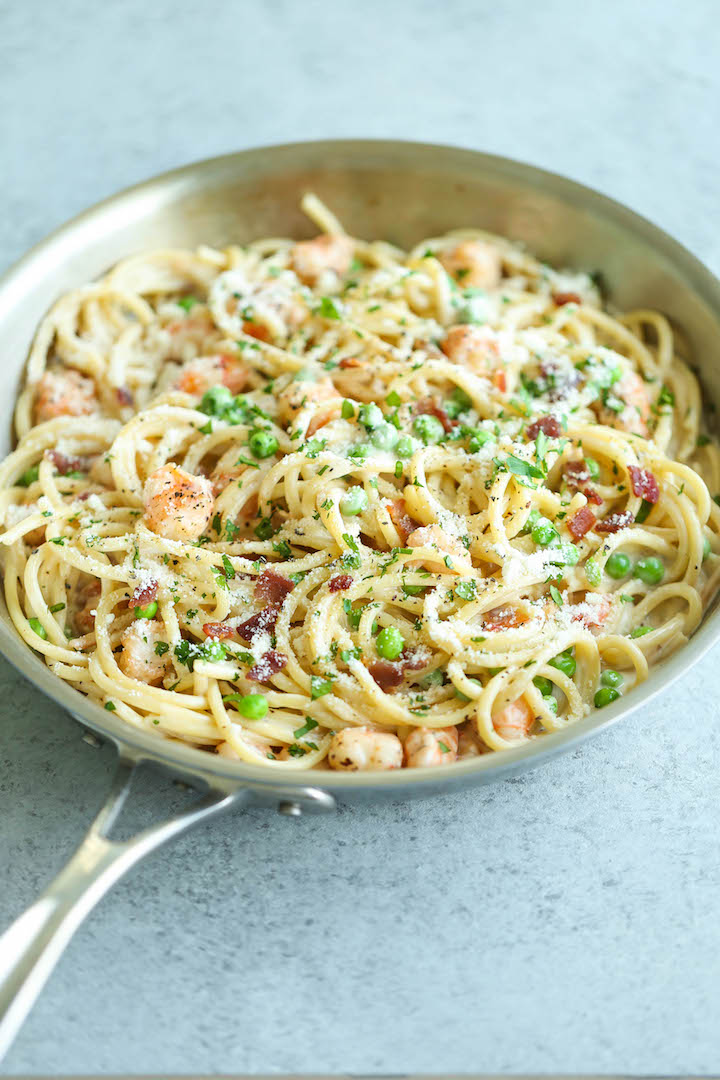 And as always, you can finish this off with freshly grated Parmesan cheese, to taste. Remember, 1/4 cup is just a guideline. You know you can always add more.
You can follow Eat Shrimp on Facebook and Pinterest for more shrimp recipe inspiration!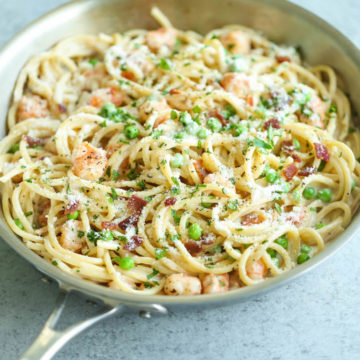 Shrimp Carbonara
Restaurant-quality pasta made right at home in 25 minutes. Not to mention the creamy sauce with crisp bacon and tender-juicy shrimp!
10 minutes
15 minutes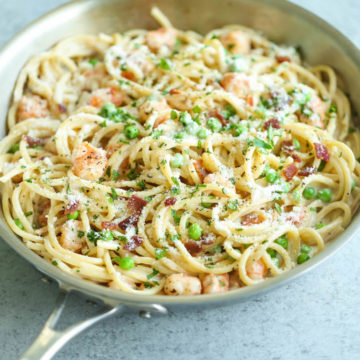 Ingredients:
12 ounces bucatini*
4 slices bacon, diced
2 cloves garlic, minced
8 ounces medium shrimp, peeled, deveined and roughly chopped
1/2 teaspoon dried basil
1/2 teaspoon dried oregano
Kosher salt and freshly ground black pepper, to taste
4 ounces cream cheese, cubed
1/4 cup half and half*, or more, as needed
1/2 cup frozen peas
1/4 cup freshly grated Parmesan
2 tablespoons chopped fresh parsley leaves
Directions:
In a large pot of boiling salted water, cook pasta according to package instructions; drain well.
Heat a large skillet over medium high heat. Add bacon and cook until brown and crispy, about 6-8 minutes. Drain excess fat; reserving 1 tablespoon in the skillet. Transfer bacon to a paper towel-lined plate.
Add garlic to the skillet and cook, stirring frequently, until fragrant, about 1-2 minutes.
Season shrimp with basil, oregano, salt and pepper, to taste. Add shrimp to the skillet and cook, stirring occasionally, until pink, about 2-3 minutes.
Stir in cream cheese, half and half and peas until well combined, about 1-2 minutes. If the mixture is too thick, add more half and half as needed until desired consistency is reached.
Stir in pasta and bacon.
Serve immediately, garnished with Parmesan and parsley, if desired.
Notes:
*Spaghetti or linguini can be substituted.
*Half and half is equal parts of whole milk and cream. For 1 cup half and half, you can substitute 3/4 cup whole milk + 1/4 cup heavy cream or 2/3 cup skim or low-fat milk + 1/3 cup heavy cream.
Did you Make This Recipe?
Tag @damn_delicious on Instagram and hashtag it #damndelicious.
Nutrition Facts
Serving Size
Servings Per Container 4
---
Amount Per Serving
Calories 618.2
Calories from Fat 219.6
% Daily Value*
Total Carbohydrate 69.5g
23%
---
*Percent Daily Values are based on a 2,000 calorie diet. Your daily values may be higher or lower depending on your calorie needs.
Disclosure: This post is sponsored by the National Fisheries Institute Shrimp Council. All opinions expressed are my own.