How to Make an Easy Cheese Board in 10 Minutes
Here are the tips and tricks on how to make a KILLER cheese board! So easy, beautiful and well-balanced!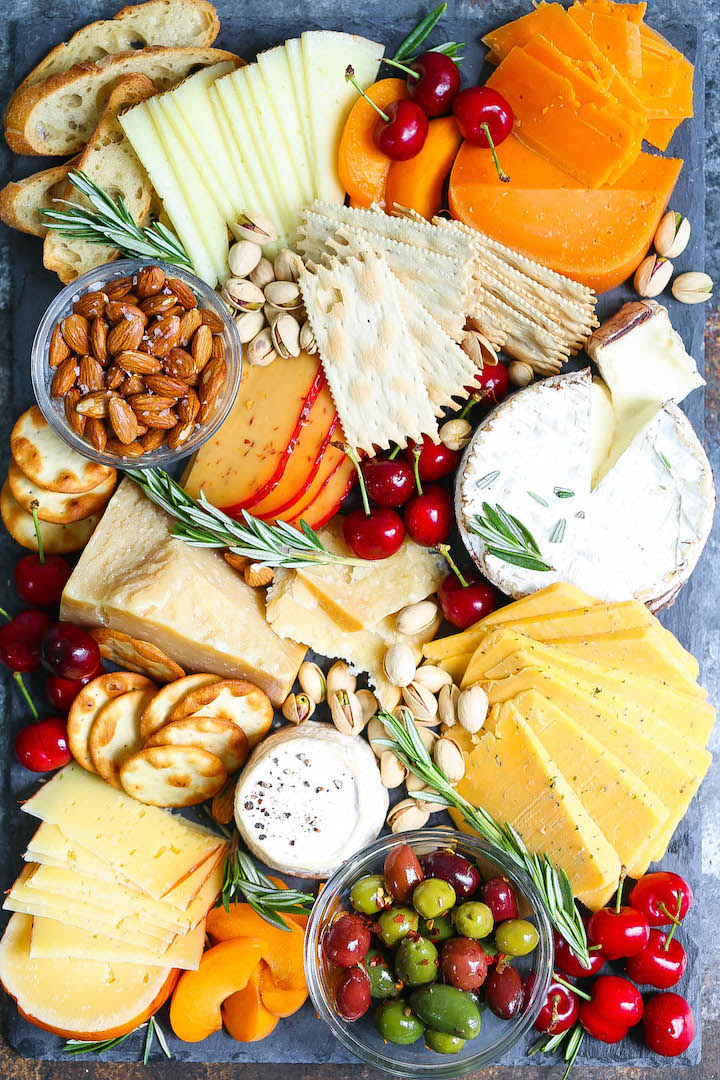 I've never met a cheese board I didn't like. And since June happens to be National Dairy Month, I thought I would share some essentials to get started.
Whether it's a super fancy cheese board with over a dozen different types of cheeses or a simple one with a smooth stilton and some cucumbers.
No. There's absolutely no discrimination, big or small, when it comes to a cheese board. And with these tips, you can make a killer cheese board appropriate for any occasion.
Whether you have 5 guests, 20, or just yourself. Yes, I make a cheese board for one. Well, does Butters count?
Nonetheless.
Here's what you need to create that epic cheese board!
The vehicle
For starters, you'll need an actual cheese board. You can get any size – wood, marble or slate. You can find great economical boards here. And you'll need cheese knives so you can serve each cheese with its own knife – we don't want flavor-mingling here!
The cheeses
You want a variety of textures here. With so many brands of cheeses out there, you want to make sure you select one from a dairy farm that is responsibly produced, which is basically any cheese on the market. Be sure to pick a cheese that is fresh and nutrient-rich. You'll be able to taste the difference. And with all this cheese talk, I think I want to visit one of these dairy farms to show you want I mean. Fun fact, dairy farms today are operating with a 63% smaller carbon footprint than back in 1944. Crazy, right?
Soft: burrata, mozzarella, brie, humboldt fog
Semi-Soft: stilton, roquefort, Gorgonzola, Fontina
Semi-Hard: manchego, Swiss, provolone, comte
Hard: cheddar, parmesan, pecorino, Asiago
The side kicks
You can't forget the accompaniments – they go with the cheese and add a pop of color to your board, creating that "hot mess" look.
Bread/Crackers: baguette, ciabatta, bread sticks, crostini, multigrain crackers, water crackers, parmesan crisps
Fresh fruits: raspberries, tangerines, pear, grapes, olives, cornichon pickles
Dried fruits: apricots, figs
Nuts: almonds, marcona almonds, cashews
Spreads: apricot spread, chutney, honey
Garnish: rosemary
Check out the many ways dairy makes your life a delight here.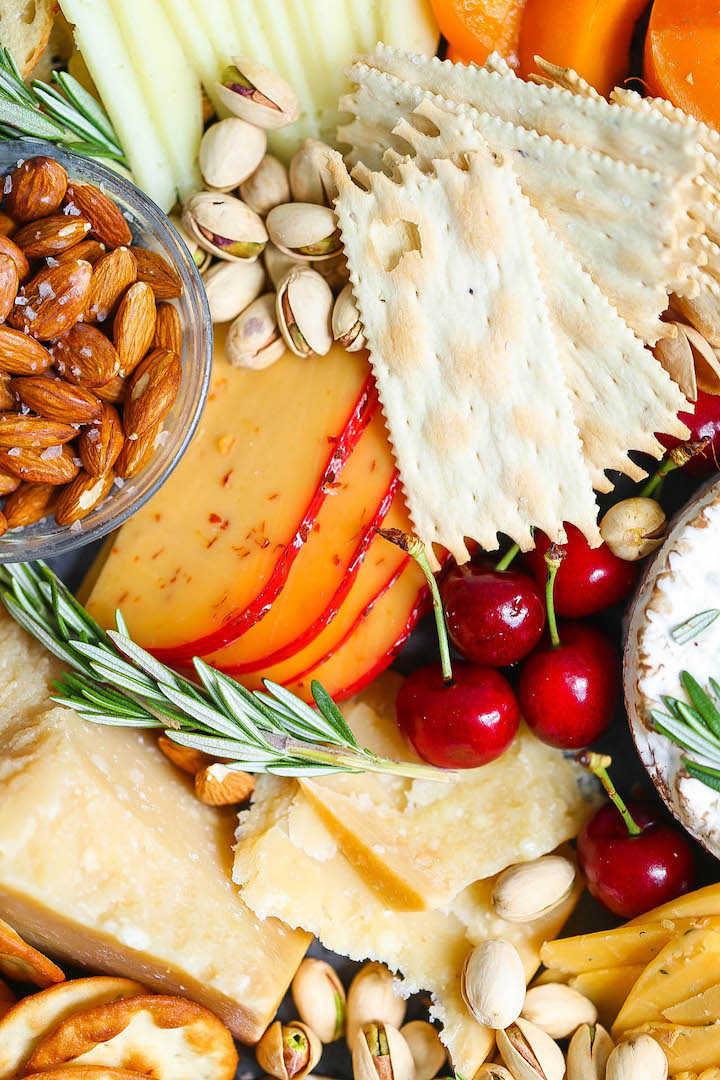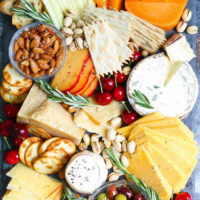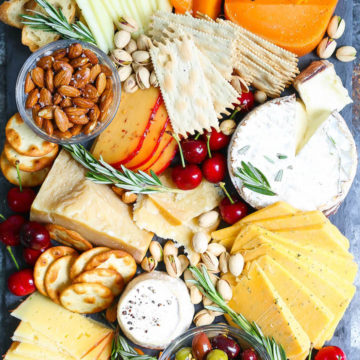 How to Make an Easy Cheese Board in 10 Minutes
Here are the tips and tricks on how to make a KILLER cheese board! So easy, beautiful and well-balanced!
Ingredients
8

ounces

brie

8

ounces

Parmesan

,

thinly sliced

8

ounces

aged sharp cheddar

,

thinly sliced

4

ounces

comte cheese

,

thinly sliced

2

ounces

Swiss cheese

,

thinly sliced

1

baguette

,

sliced 1-inch thick

1

6-ounce package rosemary artisan crackers

1

cup

pita bite crackers

1

apricot

,

sliced

½

cup

Spanish olives

,

pitted

¼

cup

almonds

¼

cup

pistachios

1

cup

cherries

4

sprigs rosemary
Instructions
Arrange cheeses, baguette, crackers, apricot, olives, almonds, pistachios and cherries on platter or wooden cheese board. Garnish with rosemary, if desired.
Disclosure: This post is sponsored by America's Dairy Farm Families and Importers, in partnership with the Innovation Center for U.S. Dairy. As always, I only partner with brands that I love and truly believe in, allowing me to create more quick and easy recipes to get us through the week without breaking the bank. All opinions expressed are my own.