Instant Pot Sweet Potato Casserole
You can easily use this Sweet potato casserole recipe ahead of time; bake when ready to serve with toasted marshmallows + a pecan streusel topping!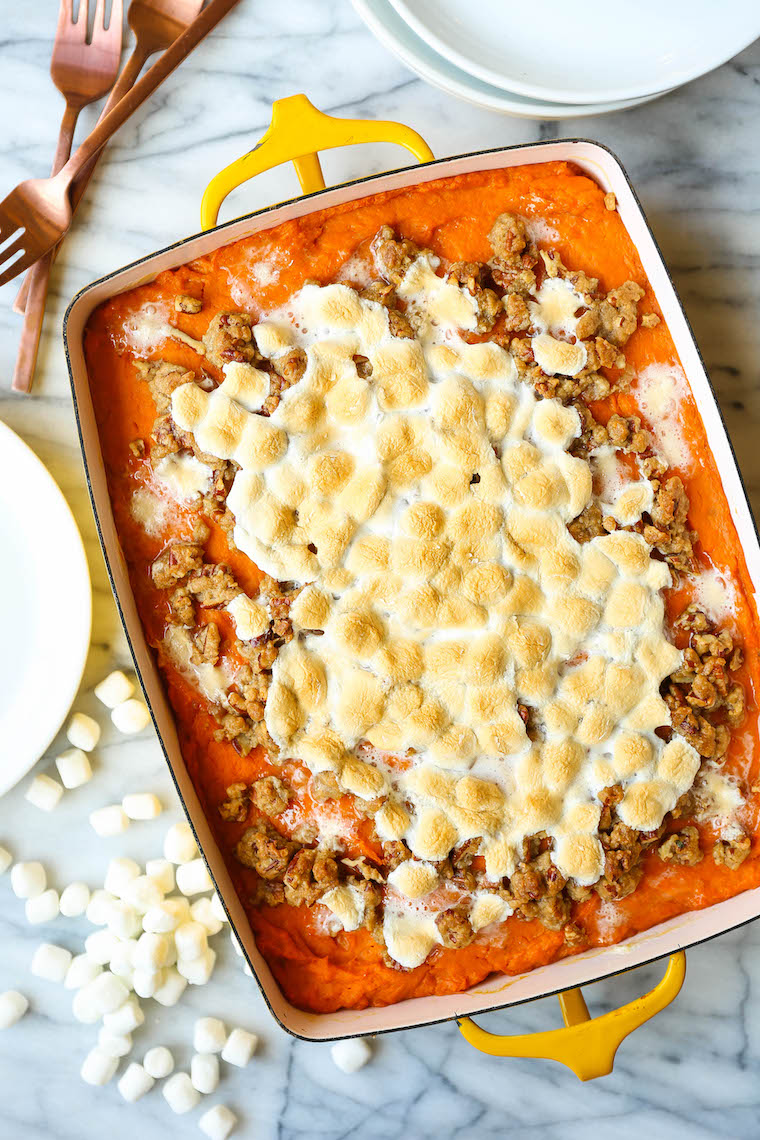 Sweet potato casserole. A low-key guilty pleasure of mine during the holidays.
No wait, it's really the slightly burnt, crispy mini marshmallows and the crunchy, buttery, sweet pecan streusel on top with just the tiniest bit of mashed sweet potato in the mix. Yup, that's what we're looking for here.
And with the help of the pressure cooker, your sweet potatoes will be ready to be mashed in just 8 minutes (no pre-boiling, no nothing), leaving you free valuable oven and stovetop space as you prep for the rest of your holiday dishes.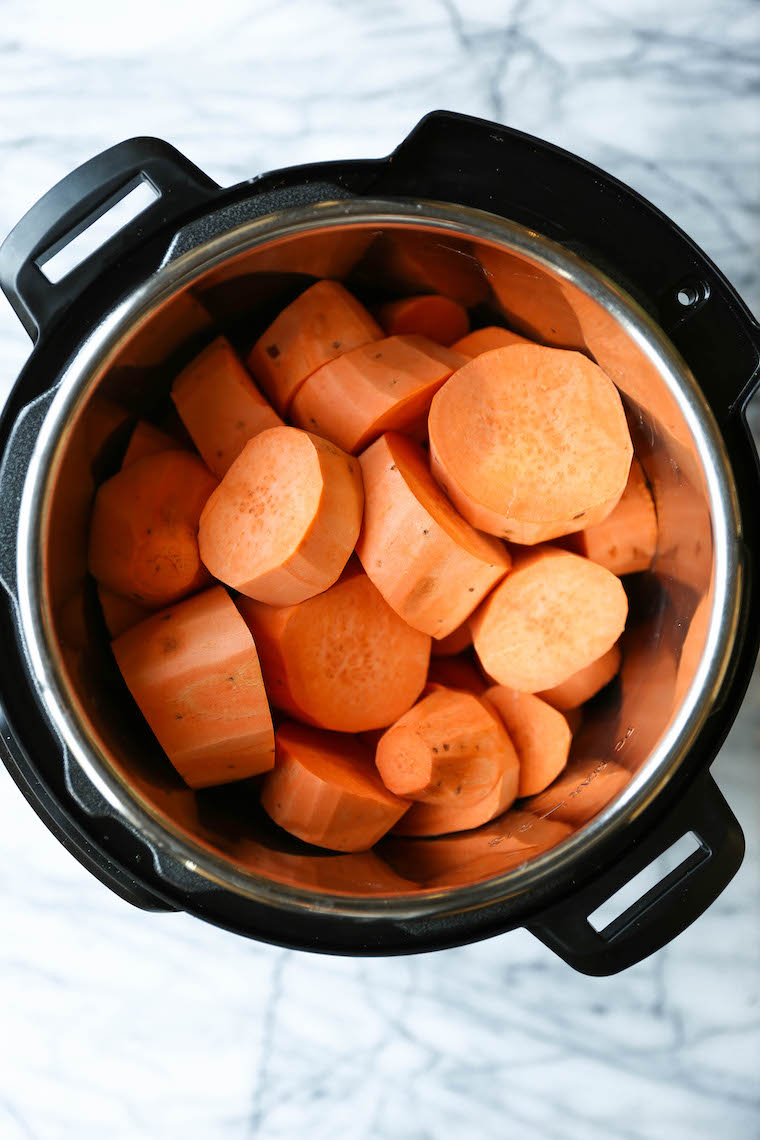 You can also prep your mashed sweet potato mixture the night before, leaving you to top it off with the streusel topping and mini marshmallows right before baking, probably when your turkey leaves the oven to rest.
Simply take it out of the fridge and bake. The potatoes will be wonderfully warm and tender, leaving you the aroma of all that cinnamon-pecan-Fall-chunky-sweater-weather heaven.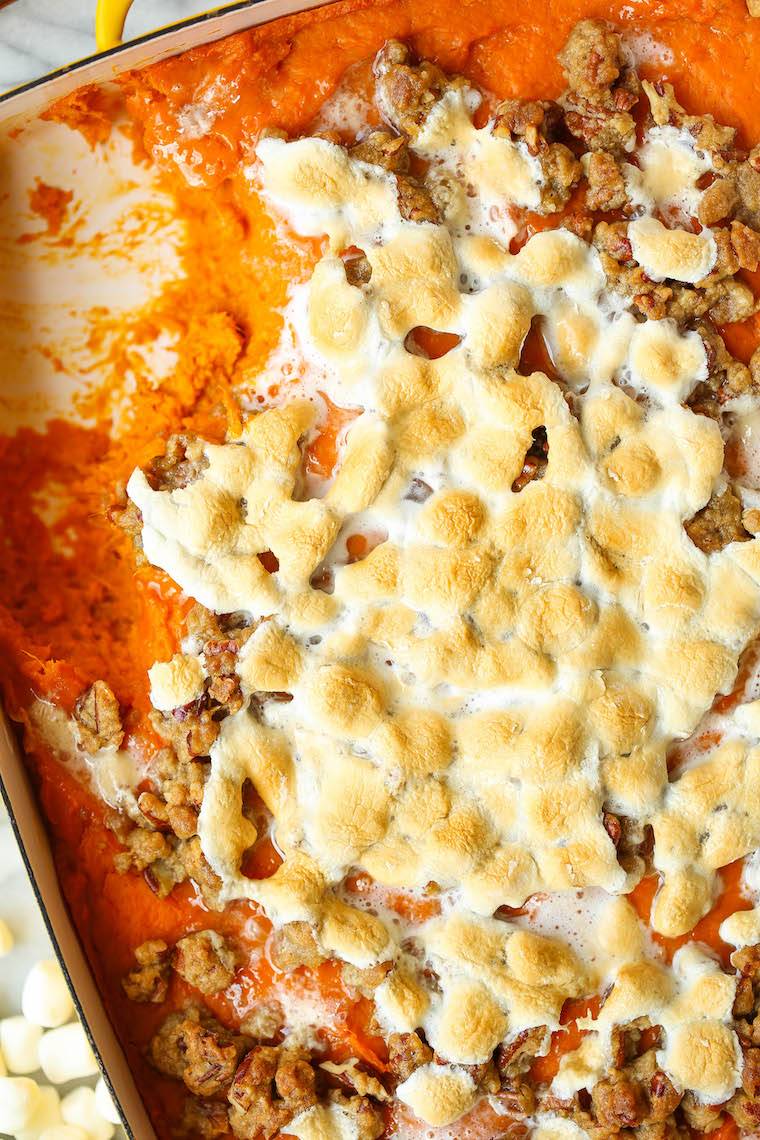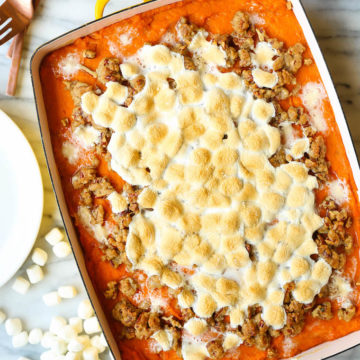 Instant Pot Sweet Potato Casserole
You can easily make this ahead of time; bake when ready to serve with toasted marshmallows + a pecan streusel topping!
30 minutes
1 hour 10 minutes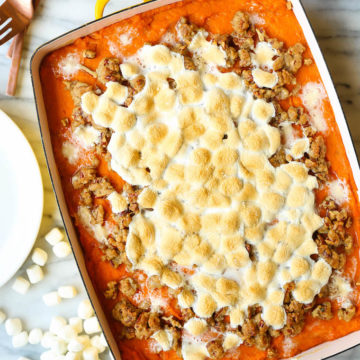 Ingredients:
5 pounds sweet potatoes, peeled and chopped
1 cup water
3/4 cup coarsely chopped pecans
10 tablespoons unsalted butter, melted and divided
3/4 cup brown sugar, divided
1/2 cup plus 1 tablespoon all-purpose flour
Kosher salt
2 large eggs, lightly beaten
1/3 cup whole milk
1 teaspoon orange zest
1 teaspoon vanilla extract
1/2 teaspoon ground cinnamon
1 cup miniature marshmallows
Directions:
Add sweet potatoes and water to a 6-qt Instant Pot®. Select manual setting; adjust pressure to high, and set time for 8 minutes. When finished cooking, quick-release pressure according to manufacturer's directions.
In a medium bowl, combine pecans, 5 tablespoons butter, 1/4 cup brown sugar, flour and 1/2 teaspoon salt; place in the refrigerator.
Remove potatoes from the Instant Pot® and drain excess liquid before returning the potatoes to the pot. Using a potato masher, mash potatoes until smooth.
Stir in remaining 5 tablespoons butter, remaining 1/2 cup brown sugar, eggs, milk, orange zest, vanilla, cinnamon and 3/4 teaspoon salt.
Preheat oven to 350 degrees F. Lightly oil a 9 x 13 baking dish or coat with nonstick spray.
Spread potato mixture into the prepared baking dish; sprinkle with pecan mixture. Place into oven and bake until almost set, about 40 minutes. Sprinkle with marshmallows; continue to bake for an additional 10-15 minutes, or until marshmallows are golden brown.
Serve immediately.
Did you Make This Recipe?
Tag @damn_delicious on Instagram and hashtag it #damndelicious.