Jalapeño Popper Grilled Cheese
Roasted jalapeño neatly tucked in a 2-tier sandwich loaded with applewood smoked bacon and jalapeño jack cheese!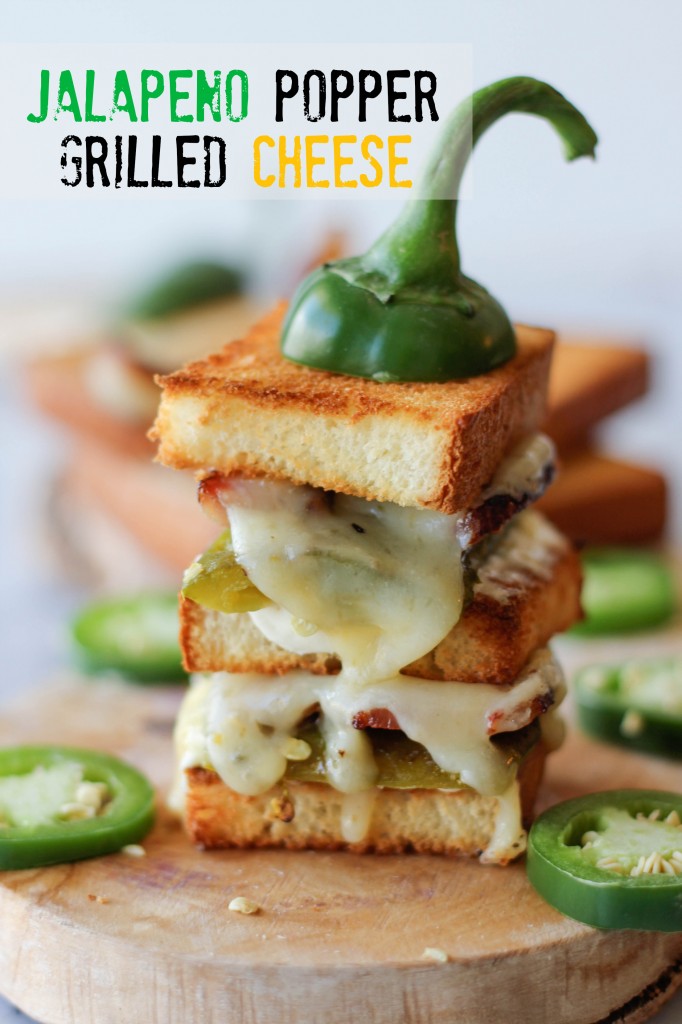 Have you heard about the Great Midwest "I Love Grilled Cheese" recipe contest yet? They're on the hunt for the best grilled cheese sandwich so everyone is encouraged to enter their best recipe using one or more Great Midwest cheese. Best of all, you'll have a ton of cheeses to choose from – from sweet to savory to spicy. My personal favorite is their mango fire cheddar!
You'll also have the chance to win a grand prize to a weekend getaway to the "Great Midwest" or silver tier prizes of a Cuisinart panini press. Just remember that they'll be judging on the use of Great Midwest cheese, taste and creativity/originality of the recipe. You'll also receive bonus points if you share your recipes on their facebook page. But before you scurry off into your kitchen to create your grilled cheese masterpiece, I just have to share my epic grilled cheese creation first.
Here it is. My masterpiece. Roasted jalapeño popper grilled cheese stacks. Yeah. I so went there. And not only that, I added bacon. And not just your average kind of bacon but the really nice thick-sliced applewood smoked bacon that's 10x more expensive. And I just had to make it a two-tier sandwich because at the end of the day, I just need more of a filling-to-bread ratio. But the recipe below is for a standard one-tier sandwich. If you like living on the edge like me though, I highly recommend stacking them up!
Now it's not the prettiest sandwich of all but hey, the messiest foods are the best kinds of food anyway, right?
Jalapeño Popper Grilled Cheese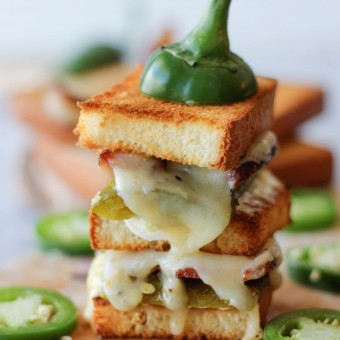 Roasted jalapeño neatly tucked in a 2-tier sandwich loaded with applewood smoked bacon and jalapeño jack cheese!
Ingredients:
4 jalapeños, trimmed and halved lengthwise
8 slices bacon
4 slices bread
4 tablespoons unsalted butter
4 tablespoons cream cheese, softened
2 cups shredded Great Midwest Jalapeño Jack
Directions:
Preheat oven to broil. Line a baking sheet with parchment paper.
Place jalapeño onto the prepared baking sheet, cut side down. Place into oven and roast just until the skin has blackened, about 6-8 minutes. Remove from oven and let cool before peeling off the skin.
Heat a large skillet over medium high heat. Add bacon and cook until brown and crispy, about 6-8 minutes. Transfer to a paper towel-lined plate.
Spread 1/2 tablespoon butter over 1 side of each bread slice. Turn the slices over and spread 1/2 tablespoon cream cheese on each slice. Top with roasted jalapeño, 2 slices bacon and jalapeño jack, and then top with another slice of bread, buttered side up, to create a sandwich. Repeat with remaining slices of bread to make 4 sandwiches.
Place sandwich in pan and grill, flipping once, until bread is golden and filling is heated through, about 2-3 minutes per side. Serve immediately.
Disclosure: This post is sponsored by Great Midwest Cheese. All opinions expressed are my own.