Easy Korean BBQ
Korean BBQ can be made right at home – it only takes 10 min prep and tastes so much better than eating-out! And it's cheaper too!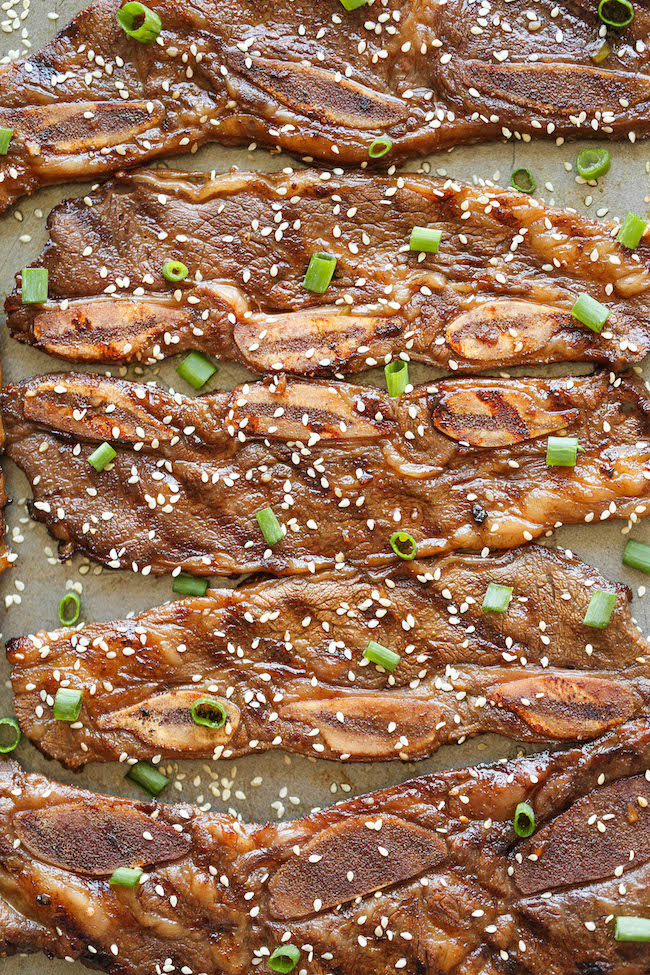 Greetings from San Francisco! Jason and I had a rough couple of days but we are finally settling in our new home. Our place is a mess with at least 20 lingering boxes but I'm loving our new place. It's a bit east of San Francisco in the suburbs so we can stay away from the congestion and traffic of the city but we're still close enough to take the Bart to explore the city and scope out all of the new foodie places on my list.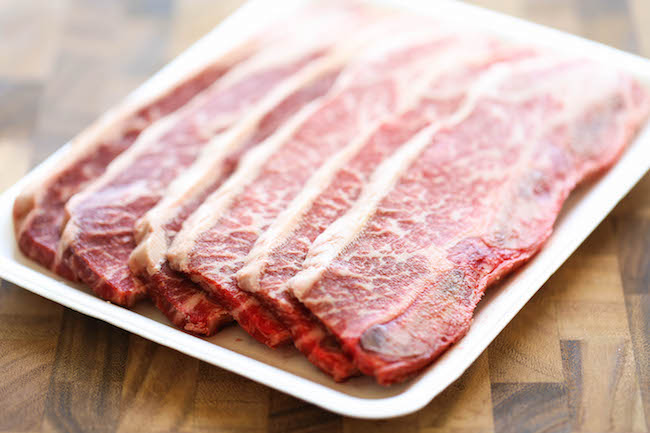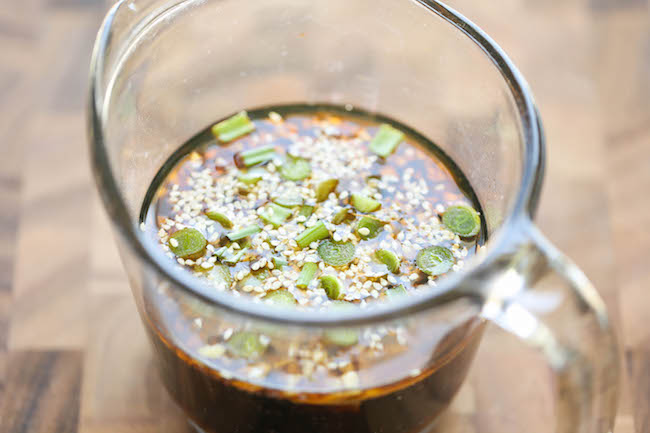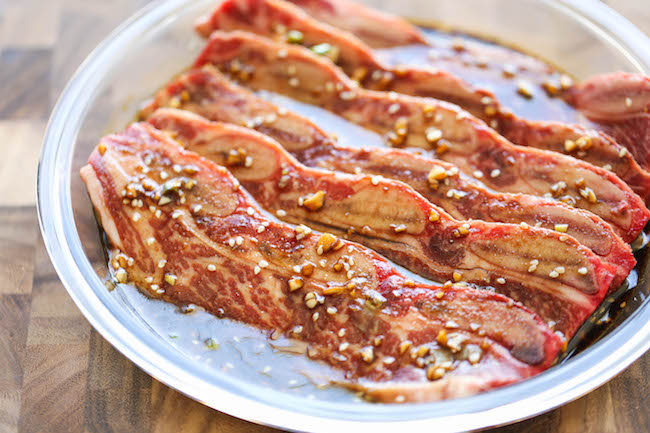 But before I stay up all night unpacking and organizing the house, I have to share this recipe for Korean short ribs. It's surprisingly so easy to make, requiring just a simple marinade overnight. And when you're ready to eat, just throw these babies on the grill to your desired doneness and serve. It's that easy! Not to mention, so much cheaper to make it right at home than eating out – it can get quite expensive!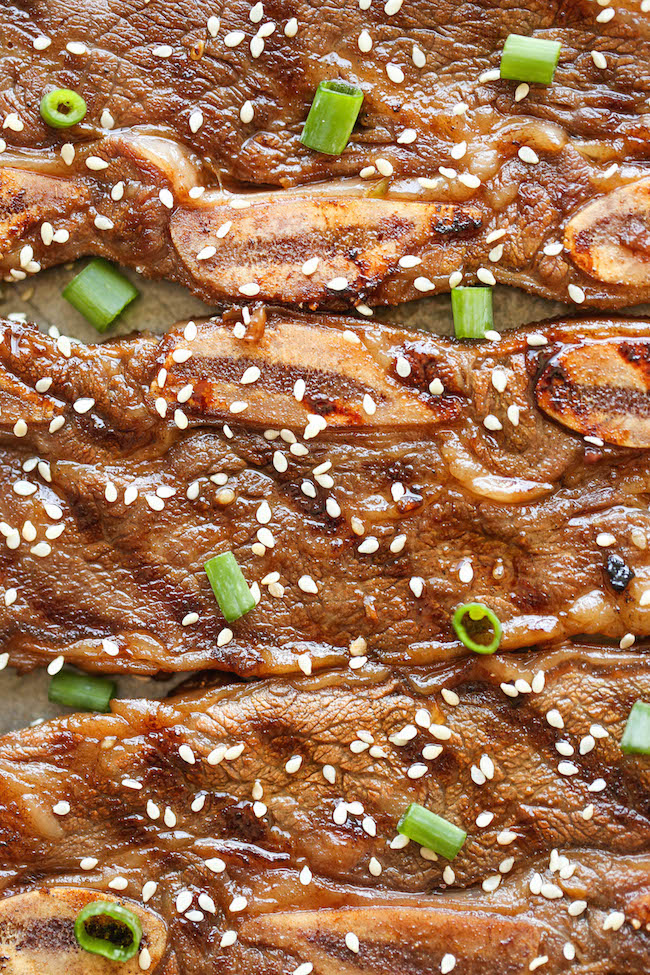 Post updated April 30, 2015.
Easy Korean BBQ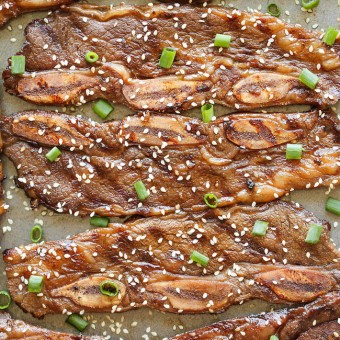 Korean BBQ can be made right at home – it only takes 10 min prep and tastes so much better than eating-out! And it's cheaper too!
Ingredients:
1/2 cup reduced sodium soy sauce
1/4 cup brown sugar, packed
1 small Asian pear, peeled and finely grated
3 cloves garlic, minced
1 tablespoon mirin
1 tablespoon sesame oil
1 tablespoon freshly grated ginger
1 tablespoon sesame seeds
2 green onions, thinly sliced
2 pounds Korean style beef short ribs*
Directions:
In a medium bowl, whisk together soy sauce, brown sugar, pear, garlic, mirin, sesame oil, ginger, sesame seeds and green onions.
In a gallon size Ziploc bag or large bowl, combine soy sauce mixture and short ribs; marinate overnight, turning the bag occasionally.
Preheat grill to medium high heat. Add short ribs to grill and cook, flipping once, until desired doneness is reached, about 2-3 minutes on each side.
Serve immediately.
*Korean-style short ribs can be found at most Asian markets. The cut, also known as "flanken," refers to a strip of beef cut across the bone from the chuck end of the short ribs, resulting in a thin strip of meat, about 8-10 inches in length, with 1/2-inch thick rib bones lined on one side.
Why It's A Smart Choice
Nutrition Facts
Serving Size
Servings Per Container 4
---
Amount Per Serving
Calories 682.9 Calories from Fat 463.5
% Daily Value*
Total Fat 51.5g 79%
Saturated Fat 20.6g 103%
Trans Fat 0g
Cholesterol 105mg 35%
Sodium 1157.4mg 48%
Total Carbohydrate 27.3g 9%
Dietary Fiber 3.3g 13%
Sugars 20.2g
Protein 27.5g 55%
---
*Percent Daily Values are based on a 2,000 calorie diet. Your daily values may be higher or lower depending on your calorie needs.
Beef is an excellent choice for individuals who are iron deficient. One serving of this recipe will provide you with about 2.5-3g of iron. This dish is a little bit high in sodium so choose a low-sodium soy sauce if you have high blood pressure or otherwise need to watch your salt intake. To cut down on calories, trim off some of the visible fat.
Nutritional information provided by Jessica Penner, RD at Smart Nutrition.