Wonton Mozzarella Sticks
With just 5 ingredients, you can make these mozzarella sticks in 10 minutes – perfect for game day!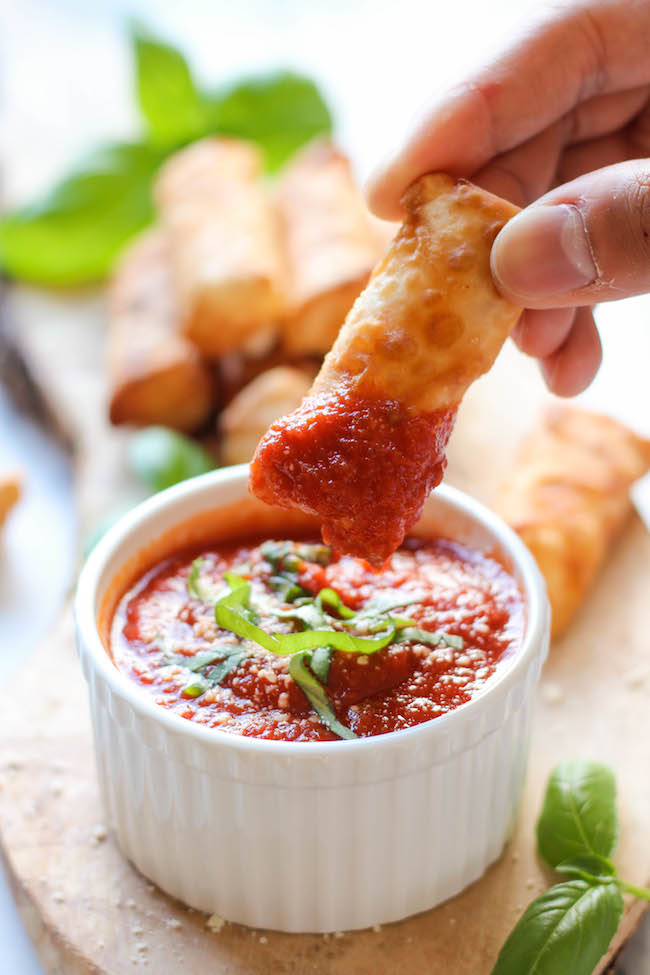 It's 5:00PM on a Sunday night, 4 hours until the Breaking Bad series finale. I figured I should write today's post before I watch it, when I'm level-headed and all, because I may just be in too much shock from the whole thing. This final season has just been absolutely crazy with too many jaw-dropping moments. I can barely sit still knowing that it's the end today!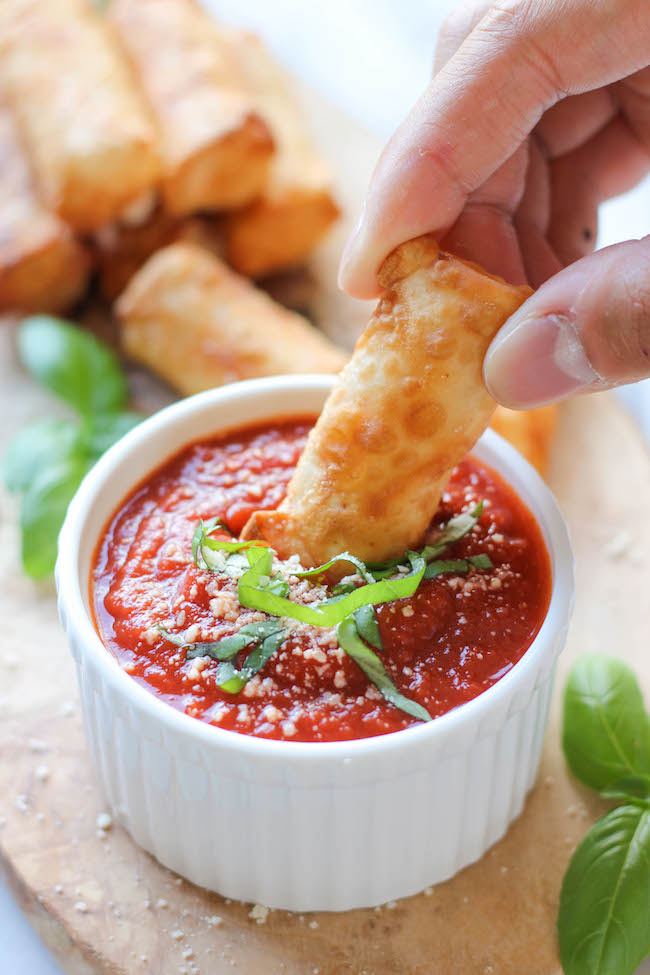 But let's talk about something else. Something more pleasant. Something that'll keep me from sweating bullets for 85 minutes. Like these mozzarella sticks. Yes, crisp, fried wonton-wrapped mozzarella sticks. With warm, chunky marinara dipping sauce.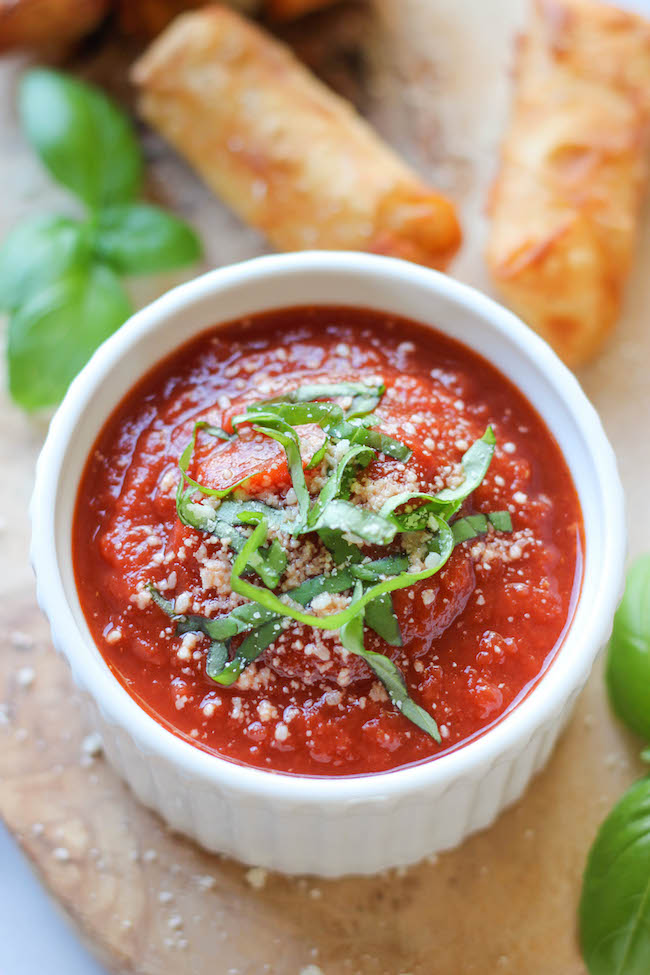 These mozzarella sticks come together in just 10 minutes with only 3 ingredients – string cheese, wonton wrappers and marinara sauce. Feel free to use homemade or store-bought marinara sauce – whichever is easiest for you. Jason and I had chicken parmesan for dinner last night so we had a ton of marinara sauce to use up. Either way, these mozzarella sticks are so incredibly easy to make and absolutely perfect for game day!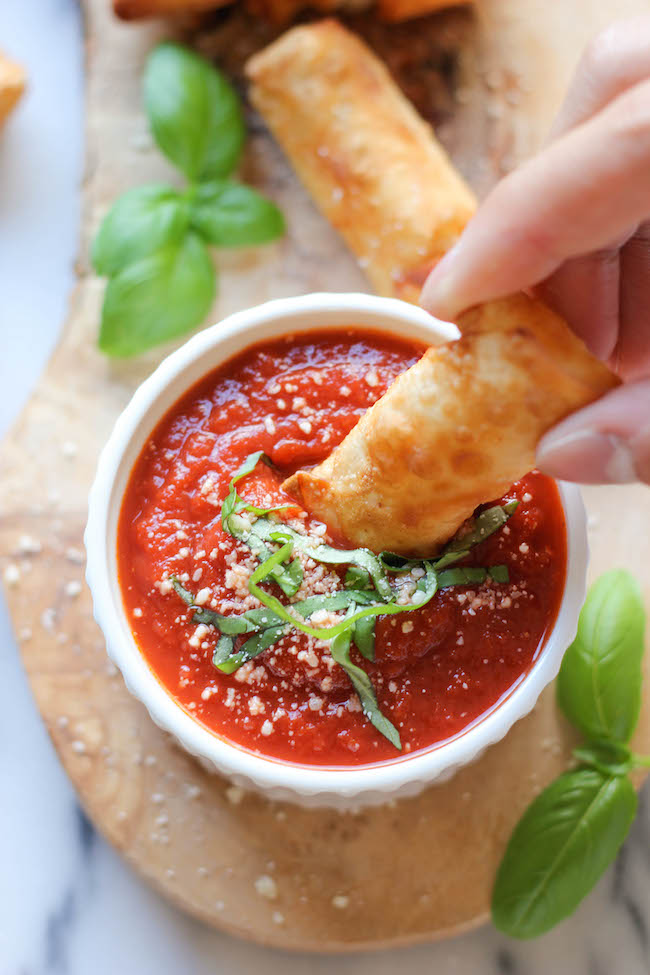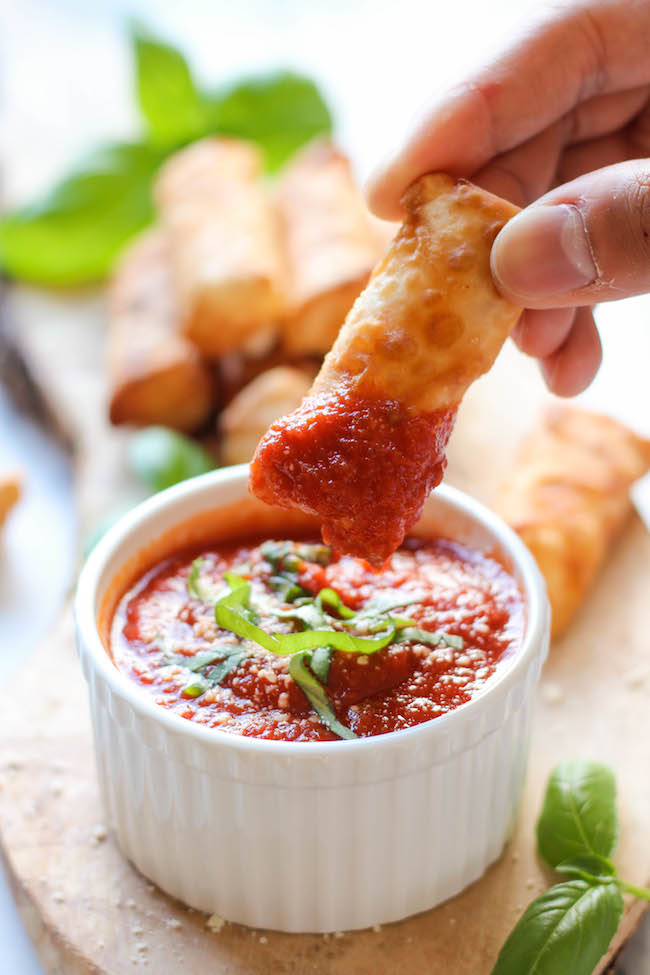 With just 5 ingredients, you can make these mozzarella sticks in 10 minutes - perfect for game day!
Ingredients
1 cup vegetable oil
1 large egg, beaten
4 string cheese, halved
8 wonton wrappers
1/2 cup marinara sauce, homemade or store-bought
Instructions
Heat vegetable oil in a medium skillet to 325 degrees F.
In a small bowl, whisk together egg and 1 tablespoon water.
Working one at a time, brush wonton wrapper with egg wash; place string cheese in the center of each wrapper. Bring the bottom edge of the wrap tightly over the cheese, rolling from bottom to top until the top of the sheet is reached, being careful not to tear the wrapper. Repeat with remaining wrappers and string cheese.
Add string cheese to the skillet and cook until golden brown and crispy, about 1-2 minutes. Transfer to a paper towel-lined plate.
Serve immediately with marinara sauce, if desired.
Notes
http://damndelicious.net/2013/09/29/wonton-mozzarella-sticks/