Asian Quinoa Salad
A quick and easy healthy quinoa salad dressed in sweet and tangy Asian flavors, loaded with tons of veggies!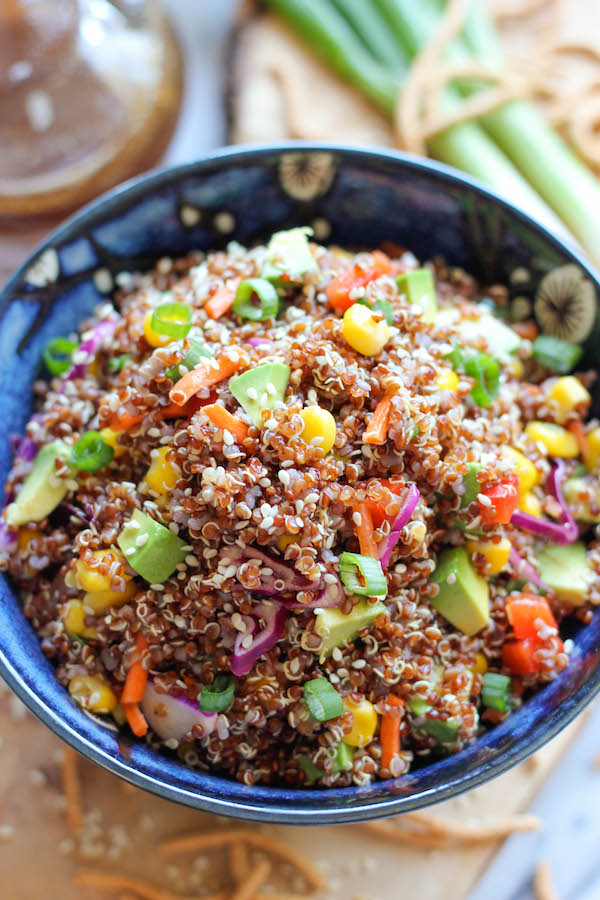 Since it's the eve of Halloween, I am attempting to eat healthy in preparation of devouring all the Halloween candy tomorrow. See, I'm being smart and planning ahead. That way, I don't have to kill myself with a 10-mile run to work off all those Kit Kat bars, which is my ultimate candy weakness.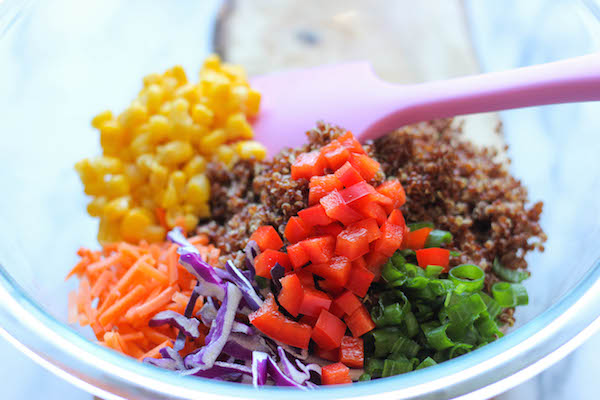 So here's my go-to clean eating meal before the big day: a bowl of Asian-style quinoa dressed in a sweet and tangy sesame vinaigrette loaded with all sorts of veggie goodness – shredded cabbage, avocado, bell pepper, carrots, corn and green onion – but feel free to add in your favorite kinds of veggies. If you need more protein, you can also add in tofu or shredded chicken breast. And you can't forget about those crispy noodles for that added crunch. I cheat a little bit and always add a little extra in my bowl!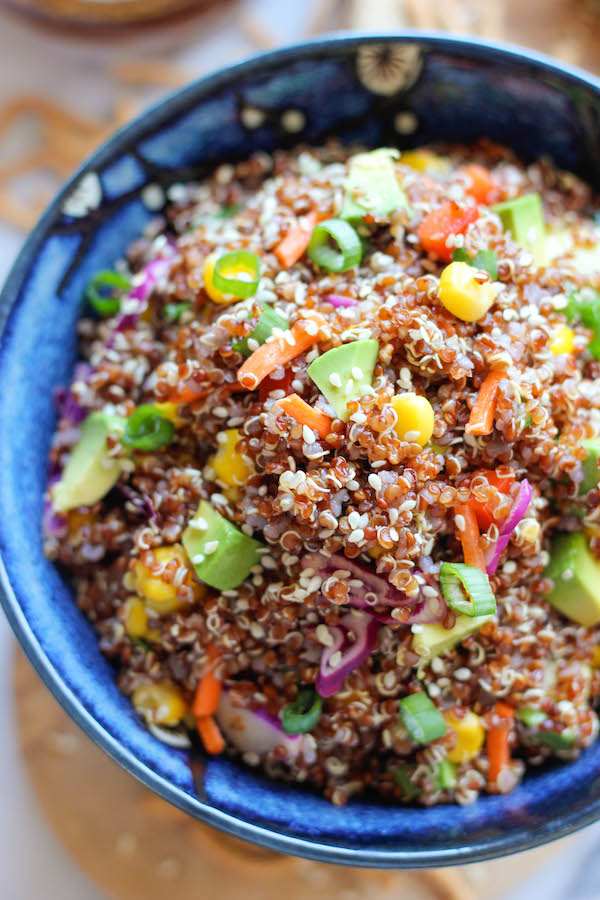 Asian Quinoa Salad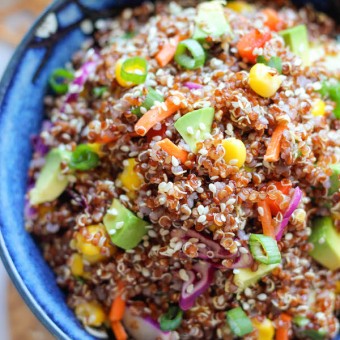 A quick and easy healthy quinoa salad dressed in sweet and tangy Asian flavors, loaded with tons of veggies!
Ingredients:
1/2 cup quinoa
1/4 cup shredded red cabbage
1/4 cup diced red bell pepper
1/4 cup grated carrots
1/4 cup corn kernels
1 green onion, thinly sliced
1 avocado, halved, seeded, peeled and diced
1/4 cup chow mein noodles, for serving
For the sesame vinaigrette
6 tablespoons rice vinegar
1 clove garlic, pressed
1 tablespoon sesame oil
1 tablespoon sugar
1 teaspoon soy sauce
1 teaspoon grated ginger
Directions:
To make the vinaigrette, whisk together rice wine vinegar, garlic, sesame oil, sugar, ginger and soy sauce in a small bowl; set aside.
In a medium saucepan, cook quinoa according to package instructions.
In a large bowl, combine quinoa, cabbage, bell pepper, carrots, corn, green onion and avocado. Stir in sesame vinaigrette.
Serve immediately, topped with chow mein noodles, if desired.
Why It's A Smart Choice
Nutrition Facts
Serving Size
Servings Per Container 2
---
Amount Per Serving
Calories 501.0 Calories from Fat 240.3
% Daily Value*
Total Fat 26.7g 41%
Saturated Fat 3.8g 19%
Trans Fat 0g
Cholesterol 0mg 0%
Sodium 214.4mg 9%
Total Carbohydrate 58.3g 19%
Dietary Fiber 12.0g 48%
Sugars 10.5g
Protein 10.6g 21%
---
*Percent Daily Values are based on a 2,000 calorie diet. Your daily values may be higher or lower depending on your calorie needs.
Veggies can attribute their color to compounds called phytonutrients. Food scientists have only recently begun to discover the powerful effect these compounds can have on our health!
In order to get the benefit of the various phytonutrients, aim to eat a variety of colorful veggies, like this quinoa salad. It has a whole rainbow of colors!
Nutritional information provided by Jessica Penner, RD at Smart Nutrition.