Olive Garden Zuppa Toscana Copycat Recipe
This copycat recipe is budget-friendly, incredibly easy to make, and tastes a million times better than the original!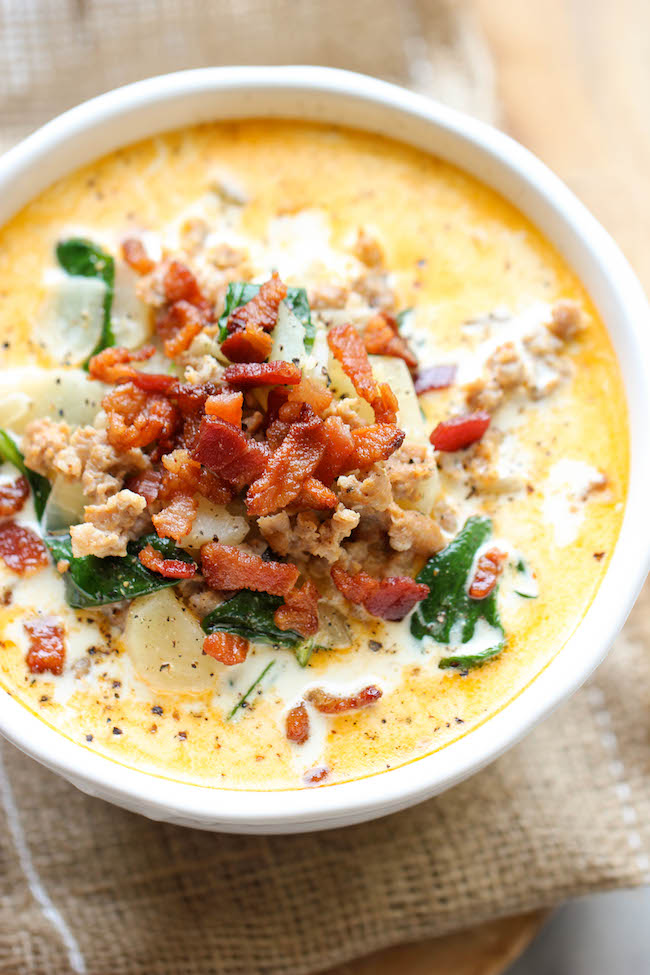 I absolutely loved going to Olive Garden as a kid. See, my mother made Korean food every single night of the week, and as grateful as I was, I was still incredibly excited to skip over the rice and Korean stew for a huge plate of fettuccine alfredo from the kid's menu. Not to mention their warm breadsticks that I would obviously get too full off of before the main dish even came out.
MY OTHER RECIPES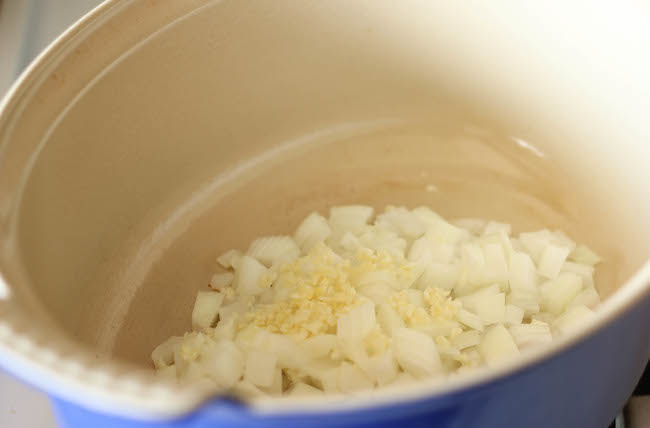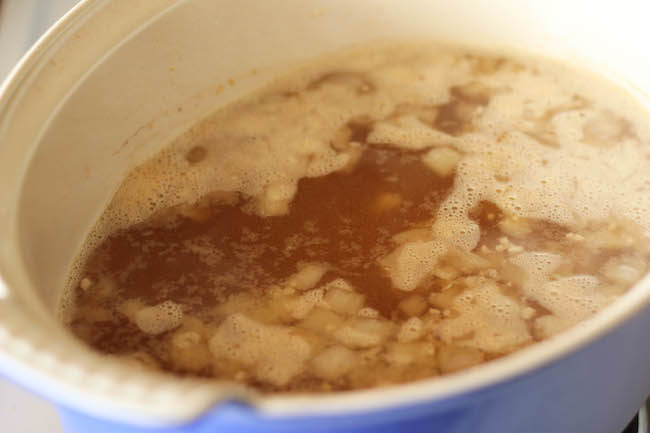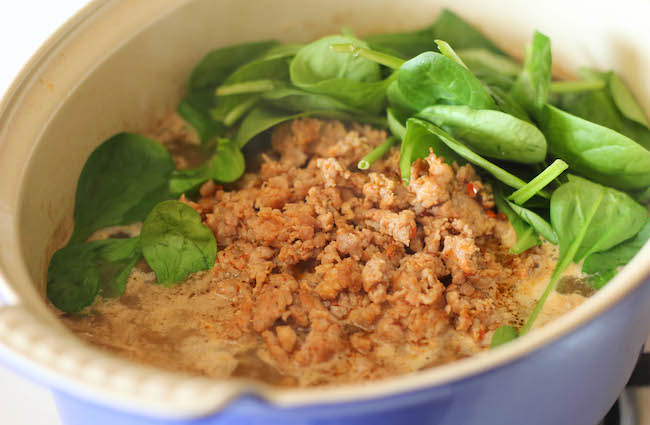 Another favorite of mine from Olive Garden was their soup, particularly their zuppa toscana. I never really knew what was in it but all I could remember was slurping it nonstop, downing that creamy goodness like it was water.
Now it's been years since my last visit to Olive Garden but when I saw Recipe Critic's copycat recipe for this soup, I immediately ran to the grocery store so that I could recreate it. And you know what? It was unbelievably 100 times better than what I had imagined.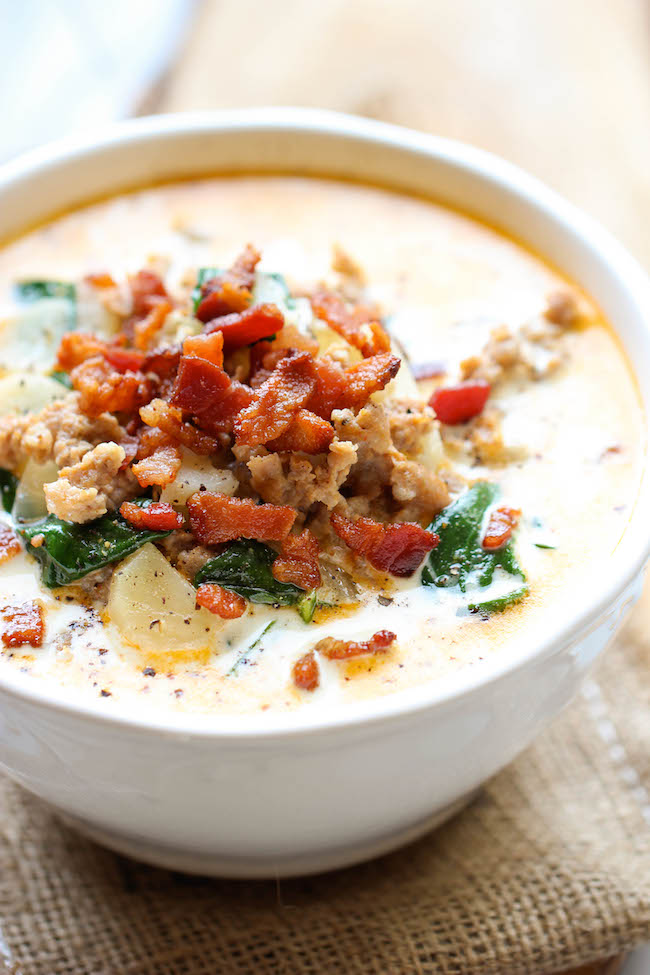 The soup was incredibly creamy with chunks of spicy Italian sausage and potato bites that just crumbled in your mouth. And you can't forget that heavenly crunchy, crumbled bacon on top!  I had about 2 servings more than I should have but I honestly could not stop eating this until it was all gone!
And really, the only complaint about this soup is that I didn't make enough! Jason took the leftovers to school but I'm slowly realizing that I should've hid it from him and kept it for myself!
Olive Garden Zuppa Toscana Copycat Recipe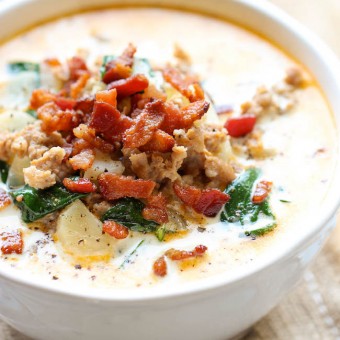 This copycat recipe is so easy to make and tastes a million times better than the original!
Ingredients:
4 slices bacon, diced
1 pound spicy Italian sausage, casing removed
1 tablespoon olive oil
2 cloves garlic, minced
1 onion, diced
4 cups chicken broth
3 russet potatoes, peeled and thinly sliced
3 cups baby spinach
1 1/2 cups heavy cream
Kosher salt and freshly ground black pepper, to taste
Directions:
Heat a large skillet over medium high heat. Add bacon and cook until brown and crispy, about 6-8 minutes. Transfer to a paper towel-lined plate; set aside.
Add Italian sausage to the skillet and cook until browned, about 3-5 minutes, making sure to crumble the sausage as it cooks; drain excess fat and set aside.
Heat olive oil in a large stockpot or Dutch oven over medium heat. Add garlic and onion, and cook, stirring frequently, until onions have become translucent, about 2-3 minutes. Stir in chicken broth and bring to a boil. Add potatoes and cook until tender, about 10 minutes.
Stir in sausage and spinach until spinach begins to wilt, about 1-2 minutes. Stir in heavy cream until heated through, about 1 minute; season with salt and pepper, to taste.
Serve immediately, garnished with bacon.
Nutrition Facts
Serving Size
Servings Per Container 6
---
Amount Per Serving
Calories 724.0 Calories from Fat 534.6
% Daily Value*
Total Fat 59.4g 91%
Saturated Fat 26.4g 132%
Trans Fat 0g
Cholesterol 157.7mg 53%
Sodium 1001mg 42%
Total Carbohydrate 31.4g 10%
Dietary Fiber 2.5g 10%
Sugars 6g
Protein 21.6g 43%
---
*Percent Daily Values are based on a 2,000 calorie diet. Your daily values may be higher or lower depending on your calorie needs.