Southwestern Chopped Salad with Cilantro Lime Dressing
A tex-mex style salad with an incredibly creamy Greek yogurt cilantro dressing that will knock your socks off!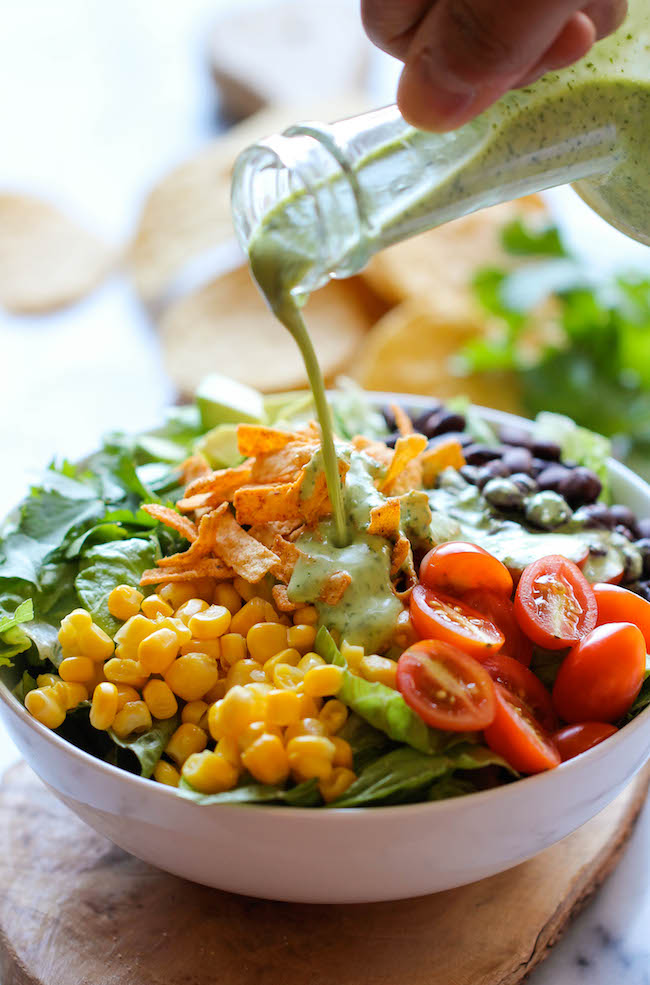 I'm happy to report that after 11 days into 2014, I am still well into my salad phase – BBQ chicken salad, Asian cobb salad, kale salad, you name it. But with a bunch of cilantro left over in the fridge, I just had to make a cilantro-type dressing. And boy am I glad I did because this is one of the creamiest, most flavorful dressings I have ever made.
Not to mention, the dressing comes together so quickly and easily with the help of a food processor. Simply drop everything into your handy dandy food processor – I love using my Magimix for this – pulse, and that's it!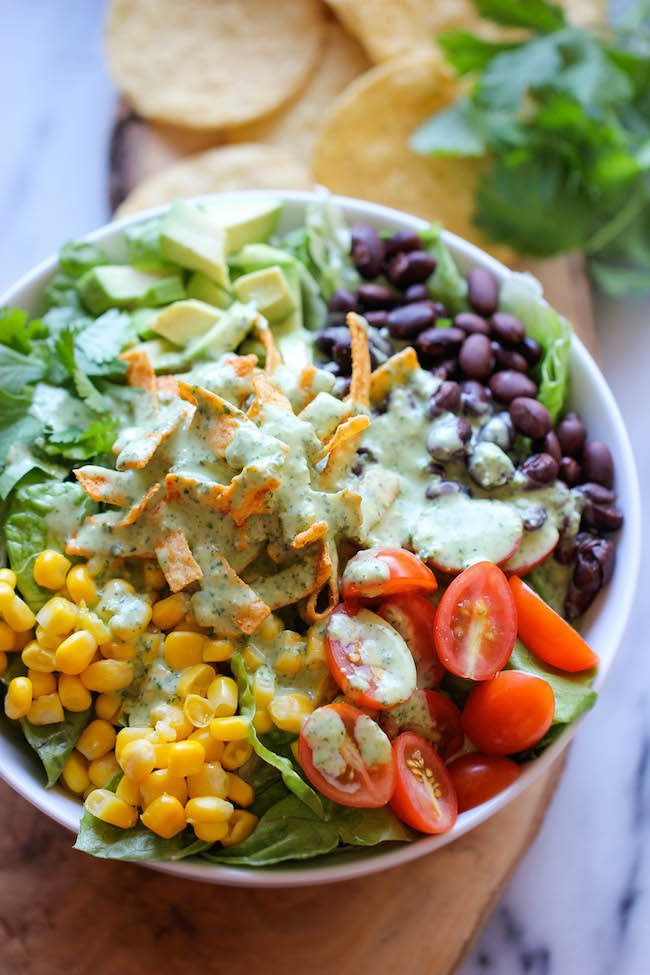 You can definitely adjust the amount of olive oil for a a thinner dressing. I didn't want mine too thick so that's what the recipe here reflects. Either way, this goes so perfectly in this tex-mex style salad loaded with corn, beans, tomatoes, avocado and tortilla strips. It's quickly become a favorite of ours, and we've had it almost every day this week!
Southwestern Chopped Salad with Cilantro Lime Dressing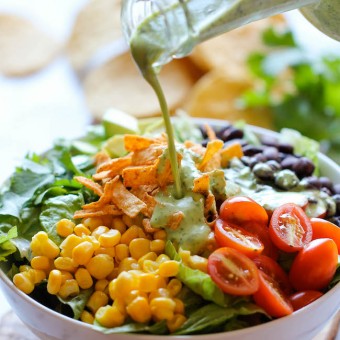 A tex-mex style salad with an incredibly creamy Greek yogurt cilantro dressing!
Ingredients:
5 cups chopped romaine lettuce
1/2 cup cherry tomatoes, halved
1/2 cup canned corn kernels, drained
1/2 cup canned black beans, drained and rinsed
2 tablespoons chopped fresh cilantro leaves
1 avocado, halved, seeded, peeled and diced
1/4 cup tortilla strips, for garnish
For the cilantro lime dressing
1 cup loosely packed cilantro, stems removed
1/2 cup plain Greek yogurt
2 cloves garlic
Juice of 1 lime
Pinch of salt
1/4 cup olive oil
2 tablespoons apple cider vinegar
Directions:
To make the cilantro lime dressing, combine cilantro, Greek yogurt, garlic, lime juice and salt in the bowl of a food processor. With the motor running, add olive oil and vinegar in a slow stream until emulsified; set aside.
To assemble the salad, place romaine lettuce in a large bowl; top with tomatoes, corn, black beans and cilantro. Pour the dressing on top of the salad and gently toss to combine. Stir in avocado.
Serve immediately, garnished with tortillas trips, if desired.
Why It's A Smart Choice
Nutrition Facts
Serving Size
Servings Per Container 2
---
Amount Per Serving
Calories 593.4 Calories from Fat 393.3
% Daily Value*
Total Fat 43.7g 67%
Saturated Fat 6.2g 31%
Trans Fat 0g
Cholesterol 2.4mg 1%
Sodium 388.2mg 16%
Total Carbohydrate 43.1g 14%
Dietary Fiber 15.9g 64%
Sugars 7.1g
Protein 15.3g 31%
---
*Percent Daily Values are based on a 2,000 calorie diet. Your daily values may be higher or lower depending on your calorie needs.
The avocado and the olive oil both contain high proportions of mono unsaturated fats. Diets containing a moderate amount of these fats have been shown to be healthy for the heart!
Nutritional information provided by Jessica Penner, RD at Smart Nutrition.