Baked Sweet and Sour Chicken
No need to order take-out anymore – this homemade version is so much healthier and a million times tastier!
I am a complete sucker for sweet and sour chicken when it comes to take-out. But it's been hard to find a place that has it down perfectly – crisp on the outside yet completely juicy and flavorful with a sweet and sour punch. Thankfully, I found a homemade version from Mel's Kitchen Cafe that has it down to a tee.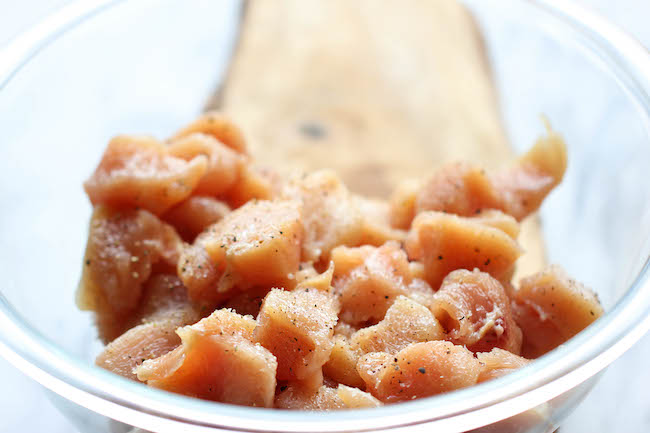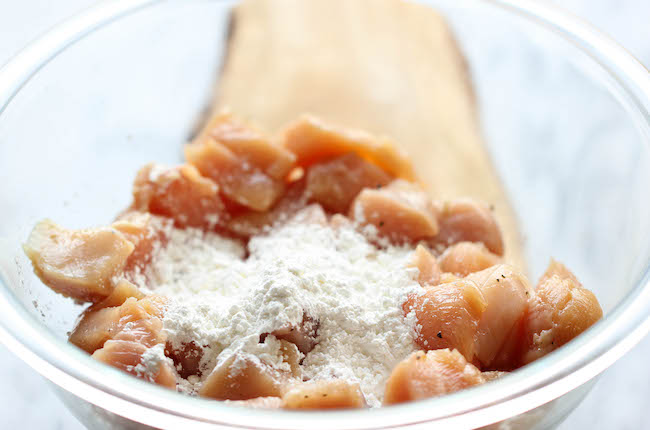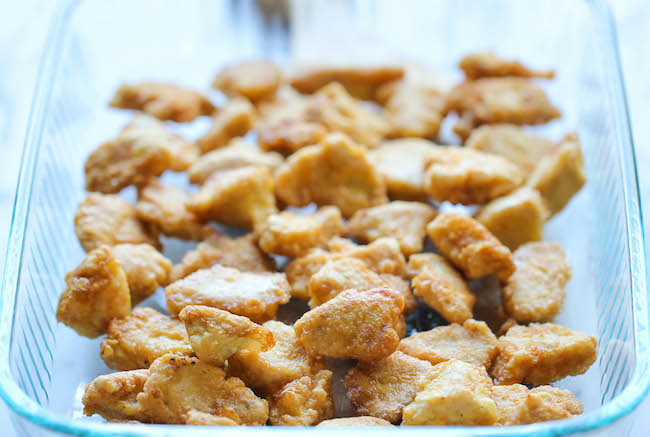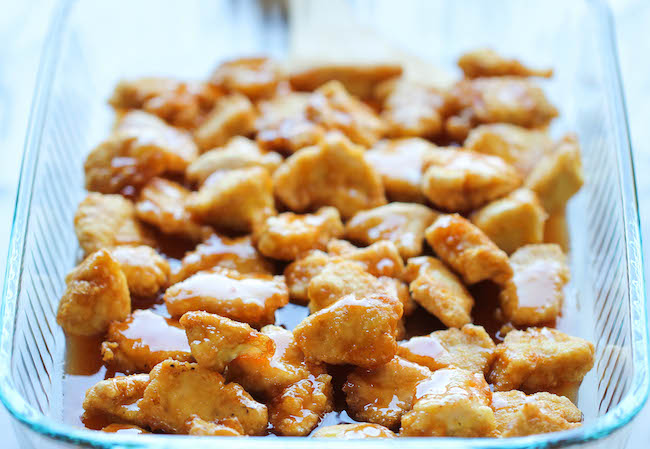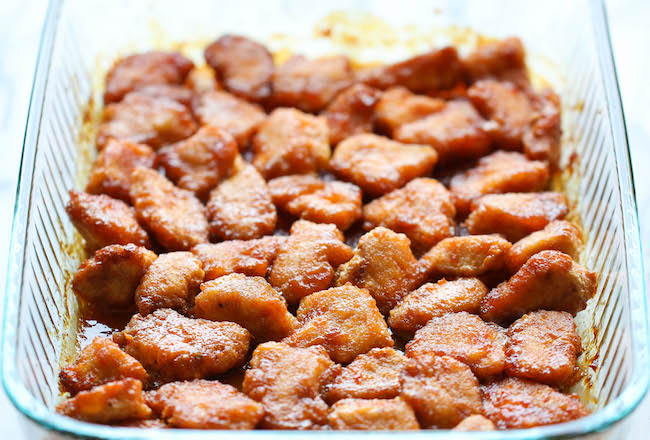 What makes this recipe so perfect is that the chicken is first fried to get that crisp exterior. Then it gets baked in a low temperature for an hour, really letting the sweet and sour flavors meld right into the chicken. I was worried that the chicken would get overcooked but it was actually so unbelievably tender. And the flavor packs in quite a punch!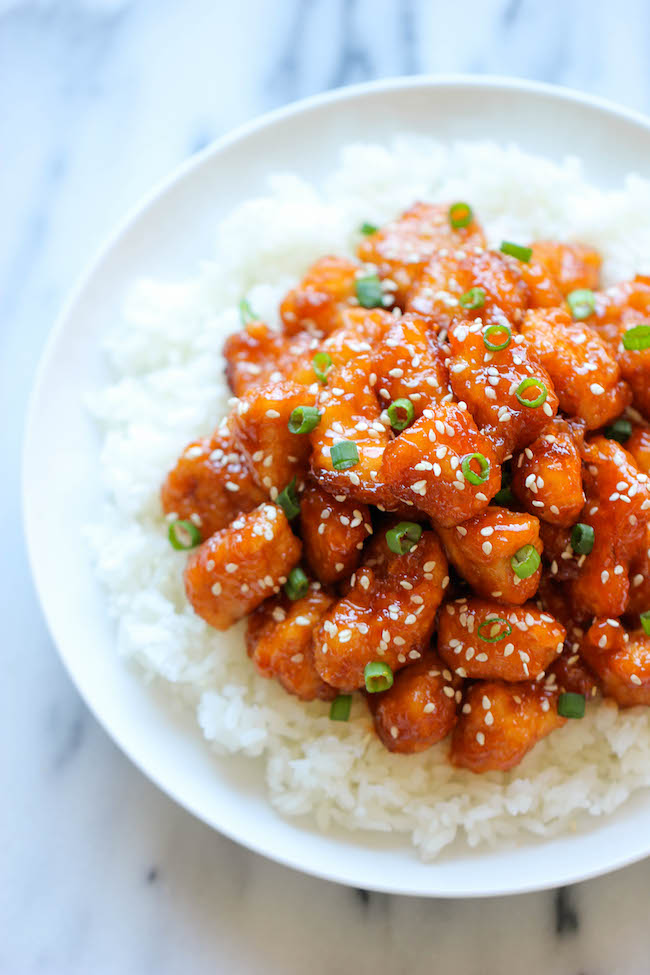 The cooking time takes a little over an hour but I promise you – this version is well worth the effort!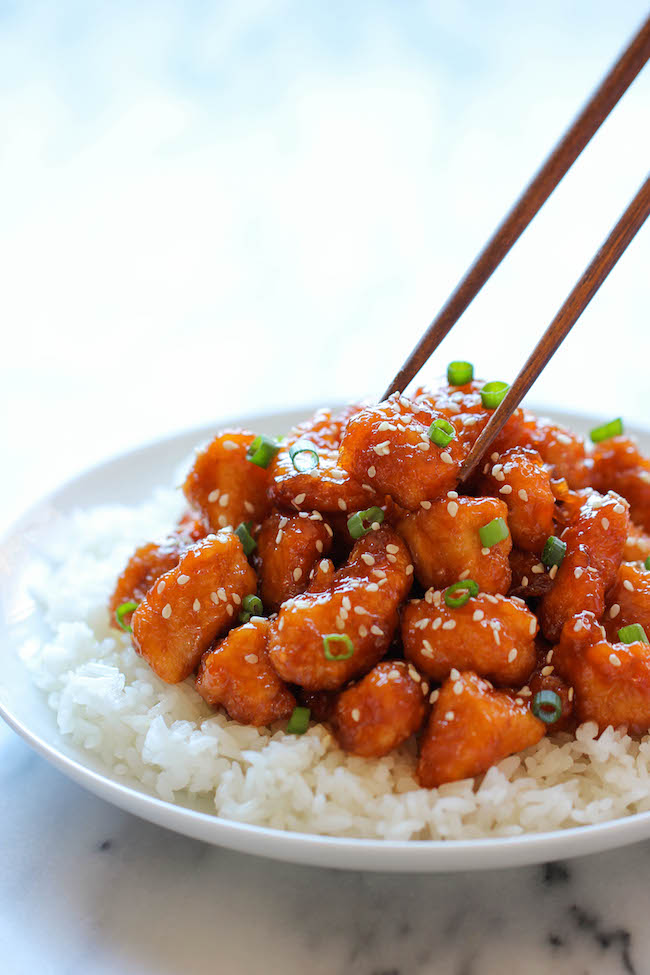 Baked Sweet and Sour Chicken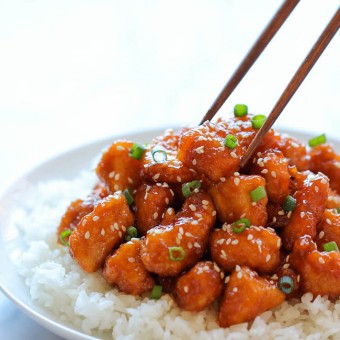 No need to order take-out anymore – this homemade version is so much healthier and a million times tastier!
Ingredients:
1 pound boneless, skinless chicken breasts, cut into 1-inch chunks
Kosher salt and freshly ground black pepper, to taste
1/2 cup cornstarch
2 large eggs, beaten
1/4 cup vegetable oil
For the sweet and sour sauce
3/4 cup sugar
1/2 cup apple cider vinegar
1/4 cup ketchup
1 tablespoon soy sauce
1/2 teaspoon garlic powder
Directions:
Preheat oven to 325 degrees F. Lightly oil a 9×13 baking dish or coat with nonstick spray.
To make the sauce, whisk together sugar, vinegar, ketchup, soy sauce and garlic powder in a large bowl; set aside.
In a large bowl, season chicken with salt and pepper, to taste. Stir in cornstarch and gently toss to combine. Working one at a time, dip the chicken into the eggs.
Heat vegetable oil in a large saucepan. Add chicken and cook until golden brown, about 1-2 minutes. Transfer to a paper towel-lined plate; discard excess oil.
Add chicken to prepared baking dish. Top with sweet and sour sauce. Place into oven and bake until the sauce has thickened, about 55 minutes, turning over every 15 minutes to evenly coat the chicken.
Serve immediately.
Why It's A Smart Choice
Nutrition Facts
Serving Size
Servings Per Container 4
---
Amount Per Serving
Calories 497.1 Calories from Fat 139.5
% Daily Value*
Total Fat 15.5g 24%
Saturated Fat 2.1g 11%
Trans Fat 0.3g
Cholesterol 161.8mg 54%
Sodium 487.9mg 20%
Total Carbohydrate 57.2g 19%
Dietary Fiber 0.5g 2%
Sugars 41.3g
Protein 30.7g 61%
---
*Percent Daily Values are based on a 2,000 calorie diet. Your daily values may be higher or lower depending on your calorie needs.
When you make your food at home, you have full control over the ingredients. If you have food allergies, you can have the peace of mind that all the ingredients used in this class Chinese takeout dish are safe!
Nutritional information provided by Jessica Penner, RD at Smart Nutrition.