Zucchini Fritters
These fritters are unbelievably easy to make, low calorie, and the perfect way to sneak in some veggies!
I'm always looking for new ways to use up my lingering zucchini. I've made zucchini crisps and zucchini sticks but I wanted to try something a little different this time – something "not fried" per se and a bit healthier. That's when these fritters happened.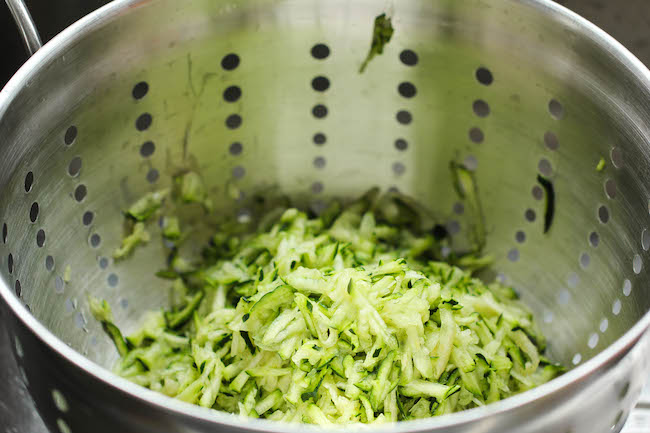 Now these fritters are unbelievably easy to whip up. Simply grate your zucchini, drain them completely using a dish cloth, and throw them in a bowl with all of your other ingredients. From there, scoop them right out onto a hot skillet, flattening them up to resemble a pancake. Flip, cook, serve. Easy enough, right?
These fritters are wonderfully nutritious, low in calories and the perfect way to sneak in some veggies for those picky eaters. The best part is, you can serve them as a snack, an appetizer, or even a light lunch!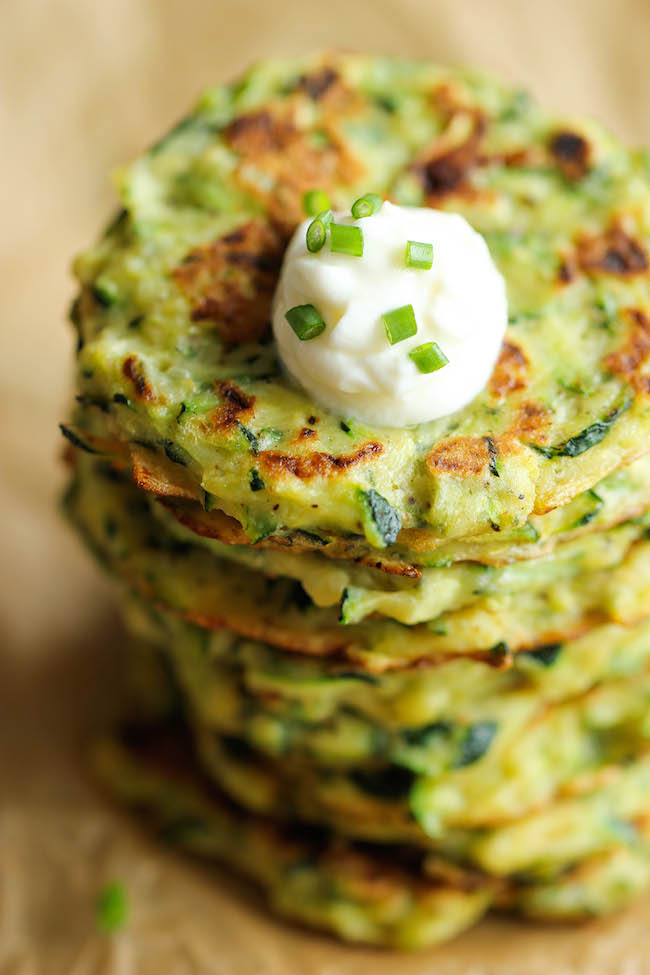 Zucchini Fritters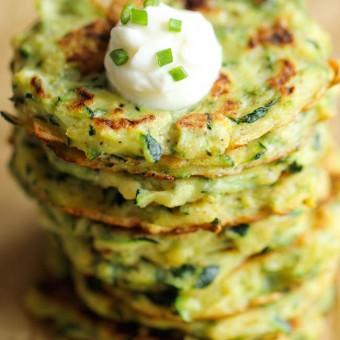 These fritters are unbelievably easy to make, low calorie, and the perfect way to sneak in some veggies!
Ingredients:
1 1/2 pounds zucchini, grated
1 teaspoon salt
1/4 cup all-purpose flour
1/4 cup grated Parmesan
2 cloves garlic, minced
1 large egg, beaten
Kosher salt and freshly ground black pepper, to taste
2 tablespoons olive oil
Directions:
Place grated zucchini in a colander over the sink. Add salt and gently toss to combine; let sit for 10 minutes. Using a clean dish towel or cheese cloth, drain zucchini completely.
In a large bowl, combine zucchini, flour, Parmesan, garlic and egg; season with salt and pepper, to taste.
Heat olive oil in a large skillet over medium high heat. Scoop tablespoons of batter for each fritter, flattening with a spatula, and cook until the underside is nicely golden brown, about 2 minutes. Flip and cook on the other side, about 1-2 minutes longer.
Serve immediately.
Why It's A Smart Choice
Nutrition Facts
Serving Size
Servings Per Container 4
---
Amount Per Serving
Calories 185.4 Calories from Fat 108
% Daily Value*
Total Fat 12.0g 18%
Saturated Fat 3.0g 15%
Trans Fat 0g
Cholesterol 101.9mg 34%
Sodium 728.9mg 30%
Total Carbohydrate 11.9g 4%
Dietary Fiber 1.9g 8%
Sugars 4.6g
Protein 8.6g 17%
---
*Percent Daily Values are based on a 2,000 calorie diet. Your daily values may be higher or lower depending on your calorie needs.
This dish will give you nearly 3 servings of vegetables per portion! And the zucchini provides vitamins A and E while the cheese provides fat to help your body absorb these vitamins. Double win!
Nutritional information provided by Jessica Penner, RD at Smart Nutrition.