Spinach Tomato Tortellini Soup
The easiest, most comforting and hearty soup ever. All you need is 5 min prep. SO EASY!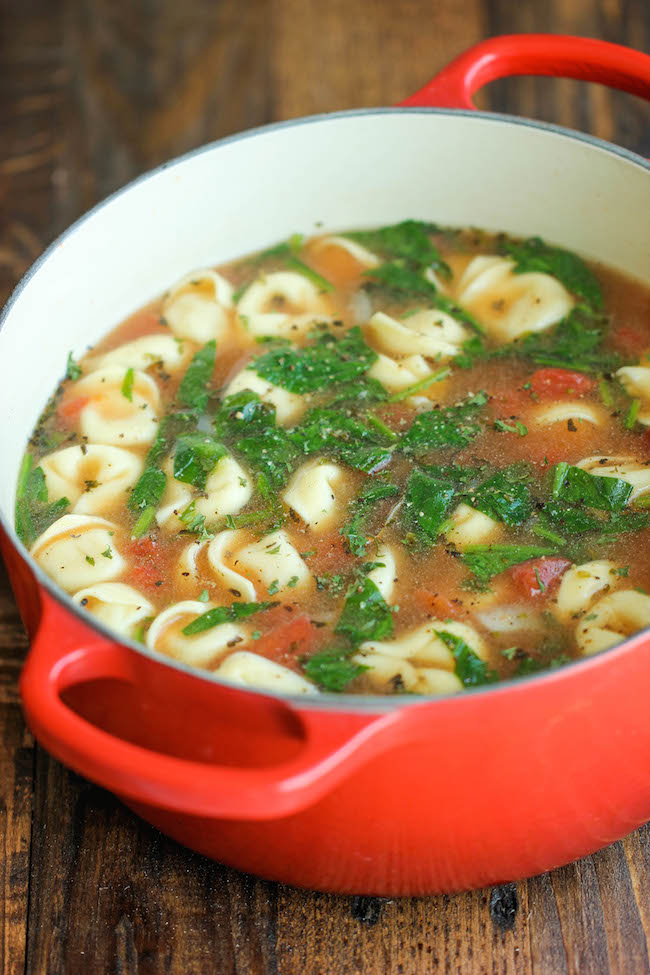 I know Fall is right around the corner but it's hitting close to 90 degrees F out here in Southern California as I am still walking around in shorts and flip flops. Although I walk around in flip flops all year long. Even so, I still needed a very big pot of soup.
But not just any pot of soup. I needed tortellini, my absolute favorite pasta of all. After all, how can you resist itty bitty pieces of pasta stuffed with three different kinds of cheeses?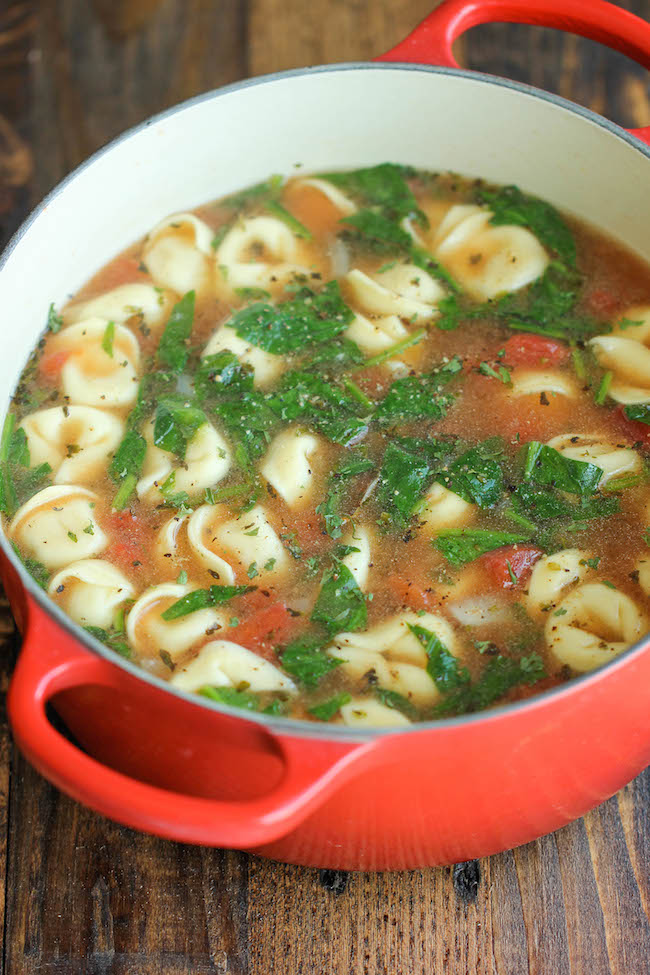 That being said, I can have tortellini all day, everyday, especially in this soup. And that's exactly what we did. With just 5 min prep, we whipped this up several times this week and devoured every last bit. Best of all this makes enough to feed an army, and the leftovers save very well!
Spinach Tomato Tortellini Soup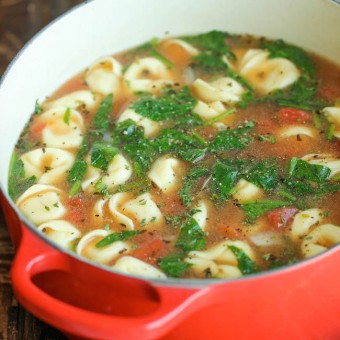 The easiest, most comforting and hearty soup ever. All you need is 5 min prep. SO EASY!
Ingredients:
1 tablespoon olive oil
3 cloves garlic, minced
1 onion, diced
4 cups chicken broth
1 (14.5-ounce) can petite diced tomatoes, undrained
1 (9-ounce) package refrigerated three cheese tortellini
1/2 teaspoon dried basil
1/2 teaspoon dried oregano
1 bay leaf
Kosher salt and freshly ground black pepper, to taste
3 cups baby spinach, chopped
2 tablespoons grated Parmesan
Directions:
Heat 1 tablespoon olive oil in a large stockpot or Dutch oven over medium heat. Add garlic and onion, and cook, stirring frequently, until onions have become translucent, about 2-3 minutes.
Whisk in chicken broth, diced tomatoes, tortellini, basil, oregano, bay leaf and 1 cup water; season with salt and pepper, to taste.
Bring to a boil; reduce heat and simmer until tortellini is cooked through, about 5-6 minutes. Stir in spinach until it begins to wilt, about 2 minutes.
Serve immediately, garnished with Parmesan.
Why It's A Smart Choice
Nutrition Facts
Serving Size
Servings Per Container 4
---
Amount Per Serving
Calories 348.0 Calories from Fat 99
% Daily Value*
Total Fat 11.0g 17%
Saturated Fat 4.0g 20%
Trans Fat 0g
Cholesterol 32.8mg 11%
Sodium 586.5mg 24%
Total Carbohydrate 44.2g 15%
Dietary Fiber 3.5g 14%
Sugars 5.3g
Protein 18.5g 37%
---
*Percent Daily Values are based on a 2,000 calorie diet. Your daily values may be higher or lower depending on your calorie needs.
High volume foods such as soups, stews, fruits, and veggies are more filling than denser foods. For some reason, soup is more filling than if you were to eat the same ingredients dry, and drink the same amount of water on the side! It's a mystery that nutrition scientists haven't solved yet, but it's clear that choosing soup for your meal is a great way to help control your appetite.
Nutritional information provided by Jessica Penner, RD at Smart Nutrition.