Asian Quinoa Meatballs
Healthy, nutritious and packed with so much flavor. Perfect as an appetizer or a light dinner!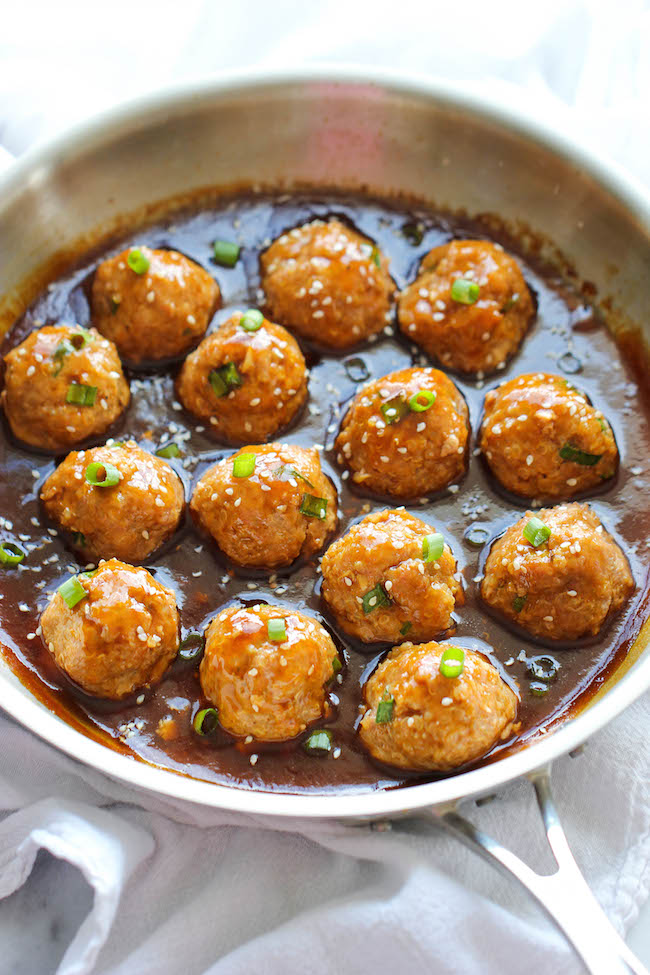 Meatballs don't get as much credit as they should. They're incredibly versatile, they're fun to eat, and they can either work as an appetizer or a main dish. Plus, it's literally a ball of meat!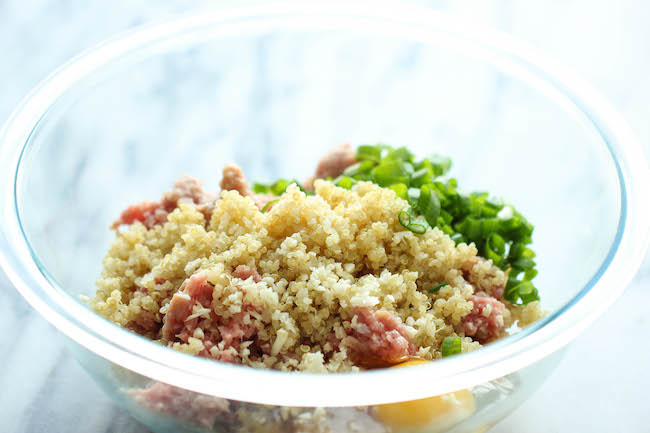 But for those cutting back on some heavy calories from all that meatball goodness, I have the perfectly lightened up version with quinoa.
The quinoa here is a great substitute for some of the meat, and provides an excellent source of protein too – all the while keeping it light on your pants.
Best of all, not only are these meatballs lightened up but they're also baked to absolute tender perfection.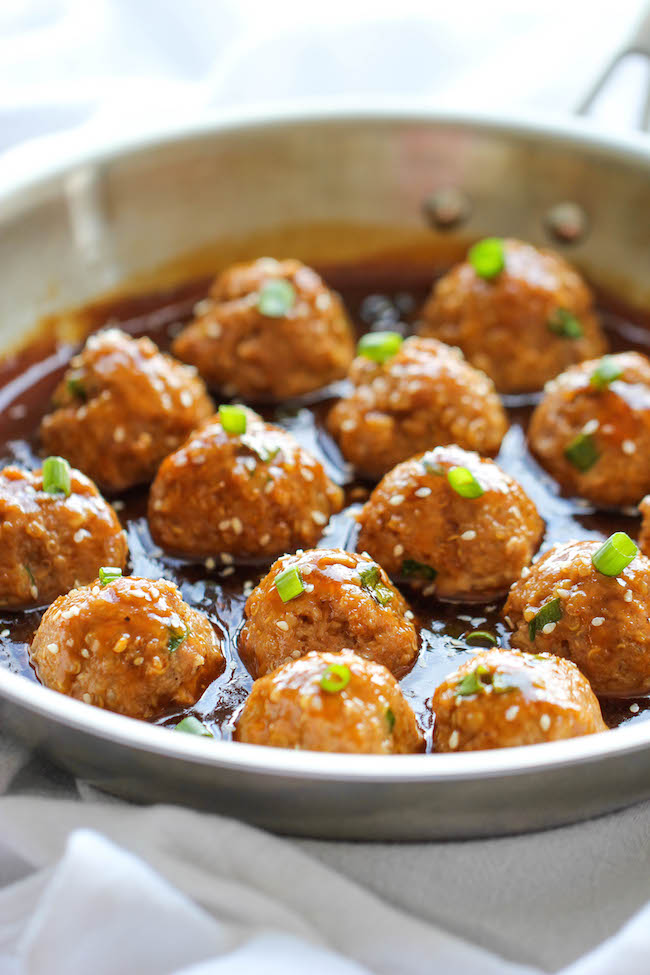 The sauce is also packed with tons of flavor – you can even set some aside and toss it on some rice or even a side of quinoa. You'll be glad you did.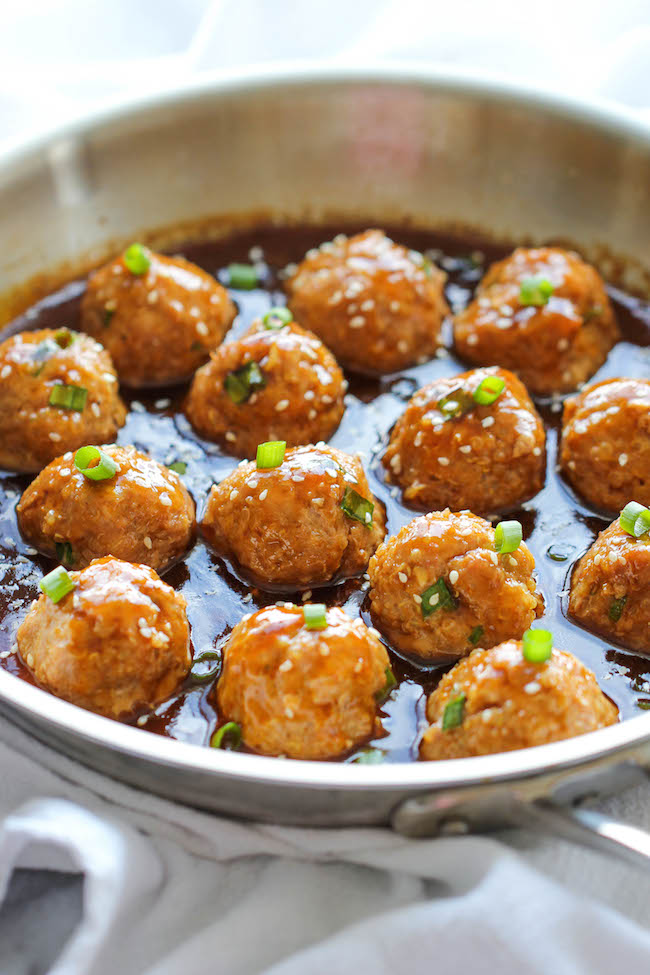 And if you're anything like us, you'll double the batch and serve these on game day, and save the rest for a light dinner the very next night!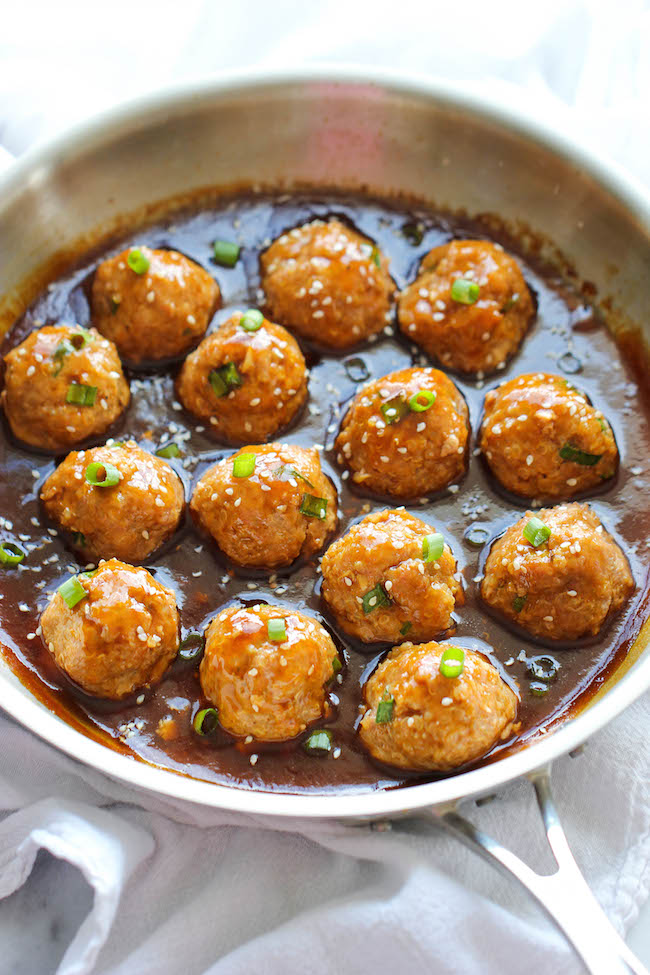 Healthy, nutritious and packed with so much flavor. Perfect as an appetizer or a light dinner!
Ingredients
1 pound ground turkey
3/4 cup cooked quinoa
3 cloves garlic, minced
2 green onions, thinly sliced, plus more for garnish
1 large egg
1 tablespoon soy sauce
2 teaspoons sesame oil
1 teaspoon Sriracha, or more, to taste
Kosher salt and freshly ground black pepper, to taste
Sesame seeds, for garnish

For the sauce

1/4 cup soy sauce
2 tablespoons rice vinegar
1 tablespoon freshly grated ginger
1 tablespoon brown sugar, packed
1 teaspoon sesame oil
1 teaspoon Sriracha, or more, to taste
2 teaspoons cornstarch
Instructions
Preheat oven to 400 degrees F. Lightly oil a 9x13 baking dish or coat with nonstick spray.
In a large bowl, combine ground turkey, quinoa, garlic, onions, egg, soy sauce, sesame oil, Sriracha, salt and pepper, to taste. Using a wooden spoon or clean hands, stir until well combined. Roll the mixture into 1 1/4-to-1 1/2-inch meatballs, forming about 18-20 meatballs.
Place meatballs onto the prepared baking dish and bake for 18-20 minutes, or until all sides are browned and meatballs are cooked through.
To make the sauce, whisk together soy sauce, rice vinegar, ginger, sugar, sesame oil, Sriracha and 1/2 cup water in a small saucepan over medium high heat.
In a small bowl, whisk together cornstarch and 1 tablespoon water. Stir into soy sauce mixture until thickened, about 2 minutes.
Serve meatballs immediately with sauce, garnished with green onion and sesame seeds.
Notes
http://damndelicious.net/2014/10/15/asian-quinoa-meatballs/
Why It's A Smart Choice
Nutrition Facts
Serving Size 1 meatball
Servings Per Container 20 meatballs
---
Amount Per Serving
Calories 56.9 Calories from Fat 24.3
% Daily Value*
Total Fat 2.7g 4%
Saturated Fat 0.7g 4%
Trans Fat 0g
Cholesterol 29.4mg 10%
Sodium 257.5mg 11%
Total Carbohydrate 2.7g 1%
Dietary Fiber 0.3g 1%
Sugars 0.8g
Protein 5.2g 10%
---
*Percent Daily Values are based on a 2,000 calorie diet. Your daily values may be higher or lower depending on your calorie needs.
Turkey is a low-fat alternative to ground beef. Substituting turkey for beef results in cutting down on 1/3 of the calories!
Nutritional information provided by Jessica Penner, RD at Smart Nutrition.