Ranch Cheddar Chicken
The quickest and easiest baked chicken with an amazingly creamy, cheesy Ranch topping!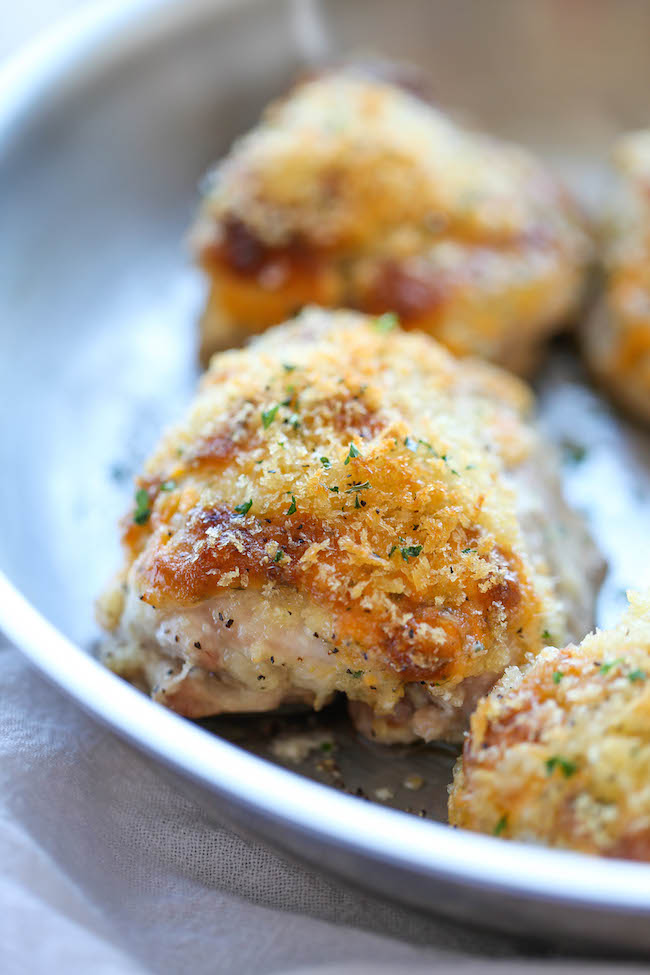 Who can ever say no to anything involving Ranch?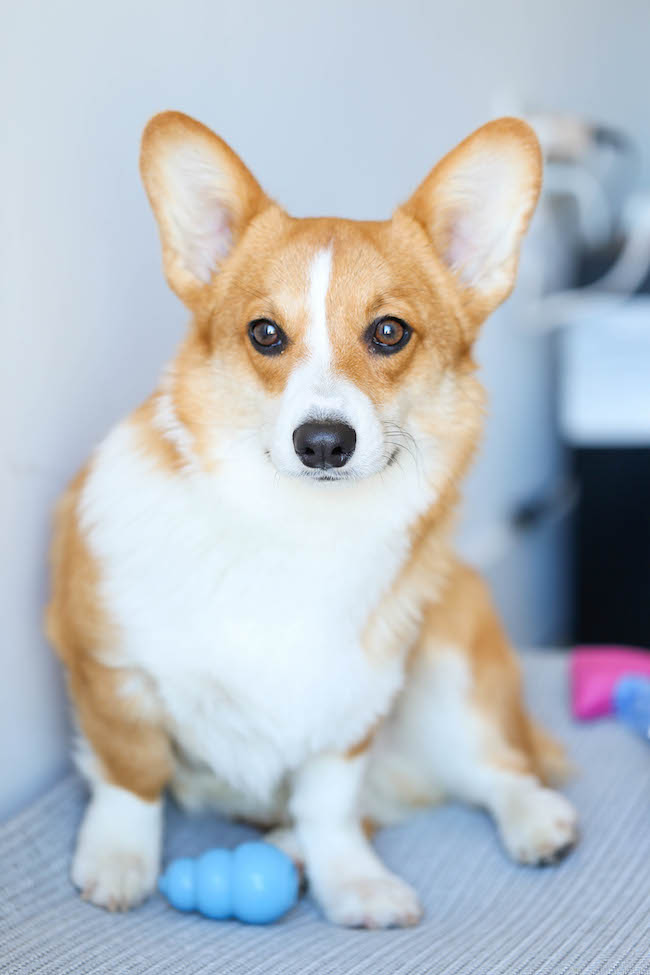 Even Butters was fully onboard with the Ranch situation, as he sits here on his coolaroo, waiting to get a piece of it.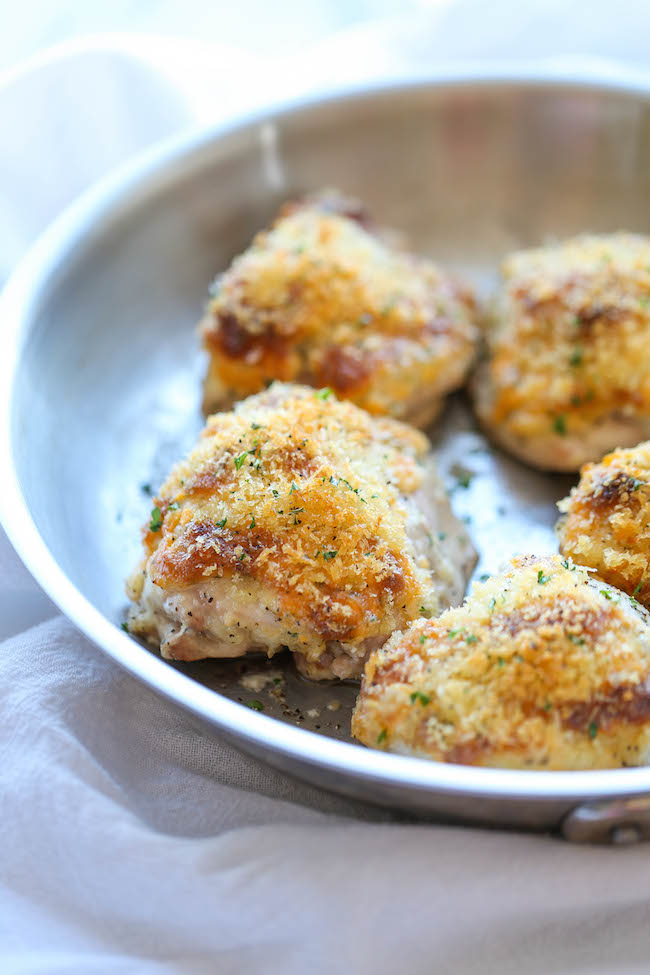 And even though the base of the topping involves mayonnaise, which sounds completely bizarre, it actually lends off the most amazing creaminess you'll ever experience.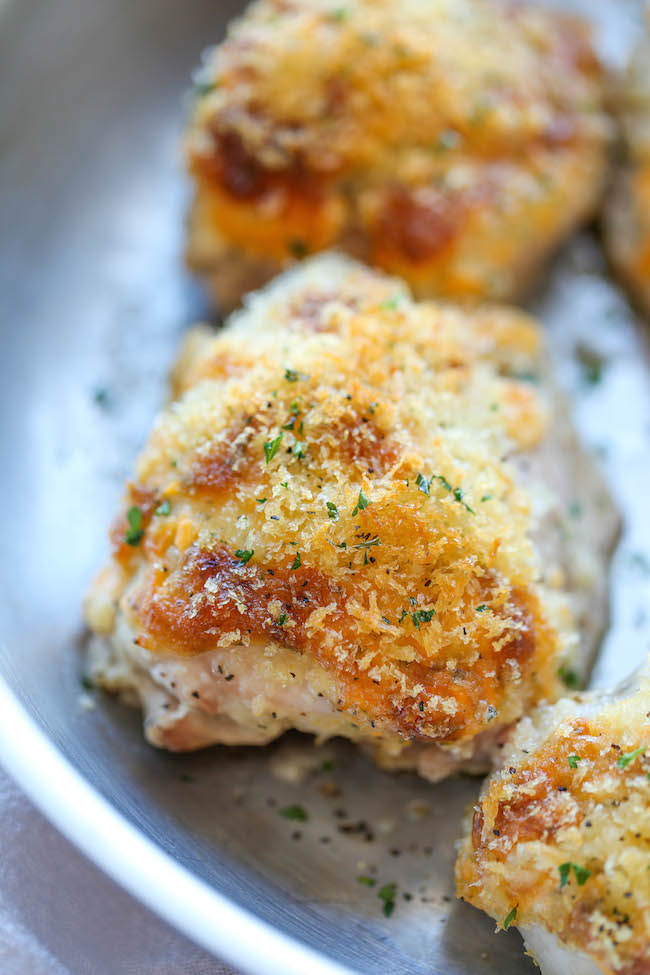 Mixed in with sharp cheddar and crisp Panko breadcrumbs, you'll never have to go back to those boring chicken dinners ever again!
Ranch Cheddar Chicken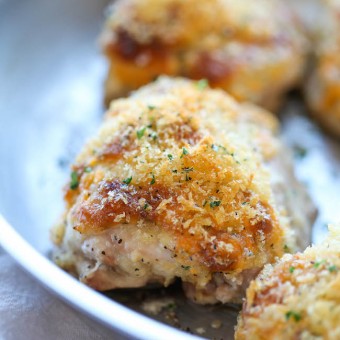 The quickest and easiest baked chicken with an amazingly creamy, cheesy Ranch topping!
Ingredients:
1/2 cup mayonnaise
1/2 cup shredded sharp cheddar cheese
1 (1-ounce) package Ranch Seasoning and Salad Dressing Mix
3 cloves garlic, minced
8 boneless, skinless chicken thighs
Kosher salt and freshly ground black pepper, to taste
1/3 cup Panko*
2 tablespoons chopped fresh parsley leaves
Directions:
Preheat oven to 400 degrees F. Lightly oil a 9×13 baking dish or coat with nonstick spray.
In a small bowl, whisk together mayonnaise, cheese, Ranch Seasoning and garlic.
Season chicken thighs with salt and pepper, to taste. Place chicken in a single layer onto the prepared baking dish and top with mayonnaise mixture. Sprinkle with Panko.
Place into oven and cook until completely cooked through and golden brown on top, reaching an internal temperature of 175 degrees F, about 25-30 minutes.
Serve immediately, garnished with parsley, if desired.
*Panko is a Japanese-style breadcrumb and can be found in the Asian section of your local grocery store.
Why It's A Smart Choice
Nutrition Facts
Serving Size
Servings Per Container 8
---
Amount Per Serving
Calories 260.2 Calories from Fat 162
% Daily Value*
Total Fat 18.0g 28%
Saturated Fat 4.5g 23%
Trans Fat 0g
Cholesterol 75.0mg 25%
Sodium 445.6mg 19%
Total Carbohydrate 6.0g 2%
Dietary Fiber 0.2g 1%
Sugars 0.45g
Protein 18.7g 37%
---
*Percent Daily Values are based on a 2,000 calorie diet. Your daily values may be higher or lower depending on your calorie needs.
Notice how the chicken in this recipe is baked? But it still ends up crispy! Usually you need to fry chicken to get it crispy, which results in extra calories from soaking up the grease. But by topping the chicken with Panko, you still get to keep the crispness but lose the extra calories!
Nutritional information provided by Jessica Penner, RD at Smart Nutrition.