Garlic Parmesan Roasted Shrimp
The easiest roasted shrimp cocktail ever made with just 5 min prep. Yes, it's just that easy!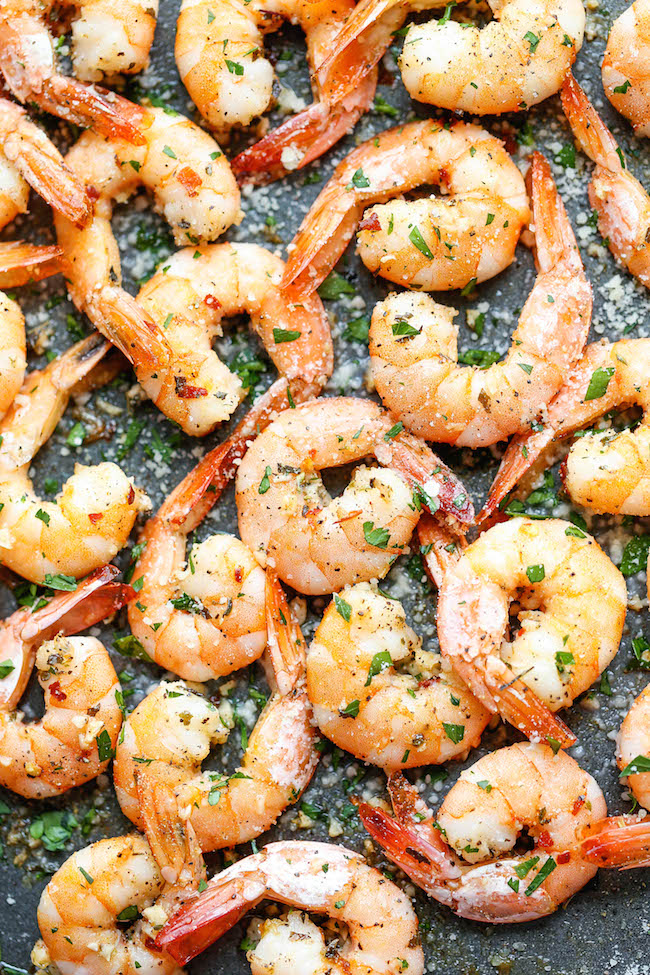 If you're ever in need of a quick and easy appetizer, look no further because this can be made in 5 min. Yes. 5 min.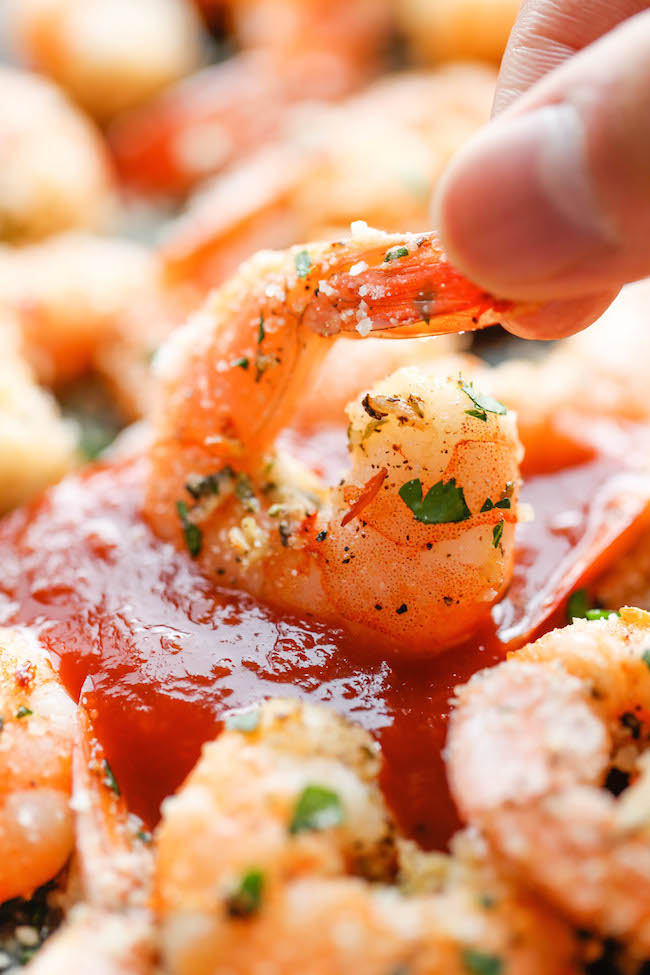 Although if your shrimp isn't already  peeled, it may take a little longer – say 12 minutes – but still. Once they are peeled and ready to go, you are set! All you need is olive oil, garlic, freshly grated Parmesan and some pantry spices. That's it.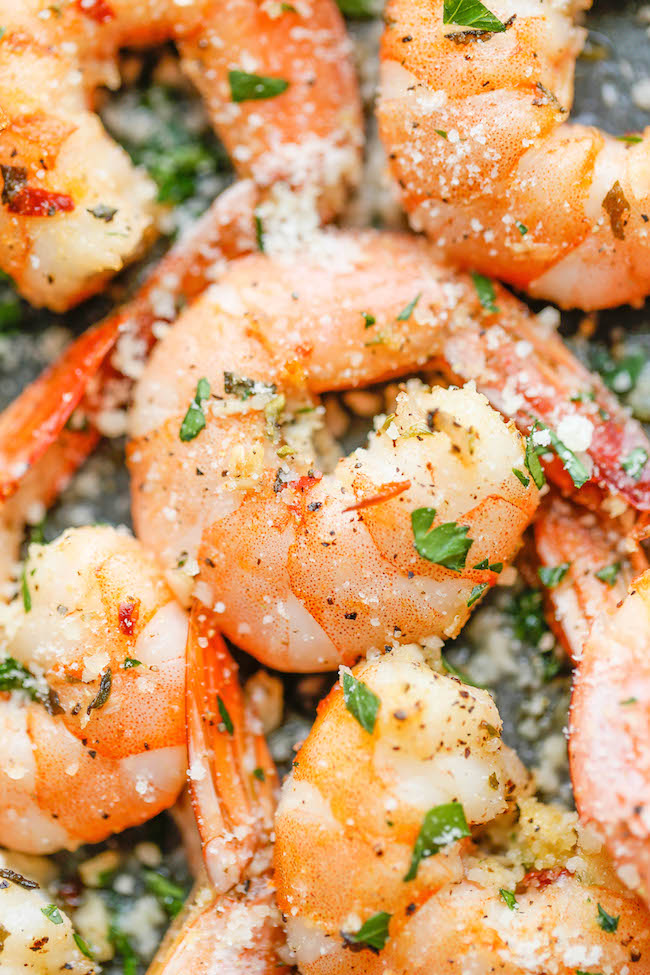 Once they've been roasted to that glorious orange perfection, go ahead and add that squeeze of lemon juice. Easy peasy, right?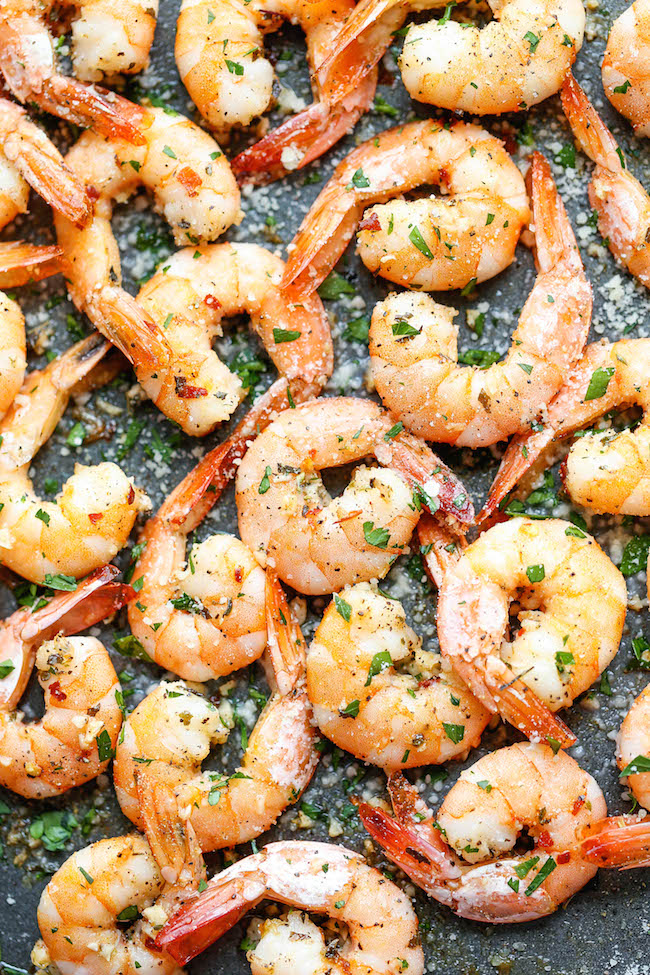 The easiest roasted shrimp cocktail ever made with just 5 min prep. Yes, it's just that easy!
Ingredients
1 pound medium shrimp, peeled and deveined
2 tablespoons olive oil
4 cloves garlic, minced
1/2 teaspoon dried oregano
1/2 teaspoon dried basil
1/4 cup freshly grated Parmesan
Kosher salt and freshly ground black pepper, to taste
Juice of 1 lemon
2 tablespoons chopped parsley leaves, for garnish
Instructions
Preheat oven to 400 degrees F. Lightly oil a baking sheet or coat with nonstick spray.
Place shrimp in a single layer onto the prepared baking sheet. Add olive oil, garlic, oregano, basil and Parmesan; season with salt and pepper, to taste. Gently toss to combine.
Place into oven and roast just until pink, firm and cooked through, about 6-8 minutes. Stir in lemon juice.
Serve immediately, garnished with parsley, if desired.
http://damndelicious.net/2014/12/05/garlic-parmesan-roasted-shrimp/
Why It's A Smart Choice
Nutrition Facts
Serving Size
Servings Per Container 4
---
Amount Per Serving
Calories 203.3 Calories from Fat 88.2
% Daily Value*
Total Fat 9.8g 15%
Saturated Fat 2.4g 12%
Trans Fat 0g
Cholesterol 219.2mg 73%
Sodium 353.4mg 15%
Total Carbohydrate 2.2g 1%
Dietary Fiber 0.1g 0%
Sugars 0.4g
Protein 25.6g 51%
---
*Percent Daily Values are based on a 2,000 calorie diet. Your daily values may be higher or lower depending on your calorie needs.
A lot of shrimp dishes are breaded and fried. Although very tasty, this preparation method adds unnecessary calories. But the shrimp in this dish is baked, reducing the calories without compromising flavor. The garlic and Parmesan cheese are key ingredients to adding in a lot of flavor!
Nutritional information provided by Jessica Penner, RD at Smart Nutrition.