Skinny Mexican Casserole
A cheesy comforting casserole that you can enjoy guilt-free, chockfull of veggies and whole wheat tortilla. You can't beat that!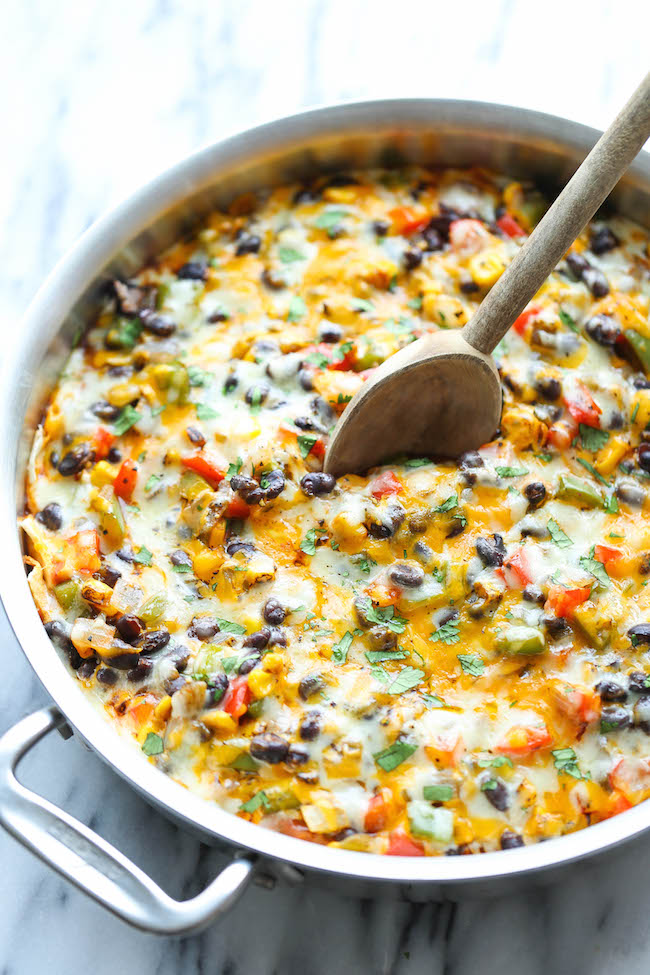 I know I should really be posting about some sort of peppermint-type hot chocolate but even during the holidays, I have a major sweet spot for Mexican-type comfort food.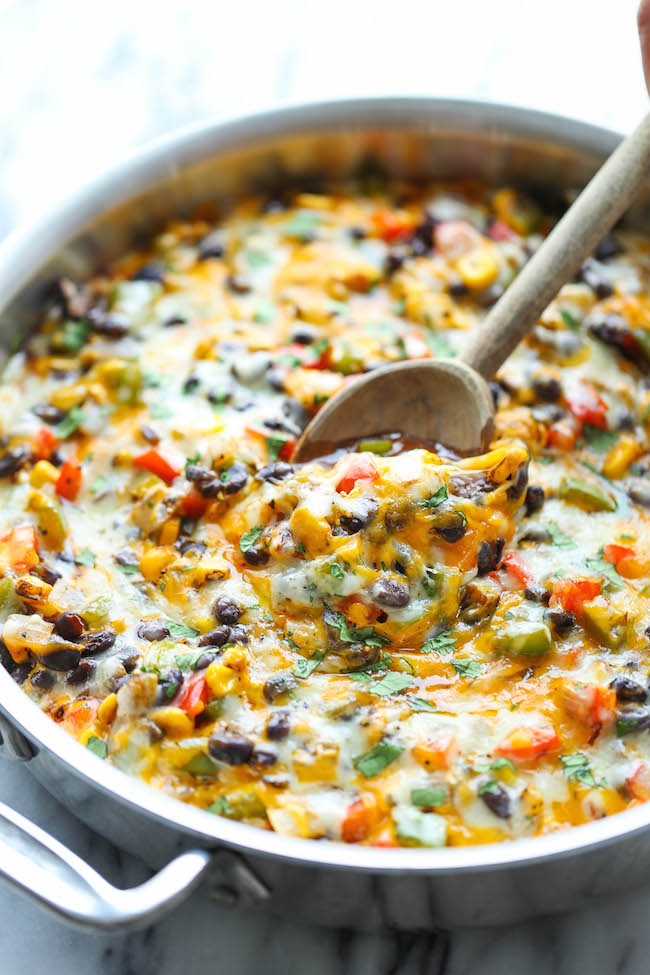 No, wait, I actually have a sweet spot for Mexican food all year long, 365 days out of the year, especially when there's a skinny version like this one here – chockfull of veggies, whole wheat tortilla, a layer of the creamiest refried beans, and of course, that cheesy, cheesy goodness.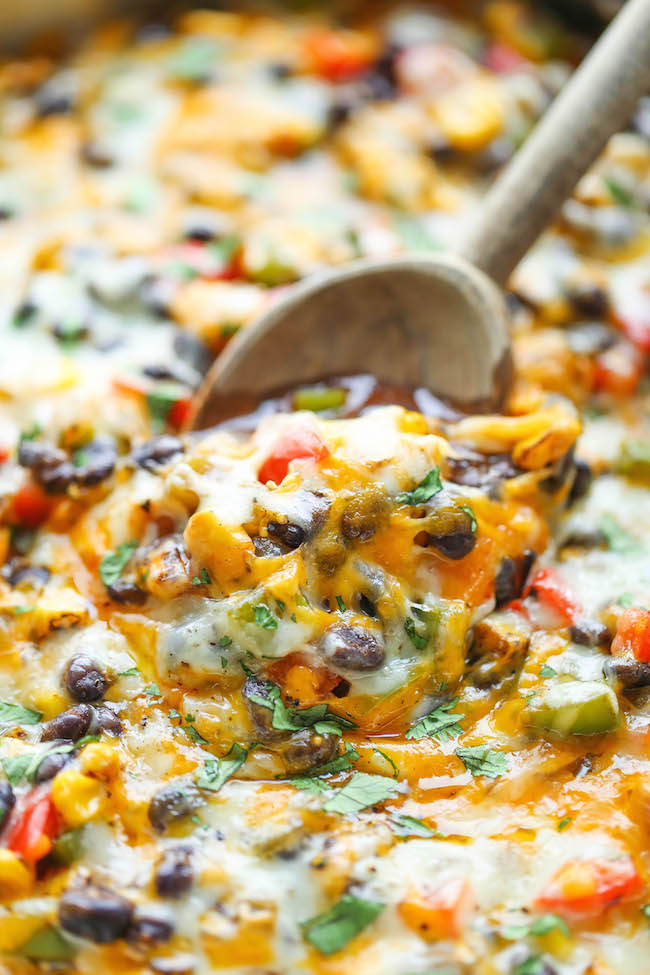 And even though this meal is completely meatless, it'll be sure to keep you full and satisfied all day. But be careful, you'll want to help yourself to at least 2 or 3 servings before calling it a night!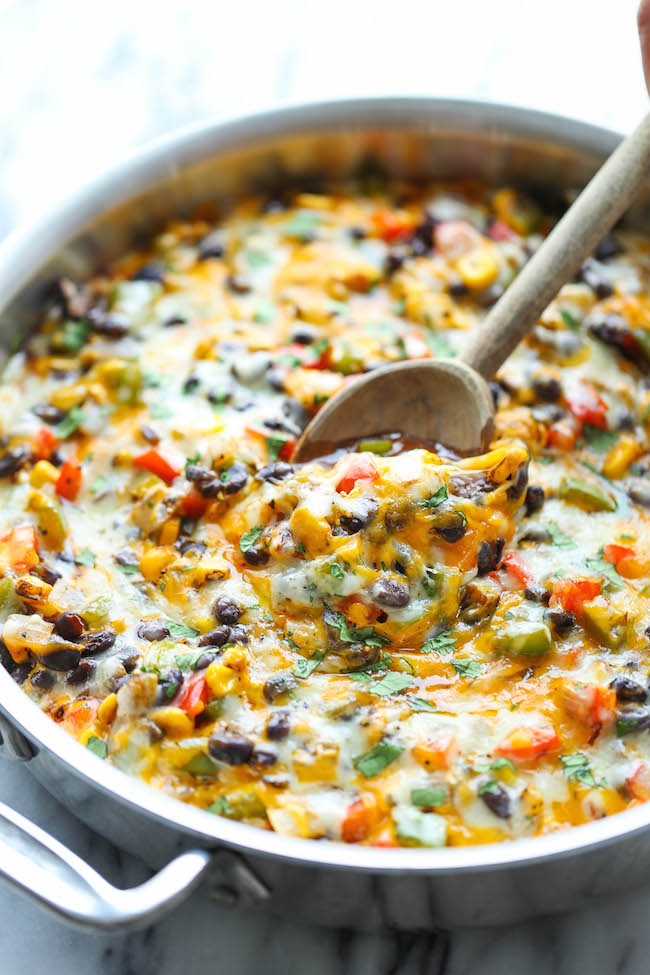 A cheesy comforting casserole that you can enjoy guilt-free, chockfull of veggies and whole wheat tortilla. You can't beat that!
Ingredients
1 tablespoon olive oil
2 cloves garlic, minced
1 onion, diced
1 red bell pepper, diced
1 green bell pepper, diced
1 (15-ounce) can black beans, drained and rinsed
1 cup corn kernels, frozen, canned or roasted
1 teaspoon chili powder
1/2 teaspoon cumin
Kosher salt and freshly ground black pepper, to taste
1 (4.5-ounce) can Old El Paso™ chopped green chiles, drained
2 tablespoons chopped fresh cilantro leaves
4 (8-inch) whole wheat tortillas, chopped
1 (16-ounce) can Old El Paso™ fat free refried beans, warmed
1 (10-ounce) can Old El Paso™ mild enchilada sauce
1 1/2 cups reduced fat shredded Mexican blend cheese
Instructions
Preheat oven to 375 degrees F. Lightly coat a 9x13 baking dish with nonstick spray.
Heat olive oil in a large skillet over medium high heat. Add garlic, onion and bell peppers. Cook, stirring frequently, until tender, about 3-4 minutes. Stir in black beans, corn, chili powder and cumin until heated through, about 1-2 minutes; season with salt and pepper, to taste. Stir in green chiles and cilantro; set aside.
Place tortillas evenly on the bottom of the baking dish. Spread refried beans evenly over the tortillas, followed by the onion mixture and enchilada sauce. Sprinkle with cheese.
Place into oven and bake for 15-20 minutes, or until bubbly.
Serve immediately, garnished with cilantro, if desired.
http://damndelicious.net/2014/12/22/skinny-mexican-casserole/
Why It's a Smart Choice
Nutrition Facts
Serving Size
Servings Per Container 8
---
Amount Per Serving
Calories 299 Calories from Fat 72
% Daily Value*
Total Fat 8.0g 12%
Saturated Fat 3.4g 17%
Trans Fat 0g
Cholesterol 12.5mg 4%
Sodium 942.6mg 39%
Total Carbohydrate 41.45g 14%
Dietary Fiber 8.5g 34%
Sugars 3.6g
Protein 15.3g 31%
---
*Percent Daily Values are based on a 2,000 calorie diet. Your daily values may be higher or lower depending on your calorie needs.
This recipe doesn't hit any home runs on any individual nutrient but it does cover all the bases. It's a nice balanced meal with a good dose of potassium, iron, Vitamin C, and folate. But be careful with portion size because it is high in sodium!
Nutritional information provided by Jessica Penner, RD at Smart Nutrition.
Disclosure: This post is sponsored by Old El Paso. All opinions expressed are my own.