Parmesan Chicken Bites
The best chicken nuggets you will ever have – crisp-tender and completely homemade with Parmesan goodness!
I hope you all had a great Christmas holiday! We stuffed ourselves with turkey, ham, sweet potato casserole, creamed corn, Korean BBQ, and Filipino spaghetti, while Butters sat around in his awesome yet very tight-fitting Santa suit.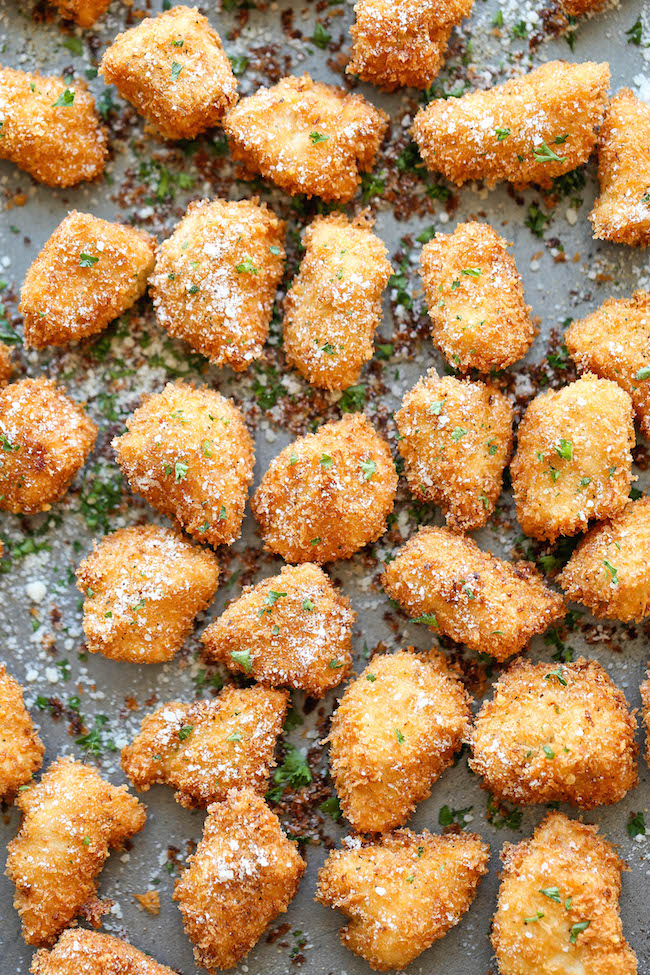 But now that the holidays are over, I can finally share these epic chicken nuggets. Although chicken nuggets can really be eaten any time of the year, any time of the day – breakfast, lunch, dinner, midnight snack – you name it.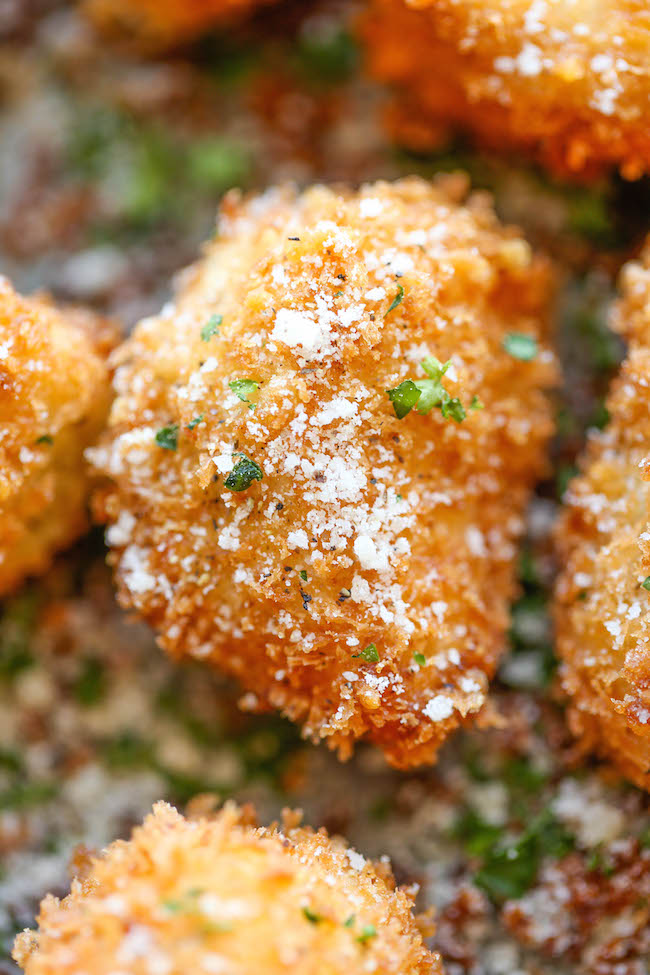 You just can't say no to chicken nuggets, especially when they're cooked to absolute crisp-perfection, loaded with that freshly grated Parmesan. And it's sure to bring out the kid in you as you dunk these bad boys in ketchup and honey mustard!
Parmesan Chicken Bites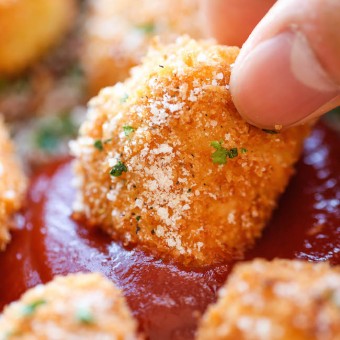 The best chicken nuggets you will ever have – crisp-tender and completely homemade with Parmesan goodness!
Ingredients:
1/2 cup vegetable oil
1 pound boneless, skinless chicken breasts, cut into 1-inch chunks
Kosher salt and freshly ground black pepper, to taste
1 cup Panko*
1/4 cup freshly grated Parmesan
1 teaspoon garlic powder
1/2 teaspoon smoked paprika
1/2 cup all-purpose flour
2 large eggs, beaten
2 tablespoons chopped fresh parsley leaves
Directions:
Heat vegetable oil in a large skillet over medium high heat.
Season chicken with salt and pepper, to taste.
In a large bowl, combine Panko, Parmesan, garlic powder and smoked paprika; season with salt and pepper, to taste. Set aside.
Working in batches, dredge chicken in flour, dip into eggs, then dredge in Panko mixture, pressing to coat.
Add chicken to the skillet, 5 or 6 at a time, and cook until evenly golden and crispy, about 3-4 minutes. Transfer to a paper towel-lined plate.
Serve immediately, garnished with Parmesan and parsley, if desired.
*Panko is a Japanese-style breadcrumb and can be found in the Asian section of your local grocery store.
Why It's A Smart Choice
Nutrition Facts
Serving Size
Servings Per Container 4
---
Amount Per Serving
Calories 403.1 Calories from Fat 160.2
% Daily Value*
Total Fat 17.8g 27%
Saturated Fat 3.2g 16%
Trans Fat 0.3g
Cholesterol 166.3mg 55%
Sodium 240.4mg 10%
Total Carbohydrate 23.1g 8%
Dietary Fiber 0.6g 2%
Sugars 0.9g
Protein 36.1g 72%
---
*Percent Daily Values are based on a 2,000 calorie diet. Your daily values may be higher or lower depending on your calorie needs.
When you make your own treat foods then you know exactly what goes into it! When you buy breaded chicken products there could be meat fillers added in and there is usually a lot of sodium. With this recipe you have most of the control over the sodium content.
Nutritional information provided by Jessica Penner, RD at Smart Nutrition.