One Pot Shrimp Parmesan Pasta
The boring old spaghetti gets a fun twist in this super easy one pot meal – even the pasta gets cooked right in!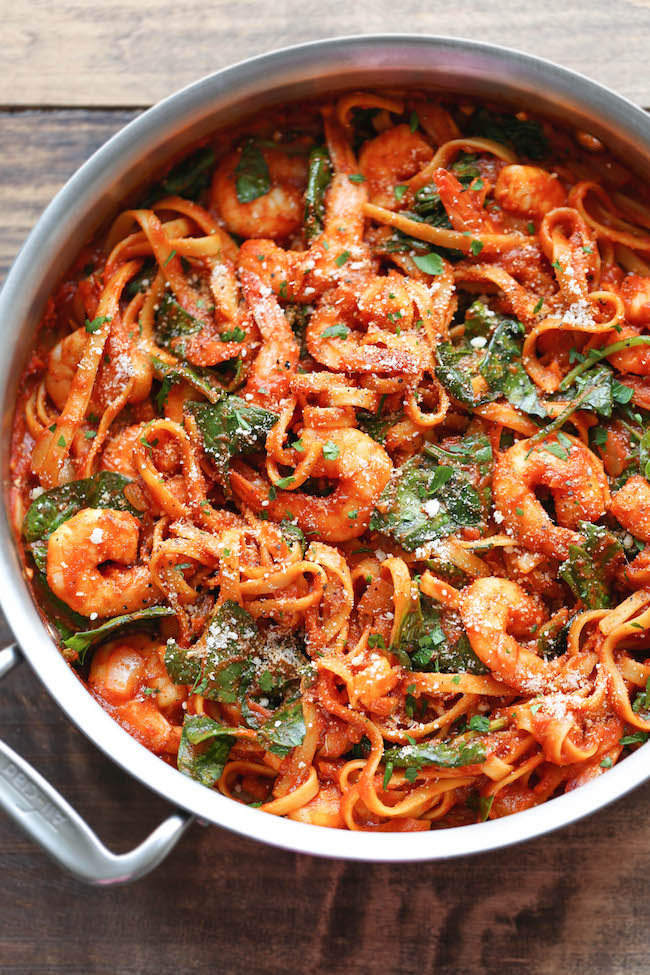 One pot pastas are the best. You can simply throw everything into a pan and voila, dinner is served. Yes, the uncooked pasta gets cooked right in the same skillet. There's no boiling, no draining, no nothing.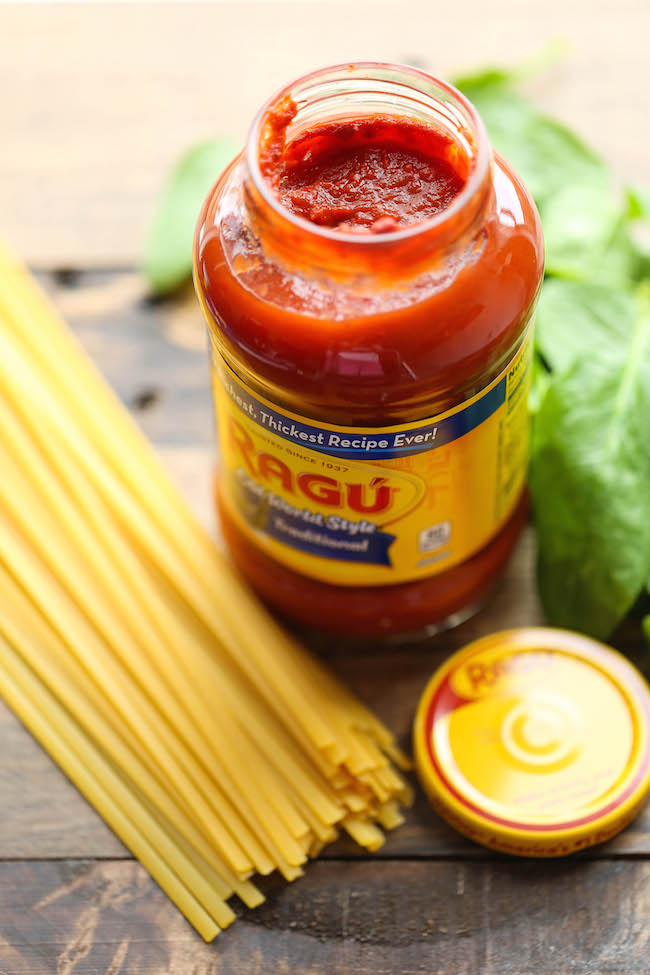 And with this recipe here, I've added my own personal spin to Ragú's Easy One Step Spaghetti recipe.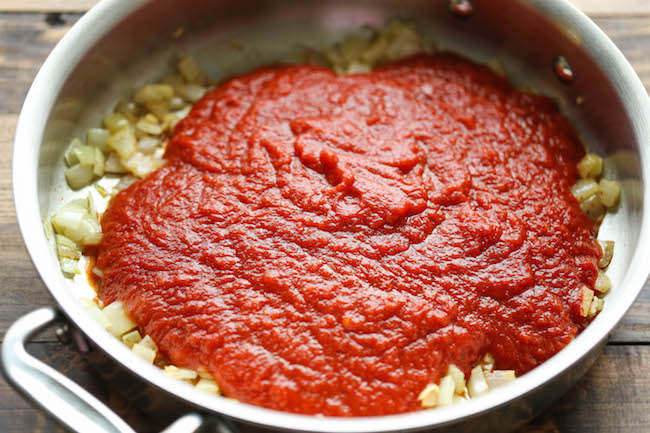 There's only a single pot to clean and the pasta is able to absorb all the flavors of Ragú® Traditional Sauce, a sauce so thick and amazingly rich.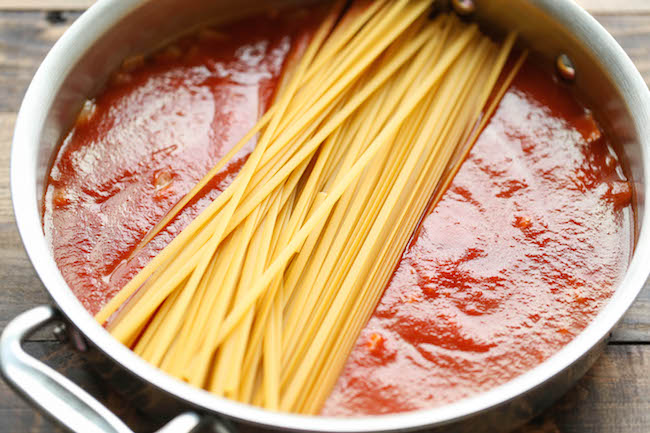 Not to mention all the other fun goodies here, from the crushed red pepper flakes for the added heat, fresh baby spinach to add in some healthy greens, and of course, shrimp!
Once your pasta is completely cooked through, you can added in that freshly grated Parmesan because at the end of the day, Parmesan makes everything better!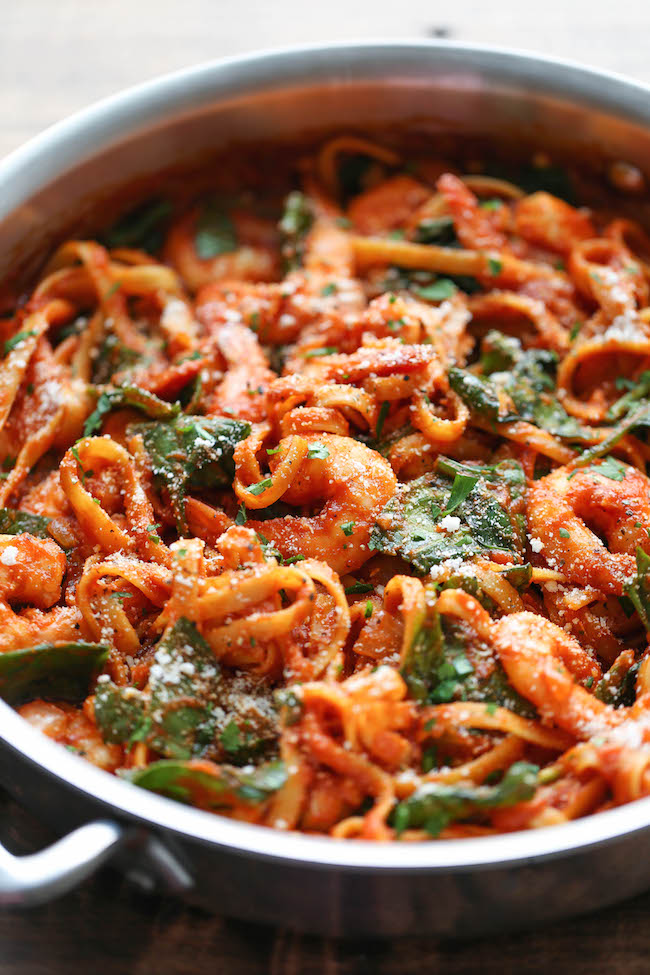 For more inspiration, both Ragú and I (with the help of some amazing pinners) are spending this month collecting the most delicious one pot pasta recipes on Pinterest. Come find your favorites!
One Pot Shrimp Parmesan Pasta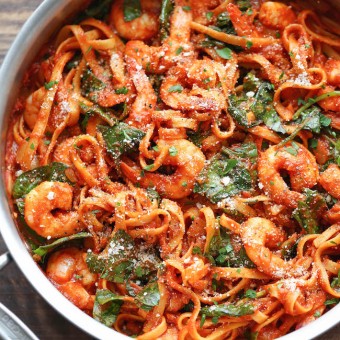 The boring old spaghetti gets a fun twist in this super easy one pot meal – even the pasta gets cooked right in!
Ingredients:
1 tablespoon olive oil
2 cloves garlic, minced
1 onion, diced
1 (24-ounce) jar Ragú® Traditional Sauce
2 cups chicken broth
1/2 teaspoon crushed red pepper flakes
10 ounces uncooked fettuccine
Kosher salt and freshly ground black pepper, to taste
1 pound medium shrimp, peeled and deveined
2 cups baby spinach
1/4 cup freshly grated Parmesan cheese
Directions:
Heat olive oil in a large skillet over medium high heat. Add garlic and onion to the skillet, and cook, stirring often, until onions have become translucent, about 3-4 minutes.
Stir in Ragú®, chicken broth, red pepper flakes and fettuccine; season with salt and pepper, to taste.
Bring to a boil; reduce heat and simmer, stirring occasionally, until pasta is cooked through, about 18-20 minutes.
Stir in shrimp and spinach until the spinach begins to wilt and the shrimp is cooked through, about 3 minutes. Stir in Parmesan.
Serve immediately.
Why It's A Smart Choice
Nutrition Facts
Serving Size
Servings Per Container 4
---
Amount Per Serving
Calories 579.3 Calories from Fat 99.9
% Daily Value*
Total Fat 11.1g 17%
Saturated Fat 2.3g 12%
Trans Fat 0g
Cholesterol 219.2mg 73%
Sodium 1070.1mg 45%
Total Carbohydrate 74.3g 25%
Dietary Fiber 5.9g 24%
Sugars 12.1g
Protein 40.9g 82%
---
*Percent Daily Values are based on a 2,000 calorie diet. Your daily values may be higher or lower depending on your calorie needs.
This is a nice, well-rounded recipe – a serving of this recipe will provide nearly a full day's requirement for folate, iron, and potassium. It also provides a good dose of Vitamin A, Vitamin E, calcium, and zinc. To make it a balanced meal, serve with a side salad.
Nutritional information provided by Jessica Penner, RD at Smart Nutrition.
Disclosure: This post is sponsored by Ragú. All opinions expressed are my own.