Asian Salmon Kabobs
These salmon kabobs are easy to make, hearty, light and healthy. And they're packed with tons of vibrant flavors! 368.1 calories.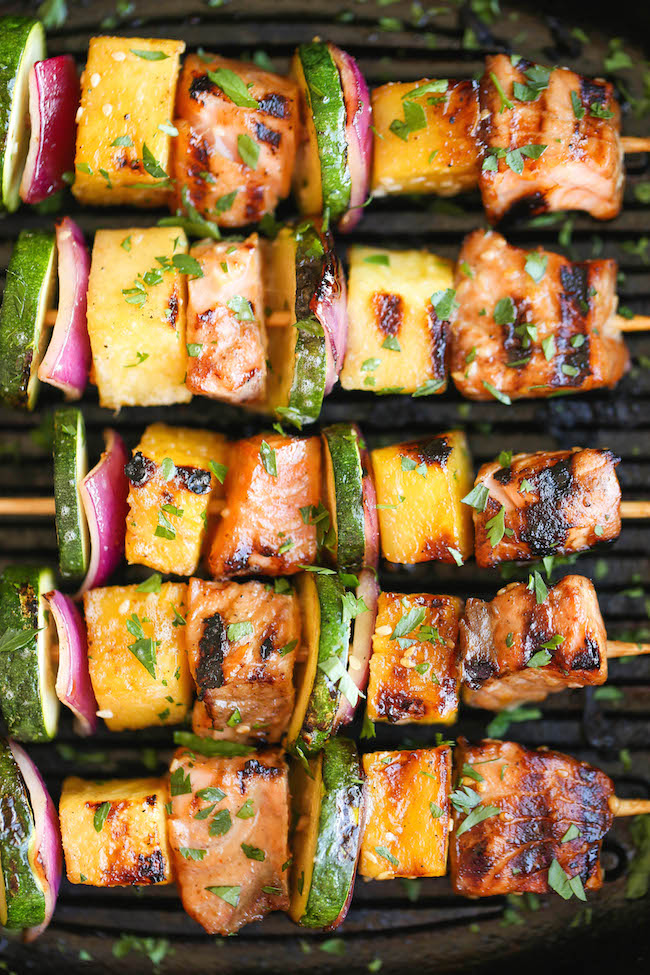 Have you noticed that food tends to taste better on sticks? I don't think there's any kind of scientific evidence as to why but there's just something more appealing, and tasty, when food is transformed into kabobs.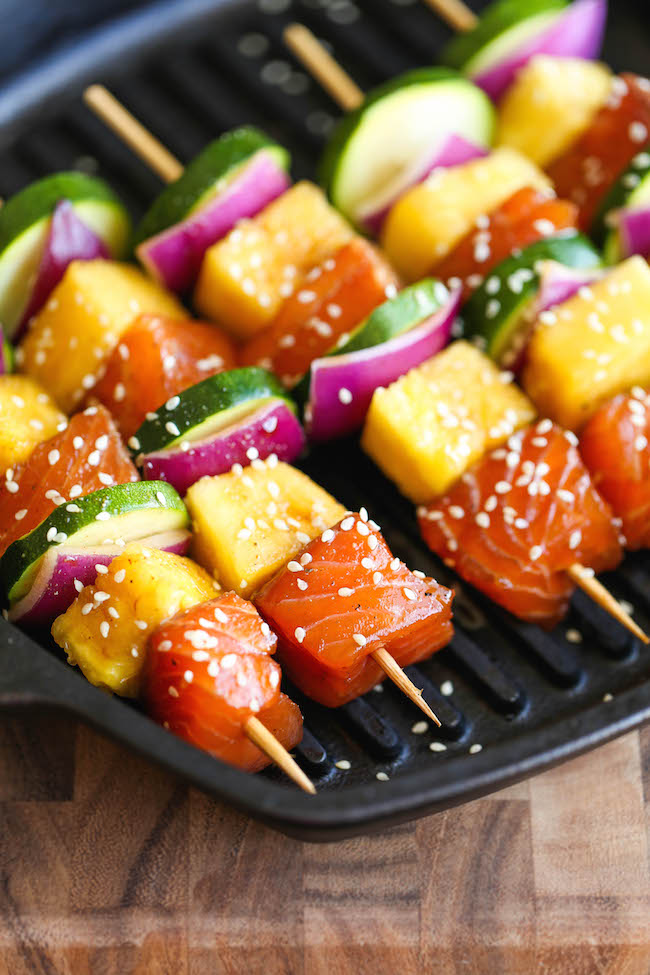 So that's what's happening here. I tweaked the marinade from this recipe here and added in some more fun goodies, threading red onion, fresh pineapple chunks and zucchini, all marinated for about 10-15 minutes.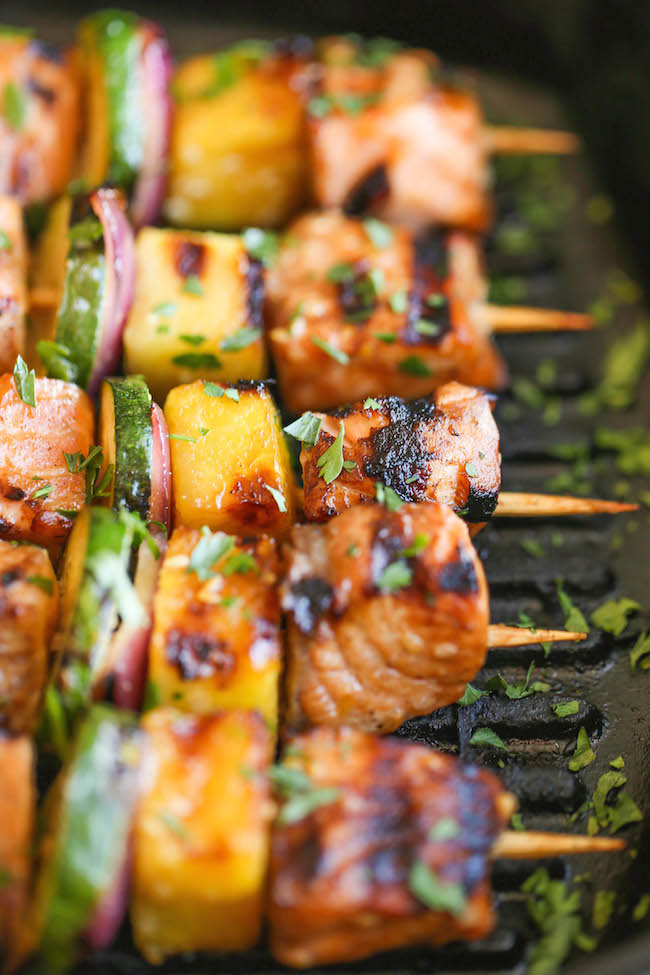 From there, you can throw these onto the grill for about 5-7 minutes, or a grill pan if you don't have access to a grill. You can also use the leftover marinade, reduce it, and drizzle it as a glaze!
Asian Salmon Kabobs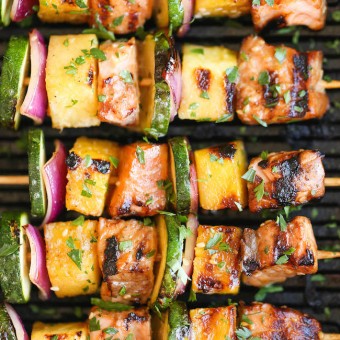 These salmon kabobs are easy to make, hearty, light and healthy. And they're packed with tons of vibrant flavors! 368.1 calories.
Ingredients:
1 1/2 pounds skinless salmon fillet, cut into 1-inch chunks
1 fresh pineapple, peeled and cut into 1-inch chunks
1 red onion, cut into chunks
1 zucchini, sliced into thick rounds
2 tablespoons chopped fresh cilantro leaves
For the marinade
2 tablespoons reduced sodium soy sauce
2 tablespoons oyster sauce
2 tablespoons freshly grated ginger
1 tablespoon seasoned rice vinegar
1 tablespoon brown sugar, packed
3 cloves garlic, minced
1 teaspoon sesame oil
1 teaspoon Sriracha, optional
Freshly ground black pepper, to taste
Directions:
In a small bowl, whisk together soy sauce, oyster sauce, ginger, rice vinegar, brown sugar, garlic, sesame oil, Sriracha and pepper, to taste.
Thread salmon, pineapple, red onion and zucchini onto skewers. Brush soy sauce mixture onto the skewers and let sit for 10-15 minutes.
Preheat grill to medium high heat. Add kabobs to grill, reserving the marinade, and cook, turning occasionally, until salmon is opaque throughout and vegetables are tender, about 5-7 minutes.
Add reserved marinade to a small saucepan over medium high heat. Bring to a boil; reduce heat and simmer until reduced by half, about 5-6 minutes.
Serve kabobs immediately with reserved marinade, garnished with cilantro, if desired.
*Cooking time will vary depending on the size and thickness of the salmon and/or vegetables.
Why It's A Smart Choice
Nutrition Facts
Serving Size
Servings Per Container 4
---
Amount Per Serving
Calories 368.1 Calories from Fat 111.6
% Daily Value*
Total Fat 12.4g 19%
Saturated Fat 1.9g 10%
Trans Fat 0g
Cholesterol 94.2mg 31%
Sodium 781.4mg 33%
Total Carbohydrate 27.9g 9%
Dietary Fiber 3.3g 13%
Sugars 18.8g
Protein 36.7g 73%
---
*Percent Daily Values are based on a 2,000 calorie diet. Your daily values may be higher or lower depending on your calorie needs.
Most Americans do not get enough omega-3 fatty acids in their diet. These essential fats are important for the health of your nervous system and blood vessels, and it is best to eat at least 2 servings of fish each week. Salmon is one of the richest sources of omega-3 fatty acids, making this recipe a very smart choice!
Nutritional information provided by Jessica Penner, RD at Smart Nutrition.