Cinnamon Pecan Roasted Butternut Squash
Easy, simple, sweet and just so stinking good! And you can serve this with anything and everything!
Remember that harvest cobb salad I made for Fisher Nuts along with that epic poppy seed dressing? Wait, did you know that poppy seed is T-W-O words, not one? I have been misspelling that my entire life! Whoops.
MY OTHER RECIPES
Sorry, I digress.
So yes, back to that harvest cobb salad. It's already been a year and I am happy to say that I am a Fisher Fresh Thinker for 2015-2016, which just means that I'll be bringing you even more fun recipes using preservative-free Fisher Nuts, like this cinnamon roasted butternut squash.
AKA. The best butternut squash. Like ever. And you get a chance to win a trip to New York (for two!) by submitting your own original recipe using Fisher Nuts. Details below.
But seriously. This squash though.
With a little bit of maple syrup, brown sugar, cinnamon and a touch of nutmeg, this will be your favorite side dish for the entire season. And the pecans provide that perfect crunch in their candied, sweet glory.
It's also the easiest thing you'll ever make. Simply toss in your seasonings right on the pan and pop it in the oven. One single pan. That's it.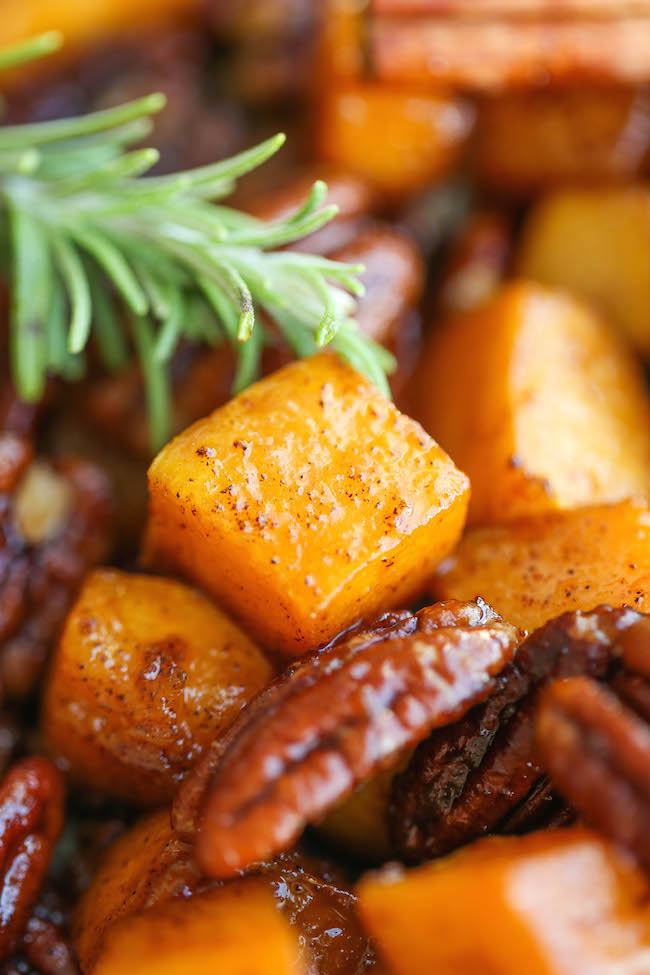 Cinnamon Pecan Roasted Butternut Squash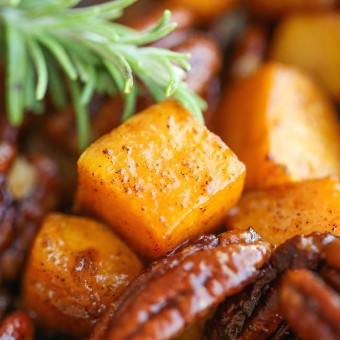 Easy, simple, sweet and just so stinking good! And you can serve this with anything and everything!
Ingredients:
1 large butternut squash (about 3 pounds), peeled, seeded and cut in 1-inch chunks
2 tablespoons olive oil
2 tablespoons maple syrup
2 tablespoons brown sugar, packed
1/2 teaspoon ground cinnamon
1/4 teaspoon ground nutmeg
1 cup Fisher Nuts Pecan Halves
2 sprigs rosemary
Directions:
Preheat oven to 400 degrees F. Lightly oil a baking sheet or coat with nonstick spray.
Place butternut squash in a single layer onto the prepared baking sheet. Add olive oil, maple syrup, brown sugar, cinnamon and nutmeg. Gently toss to combine.
Place into oven and bake for 25-30 minutes, turning once, until tender.* Add pecans during the last 10 minutes of cooking time.
Serve immediately, garnished with rosemary, if desired.
*Baking time may need to be adjusted depending on the thickness of the butternut squash.
Nutrition Facts
Serving Size
Servings Per Container 4
---
Amount Per Serving
Calories 344.8 Calories from Fat 149.4
% Daily Value*
Total Fat 16.6g 26%
Saturated Fat 1.9g 10%
Trans Fat 0g
Cholesterol 0mg 0%
Sodium 15.7mg 1%
Total Carbohydrate 51.9g 17%
Dietary Fiber 6.0g 24%
Sugars 19.8g
Protein 4.3g 9%
---
*Percent Daily Values are based on a 2,000 calorie diet. Your daily values may be higher or lower depending on your calorie needs.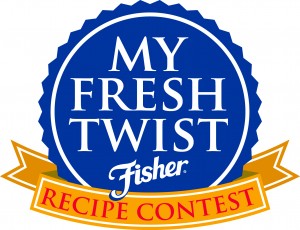 My Fresh Twist Recipe Contest
Entries can be submitted at www.MyFreshTwist.com until 10/20.
Recipes must include pecans, walnuts or almonds and will be judged on their originality, integration of nuts, taste, and visual appeal.
The top 20 submissions will be professionally photographed and will be featured on www.MyFreshTwist.com where Fisher Fans and their friends and families will be able to vote to select the top three finalists.
Voting will take place 11/3-11/17. Chef Alex Guarnaschelli and a panel of judges will choose the grand prize winner from the finalists.
Prizes
Grand Prize Winner

Trip for 2 to NYC including airfare, dinner and accommodations, and meet-and-greet with Chef Alex Guarnaschelli and $500 cash
Winning recipe will be featured on the Fisher Nuts website, social media pages and in local/national news publications
Winner will be announced first week of December

19 Semi-Finalists

$100 Visa gift card, signed copy of Chef Alex Guarnaschelli's cookbook, and a Fisher Nuts sample pack

40 Random Weekly Winners

Copy of Chef Alex Guarnaschelli's cookbook and a Fisher Nuts sample pack
Disclosure: This post is sponsored by Fisher Nuts. All opinions expressed are my own.