Slow Cooker Chicken and Corn Chowder
Such a hearty, comforting and CREAMY soup, made right in the crockpot. Let it do all the work for you! EASY!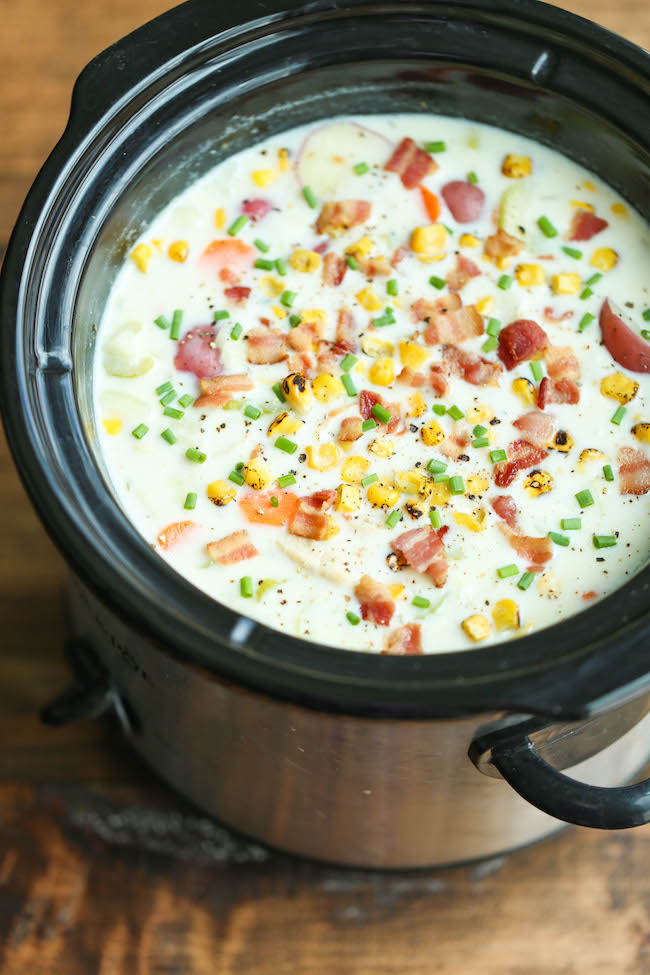 It was about 80 degrees today in Los Angeles. This is after a huge dip from our heat wave over the weekend where it was seriously over 100 degrees F.
So with this "cooler" weather, it was time to bust out the crockpot and make soup.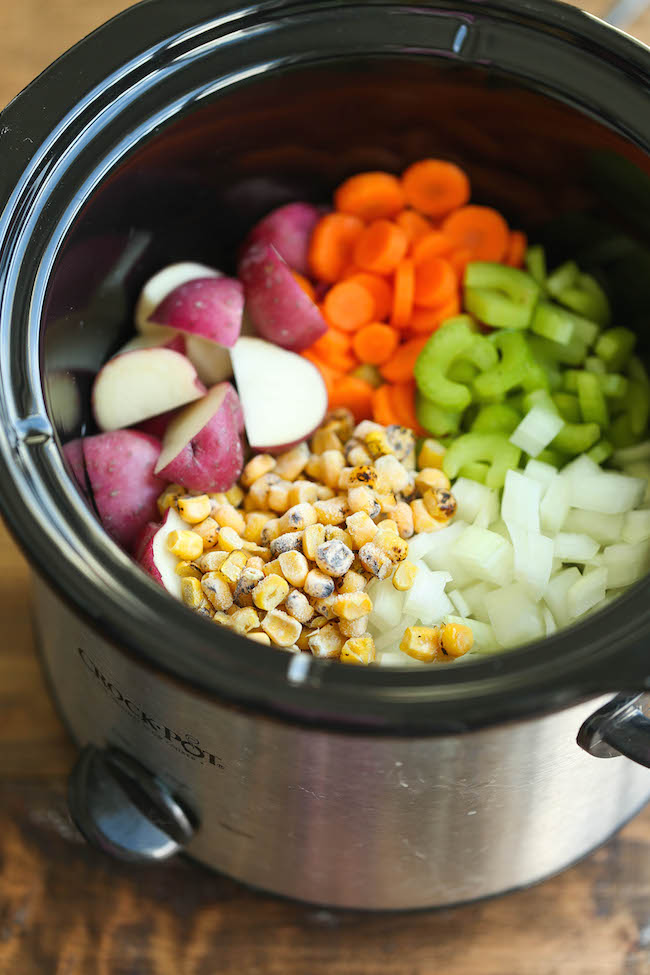 With corn, chicken and bacon. Obviously. But it's all made in the slow cooker so you don't have to lift a finger.
Okay, well maybe just two fingers for the bacon. It'll be worth it. I promise.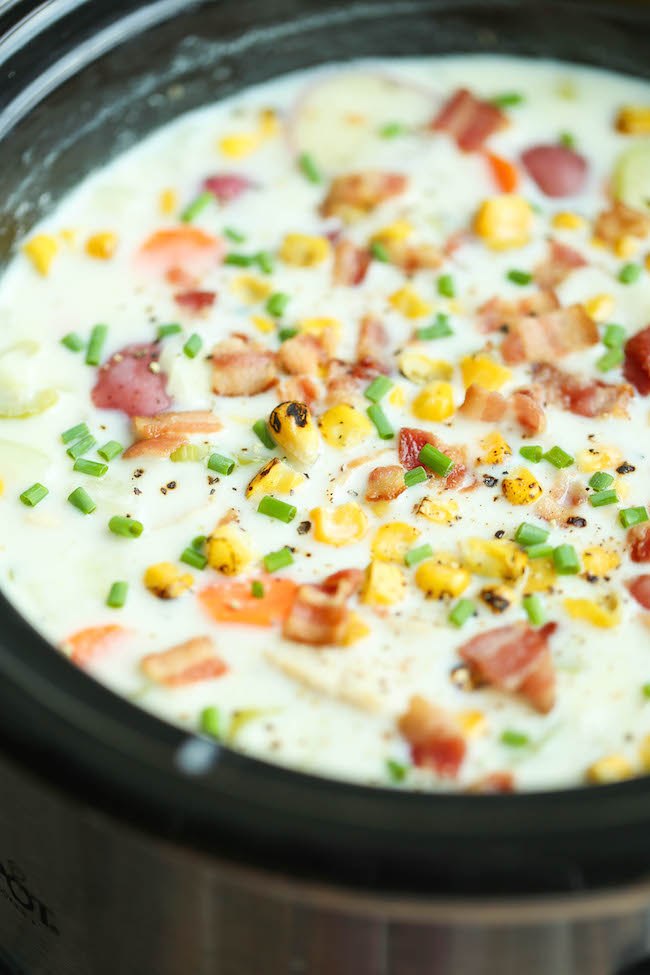 And this makes enough to feed an army so you can have this creamy pot of heavenly goodness day and night. Just keep a secret stash of bacon somewhere.
It's what puts this chowder over the top. Duh.
Slow Cooker Chicken and Corn Chowder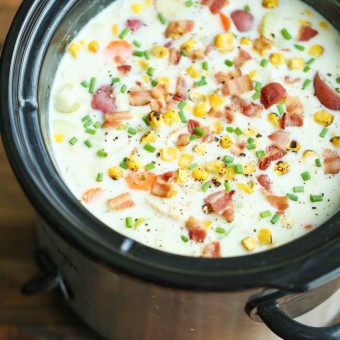 Such a hearty, comforting and CREAMY soup, made right in the crockpot. Let it do all the work for you! EASY!
Ingredients:
4 slices bacon, diced
1 pound boneless, skinless chicken thighs, cut into 1-inch chunks
12 ounces red potato, diced
1 onion, diced
3 carrots, peeled and diced
2 stalks celery, diced
2 cups corn kernels, frozen, canned or roasted
4 cups chicken broth 3 cloves garlic, minced
1/2 teaspoon dried thyme
1/2 teaspoon dried oregano
Pinch of cayenne pepper
1 bay leaf
Kosher salt and freshly ground black pepper, to taste
1/2 cup half and half
2 tablespoons cornstarch
2 tablespoons unsalted butter
2 tablespoons chopped fresh chives
Directions:
Heat a large skillet over medium high heat. Add bacon and cook until brown and crispy, about 6-8 minutes. Transfer to a paper towel-lined plate; set aside.
Place chicken, potatoes, onion, carrots, celery, and corn into a 6-qt slow cooker. Stir in chicken broth, garlic, thyme, oregano, cayenne pepper and bay leaf; season with salt and pepper, to taste.
Cover and cook on low heat for 7-8 hours or high heat for 3-4 hours.
In a small bowl, whisk together half and half and cornstarch. Stir in half and half mixture and butter during the last 30 minutes of cooking time.
Serve immediately, topped with bacon and garnished with chives, if desired.
*Half and half is equal parts of whole milk and cream. For 1 cup half and half, you can substitute 3/4 cup whole milk + 1/4 cup heavy cream or 2/3 cup skim or low-fat milk + 1/3 cup heavy cream.
Why It's A Smart Choice
Nutrition Facts
Serving Size
Servings Per Container 8
---
Amount Per Serving
Calories 292.7 Calories from Fat 118.8
% Daily Value*
Total Fat 13.2g 20%
Saturated Fat 5.4g 27%
Trans Fat 0.2g
Cholesterol 66.2mg 22%
Sodium 125.2mg 5%
Total Carbohydrate 26.3g 9%
Dietary Fiber 2.7g 11%
Sugars 6.8g
Protein 18.7g 37%
---
*Percent Daily Values are based on a 2,000 calorie diet. Your daily values may be higher or lower depending on your calorie needs.
Eating soup is a great strategy for those aiming to eat less. The liquid in the soup provides volume, which makes your mind think that you have eaten more than you have! This soup is also a good source of protein and minerals such as calcium and potassium.
Nutritional information provided by Jessica Penner, RD at Smart Nutrition.