Freezer Breakfast Burritos
Meal prep over the weekend for the best burritos during the week. Loaded with tater tots, eggs, beans and cheese, of course!!

Now you guys really don't have an excuse to skip breakfast.
MY OTHER RECIPES
I mean it.
Put down the instant oatmeal.
Because the best breakfast burrito is coming your way.
This bad boy is filled with all that is good and pure – refried beans, eggs, cheese, breakfast sausage, and of course, tater tots.
You can't have a breakfast burrito without the tots.
And you can freeze these as needed.
Just be sure to freeze them after assembling, not after they go in the oven.
You also want to make sure to use room temperature ingredients to avoid any sogginess.
They can be frozen a month ahead in individual servings, wrapped in aluminum foil – dated and stacked in a Ziploc bag.
See? Done and done.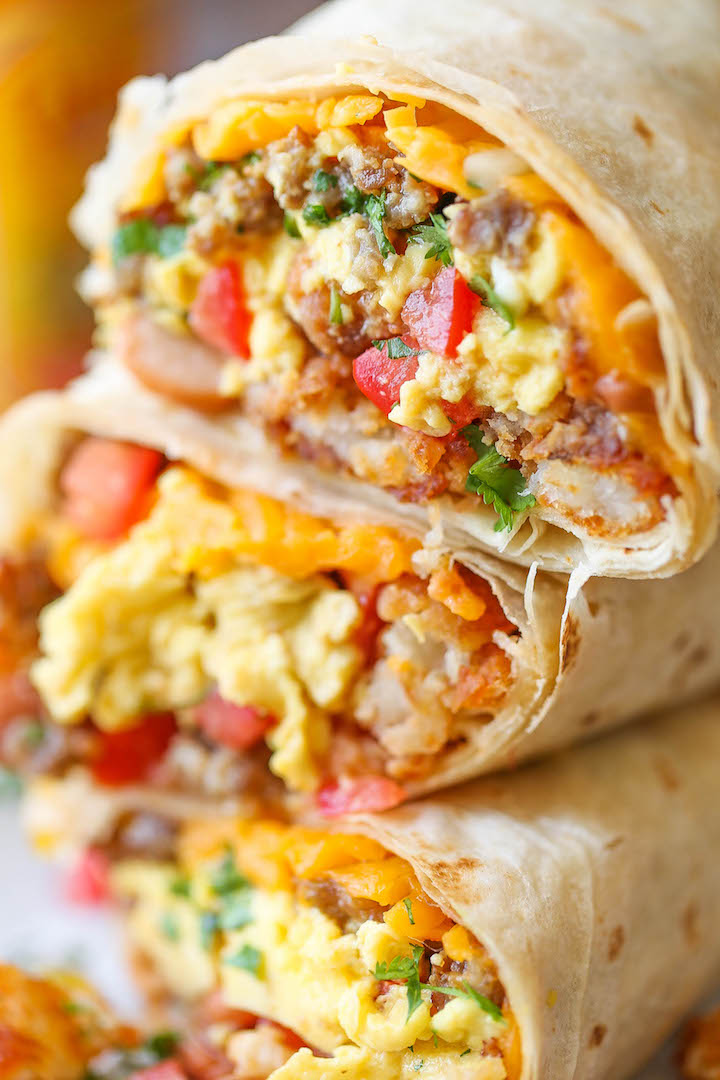 Freezer Breakfast Burritos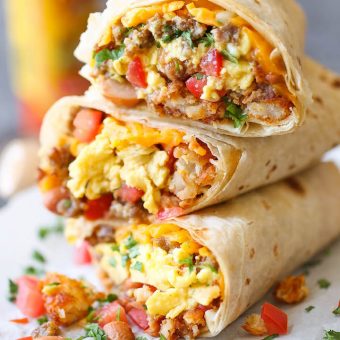 Meal prep over the weekend for the best burritos during the week. Loaded with tater tots, eggs, beans and cheese, of course!!
Ingredients:
2 cups frozen tater tots
2 tablespoons olive oil
8 links breakfast sausage, casing removed
8 large eggs, lightly beaten
1/3 cup half and half*
Kosher salt and freshly ground black pepper, to taste
1 (16-ounce) can refried beans
8 (8-inch) flour tortillas
1 cup shredded cheddar cheese
1 cup shredded Monterey Jack cheese
2 Roma tomatoes, diced
1/4 cup chopped fresh cilantro leaves
Directions:
Preheat oven to 400 degrees F. Lightly oil a baking sheet or coat with nonstick spray.
Cook tater tots according to package instructions; set aside.
Heat olive oil in a large skillet over medium high heat. Add sausage and cook until browned, about 3-5 minutes, making sure to crumble the sausage as it cooks; drain excess fat, reserving 1 tablespoon in the skillet.
Add eggs to the skillet and cook, whisking, until they just begin to set. Gently whisk in half and half; season with salt and pepper, to taste. Continue cooking until thickened and no visible liquid egg remains, about 3-5 minutes; set aside.
Spread beans down centers of tortillas; top with tater tots, sausage, eggs, cheeses, tomatoes and cilantro. Fold in opposite sides of each tortilla, then roll up, burrito-style.* Place, seam-sides down, onto preparing baking sheet; cover.
Place into oven and bake until heated through, about 12-15 minutes.
Serve immediately.
*Half and half is equal parts of whole milk and cream. For 1 cup half and half, you can substitute 3/4 cup whole milk + 1/4 cup heavy cream or 2/3 cup skim or low-fat milk + 1/3 cup heavy cream.
*TO FREEZE: Cover each burrito tightly with plastic wrap or aluminum foil. Freeze up to 1 month. To reheat, (1) microwave for 4-6 minutes, turning halfway, or (2) bake at 400 degrees F for 30-40 minutes, or until completely cooked through.
Nutrition Facts
Serving Size
Servings Per Container 8
---
Amount Per Serving
Calories 532.6 Calories from Fat 256.5
% Daily Value*
Total Fat 28.5g 44%
Saturated Fat 11.0g 55%
Trans Fat 0g
Cholesterol 238.2mg 79%
Sodium 959.0mg 40%
Total Carbohydrate 45.5g 15%
Dietary Fiber 5.5g 22%
Sugars 1.7g
Protein 23.9g 48%
---
*Percent Daily Values are based on a 2,000 calorie diet. Your daily values may be higher or lower depending on your calorie needs.