Green Chili Bacon Cheeseburger Sliders
Homemade sliders are the best since you don't have to skimp on the cheese or the crisp bacon strips!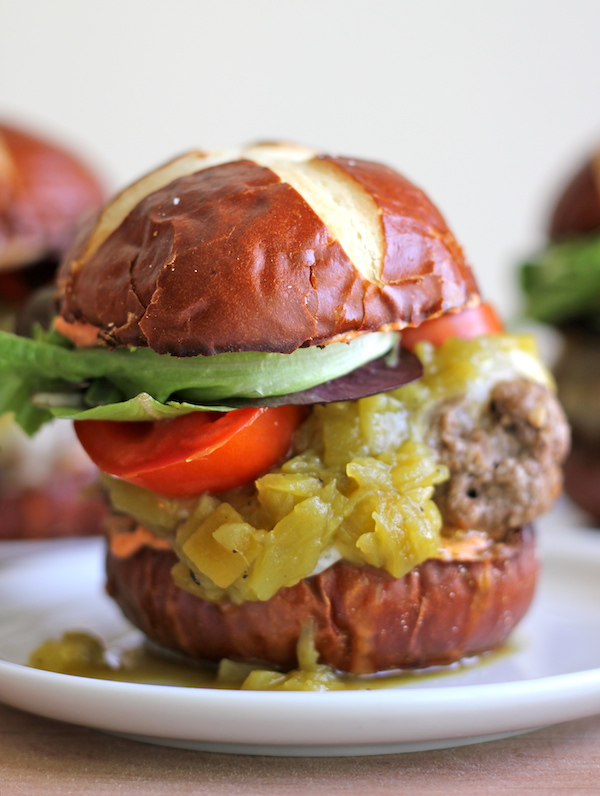 I'm happy to say that I've joined my fellow bloggers in #SundaySupper. I've seen this hash tag for quite some time now and I've always wondered what this all was. When I found out that it was a group of food bloggers coming together to "break bread" on Sundays, preparing a special menu around the family table for Sunday supper, I couldn't wait to join, especially with this week's theme: Memorial Day favorites.
I joined in at the very last minute so I didn't have much time to think about what I could make for my first #SundaySupper. After about 30 seconds of brainstorming, the first thing that popped into my mind (or Jason's mind I should say) was green chili cheeseburgers. Then Jason said, "You have to have bacon in them." So here we are with these green chili bacon cheeseburger sliders made with the most AH-MAZING pretzel slider buns. I found these gems at Costco, and even though a bag had 16 rolls in them, which is just way too much for me and Jason, I just couldn't give it up. I bought the huge bag of buns, rushed home, and slathered one of these babies with some butter before I unpacked any of my groceries. Yeah, I have no patience.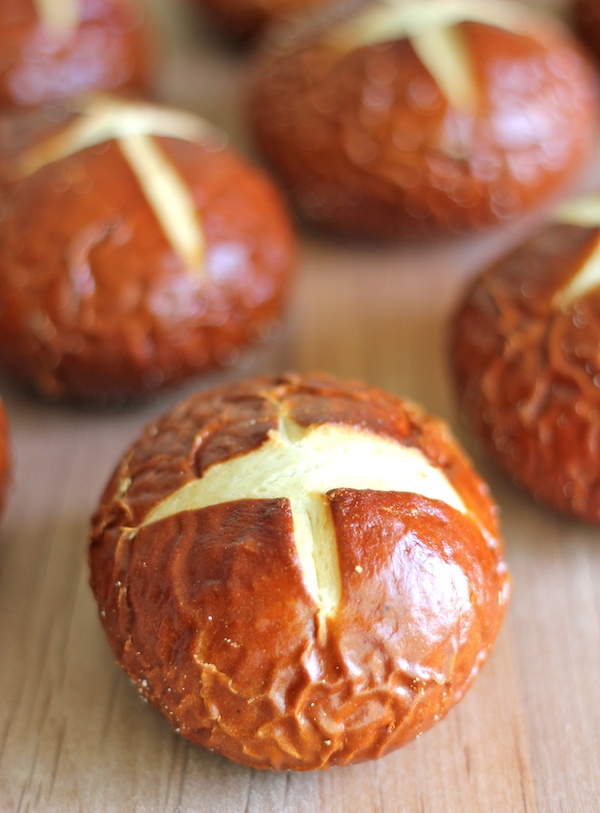 Now let's talk about these sliders. The meat is actually packed with green chilis, some extra seasoning, and best of all, cubes of monterey jack cheese. Yeah, these guys are packed with cheese, which actually end up oozing into awesome goodness when they get cooked in bacon fat. Yeah, you heard me. Bacon. Fat. I can't go anywhere without that stuff. Then they get topped off with some more cheese, crisp bacon strips, an amazing green chili sauce, lettuce and tomatoes. You can also add your choice of sandwich spread to each of these burgers, which is exactly what I did since I had some homemade sauces leftover. With the 4 burgers we had, I added spicy chipotle mayo to one, roasted red pepper cream sauce to another, homemade ranch to the third, and a control case without any kind of sauce.
After we stuffed our faces with all 4 burgers, Jason and I both agreed that the spicy chipotle mayo burger was the best. It was spicy, creamy and the perfect complement to the green chili sauce. I also made two of the burgers bacon-free in my attempt at trying to be "healthy" but Jason was right, you definitely need the bacon. I don't know what I was thinking.
So there you have it, my first #SundaySupper with the most delightful sliders. I have plenty more pretzel buns left so I'm sure I'll be making this again this week!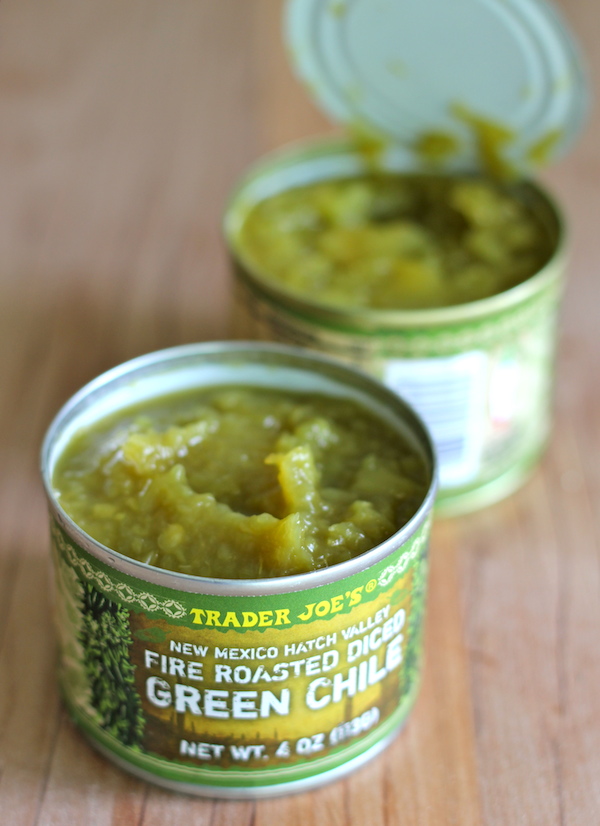 Here's how to make this – we first start with the green chili sauce. Combine the green chilis, reserving half of one can (we'll add these to the burgers later), honey and lime juice. Give it a good stir.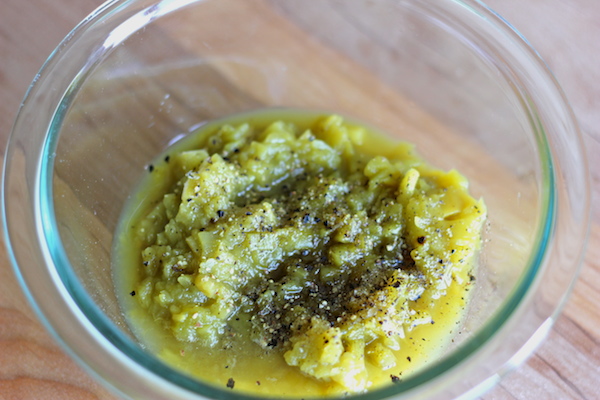 To make the patties, combine the ground beef (I always used 80/20 for burgers), remaining 1/2 can green chilis, cheese cubes, garlic, cumin, onion powder, salt and pepper. I like to use my hands for this.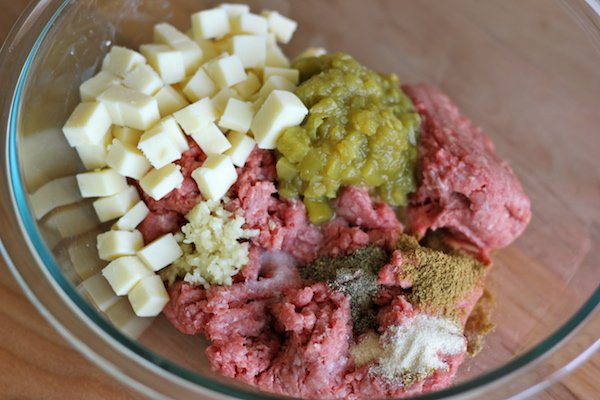 Go ahead and divide these up into 4 equal patties. I'm OCD so I use a scale. Each patty weighed to be about 156 grams (or 0.34 lb).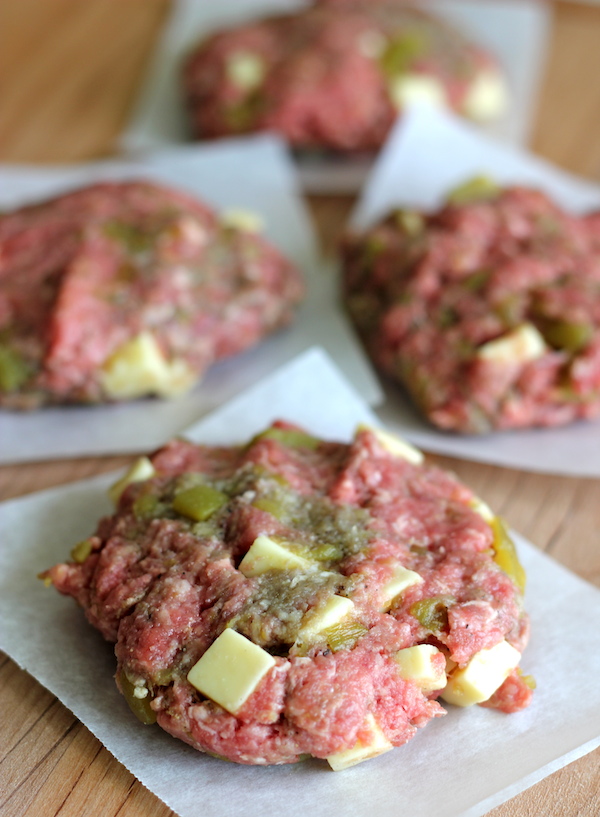 Now it's time to fry up some bacon until they're nice and crisp. I only had 2 slices of bacon left! Shameful, I know.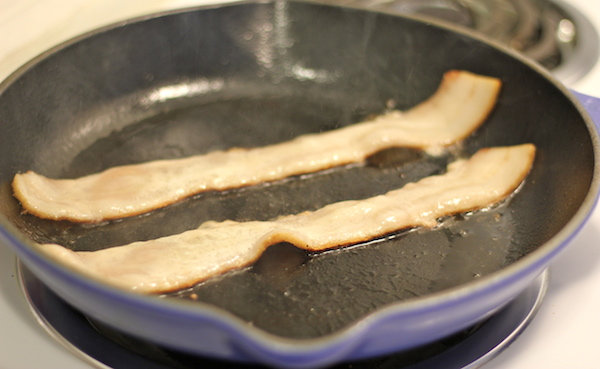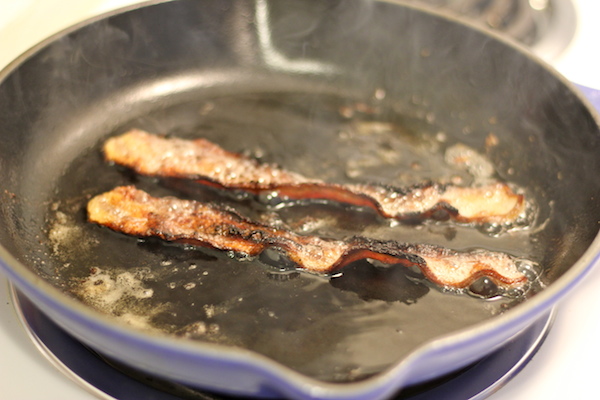 Once the bacon is done, drain them on a paper towel lined-plate, reserving the bacon fat. Then add the patties to the skillet and cook for 3-4 minutes on each side for medium-rare.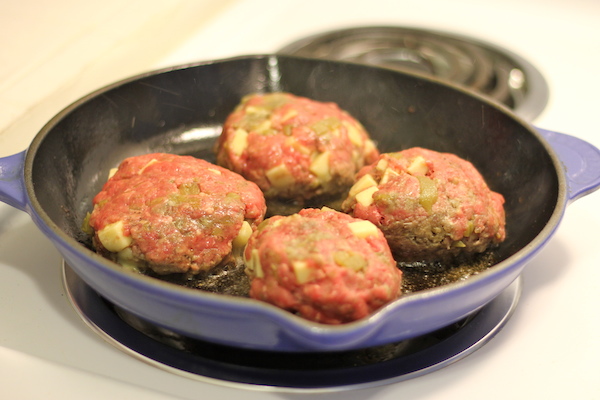 Do you see that oozing cheesy goodness there?!
Yeah, we'll still add more cheese on top.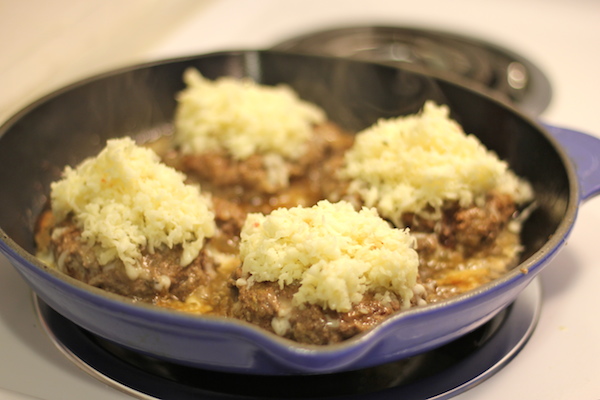 I like to put a metal bowl on top so the cheese can really melt. It only took about a minute so be sure to keep your eye on this. And if you really are trying this, be careful when lifting the bowl. It gets hot!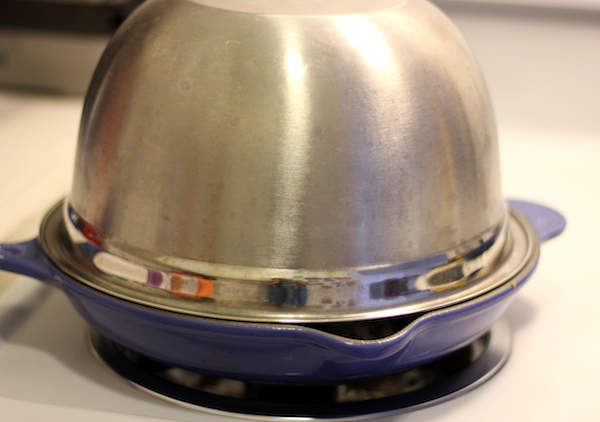 Beautifully melted, ooey gooeyness, right?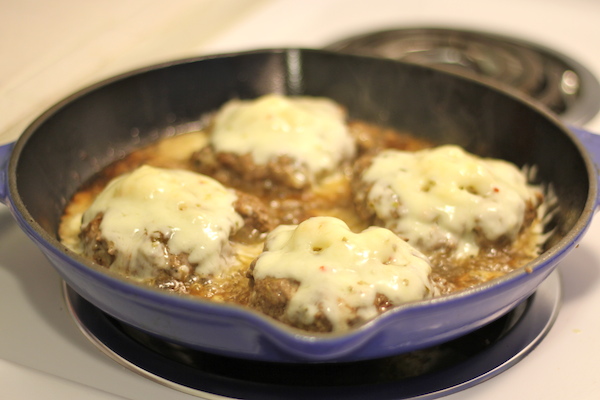 If you want, go ahead and toast your bread. As you can see from this picture, I've discovered the hot spots in my oven.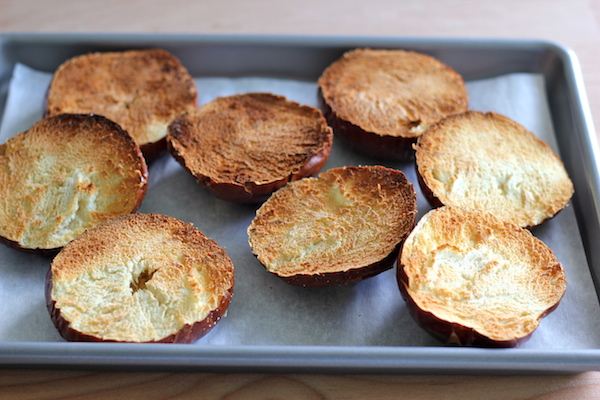 When ready to eat, serve the burgers on top of the rolls along with the bacon, green chili sauce, lettuce, tomatoes and your choice of sandwich spread. Now go ahead and devour these babies. I won't judge.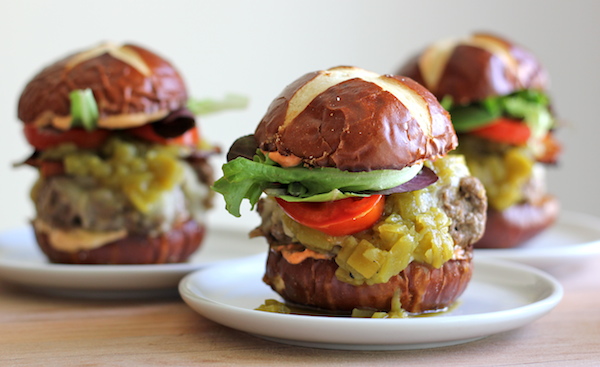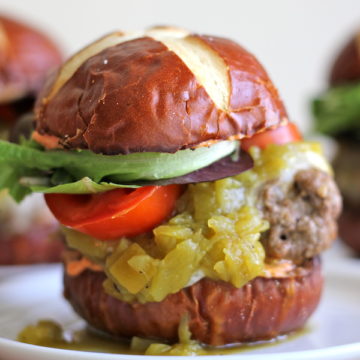 Green Chili Bacon Cheeseburger Sliders
Homemade sliders are the best since you don't have to skimp on the cheese or the crisp bacon strips!
15 minutes
15 minutes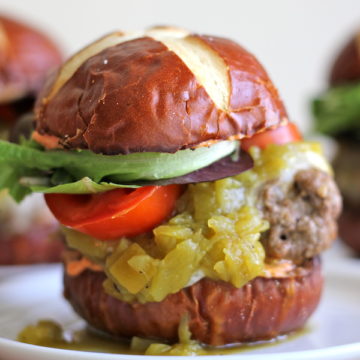 Ingredients:
2 (4-ounce) cans diced green chiles, divided
1/2 tablespoon honey
1 tablespoon freshly squeezed lime juice
1 pound ground beef
3 ounces Monterey Jack cheese, cut into tiny cubes, plus more for topping
2 cloves garlic, minced
1/2 teaspoon ground cumin
1/2 teaspoon onion powder
Kosher salt and freshly ground black pepper, to taste
4 slices bacon
4 split pretzel slider buns, toasted, for serving
Lettuce, for serving
2 Roma tomatoes, thinly sliced, for serving
Directions:
In a small bowl, combine 1 1/2 cans green chiles, honey and lime juice; set aside.
In a large bowl, combine ground beef, monterey jack cheese, garlic, cumin, onion powder, salt and pepper, to taste. Divide the ground beef mixture into 4 balls; press each lightly to form 1/4-inch-thick patties.
Heat a large skillet over medium high heat. Add bacon and cook until brown and crispy, about 6-8 minutes. Transfer to a paper towel-lined plate, reserving the bacon fat.
Add patties to the skillet and cook until browned and cooked through to medium rare, about 3-4 minutes per side, flipping only once. In the last minute of cooking, top each patty with additional monterey jack cheese, covering to melt.
Serve burgers on rolls with bacon, green chili sauce, lettuce and tomatoes.
Did you Make This Recipe?
Tag @damn_delicious on Instagram and hashtag it #damndelicious.