Lemon Ricotta Pancakes with Blueberry Sauce
Super easy, oh-so-light-and-fluffy pancakes made with 5-min homemade blueberry sauce. You'll never want to eat out breakfast again!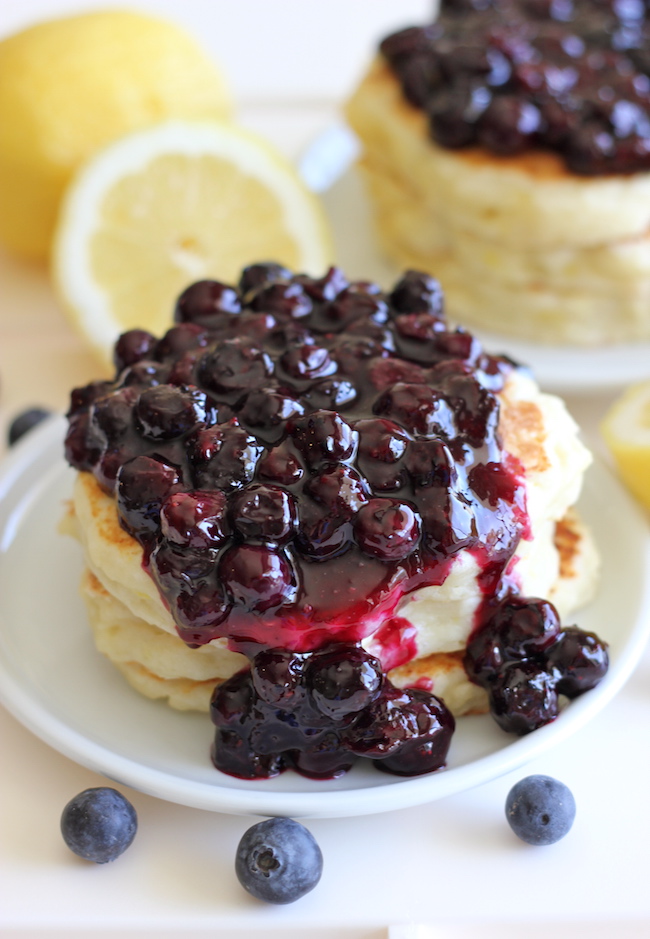 I finally get to join in on the Holiday Recipe Club again! I unfortunately had to miss the last couple of holidays because I just got so crazed with work and all but I'm glad I can finally participate, especially for the July 4th holiday. Now I don't have a beautiful Red, White and Blue Velvet Cake or Red, White and Blue Firecracker Popsicles, hell I don't even have a red, white and blue color scheme, but I promise you, once you take a bite of these, you won't even care that it doesn't have any red or white.
Seriously, these are the best pancakes you will ever have, hands down. They are incredibly light and fluffy from the ricotta, bursting with so much lemon flavor, and once you top it with that super fresh blueberry sauce with just the perfect amount of sweetness, you will be in heaven! So before you fire up that grill to celebrate the 4th of July, be sure to fill yourself up on these pancakes for breakfast!
So here's how you make these:
Let's start by making the blueberry sauce first by throwing in some blueberries, sugar and water into a saucepan.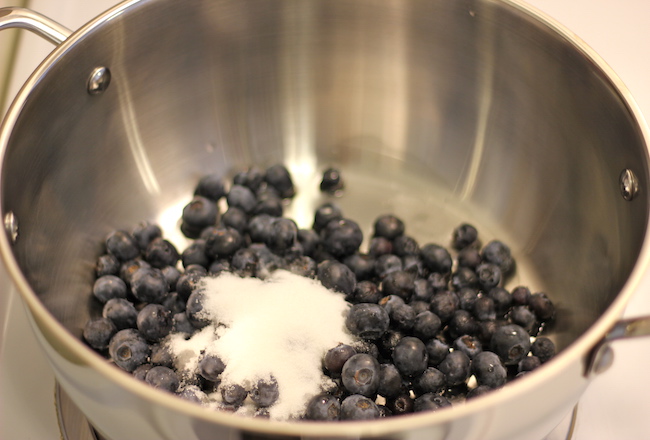 Next, we'll stir in some lemon juice mixed with cornstarch and then let it simmer until it gets nice and thick, about 5 minutes.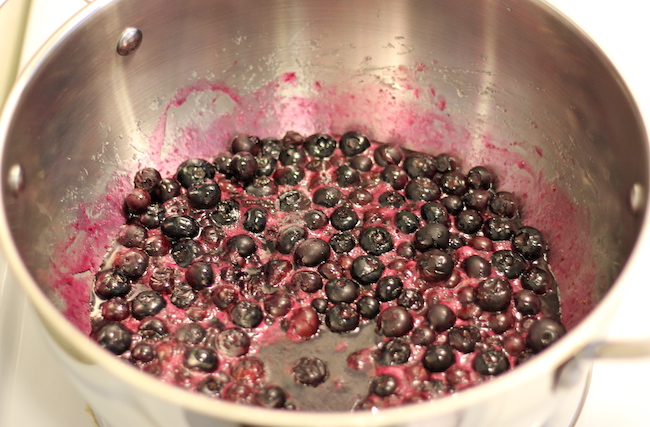 Now we'll make the pancake batter. As always, start with your dry ingredients.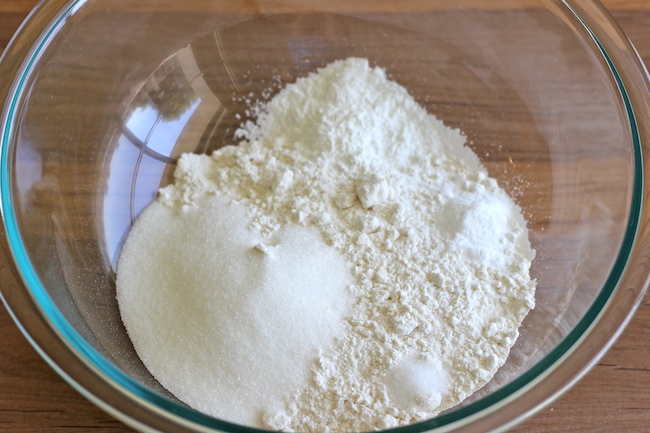 Then we'll have to juice about 3 lemons to get about 1/2 cup lemon juice.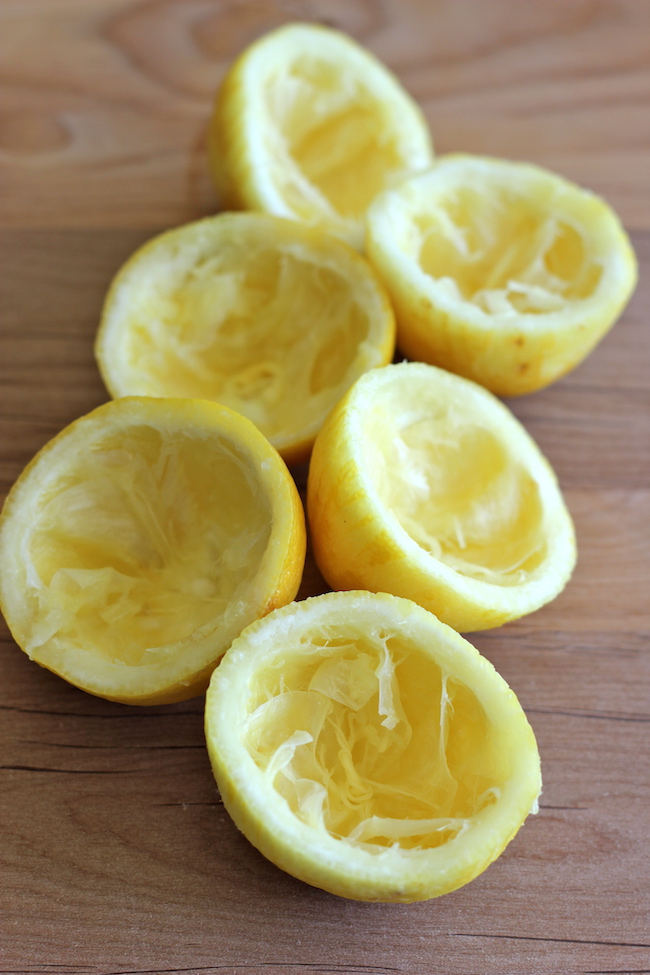 Make sure you have some ricotta on hand, the most important ingredient of all.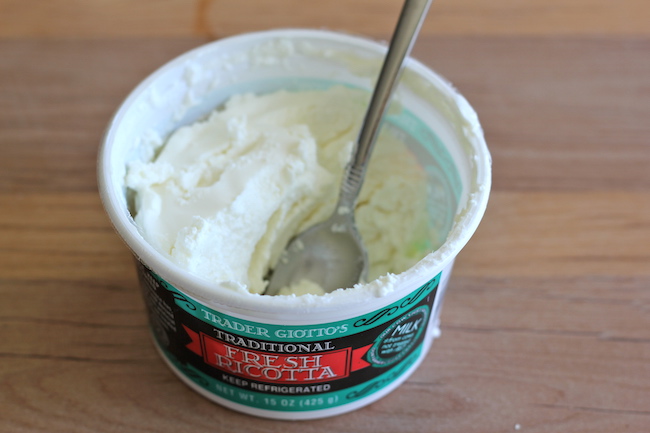 So we'll take the ricotta, oil, egg, egg whites, lemon juice and lemon zest and give it a good stir until smooth.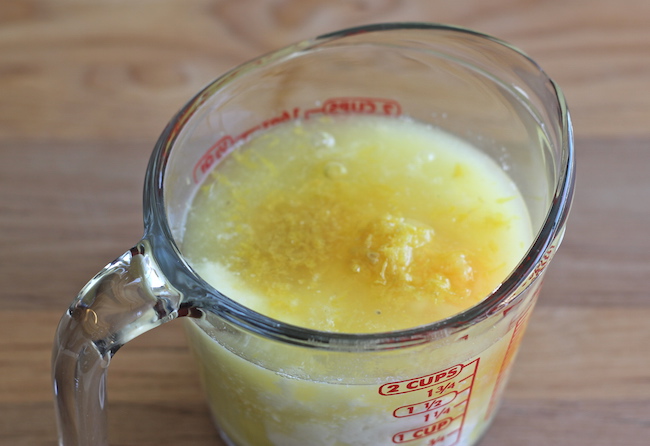 Then we'll mix in the wet to dry.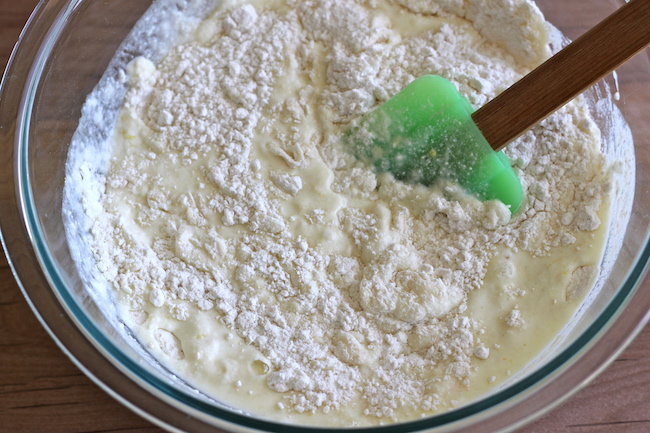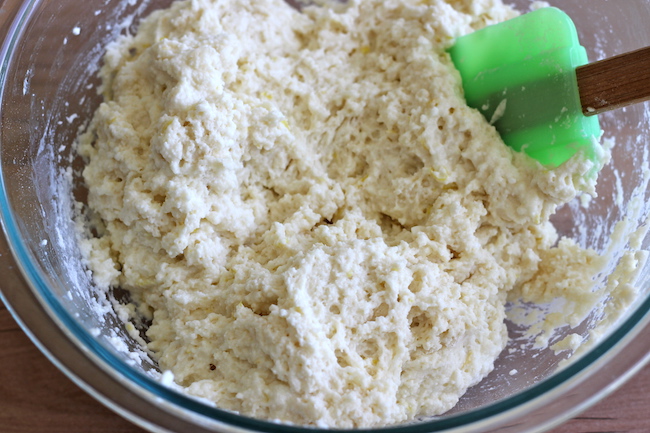 Ladle about 1/3 cup of batter onto a preheated, greased skillet. The batter will be super thick so it'll take a bit of effort to get some round shapes here. As you can tell from this photo, my pancakes look severely deformed. And be sure to keep them warm in a low 200 degree F oven. Cold pancakes are not fun to eat.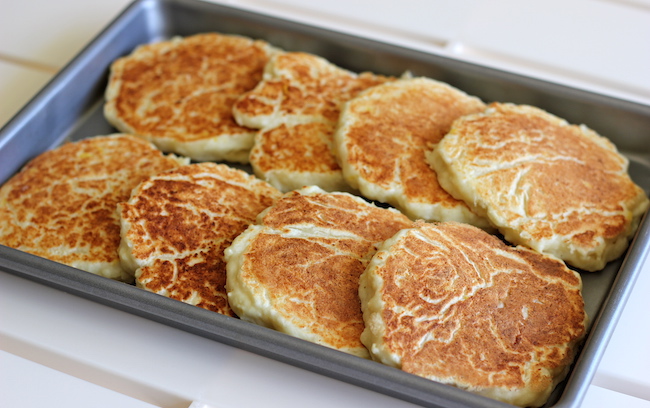 When you're ready to serve, be sure to ladle a GENEROUS amount of the blueberry sauce. It would be a crime to skimp!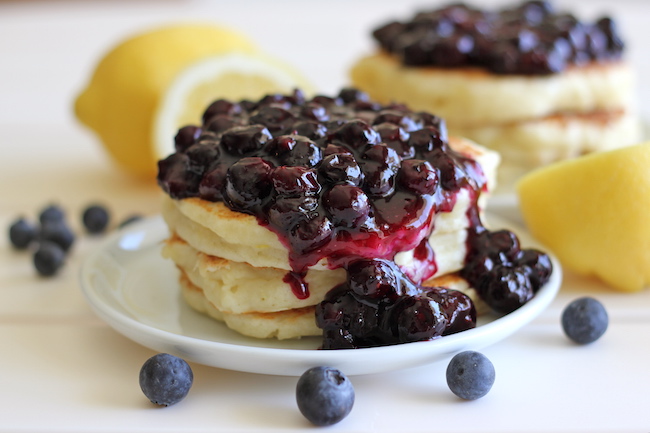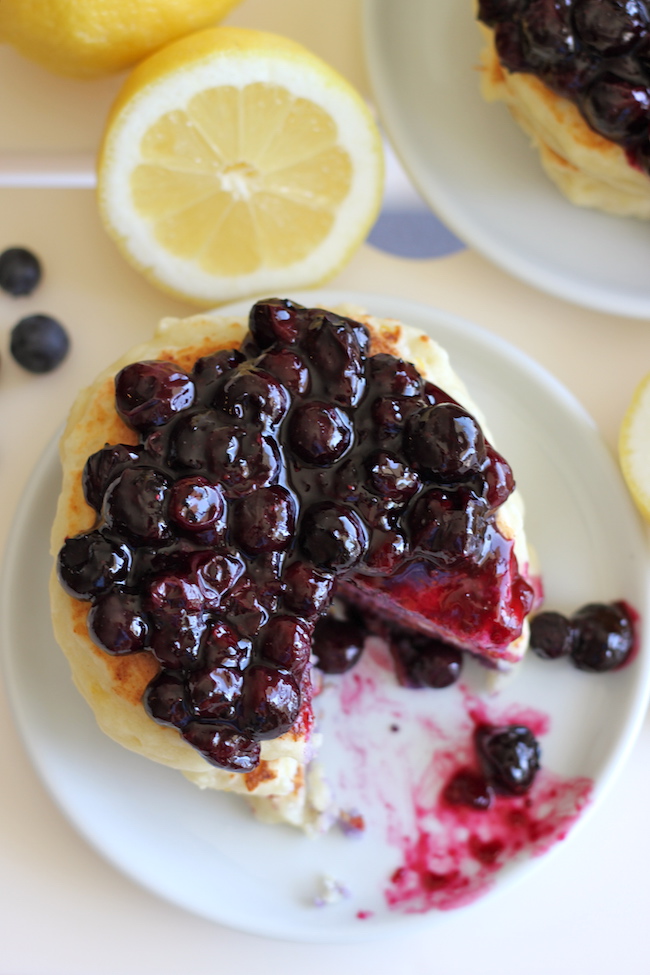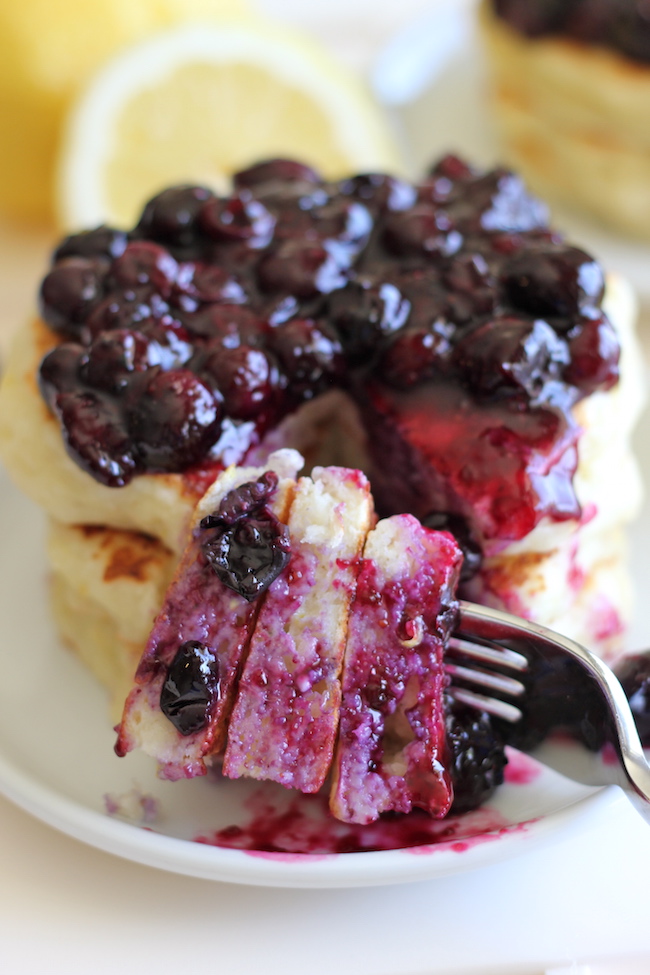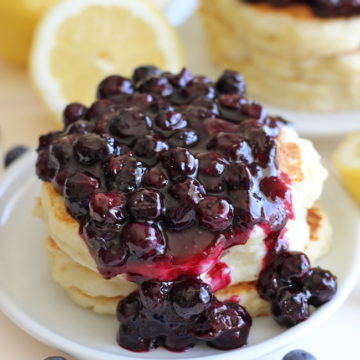 Lemon Ricotta Pancakes with Blueberry Sauce
Oh-so-light and fluffy pancakes made with 5-min homemade blueberry sauce. So much better than eating out!
15 minutes15 minutes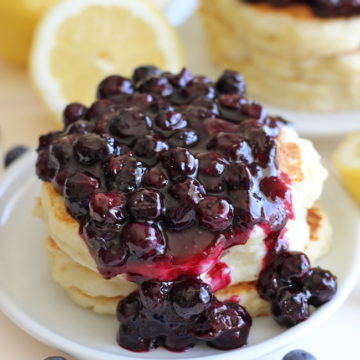 Ingredients:
1 1/4 cups all-purpose flour
3 tablespoons sugar
2 teaspoons baking powder
1/2 teaspoon baking soda
1/4 teaspoon salt
1 cup ricotta
1 tablespoon canola oil
1 large egg
2 large egg whites
1/2 cup freshly squeezed lemon juice
2 teaspoons lemon zest
For the blueberry sauce
1 1/2 tablespoons freshly squeezed lemon juice
1 1/2 teaspoons cornstarch
2 cups fresh blueberries
2 tablespoons sugar
Directions:
Preheat oven to 200 degrees F and a nonstick griddle to 350 degrees F.
To make the blueberry sauce, combine lemon juice and cornstarch in a small bowl; set aside.
In a medium saucepan, combine blueberries, sugar and 2 tablespoons water. Stir in lemon juice mixture. Bring to a boil; reduce heat to low and simmer, stirring occasionally, until sauce has thickened, about 5 minutes. Keep warm; set aside.
In a large bowl, combine flour, sugar, baking powder, baking soda and salt.
In a large glass measuring cup or another bowl, whisk together ricotta, oil, egg, egg whites, lemon juice and zest.
Pour mixture over dry ingredients and stir using a rubber spatula just until moist.
Lightly coat a griddle or nonstick skillet with nonstick spray. Scoop 1/3 cup batter for each pancake and cook until bubbles appear on top and the underside is nicely browned, about 2 minutes. Flip and cook the pancakes on the other side, about 1-2 minutes longer; keep warm in oven.
Serve immediately with blueberry sauce.
Did you Make This Recipe?
Tag @damn_delicious on Instagram and hashtag it #damndelicious.