Brown Butter Chocolate Chip Cookie Skillet ("Pizookie")
No need to go to BJ's – you can make this brown butter pizookie right at home, and it tastes 100000x better!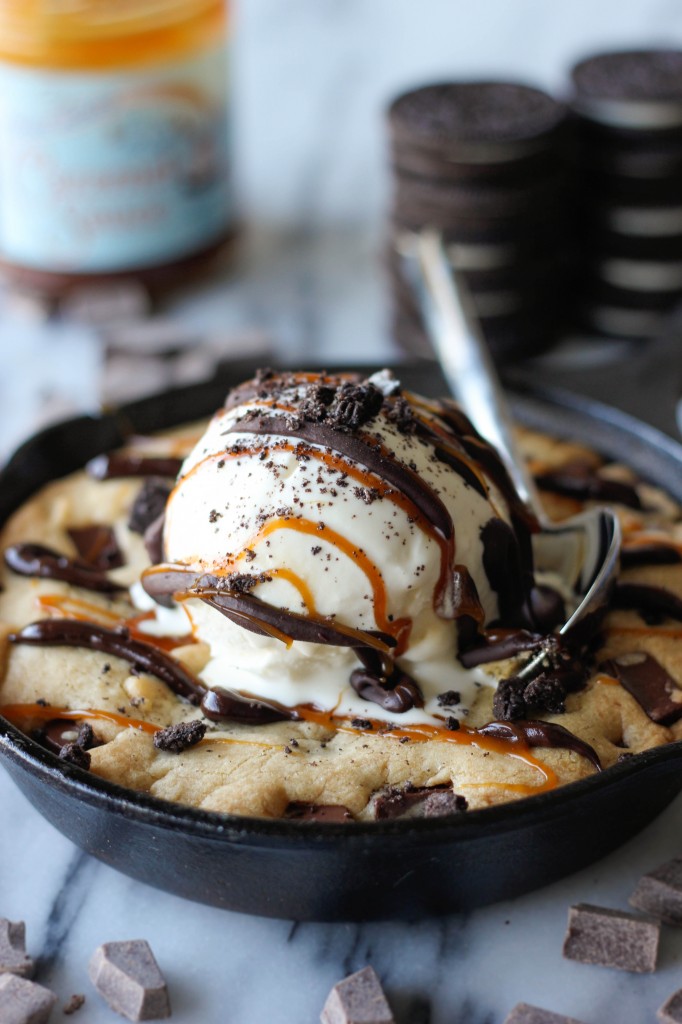 When it comes to my cooking, Jason doesn't make a lot of requests. He usually eats all the "blog food" and has never complained about it. If anything, he's raving about it, even though it involves his least favorite foods – like quinoa and whole wheat. Yeah, he's a keeper.
But the other night, he asked if BJ's was the only restaurant that sells the pizookie, a piping hot cookie skillet topped with ice cream. I looked to him and said, "You know you could ask me to make it. Not just make it but make it without taking pictures so you could actually have it piping hot from the oven." Then he said, "But I want you to blog about it!"
That made my heart melt.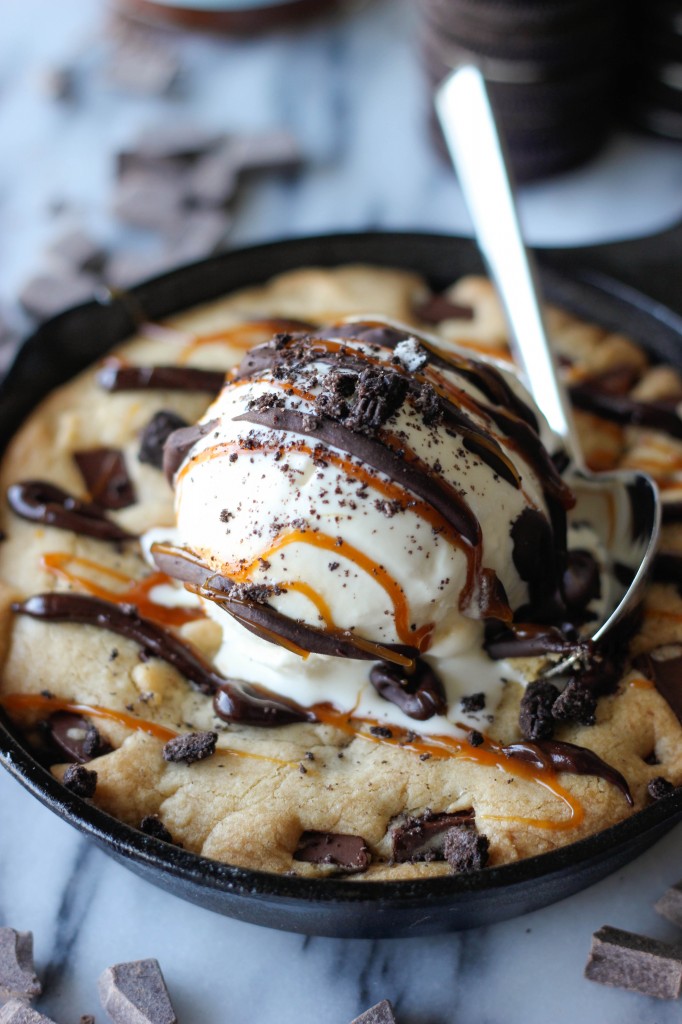 So I made two cookie skillets. One for Jason so he could have it right out of the oven and a second for photographic purposes. And both skillets were epic. Using a simple cookie batter with browned butter and Scharffen Berger chocolate CHUNKS, we remained quiet and devoured our individual skillets like there was no tomorrow.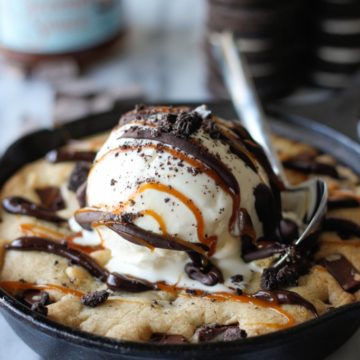 Brown Butter Chocolate Chip Cookie Skillet ("Pizookie")
No need to go to BJ's anymore for your pizookie cravings!
15 minutes15 minutes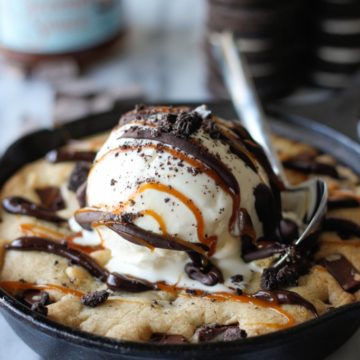 Ingredients:
1 3/4 cups all-purpose flour
1/2 teaspoon baking soda
1/2 teaspoon salt
14 tablespoons unsalted butter, divided
1/3 cup sugar
1/2 cup dark brown sugar, packed
2 teaspoons vanilla extract
1 large egg
1 large egg yolk
1 cup chocolate chips
Ice cream, for serving
Directions:
Preheat oven to 375 degrees F. Lightly coat 2 5-inch cast iron skillets with nonstick spray.
In a large bowl, combine flour, baking soda and salt; set aside.
Melt 10 tablespoons butter in a medium saucepan over medium heat. Cook, whisking constantly, until the foam subsides and the butter begins to turn a golden brown, about 3 minutes. Remove from heat; strain through cheesecloth or fine sieve.
Stir in remaining 4 tablespoons butter until completely melted. Whisk in sugars and vanilla until well combined. Whisk in egg and egg yolk until well combined. Add flour mixture, beating just until incorporated. Gently fold in chocolate chips.
Divide mixture into the prepared skillets. Place into oven and bake until edges are golden brown but center is still moist, about 12-15 minutes.
Serve immediately, topped with ice cream, if desired.
Did you Make This Recipe?
Tag @damn_delicious on Instagram and hashtag it #damndelicious.