Fish Tacos with Chipotle Mayo
Quick and easy fish tacos with a chipotle mayo drizzle – perfect for those busy weeknights!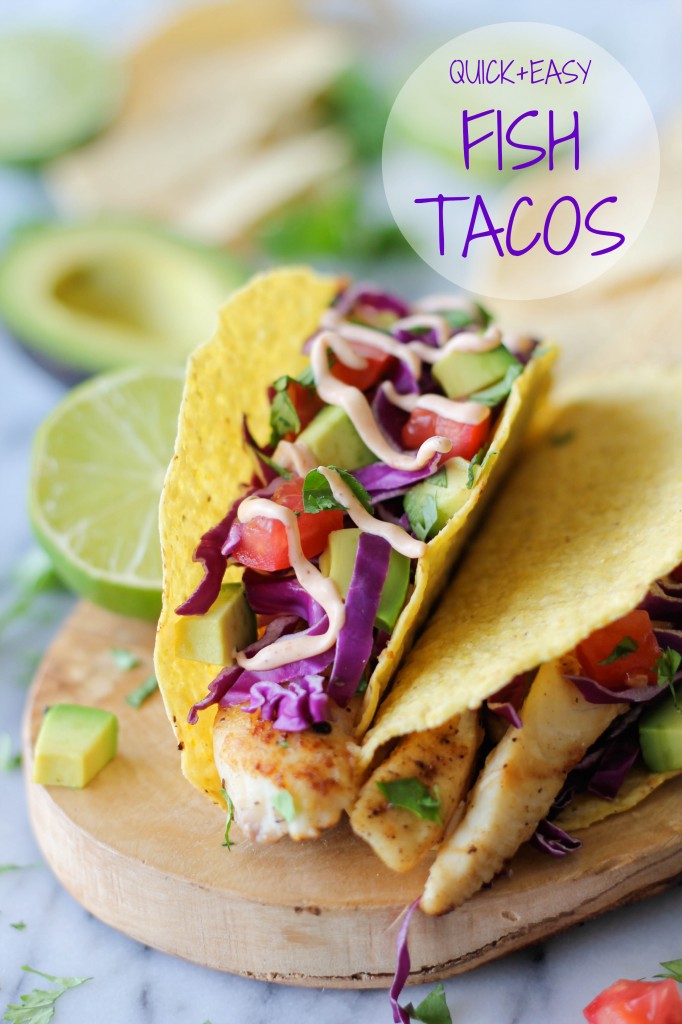 When I first started to make my way into the kitchen about 6 years ago, I had the toughest time finding recipes to cook throughout the week. I was on a tight college budget and I honestly didn't know where to look for quick and easy recipes for the everyday home cook. Sure, I would make some amazing quesadillas by Bobby Flay but at the end of the day, spending 1-2 hours prepping for ingredients just wasn't worth it.
But when I was asked to review Cozi Dinner Decider, an iPhone app that delivers personalized weeknight dinner plans for your family, I couldn't believe how easy it was to choose a quick and easy weeknight meal right through your phone.
By answering several questions about your food and cooking preferences as you see below, they send you 5 dinner decisions for the entire week along with 2 alternate recipes.
But what I really love about this iPhone app is how you can add a thumbs up for recipes that you truly enjoy, giving the app a chance to learn more about you so that they can create even better personalized dinner plans. It's like the Pandora of dinner recipes!
And you can't forget about the convenient cooking mode – allowing your screen to stay on throughout the entire cooking process!
Making dinners for your family has never been so easy.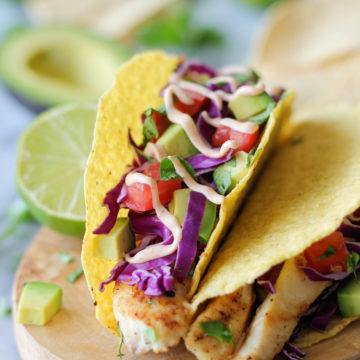 Fish Tacos with Chipotle Mayo
Quick and easy fish tacos with a chipotle mayo drizzle – perfect for those busy weeknights!
1 hour, 10 minutes
5 minutes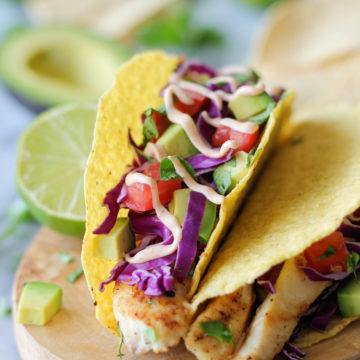 Ingredients:
1 pound tilapia fillets, cut in half lengthwise
Kosher salt and freshly ground black pepper, to taste
2 limes, juiced
4 cloves garlic, minced
2 tablespoons unsalted butter
8 taco shells
1 cup shredded red cabbage
2 avocados, halved, seeded, peeled and diced
2 Roma tomatoes, diced
2 tablespoons fresh chopped cilantro leaves
For the chipotle mayo
1/4 cup mayonnaise
1/4 cup Greek yogurt
1 tablespoon chipotle paste
1 tablespoon freshly squeezed lime juice
2 cloves garlic, pressed
Directions:
To make the chipotle mayo, whisk together mayonnaise, Greek yogurt, chipotle paste, lime juice and garlic; set aside.
Season tilapia with salt and pepper, to taste.
In a shallow bowl, marinate tilapia with lime juice and garlic for at least 1 hour.
Melt butter in a large skillet over medium high heat. Add tilapia and cook, flipping once, until golden brown, about 2-3 minutes per side.
To serve, spoon tilapia into the center of each taco shell. Top with cabbage, avocados, tomatoes and cilantro, drizzled with chipotle mayo.
Did you Make This Recipe?
Tag @damn_delicious on Instagram and hashtag it #damndelicious.
Disclosure: This post is sponsored by Cozi. All opinions expressed are my own.