Banh Mi Hot Dogs
These hot dogs have a banh mi twist, loaded with pickled carrots, jalapeños, cucumbers, cilantro, crushed peanuts and Sriracha!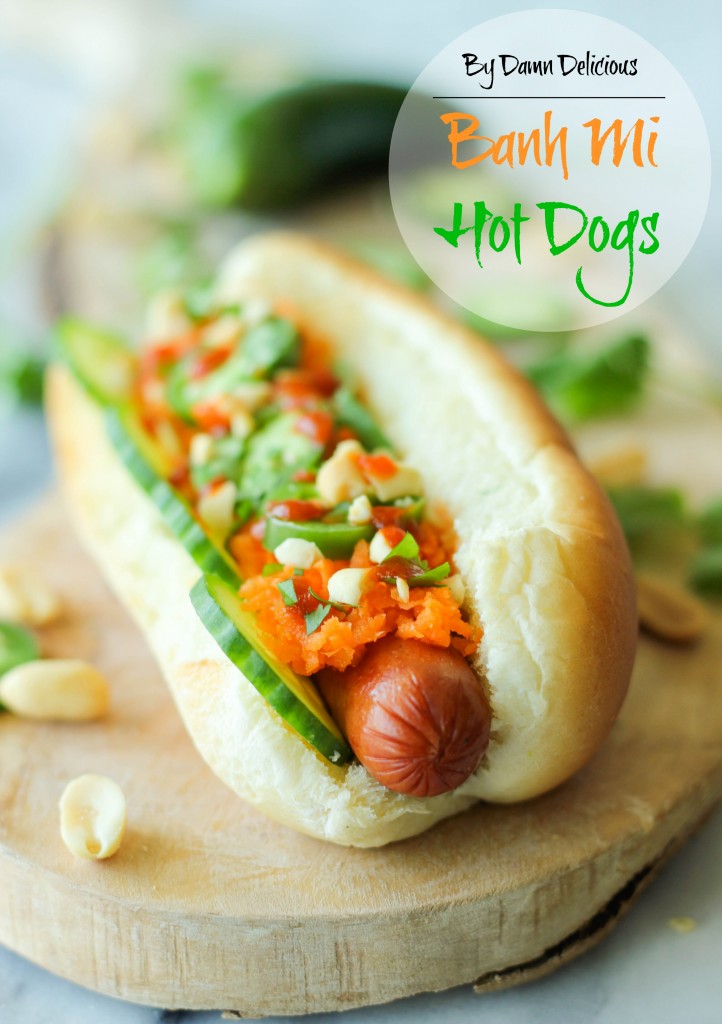 I hope you're not getting sick of all these hot dog recipes! I know, 3rd one in a row, but hey, I love hot dogs, especially around this time of year when you can just throw them on the grill and get so creative with different kinds of toppings.
And with Labor Day right around the corner, Hebrew National hot dogs are a must. We'll be stocking up the fridge with all sorts of goodies to make a hot dog bar for our end-of-the-summer Labor Day party. That way, every guest can customize their own hot dog to their liking. I'll also have these pre-made Sriracha guacamole hot dogs and Hawaiian hot dogs with mango salsa for the indecisive folks. Either way, a hot dog party is perfect for summer's last hurrah before the pumpkin and peppermint recipes start blasting in on Pinterest.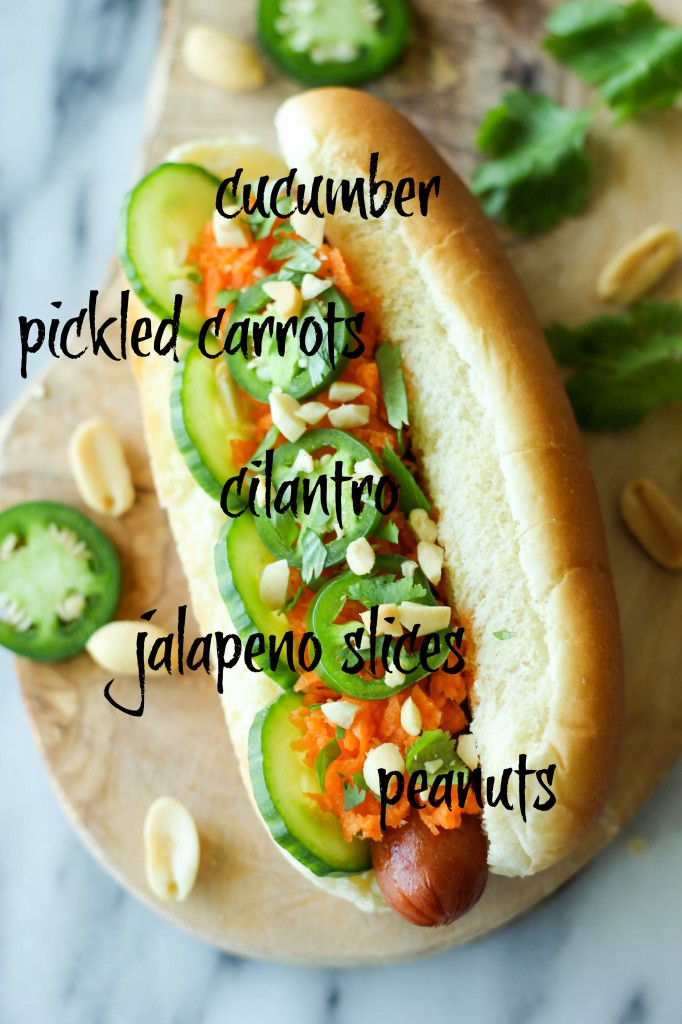 A last-minute add on to our Labor Day menu is this Vietnamese-inspired bahn mi hot dog. Being a huge bahn mi lover myself, I've been meaning to make these since the beginning of summer but I just never got around to it. I was worried that it was too time-consuming to make but this Martha Stewart recipe had these hot dogs ready in 20 minutes! With a simple pickling of carrots in sugar and vinegar, you can prep everything else and throw the hot dogs on the grill in the meantime. Once your hot dogs has those gorgeous grill marks, throw those babies onto the toasted hot dog buns, spoon a generous serving of pickled carrots, sliced cucumbers, jalapeños for you spicy-daredevils, crushed peanuts and of course, Sriracha.
So if you're a fan of the Vietnamese banh mi sandwich, these hot dogs are a must! But even if you're not, you'll still love this refreshing, spicy and tangy hot dog concoction!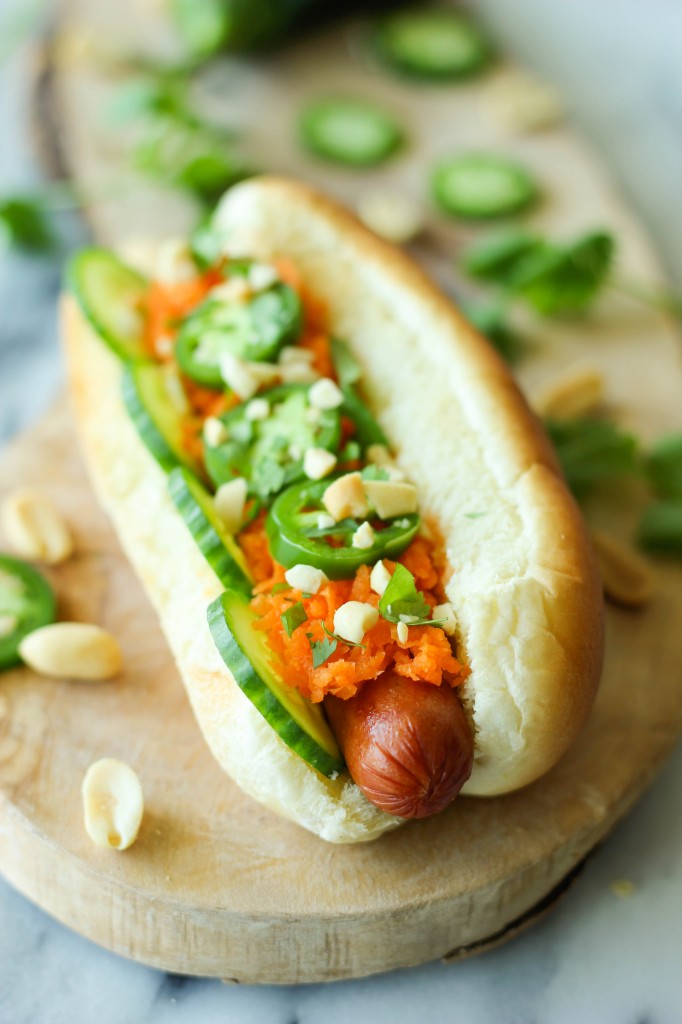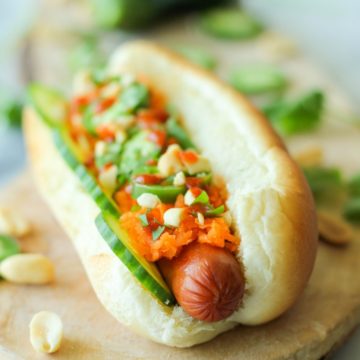 Banh Mi Hot Dogs
These hot dogs have a banh mi twist, loaded with pickled carrots, jalapeños, cucumbers, cilantro, crushed peanuts and Sriracha!
10 minutes5 minutes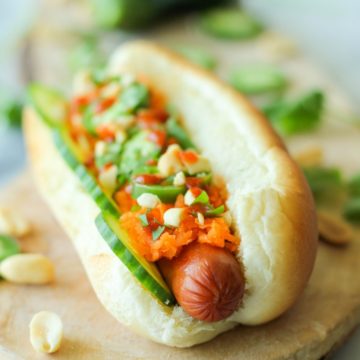 Ingredients:
2 tablespoons vinegar
1 teaspoon sugar
2 shredded carrots
6 Hebrew National Hot Dogs
6 hot dog buns
1 English cucumber, thinly sliced
1 jalapeno, thinly sliced
2 tablespoons chopped fresh cilantro leaves
1/4 cup peanuts, chopped
Sriracha, for serving
Directions:
In a medium bowl, whisk together vinegar and sugar. Stir in carrots; let sit 10 minutes.
Preheat grill to medium high heat. Add hot dogs to the grill and cook until golden brown, about 3-4 minutes.
To assemble the hot dogs, add hot dogs into each hot dog bun, top with carrots, cucumber, jalapeño, cilantro, peanuts and Sriracha, if desired.
Serve immediately.
Did you Make This Recipe?
Tag @damn_delicious on Instagram and hashtag it #damndelicious.
Disclosure: Compensation was provided by Hebrew National via Glam Media.  The opinions expressed herein are those of the author and are not indicative of the opinions or positions of Hebrew National.