Enchilada Pasta
All the flavors of cheesy enchiladas are tossed together in this quick and easy pasta dish!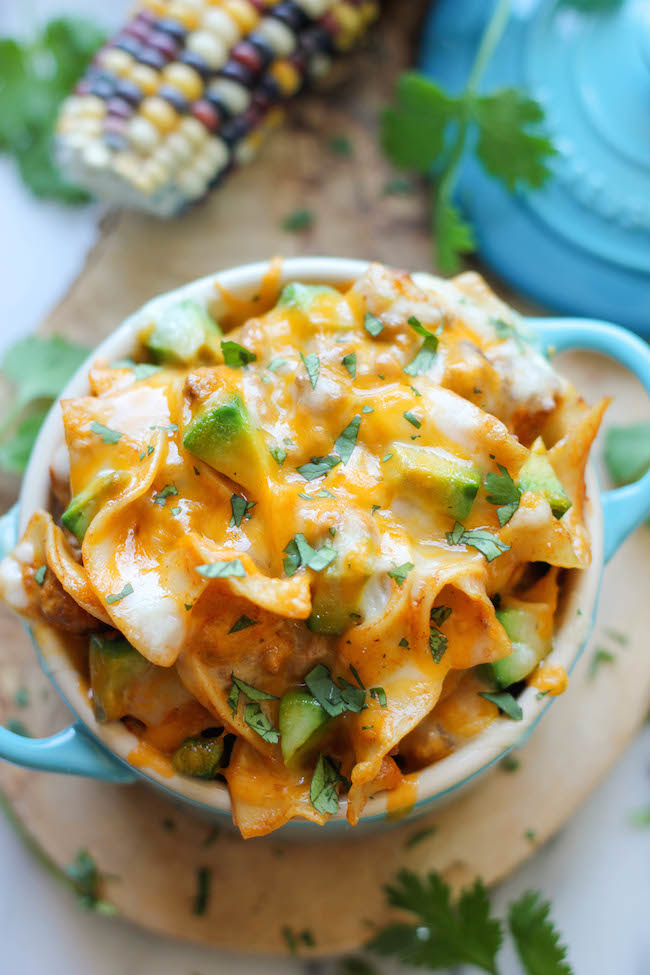 Pasta dishes are a staple in our house. They're easy to make and they're perfect as leftover lunch the very next day. But there's only so many times that you could eat spaghetti with marinara sauce. So in an effort to try something fun and different, I decided to make an enchilada pasta and boy, were we in for a treat.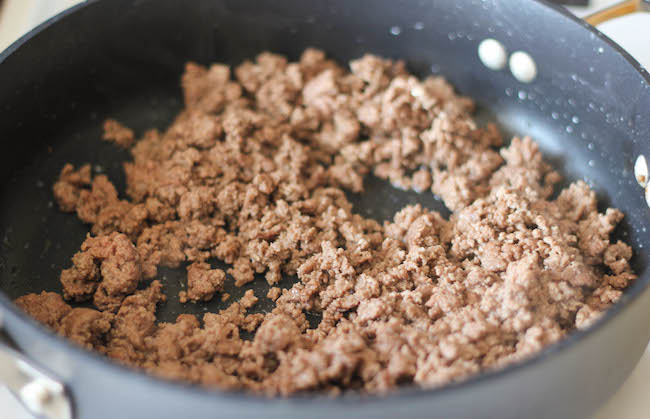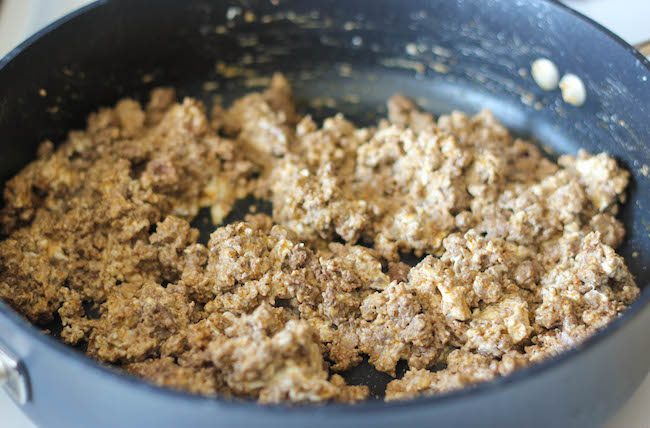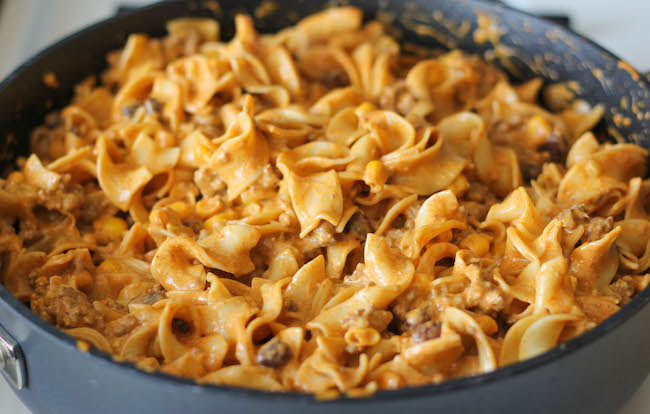 This pasta comes together so easily, which is much needed during those busy weeknights. And with crumbled ground beef, corn, beans, avocado and red enchilada sauce, this gets baked to oh-so-cheesy, melted goodness. Best of all, this can be on your dinner table in 30 minutes or less!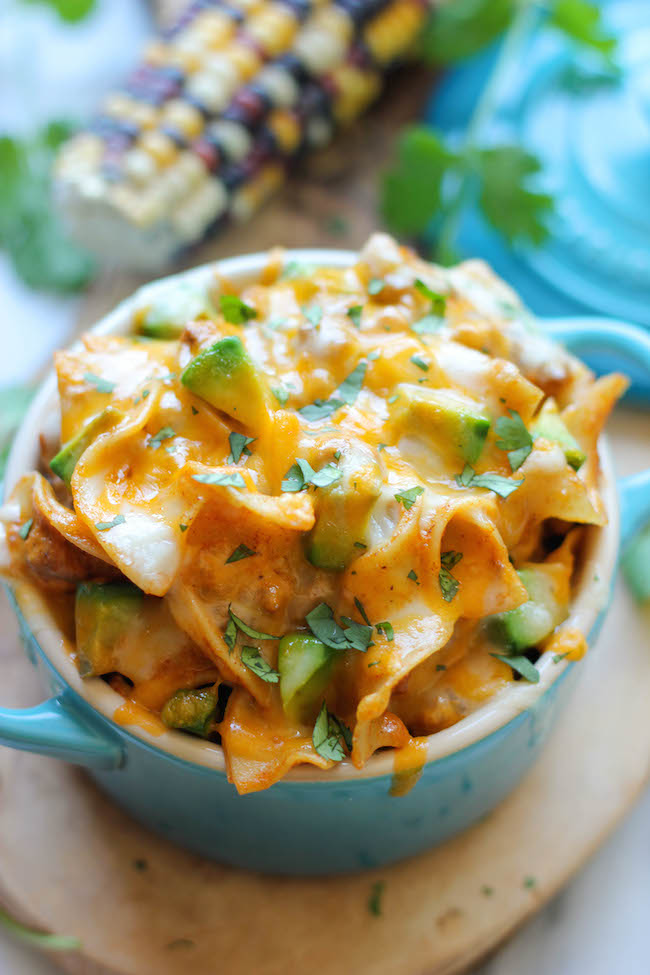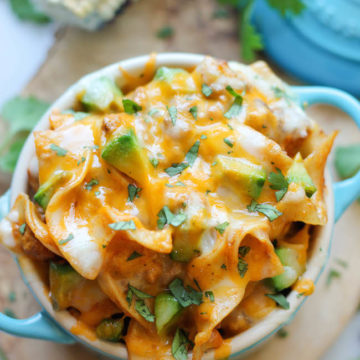 Enchilada Pasta
All the flavors of cheesy enchiladas are tossed together in this quick and easy pasta dish!
10 minutes
20 minutes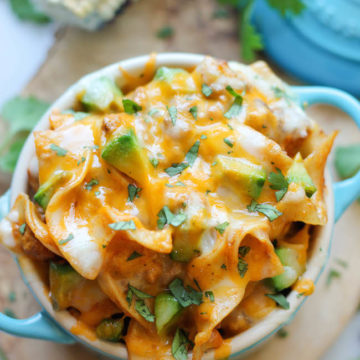 Ingredients:
16 ounces extra wide egg noodles
1 1/4 cups enchilada sauce
1 cup canned corn kernels, drained
1 cup canned black beans, drained and rinsed
1 cup shredded cheddar cheese, divided
1 cup shredded Monterey Jack cheese, divided
1/4 cup Greek yogurt
1 (4-ounce) can diced green chiles
1 tablespoon olive oil
1 pound ground beef
4 ounces cream cheese
1/2 teaspoon chili powder, or more to taste
1/4 teaspoon cumin
Kosher salt and freshly ground black pepper, to taste
1 avocado, halved, seeded, peeled and diced
2 tablespoons chopped fresh cilantro leaves
Directions:
Preheat oven to 350 degrees F. Lightly oil a 9×13 baking dish or coat with nonstick spray.
In a large pot of boiling salted water, cook pasta according to package instructions; drain well.
In a large bowl, combine enchilada sauce, corn, beans, 1/2 cup cheddar cheese, 1/2 cup Monterey Jack cheese, Greek yogurt and green chiles; set aside.
Heat olive oil in a saucepan over medium high heat. Add ground beef and cook until browned, about 3-5 minutes, making sure to crumble the beef as it cooks; drain excess fat.
Stir in cream cheese, chili powder and cumin until cream cheese has melted. Stir in pasta and enchilada mixture until well combined; season with salt and pepper, to taste.
Add pasta to prepared baking dish and top with avocado and remaining cheeses. Place into oven and bake until cheeses have melted, about 5-10 minutes.
Serve immediately, garnished with cilantro.
Did you Make This Recipe?
Tag @damn_delicious on Instagram and hashtag it #damndelicious.