Chinese Orange Chicken
Not even Panda Express can beat this homemade orange chicken!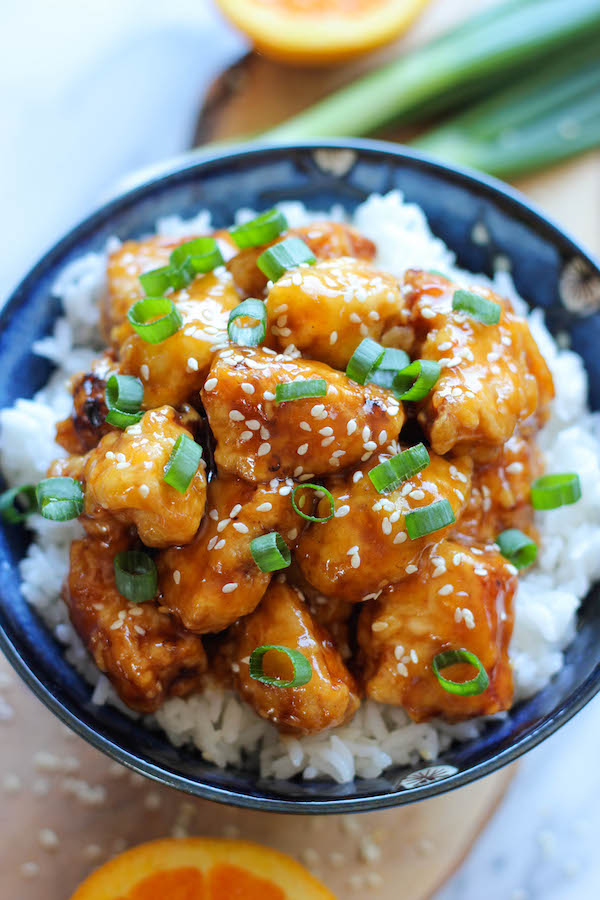 Today was just one of those days. My photography shoot went awry. I burned myself when frying an egg. There was an ant party in my kitchen trash. I hit the worst kind of traffic on a Saturday afternoon for a 3 mile drive. The list goes on.
The highlight of my day was that I still had some of this orange chicken left. This is a Chinese favorite of mine, especially from Panda Express, involving crisp, fried chicken bites smothered in a wonderfully sweet and tangy orange sauce. There is a bit of prep work involved here but at the end of the day, nothing beats homemade, right? And believe me when I say that not even Panda Express will beat this version!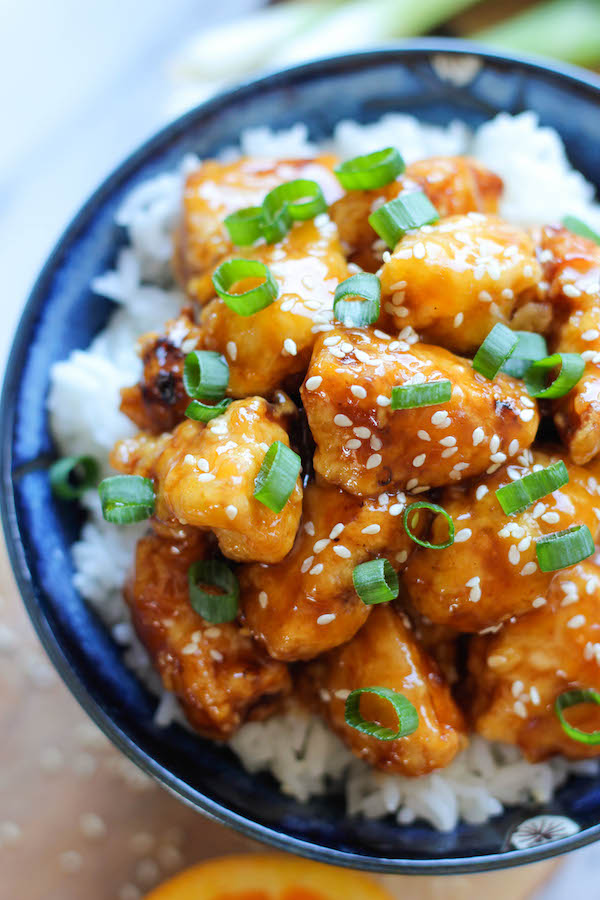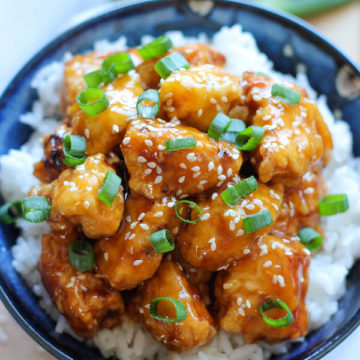 Chinese Orange Chicken
Not even Panda Express can beat this homemade orange chicken!
40 minutes
10 minutes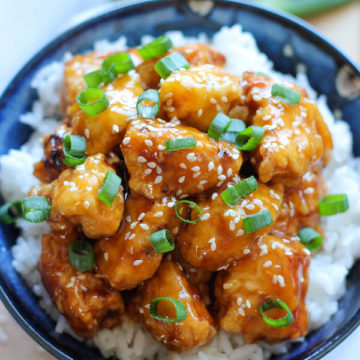 Ingredients:
1 1/2 pounds boneless, skinless chicken breasts, cut into 1-inch chunks
1 cup plus 2 tablespoons cornstarch, divided
2 large eggs, beaten
1 cup vegetable oil
1/2 teaspoon sesame seeds
1 green onion, thinly sliced
For the marinade
1 cup chicken broth
1/2 cup freshly squeezed orange juice
1/2 cup sugar
1/3 cup distilled white vinegar
1/4 cup soy sauce
2 cloves garlic, minced
1 tablespoon orange zest
1 teaspoon Sriracha, or more, to taste
1/4 teaspoon ground ginger
1/4 teaspoon white pepper
Directions:
To make the marinade, whisk together chicken broth, orange juice, sugar, vinegar, soy sauce, garlic, orange zest, Sriracha, ginger and white pepper in a large bowl.
In a gallon size Ziploc bag or large bowl, combine chicken and 2/3 cup of the marinade; marinate for at least 30 minutes, turning the bag occasionally. Drain the chicken from the marinade, discarding the marinade.
Heat remaining marinade in a medium saucepan over medium heat. Bring to a boil and stir in 2 tablespoons cornstarch combined with 2 tablespoons water. Cook, stirring frequently, until thickened about 1-2 minutes; keep warm.
Working one at a time, dip the chicken into the eggs, then dredge in remaining 1 cup cornstarch, pressing to coat.
Heat vegetable oil in a large saucepan. Working in batches, add chicken and fry until golden brown and cooked through, about 1-2 minutes. Transfer to a paper towel-lined plate; discard excess oil.
Serve chicken immediately, tossed or drizzled with the marinade, garnished with sesame seeds and green onion, if desired.
Did you Make This Recipe?
Tag @damn_delicious on Instagram and hashtag it #damndelicious.
Nutrition Facts
Serving Size
Servings Per Container 4
---
Amount Per Serving
Calories 661.4
Calories from Fat 204.3
% Daily Value*
Total Carbohydrate 65.1g
22%
---
*Percent Daily Values are based on a 2,000 calorie diet. Your daily values may be higher or lower depending on your calorie needs.