Quinoa Chili
This vegetarian, protein-packed chili is the perfect bowl of comfort food that you can eat guilt-free!

It's been a bit warm here in San Francisco but I've been wanting to make chili for weeks now. Chili gives me the perfect excuse to have oh-so-crumbly cornbread on the side, except I overdo it and make it a main course. Either way, I still wanted a piping hot bowl of chili. Desperately. But this time, I tried something very different with my batch of chili – I added quinoa, and lots of it!
The quinoa added such a fun texture, soaking up all the flavors and goodness of this chili. It's also loaded with kidney beans, black beans, tons of veggies and just enough lime juice to give you a subtle kick in the pants. Plus, this batch will make enough to feed an army so it'll keep you and your family well fed for days!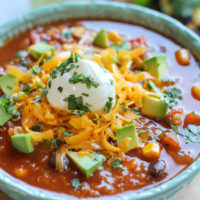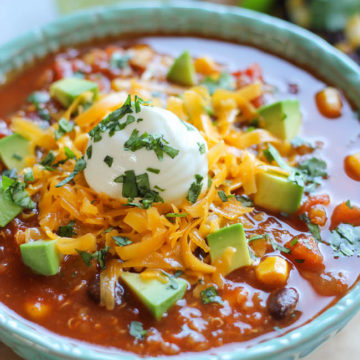 Quinoa Chili
This vegetarian, protein-packed chili is the perfect bowl of comfort food that you can eat guilt-free!
Ingredients
1 cup quinoa
1 tablespoon olive oil
3 cloves garlic, minced
1 onion, diced
2 14.5-ounce cans diced tomatoes
1 15-ounce can tomato sauce
1 4.5-ounce can diced green chiles
1 ½ tablespoons chili powder, or more, to taste
2 teaspoons ground cumin
1 ½ teaspoons paprika
½ teaspoon cayenne pepper
Kosher salt and freshly ground black pepper, to taste
1 15-ounce can kidney beans, drained and rinsed
1 15-ounce can black beans, drained and rinsed
1 ½ cups corn kernels, frozen, canned or roasted
3 tablespoons chopped fresh cilantro leaves
Juice of 1 lime, optional
1 avocado, halved, seeded, peeled and diced
Instructions
In a large saucepan of 2 cups water, cook quinoa according to package instructions; set aside.

Heat olive oil in a Dutch oven or large pot over medium high heat. Add garlic and onion, and cook, stirring frequently, until onions have become translucent, about 2-3 minutes.

Stir in quinoa, diced tomatoes, tomato sauce, green chiles, chili powder, cumin, paprika, cayenne pepper and 1-2 cups water, making sure to cover most of the ingredients; season with salt and pepper, to taste.

Reduce heat to low; simmer, covered, until thickened, about 30 minutes. Stir in beans, corn, cilantro and lime juice, if using, until heated through, about 2 minutes.

Serve immediately with avocado, if desired.