Easy Homemade Toffee
This post may contain affiliate links. Please see our privacy policy for details.
An unbelievably easy, no-fuss, homemade toffee recipe. So addictive, you won't want to share!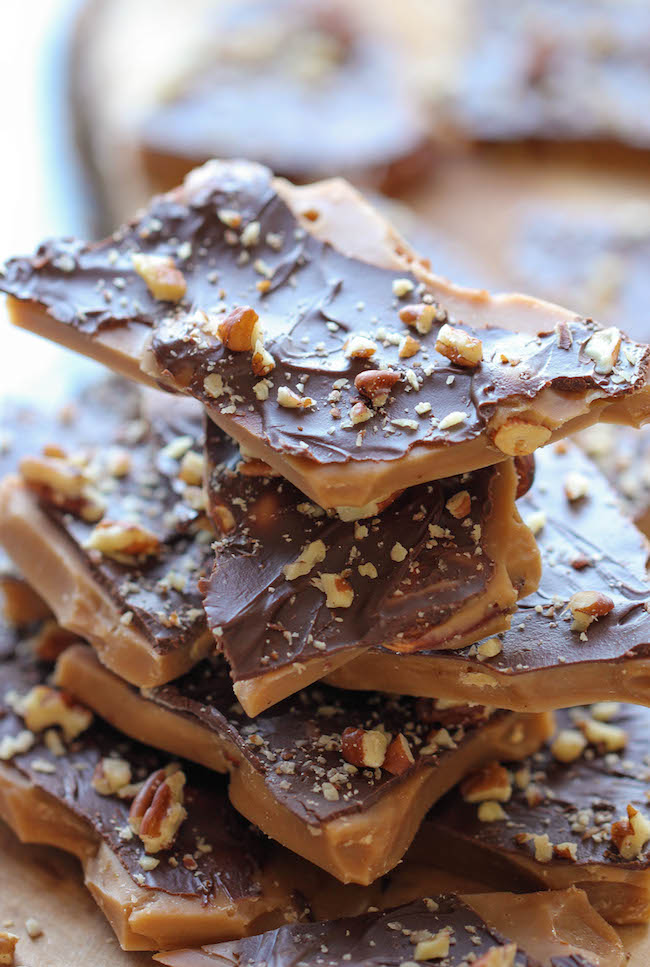 When I was in the 7th grade, one of the girls in my history class always brought in the most amazing homemade toffee. She said that her mom would make it during the holidays and we would all surround her during break time to make sure we got our hands on this amazing toffee.
Well, I'm happy to say that after 12 years of trying my first homemade toffee, I can finally cross this off on my culinary bucket list.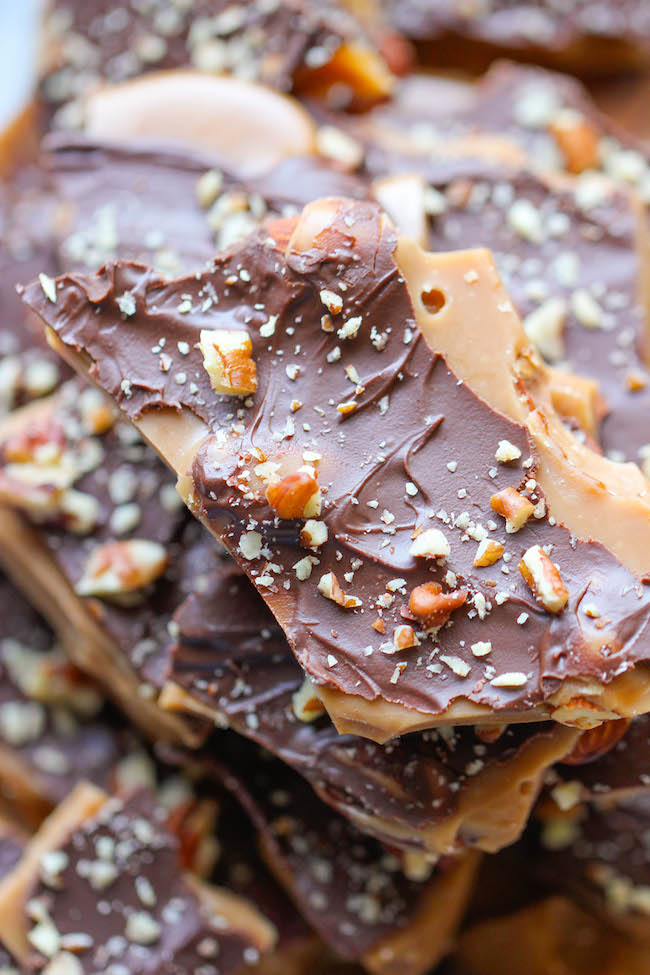 Now this toffee recipe is unbelievably easy. The only hard part I could think of is the caramelization process but I promise you, it's not difficult at all. It's a simple stir-and-watch process until it turns an almond brown. That's it! No candy thermometer or fancy gadgets needed.
But I guess the real hard part is waiting the 2 hours for this to cool so you could finally stuff your face with this. Just be warned that you will not want to share this with anyone so if you plan on making this for gift-giving, I commend you on your self-control!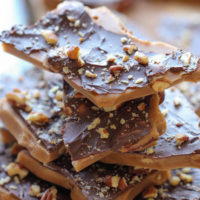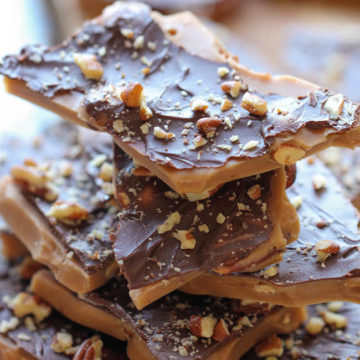 Easy Homemade Toffee
An unbelievably easy, no-fuss, homemade toffee recipe. So addictive, you won't want to share!
Ingredients
1

cup

raw almonds

1

cup

unsalted butter

,

cubed

1

cup

sugar

½

teaspoon

vanilla extract

¼

teaspoon

salt

1 ½

cups

semi-sweet chocolate chips

⅓

cup

pecans

,

chopped
Instructions
Spread almonds in an even layer onto the prepared baking sheet. Place into oven and bake until toasted, about 10 minutes; set aside.

In a medium saucepan, combine butter, sugar vanilla and salt over medium heat. Cook, whisking constantly, until butter has melted and mixture is almond brown in color, about 10-15 minutes.

Immediately spread the hot caramel mixture evenly over the almonds. Sprinkle with chocolate chips. After 1-2 minutes, spread the chocolate chips in an even layer until smooth. Sprinkle with pecans.

Let cool completely, about 2 hours. Break into pieces.
Frequently Asked Questions
My butter separated from the sugar! What did I do wrong?
Instead of blaming the recipe, please remember that many factors are at play here that may result in a failed outcome. Please read through the comments below for possible explanations as to why this happened to you. You can also check out this forum or this article for troubleshooting tips.
Shouldn't I use a candy thermometer?
There really is no need for a candy thermometer here. The beauty of this recipe is its ease and simplicity. Once the sugar mixture has caramelized, you're set! But please feel free to do what is most comfortable for you.
What is the best way to store this?
This can be kept for up to 2 weeks in an air-tight container away from heat.
What kind of almonds should I use?
It is best to use whole almonds.