One Pan Salmon and Veggies
Disclosure: This post is sponsored by French's. All opinions expressed are my own.
The easiest, most flavorful salmon you will ever make with roasted kale and tomatoes, all cooked in a single pan!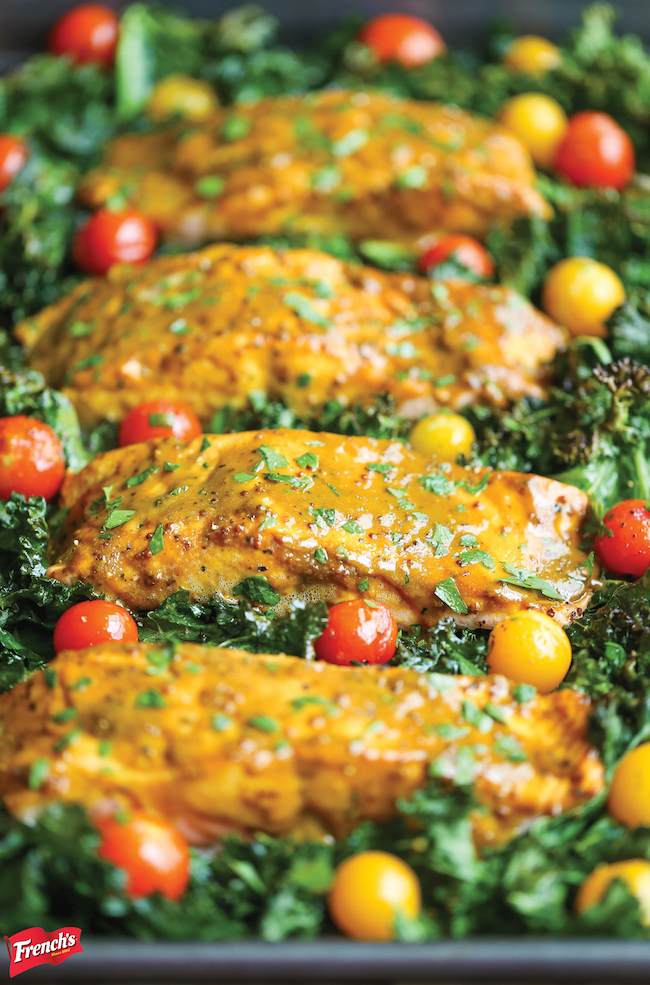 One pan suppers are the best – they're quick, they're easy, and you only have a single pan to clean! And when you throw in French's Yellow Sweet Mustard, dinner is absolute perfection.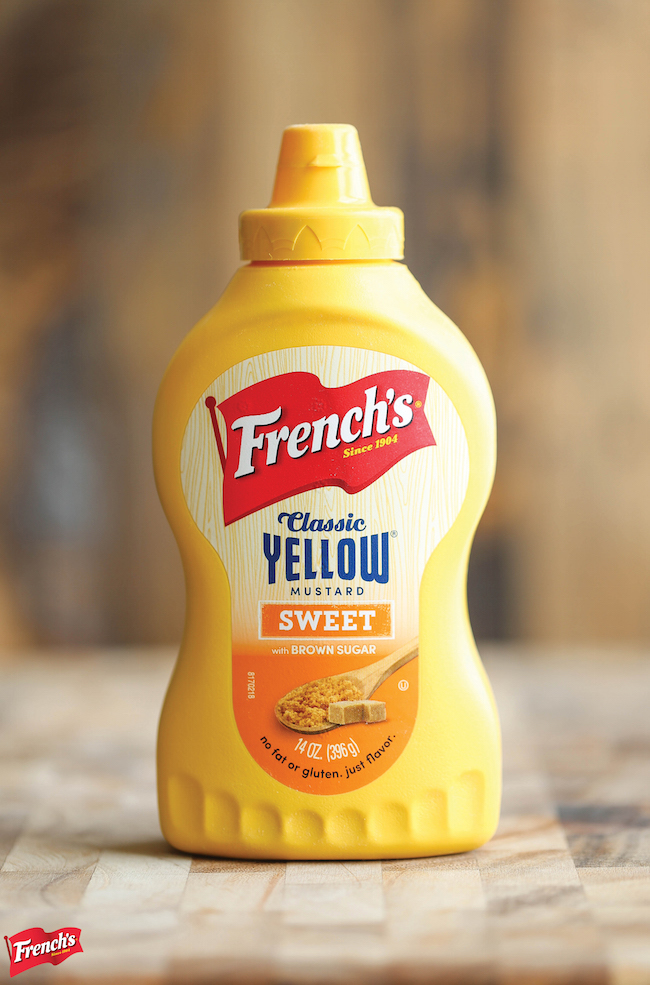 French's Classic Yellow Mustard is crafted with simple, high-quality ingredients, making it America's best-loved mustard for over a century. And with this sweet mustard variation, French's Yellow Mustard has been transformed with a dash of brown sugar, adding an irresistible sweetness to all of that tangy goodness.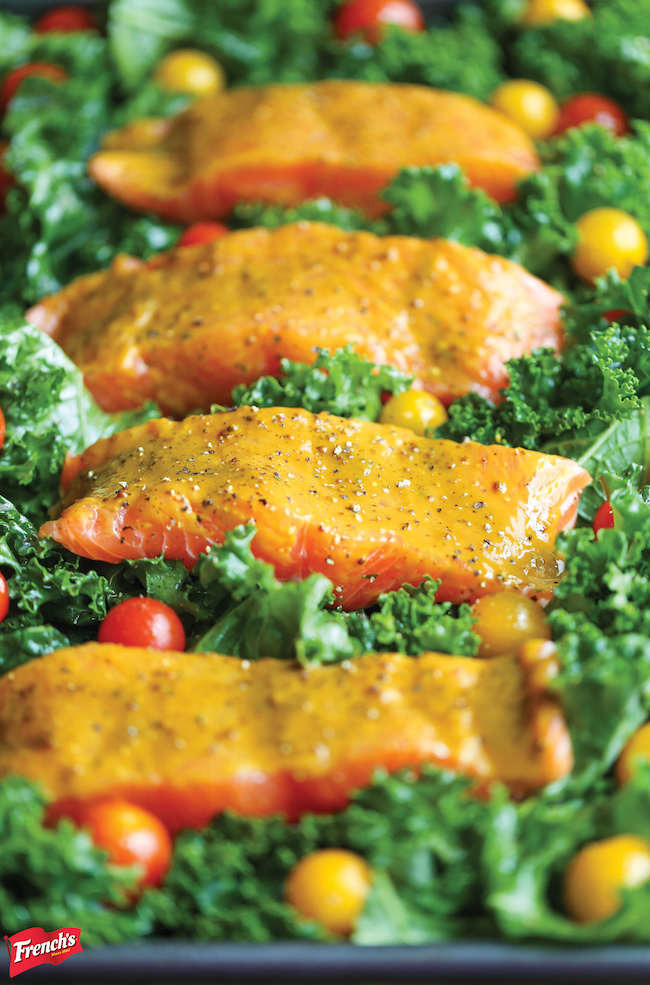 Believe me, with this sweet mustard glaze, you'll want to skip over the salmon and just guzzle this down. It's just that good.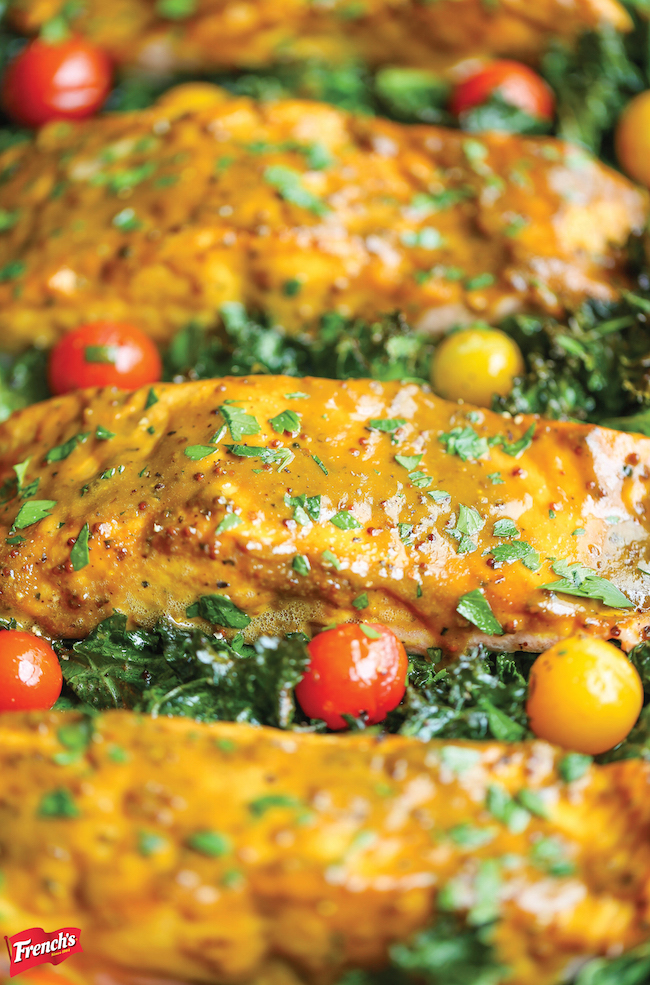 But since we need all of those omega-3s, let's slather on some of that goodness on a few salmon filets, all sitting on a bed of fresh kale leaves and cherry tomatoes. Yes, you get an entire meal on this pan here – entree and veggies include.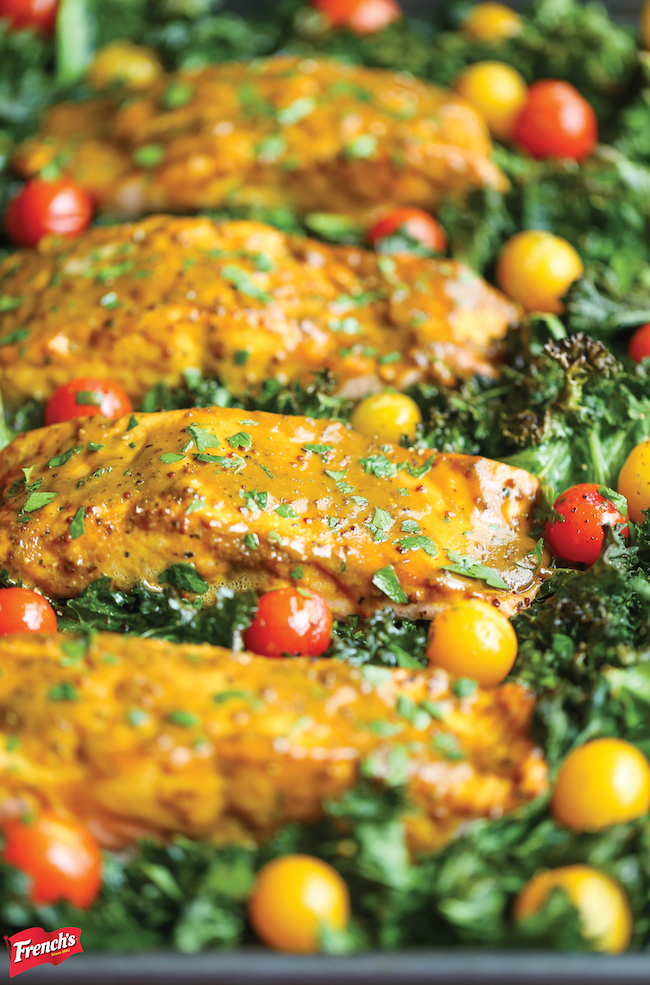 Then you can pop that right into the oven, letting your veggies get beautifully roasted while your salmon bubbles up in all of that mustard glory.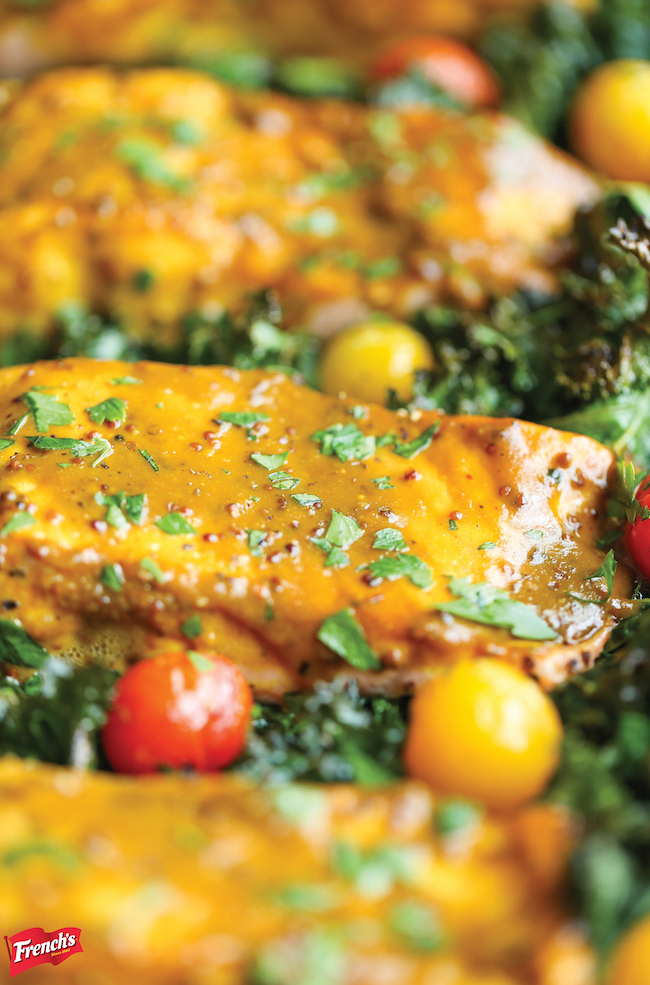 If you have any extra glaze left, I highly recommend saving that for serving time. After all, you know that you can never have "too much" of a sweet mustard glaze. And if you want some spiciness, French's Spicy Yellow Mustard would be a great substitute for a kick of heat in that epic glaze!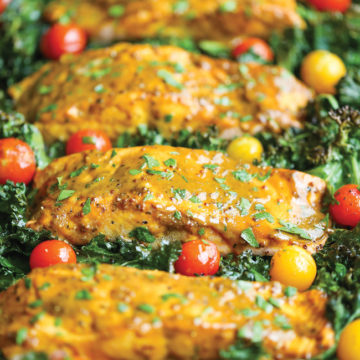 One Pan Salmon and Veggies
The easiest, most flavorful honey mustard salmon you will ever make with roasted kale and tomatoes, all cooked in a single pan!
15 minutes20 minutes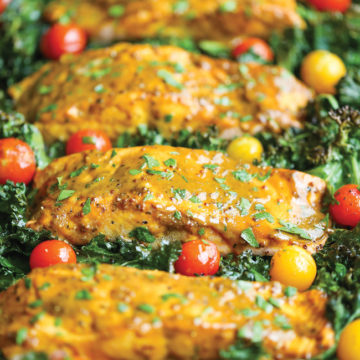 Ingredients:
4 cups chopped kale leaves, ribs and thick stems removed
2 cups cherry tomatoes
2 tablespoons olive oil
Kosher salt and freshly ground black pepper, to taste
4 (5-ounce) salmon fillets
2 tablespoons chopped fresh parsley leaves
For the sweet mustard glaze
3 tablespoons French's Sweet Yellow Mustard*
1 tablespoon whole grain mustard
1 tablespoon honey
1 tablespoon reduced sodium soy sauce
1 teaspoon hot sauce, optional
Directions:
Preheat oven to 400 degrees F. Lightly oil a baking sheet or coat with nonstick spray.
In a small bowl, whisk together mustards, honey, soy sauce and hot sauce; set aside.
Place kale and tomatoes in a single layer onto the prepared baking sheet. Drizzle with olive oil and season with salt and pepper, to taste. Top with salmon in a single layer and brush each salmon filet with mustard glaze.
Place into oven and cook until the fish flakes easily with a fork, brushing 2-3 times with mustard mixture, about 16-18 minutes.*
Serve immediately, garnished with parsley, if desired.
Notes:
* For added heat, French's Spicy Yellow Mustard can be substituted.
*Cooking time will vary depending on the size and thickness of the salmon filets.
Did you Make This Recipe?
Tag @damn_delicious on Instagram and hashtag it #damndelicious.
Nutrition Facts
Serving Size
Servings Per Container 4
---
Amount Per Serving
Calories 341.8
Calories from Fat 155.7
% Daily Value*
Total Carbohydrate 15.7g
5%
---
*Percent Daily Values are based on a 2,000 calorie diet. Your daily values may be higher or lower depending on your calorie needs.