Grilled Honey Garlic Shrimp Bowls
So quick and easy! And that honey garlic sauce is AMAZING! No grill? You can easily saute this on a pan in minutes!!!

It's just too hot to cook indoors with a fiery stovetop and a running oven.
So let's call a spade a spade.
Summer is made for grilling.
And I'm not just talking about cheeseburger and hot dog grilling here.
I'm talking about these shrimp bowls.
Because at the end of the day, you can grill anything and everything.
Plus.
These shrimp bowls.
I've had it all. stinking. week.
Because. Let's face it.
That honey garlic sauce is finger licking good.
And you'll want to save enough just to baste as you grill these bad boys.
They also cook through fast so be sure to keep an eye on it as you grill the rest of your accompaniments!
You can follow Eat Shrimp on Facebook and Pinterest for more shrimp recipe inspiration!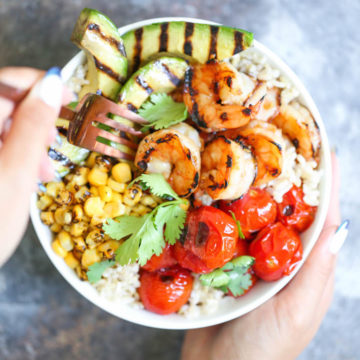 Grilled Honey Garlic Shrimp Bowls
So quick and easy! And that honey garlic sauce is AMAZING! No grill? You can easily saute this on a pan in minutes!!!
1 hour 15 minutes
10 minutes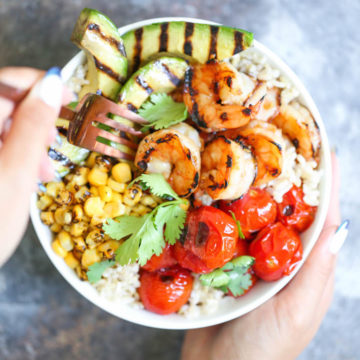 Ingredients:
1 cup brown rice
1/4 cup honey
2 tablespoons reduced sodium soy sauce
4 cloves garlic, minced
1 tablespoon freshly grated ginger
Zest of 1 lime
1 teaspoon Sriracha
1 pound medium shrimp, peeled and deveined
1 avocado, halved, peeled, sliced
1 1/2 cups cherry tomatoes
2 tablespoons olive oil
Kosher salt and ground black pepper, to taste
1 cup corn kernels, frozen, canned or roasted
2 tablespoons chopped fresh cilantro leaves
Directions:
In a large saucepan of 2 cups water, cook rice according to package instructions; set aside.
In a small bowl, whisk honey, soy sauce, garlic, ginger, lime zest and Sriracha. Reserve 2 tablespoons and set aside.
In a gallon size Ziploc bag or large bowl, combine honey mixture and shrimp; marinate for at least 1 hour, turning the bag occasionally. Drain the shrimp from the marinade.
Preheat grill to medium high heat. Add shrimp to grill and cook, flipping once and basting with reserved marinade until cooked through, about 2-3 minutes on each side.
Brush avocado and tomatoes with olive oil. Add to grill and cook, flipping once, until charred, about 1-2 minutes; season with salt and pepper, to taste.
Serve shrimp immediately with rice, avocado, tomatoes and corn, garnished with cilantro, if desired.
Did you Make This Recipe?
Tag @damn_delicious on Instagram and hashtag it #damndelicious.
Nutrition Facts
Serving Size
Servings Per Container 4
---
Amount Per Serving
Calories 357.0
Calories from Fat 117
% Daily Value*
Total Carbohydrate 46.0g
15%
---
*Percent Daily Values are based on a 2,000 calorie diet. Your daily values may be higher or lower depending on your calorie needs.
Disclosure: This post is sponsored by the National Fisheries Institute Shrimp Council. As always, I only partner with brands that I love and truly believe in, allowing me to create more quick and easy recipes to get us through the week without breaking the bank. All opinions expressed are my own.
This is a sponsored conversation written by me on behalf of Shrimp Council. The opinions and text are all mine.