10 Healthy New Year's Recipes
New Year, New You! Stick to those resolutions with these simple, quick and easy, hearty, healthy recipes! From meal prep recipes for the week to 30 min dinners! No excuses. These recipes are just TOO EASY!

Guys. It's 2018! New year, new you! We can easily stick to those healthy eating resolutions with these no-fuss recipes. From detox smoothies to zucchini noodle meal preps, I have you guys completely covered.
1. Green Detox Smoothie – Feel your best with this healthy, nutrient-rich, bikini-ready green smoothie. Loaded with powerful superfoods like spinach and kale, celery, apple, banana and ginger. Just 136 calories per serving. [GET THE RECIPE.]

2. Detox Chicken Soup – Cleansing, immune-boosting soup packed with all the good stuff (kale, mushrooms, celery, carrots, etc.) without compromising any taste. [GET THE RECIPE.]

3. Garlic Parmesan Spaghetti Squash – Roasted spaghetti squash tossed in butter, garlic and plenty of fresh Parmesan cheese. It's simple, healthy and low-carb. 410 calories. [GET THE RECIPE.]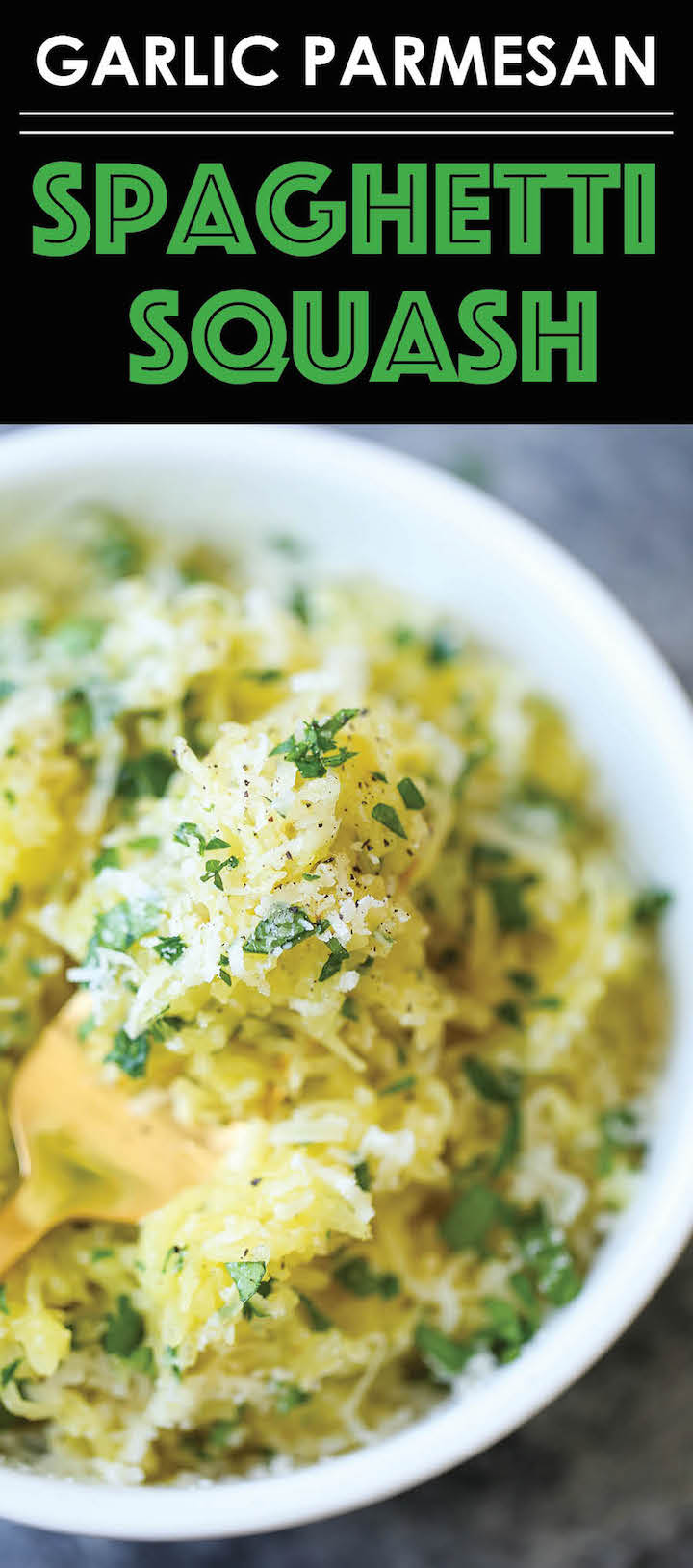 4. Shrimp Zucchini Noodles Meal Prep – Craving shrimp scampi? Prep for the week ahead for a low-carb, quick, easy and HEALTHY meal using zucchini noodles. [GET THE RECIPE.]

5. Roasted Cauliflower Soup – You will not believe that this is actually cauliflower soup. [GET THE RECIPE.]

6. Thai Chicken Buddha Bowls – Healthy, hearty and nutritious bowls filled with whole grains, plenty of veggies, and a simple peanut sauce that is absolutely to die for. [GET THE RECIPE.]

7. Garlic Parmesan Cauliflower Steaks – Your new go-to side dish. Roasted cauliflower is the best/easiest way to go. So crisp-tender and perfectly seasoned. [GET THE RECIPE.]

8. Spaghetti Squash Chicken Parmesan – Everyone's favorite comfort food with less calories. [GET THE RECIPE.]

9. Zucchini Noodles with Turkey Meatballs – These make-ahead meal prep boxes will make you forget all about pasta. [GET THE RECIPE.]

10. Spaghetti Squash Chow Mein – Even your picky eaters will love this. Only 299 cal/serving. [GET THE RECIPE.]